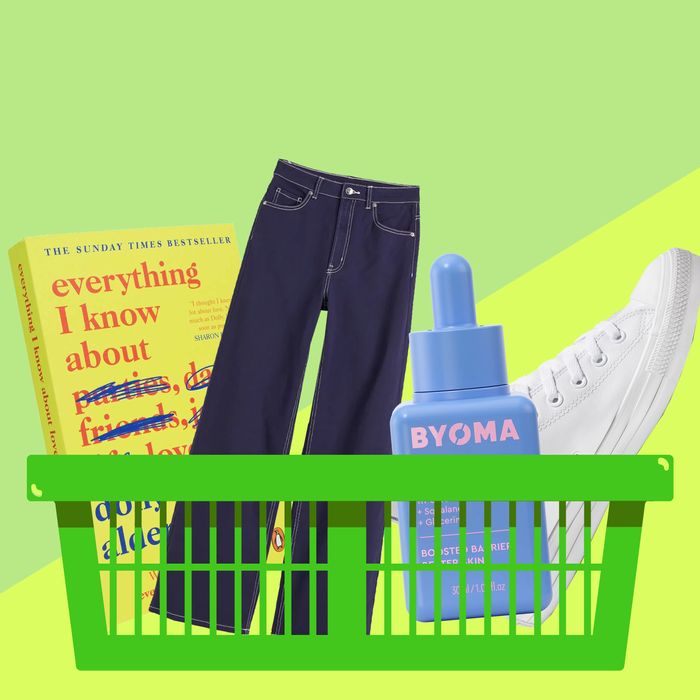 Photo-Illustration: The Strategist; Photos: Retailers
If you follow our monthly feature "Your Shopping Cart," you know we have some eerily good intel on what you all are buying. Which led us to think that, as Strategist editors, we could turn the tables and highlight all the things we've been buying for ourselves. As you'll notice, it's both a blessing and a curse to be a Strategist editor; we're picky, but sometimes we just have to get on with it (it's online-shopping expertise meets IRL needs). Here's what we all bought in July.
Rachael Griffiths, writer
There I was, packing for my first holiday since 2019. I'd seen this book everywhere — especially since its BBC adaptation — and only heard good things. Beach read, acquired. After settling down in the sun, I realised I'd made the mistake of bringing an un-put-downable book on an activity holiday. To add to the consensus, I'll say it's honest, funny, and exactly what my 22-year-old self (currently experiencing the joys of dating) needed to read. I've since ordered Alderton's debut novel, Ghosts. No doubt I'll be raving about that in our August haul.
Photo: Retailer
I am trying to be a more sustainable shopper. Rather than resorting to another PLT haul for some holiday outfits, I found Susamusa; its founder, Asal Tehrani, made the "Forbes 30 Under 30" list. It's a slow-fashion brand from London, and it's reversible Nova range means you basically get two garments in one. I bought a co-ord set in khaki, my favourite colour to wear, with a reversible lime green side. So far, I've worn the lime for dinner in Spain and the khaki for a more chilled BBQ back at home. Each piece is thick, slinky, flattering, and feels made to last. I'm excited to keep styling the items throughout the summer, experimenting with layering them when the weather eventually turns.
Tshepo Mokoena, acting senior editor
I've waited months for these to come back in stock. They're the superior Chuck Taylor, IMO, because the leather makes them water resistant; an essential in a country as damp as this one. We've featured these in our rundown of best white trainers for women, so you don't just have to take my word for it. Their cushioned insole is a treat, and the wash of all white has a way of perking up just about any outfit (whether in summer or winter). Frankly, get them while they're here — they've been short on stock in loads of sizes for most of 2022.
The glazed-doughnut skin look is officially out of control; let's remember that it's okay for skin to have texture … like skin. But that glow still became an unintended side effect of switching to this hydrating serum from my usual hyaluronic acid by The Ordinary. I know everyone reaches for lots of actives and exfoliators, but my sensitive, megadry skin mostly wants to be moisturised, hydrated, then left alone. My skin barrier has felt compromised a lot this year, and this Byoma serum's squalane, glycerin, and a teeny amount of lactic acid are so far not making it flip out (also, my local dermatology clinic is on the case). The amount of product in the 30ml bottle feels ludicrous, though. Please, pour more in, Byoma. The people (a.k.a. me and consumer reviewers) are begging.
Photo: Retailer
A few years ago, a dance floor in Peckham swallowed up one of my hoop earrings, bought as a gift by my mum. Since then, I've ordered affordable and hypoallergenic gold-plated jewellery almost exclusively from Lisa Angel. I love a hoop. But often, my sensitive ears (notice a trend?) will start to tingle if I'm wearing anything other than sterling silver and at least nine-karat gold. When I last tried regular high-street earrings, I had to rip the gold-looking Urban Outfitters hoops out on the street to ease the burning pain in both lobes. These hoops, though, are versatile; kind on my ears; and, as a bonus, remind me of early 2000s Beyoncé and Jennifer Lopez.
Rosie Percy, associate director of audience development
Last year I bought some beloved wide-leg jeans to fit my '70s-lite style, but the denim was too thick for warmer months. So when my weekly check of H&M's "New In" section surfaced these cotton twill trousers, I ordered them instantly. They feel lighter than denim, but with the same indigo material and contrasting white stitching that I love in jeans. A smidge of elastane gives them a flatteringly snug fit, and the wide legs have just enough stiffness to kick out rather than flap around my five-foot-one frame. At £13, they're an absolute steal; so much so that I'm already planning to order a few more pairs, as they come in five other colours.
Photo: Retailer
I've wanted a Rosa Bloom playsuit ever since I stumbled across the label's stall at Glastonbury in 2019. When its latest collection dropped just before Pride and my birthday, I took it as a sign — I'd been waiting for a reason to splurge. The sequins on the emerald green Fifi playsuit shift colour under the light like peacock feathers, rattling as you move. Mine looked incredible once it arrived, but it took me a few goes to put it on correctly (try stepping in and then popping together the crotch fasteners before the neck-keyhole ones). Its cotton lining saves you from sequin scratches, and I got enough compliments on it at a Pride party that I'm already planning to buy a second in silver.
I moved to the coast last year and immediately became a regular sea swimmer. I used to shout at friends on the shore to take a photo as I swam, documenting my progress, but the results were zoomed in and grainy. Plus, I didn't want to risk them coming any closer and dropping my phone in the water.
I'd seen a few people at the beach with phones in plastic wallets hanging from lanyards draped around their necks. A quick Amazon search for "waterproof phone holder" helped me find the same. The holders arrived without instructions, but were straightforward enough to use: Unlock two clips at the top to open your wallet, slip your phone inside, and lock the clips again to seal the holder and protect your phone. Wading my phone into the sea for the first time was nerve-racking, especially since it had just replaced a lost one. I had nothing to worry about. My phone stayed dry, and the inside of the plastic wallet holder stayed clear and steam-free for photos and videos. I've since taken it out on several dunks, and gifted the same phone holder to a friend who I swim with — now there are two of us humblebragging on Instagram.
Fern McErlane, intern
It's that time again, when every few months I do a hair-care restock. A couple of years ago, an investment conditioner hadn't lived up to the hype, so I returned to an old favourite from curly girl brand Shea Moisture (even post-controversy, its products still do wonders for my low-porosity hair). Though the price of this lightweight coconut and hibiscus conditioner has crept up noticeably since I first picked it up in early 2020, it remains affordable at just over a tenner for a generously sized container. Plus — no shame — I also use it as a shaving cream in a pinch.
I'm quite pale (working from home has kept me out of the sun even more than usual), so I restocked on Puff — the baby-pink shade of Glossier's Cloud Paint — for a natural flush. This Strategist-recommended blush has been a brand pillar since its launch for a reason, blending easily on bare skin or over foundation. You genuinely only need a tiny amount of the gel-cream formulation, which I spread with my fingers. It took me around two years to get through my last tube (not something I'd recommend, but my skin hasn't reacted badly). And though Glossier can put on great sales, I paid full price. I just haven't found a dupe that matches its quality.
The Strategist UK is designed to surface the most useful, expert recommendations for things to buy across the vast e-commerce landscape. Read about who we are and what we do here. Our editors update links when possible, but note that deals can expire and all prices are subject to change.