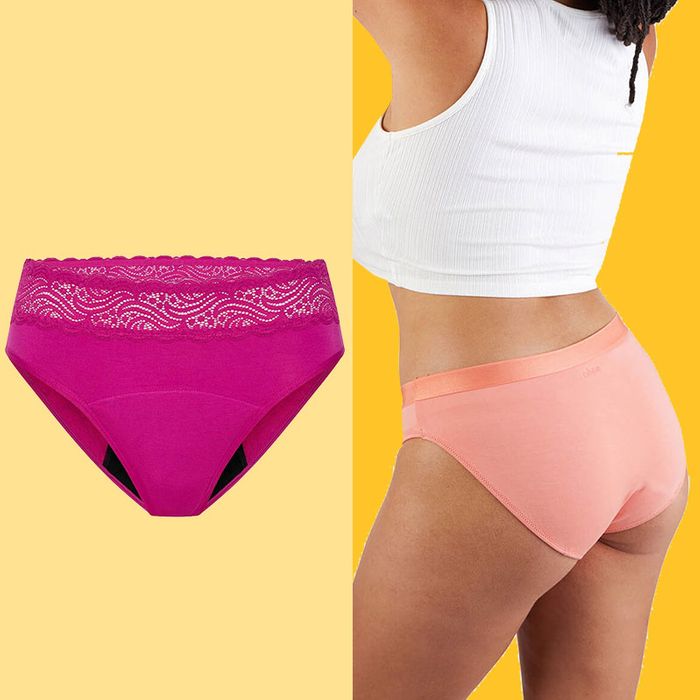 Photo-Illustration: The Strategist; Photo: Retailer
Over the past ten years, period underwear has gone from appearing in health-food-store "wellness" aisles to being sold by the tills in high-street shops. In the last year alone, retailers like M&S, Uniqlo, and even Primark have launched their own ranges of period pants, and brands like Thinx, Wuka, Ohne, and Modibodi offer options for every type of flow. So if you're looking for your first pair, it can be difficult to know where to begin.
When purchasing a pair of period pants, there are a few things to think about: style, price, and your flow. The average pair of period pants costs £15, but anecdotally, the more absorbent the pants, the more expensive they will be. For example, Primark's pants start at £6 and hold up to 24 ml (four tampons' worth) of blood with their "medium to heavy" option. Meanwhile, a super-absorbent option from Modibodi can hold 60 ml (12 tampons) of blood, but costs close to £30. In terms of capacity, different period pants are made from different materials, but there are often three layers of protection involved: a moisture-wicking layer to draw in liquid, an absorbent layer to hold it in, and a further leakproof lining to ensure the blood doesn't go anywhere. But for specificity, each brand's site will explain which styles are best for how much you're bleeding; for example, Thinx has a quiz that offers recommendations based on your typical cycle.
While early versions of period pants were a little frumpy, period underwear can now be just as flattering as any other underwear, with everything from thongs to seam-free options. So we spoke to nine cool people, from a podcaster to an artist, about the most stylish (and durable) period underwear, as well as their tips on how to wash and care for your period pants.
How to care for period underwear
Though period pants are pretty sturdy, you should still take extra care whilst washing and caring for them, as they're made with specific absorbing technology that could be more sensitive. Most brands say not to tumble-dry your period underwear, as the heat could disintegrate the layers of materials (such as bamboo) and make the pants less absorbent. Venetia La Manna, podcast host, fair-fashion campaigner, and founder of Remember Who Made Them, explains that she rinses her period pants "with cool water after use" and then washes them "on a delicate cycle with similar colours." La Manna also chooses not to "use softeners, to protect the fibres for longer, and I air-dry to save energy." Beauty influencer Demi Colleen agrees, saying she washes her period underwear "daily: as soon as I get home they will be either hand-washed in the sink with something like liquid castile soap, or put in the main wash." If they are going in the washing machine, Colleen washes them on a 30-degree cycle with similar colours before air-drying.
When it comes to sustainability, all the pants we mention here are certified by one, or both, of the following companies, which ensures they're harmless for the planet and the body. Artist, writer, and founder of Ethical Unicorn, Francesca Willow, explains that GOTS "focuses on organic and natural fibres," while OEKO-Tex®️ "means every component has been thoroughly tested by an independent body for harmful substances."
Best overall period pants
Anna Hamill, an illustrator, hand-letterer, and designer, started using period pants when her periods returned after she gave birth 18 months ago, saying they have been "truly life-changing for me, and I will never go back to any other period protection." She initially bought a few pairs of Cheeky Wipes pants, but found that she was changing her pair up to three times throughout the day due to her flow being heavier than it was prepregnancy. She then ordered the "heavy-overnight absorbency" Classic Bikini pair from Modibodi, which she claims last longer. Now, on her heaviest days, Hamill wears one pair during the day and changes them at nighttime, and then again the following morning. "The only reason I change them as often as I do," she says, "is because they don't absorb smells as much." On lighter days of her period, or when she's yet to start bleeding, Hamill just changes her pair each morning. The absorbency level that Hamill chose contains up to 20 ml of blood, or 3.4 tampons' worth.
Teki Tetteh-Wright, who works in climate philanthropy, says that "one of my 2021 New Year's resolutions was to reduce my plastic waste, so switching to sustainable period products was an important step in this journey. Period pants appealed to me over other products because they're comfortable to wear and easy to use, clean, and store." While she first bought a pair from Wuka, she found that the bikini brief style she had "had quite a thick inner seam, which can be slightly uncomfortable." Tetteh-Wright then opted for Modibodi. She has two different styles: the high-waist brief style, with the heavy-overnight absorbency level, and a seamless thong, which is best for the lighter last days of a period or spotting.
Lucy Werner, a PR consultant and author, discovered BP3 period pants after discovering the founder on Instagram — she admired founder Kelly's "tenacity and her own story behind creating the brand." BP3 began when Kelly started menopause and struggled with incontinence. Deciding to create leakproof underwear for other women going through the same thing, Kelly soon realised that her products could also be used as period pants. Werner purchased "a few different fits and sizes"; for the initial, slightly heavier days of her flow, she prefers the high-waisted pair, and for lighter days of her flow, she uses the "sportier pair." All BP3's styles hold at least 10 ml, or two tampons' worth of blood, but Werner's favourites are the scallop-cut style, which she claims result in "literally no visible panty line, which isn't always the case with period pants. I feel comfortable wearing them with skinny jeans — they've also lasted really well." After wearing a pair for a day, Werner gives them a soak in cold water, then puts them "into a little mesh bag and wash on a delicate cycle."
Best period pants for larger sizes
Another highly recommended brand was Ohne, a UK-based company that started out selling bath bombs, organic tampons, and natural "elixirs" for cramping and other menstrual symptoms. It now makes period underwear, too. Plus-size model and content creator Naomi Native loves the High Waist Period Pants, calling them "unbelievably soft," and adds that they deliver "great coverage, without sacrificing aesthetics." Native likes that Ohne is a size-inclusive brand: Its period pants go up to a size 30. "Everyone that bleeds deserves access to period products, including plus-size people," she says. "I always used to struggle to manage my flow with standard sanitary towels, because unsurprisingly, one size doesn't fit all."
Ohne's period underwear all falls under a "moderate" absorbency level, which means the pants hold 15 ml of blood securely, or about two tampons' worth. Native admits that while initially apprehensive about period underwear, they have become an "absolute staple" for her; she particularly loves Ohne's "commitment to the planet and dismantling menstrual shame," noting that all its period pants "are completely compostable and biodegradable."
[Editor's note: Native was gifted her period underwear by Ohne and has worked with the brand in the past.]
Sustainability influencer Izzy Manuel tells us that Ohne period pants are best "for those medium-flow days," and La Manna explains that she will always wear her period underwear alongside a Mooncup on heavier days, but by themselves on lighter days. La Manna adds that it's important to read up on absorbencies of period underwear before investing to ensure that the pants you buy will match up to your flow and cycle. She recommends the Bikini Brief by Ohne due to their comfort, size inclusivity, and the ethos behind the brand (Ohne donates one percent of period-product revenues to School Club Zambia).
Colleen calls Ohne's bikini briefs "the most comfortable period underwear I have used," noting that there's no "bulky feeling, and they don't get wedged anywhere unpleasant the whole day." Everyone who recommended Ohne raved about the different colours that both styles are available in. Colleen says "just because I'm bleeding, doesn't mean I only want to wear black!", alluding to the tendency of period-underwear brands to shy away from bright or pastel colours. Colleen's periods fluctuate between "light and nonexistent" due to her birth-control method, so the absorbency level of these briefs work well for her.
[Editor's note: La Manna and Manuel were both gifted their pairs. Colleen has been gifted products from Ohne but has also purchased her own.]
Colleen also recommends the brand's CBD oils, which she has found "beyond helpful for my PMS symptoms."
Best period pants for swimming
As the first and possibly most well-known period-underwear brand in the UK, Wuka offers a range of different styles, including boxer shorts, midi briefs, and a high-waist option. Francesca Willow recommends Wuka, whose period underwear is also appropriate as swimming bikini briefs. "As someone who tries to swim as much as possible," Willow says, "they make my life so, so easy if I want to run to the beach, and you genuinely can't tell the difference from a normal bikini!"
Willow also notes that Wuka is transparent about its sustainability certifications, such as GOTS and OEKO-Tex®️; she explains that as these certifications are external bodies, "there's no chance of greenwashing by brands setting their own criteria (or marking their own homework, if you will)." "Greenwashing" is a term that relates to brands who claim to incorporate sustainability into their business model, but continue to harm the planet through their practices.
[Editor's note: Willow was gifted her bikini briefs by Wuka.]
Marian Kwei, a brand consultant, personal stylist, and fashion-magazine editor, doesn't use Wuka's period pants for swimming, but she has recommended them to clients that she's styled. Kwei has a heavy flow and claims that Wuka's high-waist pants, the absorbency of which goes up to "super heavy flow," have never leaked for her. "I love the style," Kwei states, "because it is a black, simple brief-type pant, which works well beneath most garment types"; she confirms that there hasn't been an issue with VPLs on shoots where she's recommended these pants.
Best period sleep shorts
If you're not sure yet about making the switch to period pants, one way of testing the waters could be to try period sleep shorts, like the option Native recommends. "Ideally, my heaviest days are spent in bed with bottomless tea," Native states, adding that on these days, she always reaches for the Sleep Shorts from Thinx. Though at a slightly higher price point, the shorts absorb up to 9.1 teaspoons (or 2.5 regular pads) of blood, making these one of the highest absorbencies we've featured here. "As someone with a really heavy and painful flow, feeling secure and comfortable is paramount for me," Native explains. Thinx also makes "regular" period pants in styles such as thongs, boyshorts, and sport. Its site features a quiz you can take to find out which product would best suit your flow, and the products are inclusive of different sizes and genders; Native tells us "the Sleep Shorts are also gender-neutral, so everyone can period in peace."
The Strategist UK is designed to surface the most useful, expert recommendations for things to buy across the vast e-commerce landscape. Read about who we are and what we do here. Our editors update links when possible, but note that deals can expire and all prices are subject to change.