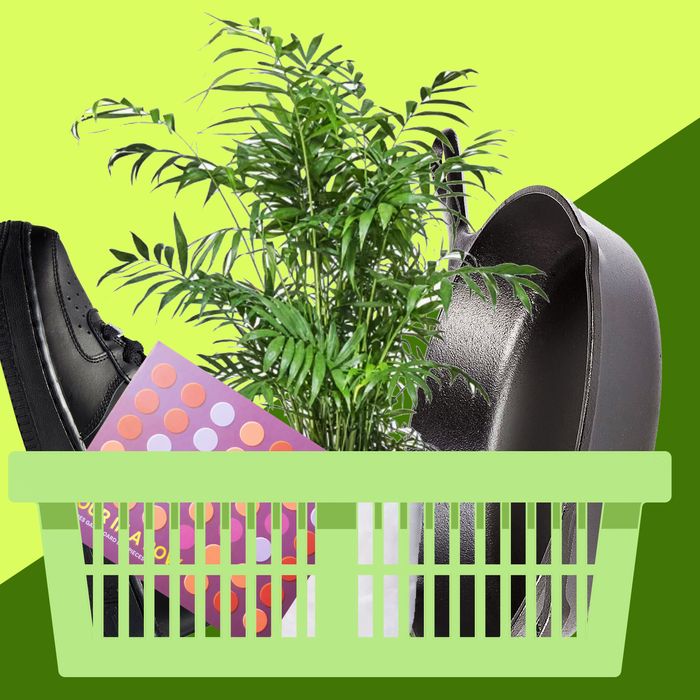 Photo-Illustration: The Strategist; Photos: Retailers
If you follow our monthly feature "Your Shopping Cart," you know we have some eerily good intel on what you all are buying. Which led us to think that, as Strategist editors, we could turn the tables and highlight all the things we've been buying for ourselves. As you'll notice, it's both a blessing and a curse to be a Strategist editor; we're picky, but sometimes we just have to get on with it. (It's online-shopping expertise meets IRL needs.) Below, what we all bought in April.
Rachael Griffiths, writer
In my delusion that I had finally broken them in, I decided to wear my Doc Martens to go flat hunting last month — big mistake. After leaving a trail of blood and tears across London's real estate, I decided it was time to invest in some comfortable everyday shoes. I recalled working on our story on the best trainers for women, and reaching out to Navi Ahluwalia, an assistant editor at Popsugar UK, who raved about her comfy but cool Nike Air Force 1's. I had a quick Google, and spotted that not only did the Nike junior range at JD include my shoe size (a four), it also offered a pretty hefty discount — a pair of AF1s for £65, as opposed to £100. I decided to purchase a pair, and they've quickly become my go-tos. Not only are they comfortable, but they're easy to style with practically anything.
Another heavily discounted piece I picked up this month was this T-shirt from FCUK. I did a slight double take when I first spotted it on ASOS, and as it elicited a laugh (and was on sale for £15), decided to add it to my white tee collection. Whilst the quality of white tees is a bit hit and miss, luckily this one is thick enough to conceal bra straps, but light enough to layer.
Chris Mandle, writer
After a winter of discontent (thanks to my generous use of the thermostat), my houseplants were ready for a bit of a glow-up this month. I picked up some houseplant soil off Amazon and set about repotting some of my most root-bound (and miserable looking) fellas. The first on my list was my aspidistra (also known as a cast-iron plant) — it was looking a little frail which, given the plant is practically impossible to kill, really gave me pause for thought. I haven't actually repotted any houseplants before, but the first step was getting a bigger pot — all mine were at most about 16 centimeters in diameter, so I needed a new one. Experts say to increase pot size only a smidge at a time, so I specifically sought out an 18- to 20-centimeter pot. I browsed our guide to the best plant pots, and settled on Patch, mainly because I wanted something concrete-y and brutalist looking and I've always found their delivery and customer service really good. Repotting was easy — even if the sight of my severely root-bound plant made it look like it was sitting on a bed of ramen noodles — and now the aspidistra is looking a lot happier. My black pot is now sold out, but it is still available in a pale grey.
Last year, I was gifted an Always pan from Our Place to test out at home, and it really was a joy to use. I used it for everything from sautéing greens to searing meat. But the nonstick coating on it (made from sol-gel, a silicon material that creates a ceramiclike texture) wore out, meaning that even cooking in a generous puddle of oil couldn't stop food sticking and burning onto the interior. So I hunted for a replacement. Lodge make some of the most reliable cast-iron pans around, and a couple of chef friends recommended them to me, not least because of the price. Cast-iron pans require a little bit more maintenance, specifically seasoning — which is the process of baking oil onto the surface to give the pan a patina, which helps food cook, imparts flavour, and prevents rusting. Truth be told, I haven't actually used it yet — I've just so happened to eat a lot of meat-free recipes this month, and plan on using this only for sizzling, roasting, and searing. But I specifically opted for the ten-inch pan so that I can nestle in a roast chicken (maybe on a bed of potatoes and rosemary) and roast it of a Sunday afternoon.
Rosie Percy, associate director, audience development
If board games can be sexy, this one is. The red stand is embossed with gold lettering, and the tortoiseshell board snaps into place with hidden magnets for smooth set-up and game play without having to shake out all the pieces when you've finished. The pieces look and feel like boiled sweets, and are incredibly satisfying to roll between your fingers as you contemplate your next move and drop into place. It's so nice that after I first played it with friends, they've since asked me to bring it to the pub several times to play again while we nurse a pint.
I was introduced to Glossier's Brow Flick pen via makeup artist Katie Jane Hughes on Instagram, and had been using it for a few months. It definitely gave me more natural-looking brows, but I found it could be pretty temperamental, meaning I struggled for an even application. So when I saw someone on TikTok using a very similar-looking brow pen by NYX, I figured it was worth a comparison.
Immediately, the NYX Lift and Snatch brow pen is just more convenient: It's available in many places both in-store and online, whereas the Glossier product can only be ordered directly from their website or at their one store in London where you'll have to queue for entry. Even better, NYX's pen is available in more shades (five, compared to Brow Flick's three), and is a fraction of the cost. The NYX pen is also just as easy to use as Glossier's, and consistent — even when I've forgotten to store the pen vertically, letting it languish in the bottom of my makeup bag, the pen doesn't dry out or need violently shaking to get flowing again. I've already converted one Brow Flick–using friend, and I can't see myself going back.
After years of umming and ahhing, I finally got my nose pierced this month. Piercing specialists Sacred Gold had been recommended to me — I liked the look of their salon, and the female-led piercing team, but it was their jewellery that really swayed me. I only ever wear gold, and Sacred Gold's premium jewellery collection included 14-karat solid gold studs that I could be pierced with right away. Plus, as Sacred Gold's jewellery is implant grade — meaning it's made from the same materials that a doctor would use for a metal fitting — I knew I was getting the absolute best quality for safety and healing purposes, as well as aesthetics.
I chose their smallest 14-karat yellow-gold pushpin end to be attached to a NeoMetal labret (as it's invisible inside). The piercing itself was pretty painless, and having the gold stud in place meant I was immediately happy with the result, rather than facing a waiting period. I'm planning to swap out for a ring once the piercing has healed, and start building my curated earlobes, all of which I can pick from Sacred Gold's stash including golden daggers, snakes, and even precious stones.
Ailbhe Malone, senior editor
Ever since buying this bar soap as a Christmas gift for my in-laws (and subsequently for myself), I cannot get enough of it. I'm clear-eyed enough to realise that the fact that I'm heavily pregnant may account for my obsession, but I love the scent of this soap so much that I've bought the oils it contains to try and recreate the scent in my Muji diffuser. In the meantime, while I tinker with the oil blend, I bought two more bars for the shower.
The Strategist UK is designed to surface the most useful, expert recommendations for things to buy across the vast e-commerce landscape. Read about who we are and what we do here. Our editors update links when possible, but note that deals can expire and all prices are subject to change.