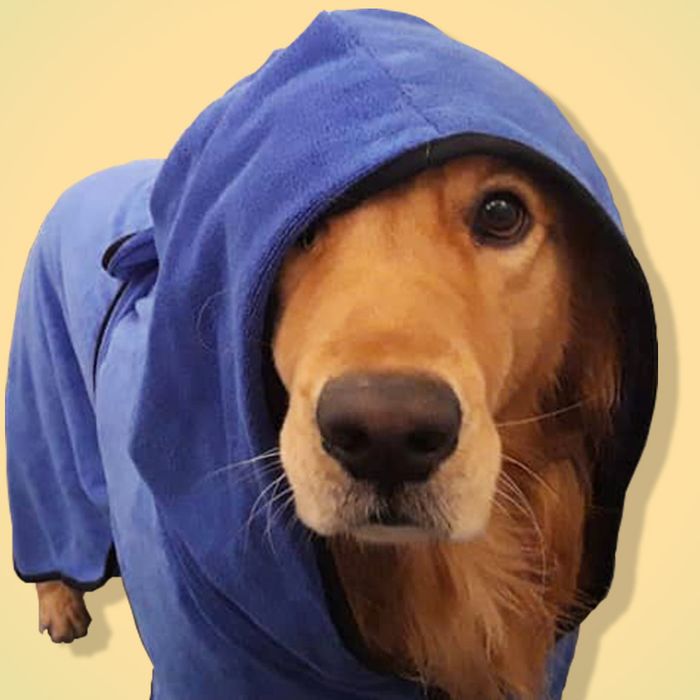 Photo: Courtesy Abby Driver
Ever since I first set my eyes on Shadow in Homeward Bound: The Incredible Journey, it became my mission in life to own a golden retriever. I did (thorough) research, and moved from the city to the countryside, and then I got Monty. While life with Monty was everything I'd hoped for, I soon realised my research had overlooked one major fact: Golden retrievers love water. And it's fine, charming, really. Except that our local walk is the beach and Monty's idea of a dog walk is less a walk and more a swim. He returns home totally drenched and dripping wet, and I face the prospect of spending at least 20 minutes of my life drying him with a towel.
For a while, we just accepted this additional chore as part of life with a golden. But one day while dog-sitting for us, my more sensible parents found the perfect solution. Having returned home from their local riverside walk with a predictably wet Monty, they ordered a dog bathrobe on Amazon Prime. It was, they took great pleasure in telling me, a 'miracle product'. We took the robe home with us and my parents were right. At 34kg, Monty is a large golden retriever and the size XL fits him perfectly; you don't want to be stingy on sizing here, as it's the material that gets them dry.
Now when I get home from the beach with a soaked Monty, I spend a few minutes roughly drying his legs, paws, and face with a towel (these areas aren't covered by the robe). Then I put him in the toweling robe, which goes over him like a cape and is fastened by Velcro over his chest. I then wrap the fabric under his belly and fasten in place with the wraparound strap. If his head is damp, I'll pop up the hood, which usually stays in place while he has a post-walk snooze. Then, a couple of hours later, thanks to the ultra-absorbent microfibre material, he's dry.
The robe itself is ridiculously easy to care for; once removed from Monty, I hang the damp robe on a hook to dry out. About once a week we bung it in the washing machine and tumble-drier — I don't get any wet-dog odour from it (though after four years of living with a dog, I could be noseblind). We've had it for about six months now and it gets used at least every other day and it's still working like new. And best of all, Monty likes it. Just yesterday we got back from the beach, him as sodden as ever, and me momentarily distracted by a phone call. He actually stood waiting expectantly for me to put it on (which I managed to do with the phone wedged between ear and shoulder), then trundled off satisfied and warm for his afternoon nap.
The Strategist UK is designed to surface the most useful, expert recommendations for things to buy across the vast e-commerce landscape. Read about who we are and what we do here. Our editors update links when possible, but note that deals can expire and all prices are subject to change.