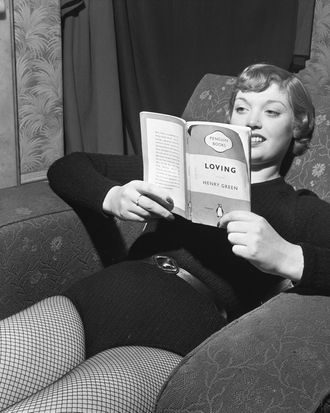 Photo: Mirrorpix/Getty Images
Because I am a literary critic, my friends and family are constantly on the receiving end of my recommendations for what they should read next. The only downside of this is that, when it comes to the holidays, giving books as presents can seem like I've barely made any effort — and that's before you even get into the often-fraught business of picking something suitable for someone who has always got their head in a book, especially if they're the kind of reader who keeps up with the latest releases. When a good friend of mine, a fellow Judy Blume fan, recently got married, I couldn't think of a more perfect gift than a 1978 first printing of Blume's novel for adults, Wifey. So I headed to the Second Shelf in London's Soho, a treasure trove of rare books, modern first editions, manuscripts, and rediscovered works by women, and they found me a copy in great condition in a matter of days.
But when an already-beloved title isn't an option, you could do worse than match a contemporary favourite with a lesser-known volume from the past. Since the beginning of the year, I've been writing a monthly column, 'Re-Covered', for The Paris Review about out-of-print and forgotten books that shouldn't be, so I can attest to the fact that there are plenty of options out there if you know what you're looking for. When it comes to buying first editions online, Amazon is an obvious starting point; click the 'Used & New' option for any title searched. AbeBooks is a must, as it has a huge selection, and, thanks to helpful search criteria, it's easy to hone in on the specific edition you have in mind. And I've tracked down more than a few gems on eBay in my time, too. Oxfam has a pretty good online secondhand bookshop complete with first editions, signed copies, and antiquarian lists, and although it's nowhere near as exhaustive a selection as that offered by the other sites mentioned, buying from it does make for more ethical shopping.
For fans of Jia Tolentino
She has been hailed as the millennial Joan Didion, so any fan of Jia Tolentino's essay collection, Trick Mirror, is bound to be excited by a first edition of one of Didion's books. Luckily, these are still fairly easy to come by and won't break the bank, either. Sticking with essays, 'The White Album' (1979), with its now-iconic typographic cover, is a good place to start.
For fans of Elena Ferrante
Readers who found themselves afflicted with #FerranteFever or those who've been devouring Natalia Ginzburg's work should look to the Danish poet and novelist Tove Ditlevsen for their next European-women-writers-in-translation fix. As yet, little of her work is available in English, but back in the 1980s, the Women's Press published the first two volumes of her autobiographical trilogy — those that deal with Ditlevsen's account of growing up in a working-class district in Copenhagen in the 1920s and '30s and her ambition to become a writer — under the title Early Spring. Or, if you want the full set of memoirs, Penguin Modern Classics have just published all three volumes ('Childhood', 'Youth', and 'Dependency'), the last of which charts Ditlevsen's success as a writer, her four marriages, and her crippling opioid addiction. Just a note: The book cover shown above is from the Seal Press (Seattle) run in 1985; there are copies of the Women's Press run available but no images online.
For fans of Kerry Hudson
For fans of Margaret Atwood
Anyone who was counting down the days prior to the release of Margaret Atwood's The Testaments last month is bound to be intrigued by Belgian writer Jacqueline Harpman's cryptic, speculative I Who Have Never Known Men, the story of 39 women imprisoned deep in an underground bunker. First written in French in 1995 and translated into English in 1997 as The Mistress of Silence, the book was published in a rather chic Vintage paperback edition earlier this year.
For fans of Sally Rooney
If the complicated romantic entanglements in Sally Rooney's Conversations With Friends had you intrigued, try Elizabeth Jane Howard's Odd Girl Out, another captivating story about a younger woman who inveigles her way into the middle of an older couple's relationship. A copy of the 1972 first edition is well worth spending that little bit extra on for the dust-jacket artwork alone.
For fans of Andrea Levy
The Nowhere Man, by Indian writer Kamala Markandaya, is an obvious but not widely known predecessor to Andrea Levy's prizewinning Small Island. Set in 1968, the novel follows an Indian immigrant living in the London suburbs as he is forced to deal with the racist hatred fired up by Enoch Powell's 'Rivers of Blood' speech. Track down a 1972 first edition or buy the recent reissue from Hope Road Press's Small Axes imprint.
For fans of Jenny Offill
With its portrayal of a suburban housewife and mother's ennui, Penelope Mortimer's Daddy's Gone A-Hunting will be a hit with those who've gobbled up the recent glut of motherhood writing, from Rachel Cusk's A Life's Work through Jenny Offill's The Department of Speculation. The iconic dove-grey cover of the Persephone Books reprint is delightful, but if you're looking for something really special, the 1958 first edition is sure to make an impression.
For fans of Margo Jefferson
Readers of Pulitzer Prize–winning critic Margo Jefferson's Negroland — her memoir about growing up as part of "the colored aristocracy" in 1950s Chicago — will discover further insight into this world in Dorothy West's elegant novels about the East Coast black bourgeoisie. Her depiction of multigenerational race relations has won her comparisons to William Faulkner, but the poise of her prose has more in common with British women writers of the mid-century. Either get the new Virago Modern Classics edition of The Wedding or, if you fancy really splashing out, hunt down one of the now rare — and thus understandably pricey — first editions of West's 1948 debut, The Living Is Easy.
The Strategist UK is designed to surface the most useful, expert recommendations for things to buy across the vast e-commerce landscape. Read about who we are and what we do here. Our editors update links when possible, but note that deals can expire and all prices are subject to change.