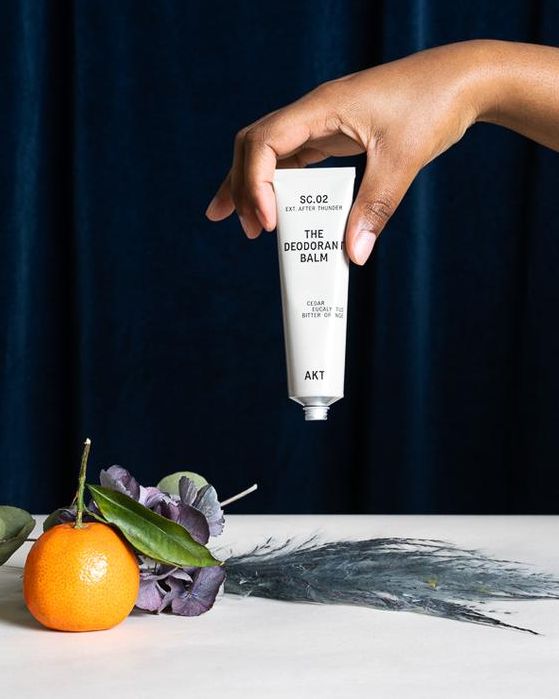 It's not easy being sweaty. Name any deodorant, and I've probably tried it. Everything from Sure spray to prescription-strength roll-on stuff that I'm pretty certain (from the acute burning sensation) was just dilute battery acid. I've also been down the "natural" route, with one of those crystal salt sticks, which was seemingly as effective as rubbing a Bible into my armpits and praying the sweaty deluge away. At one low point, I tried making my own deodorant out of coconut oil, bicarb, and essential oils. It was a mess.
It's become clear to me that nothing short of surgical removal of my armpits will stop the actual sweating. But surely, in an age of the Mars rover and the COVID vaccines, something can be done about BO. AI must have noticed that I was on the lookout for a decent deodorant, as I found out about Akt — a natural deodorant balm that comes in an entirely plastic-free aluminium tube — via an Instagram ad.
Akt comes in three scents, and I chose "After Thunder." Although the name seemed too conceptual to actually mean anything, I was hopeful it would smell fresh and not overly floral. So I was vindicated when I uncapped my tube and smelled petrichor. The balm is the consistency of toothpaste, and you manually rub a pea-sized amount into each armpit. Or you can apply it using "The Applicator," which is a kind of brass spreading apparatus that costs an extra £26, and claims — among other benefits — to "encourage lymphatic drainage and micro-circulation." Which all felt just a tad too Goop for me, and — having just spent nearly £20 on the deodorant itself — didn't fit my budget.
The deodorant is made by a pair of performers on London's West End: In 2015, they found themselves constantly melting under hot stage lights. Regular antiperspirants were staining their clothes and smelled a little bit too "eau de 13-year-old boy." And, as with me, natural deodorants just weren't cutting it. So they spent three years developing their own using (amongst other natural ingredients) coconut oil, shea butter, and "ancient fossilised algae."
Sure, manually massaging deodorant into your armpits feels a little odd at first, but the smell dispels any potential feelings of ickiness. Plus, I'm comfortable saying it's the most effective deodorant I've ever used. It's not that it stops me from sweating, but I can be pretty confident I'm not going to get BO while wearing it. I've worn it — for example — with my most synthetic of workout T-shirts, and managed not to smell like a bodybuilder's dirty washing. The price may be steep, but my current tube has already lasted me three months and — at a guess — has at least another month left in it.
Another bonus: It functions almost like a perfume. "After Thunder" combines cedar, eucalyptus, and bitter orange into an earthy, nicely punchy fragrance. I regularly use perfume (of which I have a medium-sized collection — I tend to wear Ortigia Lime di Sicilia or Glossier You). But, lately, the only times my girlfriend has commented that I smell nice is when I've just been wearing Akt. According to her, it makes me smell like an "herby earth woman" which — apparently — is a good thing.
The Strategist UK is designed to surface the most useful, expert recommendations for things to buy across the vast e-commerce landscape. Read about who we are and what we do here. Our editors update links when possible, but note that deals can expire and all prices are subject to change.