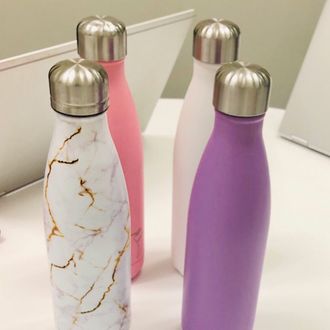 A meeting of Guardian water bottles in King's Place.
Photo: Coco Khan
From art-workers to editors, ad execs to HR, everyone at The Guardian in London seems to bring the same things to every meeting: phone, laptop, notepad, pen, pencil (for the people in design), and a Chilly's water bottle.
I realised the domination of the Chilly's bottle a few months ago at a small meeting of four. Each of us was seated at a table corner, our Chilly's bottles at our sides, in different colours but in the same recognisable elongated shape which sits somewhere between a bottle of fine Riesling and an artfully designed dildo. Noticing this commonality, we pushed our bottles together in the centre of the table. Now what would happen? Some kind of Power Rangers–style Power Up (but for hydration)?
For the record, nothing happened, except a quip about the market saturation of Chilly's water bottles. Because it's not just Guardian employees who are fans. Chilly's rose to fame through Instagram fitness influencers, such as Zanna Van Dijk, and word-of-mouth about a water bottle which genuinely never leaked. (I can personally attest to this. When I lost my Chilly's bottle, I borrowed a friend's sports flask, throwing it into my bag in the same way. Four words: Apple Mac, liquid damage).
There's a range of sizes from a 260ml edition perfect for a long coffee to the 750ml which would neatly hold a bottle of wine. But of the bottles regularly crowding my work sink, it's the 500ml which replaces that standard bottle of Evian. The 500ml version fortunately comes in every colour and pattern Chilly's has ever offered, and so I am yet to get mine mixed up with a colleague's (or have I?).
I bought mine on a whim, having previously stuck to a variety of "conference bottles" — that is, a cheap, heavily branded version made for promo and given away free at an event. Such bottles were fine, and I saw no reason but vanity to invest in a higher-priced one — until I did. Immediately the quality stood out. My bottle didn't leak under cabin pressure, was slim enough to fit into a backpack's outer pocket, and kept my water ice-cool in exceptionally warm circumstances like a Bikram class or a hot car stuck on the M4 in a heat wave.
Priced at £25, a Chilly's bottle is less expensive than a S'well bottle (£40) or a BKR (£30) but at no cost to quality and style. The bottle is not dishwasherproof but easy enough to wash in soapy water with a sponge. For the extra meticulous, Chilly's offers an all-natural bottle brush made from horsehair, designed especially to reach every nook and cranny. But given it looks almost identical to a toilet brush, and would send shivers down the spine of any passing guest seeing it in a kitchen, is a hard "No" for me.
When I asked some of my colleagues why they have a Chilly's bottle, they listed a range of reasons from design, to the brand's collabs, to the inevitable reality that when you work for a newspaper that covers the environment, you will be gifted eco-items from people who don't know what else to buy you. But one summed it up when they described the bottle as an "all-rounder. Good on price, quality and quirk" without being ostentatious and showy. And you don't need to work at The Guardian to appreciate that.
The Strategist UK is designed to surface the most useful, expert recommendations for things to buy across the vast e-commerce landscape. Read about who we are and what we do here. Our editors update links when possible, but note that deals can expire and all prices are subject to change.