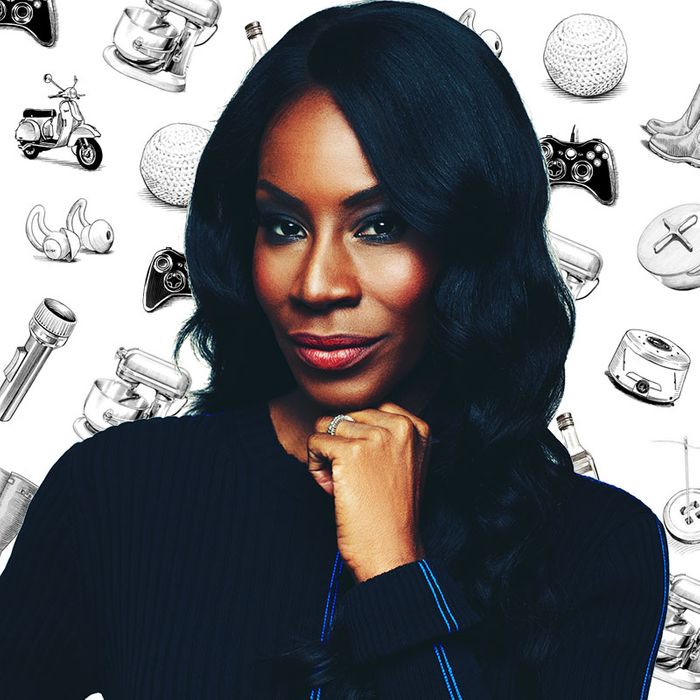 Photo-Illustration: Joseph Sinclair, Joe McKendry
If you're like us, you've probably wondered what famous people add to their carts. Not the JAR brooch and Louis XV chair, but the stain remover pen and the tongue cleaner. We asked writer and director Amma Asante, MBE — who directed two episodes of Mrs America, which is on BBC Two now — about the nude underwear, "magnetic'"vacuum cleaner, and luxury handbag she can't live without.
This has been a lifesaver for my oily skin. A day in my production office, followed by a screening in the evening can leave my skin particularly oily — literally, you could fry an egg on it. And it's horrible in photographs. It's always been a problem for me, since I was about 13. But I found this product by accident — I just picked it up in Boots when I saw it had "oil control" and I thought I'd try it. The genius of it is that you can dab a bit on in the mornings, before you put on makeup — I've since introduced this to several makeup artists because they were so impressed with it. But you can also put it on top of makeup — it won't do that thing where it makes the makeup patchy, or dries your skin out. A little trick I like to do is put a little bit on the back of my hand, dab it with my foundation brush, and just sweep it across my face. It lasts for ages, too — about three months.
I had to think twice about including these — I don't want them to sell out. These are really good for hyperpigmentation. Being Black, if I get a spot, it will leave a dark mark which is darker than my normal skin colour. And that scar will take sometimes up to a year to disappear. It can be really stressful. These contain vitamin B3, which just stops your melanin from overreacting and over-repairing in that little area. Vitamin B5 is good for acne, and breakouts — I used to take a B5 supplement when I was younger — and this is supposed to be good for fine lines, as well. I always take these with me when I go on holiday — if I forget, it can be quite traumatic.
Finding makeup in my skin tone has got better than when I was younger, but it isn't always easy. Often you'll put a base on, and it oxidises when you get out, so you can think you've found the right colour because you haven't had long to try it on in the store. Lancome has so many different colours, so now that I've found this, I know it works really well for me. It also contains SPF15, which I'm grateful for. A lot of products that have SPF in them are really irritating to my skin, and somehow this product is absolutely fine.
It sounds unbelievable, but I really don't know what I did before this came into my life. When I'm directing Miss America, or A United Kingdom, I put together visuals and mood boards as a way of expressing what I'm looking for from the production designer, or costuming, or the director of photography. It's a great way to make sure everyone's on the same page. The resolution is really sharp, and it's such good quality. It has photo-editing apps too, so if I can't find an image that communicates what I'm trying to say, I'll make something, either by merging or photoshopping something. I was working on something for a project that didn't go ahead in the end, and I was trying to explain to the producers what was in my head. It was the image of a sort of baby mermaid, that was human but with a mermaid tail. I ended up just creating the image myself, because I couldn't find what I was looking for online. It's a really light and easy-to-use tablet, and the keyboard is helpful because I write scripts on it in Final Draft. The biggest downside with it is that my MacBook Air has kind of been a bit neglected since I got this.
I knew I wanted to get a wireless vacuum cleaner because I just can't stand pulling the cord out. I saw the Bosch and, first of all, it's bright red, which is my favourite colour. And the second thing: I couldn't believe how light it was, and how agile. It used to take me an hour if I went around the house vacuuming, but now it's a 20 minute job. But the other thing is this magnetic element — the vacuum almost pulls things toward it. It's not just sucking. You can really see it pulling dust. It's really easy to empty, and there's just no rigmarole around cleaning. Instead of a designated "cleaning day," I just run this around the floors when I have a minute.
I got my first Chanel handbag when I was about 21, after my very first writing commission. I got seven scripts commissioned at Channel 4 and was like, "I should give myself a little reward for that." Cut to the present day, and for my last birthday I bought myself the new Chanel 19. It's big — I need a bag that's big enough to physically carry scripts. I always carry a large purse, too, because I think it's good karma, and good Chi generally, to carry a big fat purse. It gives the right message to the universe. I love the big fat chain on it, it's beautiful, and the bag is so soft. It's gorgeous to look at, too — I actually just like looking at it, even when I'm not carrying it anywhere. It's just so pretty.
Photo: retailer
It's so important to have underwear that matches your skin colour — you want something that can just disappear under a skirt, or a pair of trousers. There had been countless times that I've put on an outfit for an event, and you know you're going to be photographed, and you suddenly look down and realise you can see your black bra under what you're wearing. This brand has been around for a few years now. It had been a real struggle to find flesh coloured underwear that was my skin tone, but their existence pushed other brands to recognise that, as women of colour, we need nude underwear, too. It's classic, it's got no hardline for the most part, and there's a variety of styles. I love that it's a Black-owned business, too.
A couple of years ago I got my hair done by a professional stylist before the BAFTAs, and this is what he used. I didn't dare ask him what he was using — it looked so futuristic, and I didn't want to sound stupid. So I did a bit of research and finally found it, but I still waited a couple of years. I kept thinking, oh it's so "luxury," I can't buy that. Anyway, later on my best friend bought it for my birthday. And now, I carry it anywhere I go. It's like a hairdresser in a case — if you want to curl your hair, or straighten it, or blow-dry it, it can handle it. There's a bristle round brush, and two sizes of tongs. It's blooming futuristic.
This product has been such a word-of-mouth thing among my friends — a friend of mine used it, but I'd heard other people saying that it really works, too. I have really dry hair, and I keep my hair natural, so I wear extensions, and cover my hair up quite often. But I love looking after my own hair, it's really relaxing to wash your hair and put a conditioning treatment on it. I actually put it in, then sit on Twitter for an hour or so while the conditioner is on. This is really moisturising, it leaves your hair so soft, and it keeps the ends well looked after. And I just love supporting another Black-owned business. It feels really empowering being able to support them.
I depend on this bit of luggage for work and pleasure. Last year I went to Asia for a month with my husband — I'd been away with work a lot and we hadn't seen each other much. This suitcase withstood us going from Los Angeles to Taiwan, then the Maldives, and then Bangkok. It's got loads of space — I can even fit my Dyson curling set in there — and it coped brilliantly with getting battered through many an airport. It's only getting a rest due to COVID-19, quite frankly. I hope I can get it out again soon.
The Strategist UK is designed to surface the most useful, expert recommendations for things to buy across the vast e-commerce landscape. Read about who we are and what we do here. Our editors update links when possible, but note that deals can expire and all prices are subject to change.