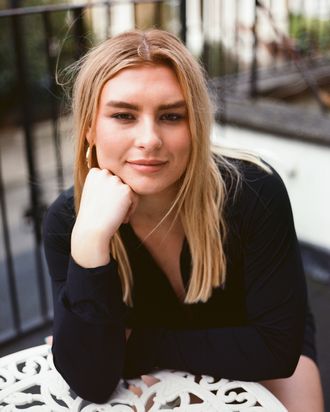 You may have seen the Strategist editors share their hauls and favourite recent buys — whether the result of canny sales shopping, real-life necessity, or a particularly good trip abroad.
To get that same personality and taste insight (via receipts), we occasionally invite interesting friends of the Strategist to run down their own buys. For this installment of "Guest Strategist Haul" author and British Vogue dating columnist Annie Lord (whose highly anticipated debut, Notes on Heartbreak, was published June 23 by Trapeze) tells us what she bought in June.
I compulsively reapply lip balm every ten minutes mainly, I think, because I need something to do with my hands that isn't checking my phone. I've tried so many different brands, and this is by far the best one. It tastes like dessert and leaves your lips soft and puffy with lip-gloss levels of sheen. I'm constantly thrusting it into people's faces on nights out along with the sales pitch "Kendall Jenner uses the same one", which nearly always works. There's probably a lot of germs from people's fingers in my pot at this point.
I have been horrible to my hair over the years. It's been red, orange, pink, red again; I've bleached it, straightened it, backcombed and had 150 grams of extensions bonded into it. So perhaps I shouldn't have been so surprised when so much of it snapped off my head recently. When said disaster took place, the hairdresser recommended this elasticiser over Olaplex. The mask moisturises the hair cuticle, adding elasticity so you're less likely to get split ends, and even provides UV protection. Since using it, I've noticed a lot less breakage on my brush at the end of the day. Now all I have to do is wait a couple of years for it all to grow back.
Photo: Retailer
I have so many clothes that I did consider not buying anything new for my book launch — then Instagram served me this one as a targeted ad, and I invented a variety of excuses to legitimise my purchase. Chiefly that I could easily dress it down for everyday and, knowing this, imagined myself slipping it on in a rush, a dash of highlighter on the top of my Cupid's bow, some bronzer over the bridge of my nose, my painted toes slotted into chunky sandals and then out the door to the park where my friends would already be hanging out. I feel excited for summer knowing this dress will be there with me.
I prefer writing in bed to pretend I'm not working when I am. But my shoulders are so hunched I've been following YouTube exercises to set them back in line. To remedy this, I decided to replace the slightly wonky old office chair I'd been using. I did try to find something pretty — a mid-century leather sort of thing or a delicate rattan number. But it turns out the only good chairs for posture are those that resemble something from the Transformers franchise.
Trying out a Herman Miller at John Lewis, it was so comfy I genuinely struggled to get back off it. New, they cost at least £1,214, but you can find second-hand ones around (because they literally don't break); I got mine for £420 from London Aerons. I had a problem with a lot of the other ergonomic chairs I tried: They were built for men and were too broad when I'd go to set my arms on the rests. We put up with chairs this ugly because you're meant to have your arms supported at all times. The Aeron allows you to rotate the rests inwards so they work for more than one body type. A lot of the time, I still end up working from bed, though.
Photo: Retailer
I find I write best while taking intermittent slurps of really milky tea and so tend to prefer bigger mugs to prolong the experience. I like the thickness of this one and how the gentle grooves slot into my mouth. I also like that it says "I know" on it, though I'm not sure why — I guess because that's what a friend would say to you when you tell them about what's hurting you over a cup of tea.
I was reading this when really hungover one afternoon and found it immediately gripping despite the headache. My flatmate walked in, and I announced, "This book is great — I know exactly where it's going," and rattled off its assumed plot, ready to follow this journey to its neat and tidy ending. Except a few paragraphs later it took a wild turn so unexpected that when my flatmate came back in to get his food out of the oven I was too engrossed to put the book down and update him. Unbelievably sensual and filled with some of the best sex writing I've read in ages, You Made a Fool is vibrant and alive, and I have been screaming at everyone I know to buy it.
The Strategist UK is designed to surface the most useful, expert recommendations for things to buy across the vast e-commerce landscape. Read about who we are and what we do here. Our editors update links when possible, but note that deals can expire and all prices are subject to change.