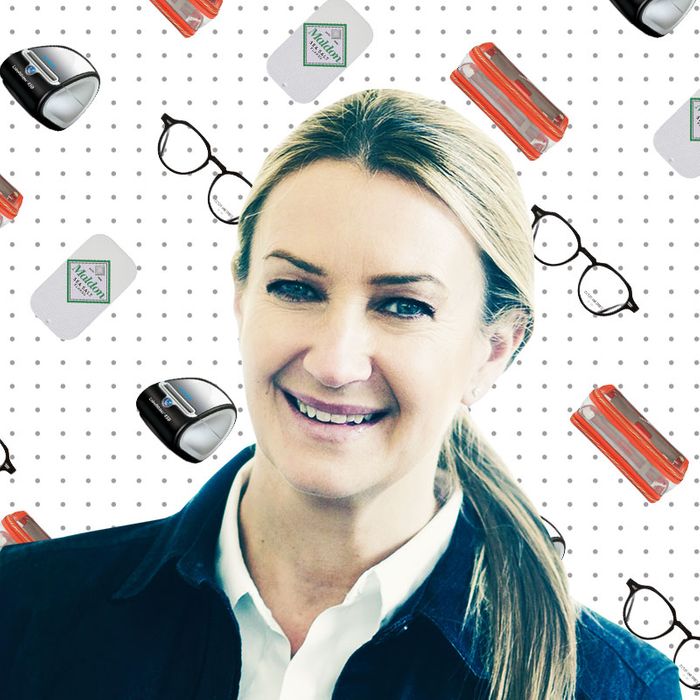 Photo: Courtesy the retailer
If you're like us, you've probably wondered what famous people add to their carts. Not the JAR brooch and Louis XV chair, but the stain remover pen and the tongue cleaner. We asked British fashion designer Anya Hindmarch about the Japanese boiled-egg holder, the salt tin, and the Cadbury's chocolate she can't live without.
I wear them every day, and they're just beautifully made. I sit on them, drop them, trump on them, and they're absolutely no worse off. They're beautiful, quality frames. I think I have worn them all of my life, actually. Not only are they hand-made but they're quite individual. I think when it comes to face furniture, everyone sees it every day, so it's good if it makes you feel special. They're quite heavy, round tortoiseshell. I would call them irregular looking; they almost look hand-made.
I like to bring my lunch to work. I never have time to go out. I have this egg holder I got from an amazing shop called Tokyo Hands in Japan, it's for boiled eggs and it looks like this little weebley-wobbley man, it's lovely. It's the shape of an egg, with a screw in the middle that you unscrew and the top just comes right off. It's rather cute. [Editor's note: Tokyo Hands don't sell to the UK. Here's a similar one we found online].
It's not the old dynamo ones that people had back in the day. It's a smart labeller. You type out the label and you press print and it just prints it on a white label. I label everything, perhaps due to a lack of control elsewhere. It really does make me feel completely better. It's not just work, either. I label everything, I'd label my children if i could.
So this is a little tin I keep in my lunch box. I just love Maldon salt – I was actually brought up in Maldon. It just means you can season food correctly when you're out and about or if you just need to add a touch of salt to your lunch. It's so compact. I hadn't seen these little tins before, it's such a clever idea.
If you need more than a pinch, you could buy a box of the stuff, too.
I am obsessed with organisation, quite frankly. It's like a digital to-do list, and you enter what you need to do, like my weekly trade meetings, and then within that, you have all the microtasks you need to do before that. All the functionality you need is there, and it's on your phone, so wherever you are, you can see what needs to be done. I love how it saves on unnecessary emails. I first heard about it from a friend who has the same obsession as me — this makes me sound really sad, doesn't it? — but I've always been like this. I have five children and my own business, I really don't have a choice.
I love dash buttons; mine's in my office on the wall. I think they were originally for Persil tablets, you know, so when you run out, you can just order them. But I think they're great fun to give people as presents. I gave one to my 19-year-old godson for condoms, so he can just press it and get more delivered. I got someone one for beer, too. They're linked to my account, so they don't have to pay for them. It's just so silly. I imagine he was mortified. [Editor's note: Dash buttons have been discontinued, but you can order beer (or condoms!) via Alexa on an Echo dot].
This is one of my designs. I wanted to make the perfect wash bag, it's sort of selfish but I designed it purely for me. But it's been one of our best selling items ever since. What I like is you can open it from the top or the bottom, which is super handy. One end is labelled 'take off' and the other 'landing' so you can pack it with what you need at certain points of the journey. I wanted something clear and see through because i just hate taking a plastic bag through airport security. Environmentally, it feels completely wrong now doesn't it? But also, there's something rather nice about taking a little bit of home with you whenever you're away. I pre-pack mine so I just grab it when I need to go somewhere last minute.
The Strategist UK is designed to surface the most useful, expert recommendations for things to buy across the vast e-commerce landscape. Read about who we are and what we do here. Our editors update links when possible, but note that deals can expire and all prices are subject to change.