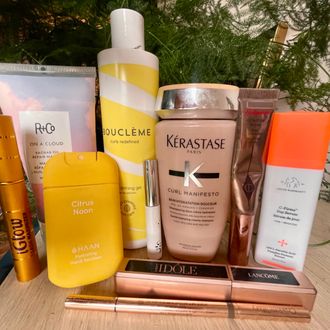 There's no more convincing testament to a beauty product than using it to the very end of the tube or bottle or tub. To find out about the products that are worth excavating (as well as experience the satisfaction of snooping inside someone else's bathroom cupboard), we occasionally invite friends of the Strategist to tell us about their empties for the month.
In this installment, broadcaster and beauty columnist Louise McSharry tells us what she used to the last drop in January, including the shampoo that's coaxing her curls back into life and extremely effective Revitalash dupe.
This is my second bottle of this serum in 18 months. Though it's truly expensive, it made my face absolutely gleam from the first application. If my skin isn't visibly glowing from the International Space Station, I've failed, as far as I'm concerned. Fortunately, the skin-care results are excellent too via its potent blend of antioxidants and 15 percent L-Ascorbic Acid. I use C-Firma Day Serum almost every day and have found that my skin is smoother and brighter as a result. It sits well under makeup, but to be honest, I'd be happy to head out without any makeup on at all because of the immediate glow-up it offers. It's worth noting that it doesn't smell particularly nice, but I often feel like the stinkiest skin-care products are the most effective. I have a few other Vitamin C serums on the go so won't be able to justify an immediate repurchase of this guy, but I'm sure it'll be back in rotation soon.
I received this pencil about ten months ago as part of a PR mailer when Brow Cheat Micro Precision Brow Pencils launched. Prior to this, I wouldn't have thought I could have strong feelings about a brow pencil, but this one got right down to my blackened heart. It's double-ended, with a spoolie on one side and a super-thin retractable pencil on the other. It applies easily in fine strokes, isn't overly waxy, and stays where you put it. I don't have a lot of time to spend on perfect, individual hair strokes, so I tend to apply in a relatively haphazard fashion and then smudge most of the product with the spooly, leaving an overall tint. I absolutely love the colour I use (Natural Brown), because it isn't too warm, like some brown brow pencils tend to be. I thought I'd be happy enough moving on to another brow pencil in my drawer, but I've missed this every day since it ran out, so I'll have to buy another one.
Hand sanitizer is not something that was a staple of my beauty routine until 2020, but these days I can't be without it. A friend gave me this one when I commented on its sunny packaging during a dreaded COVID walk early in the pandemic. I love its fresh, lemony scent, and the inclusion of aloe vera means it doesn't dry my hands. I ordered more from the HAAN website about two days after I got my first one and now have one in every bag. The small bottles are a great shape, easy to slide into a pocket or small bag, and are refillable from large pouches available on the website.
If there's one product I am expert on, it's mascara. Left to their own devices, my fair lashes essentially disappear, so I became dependent on making them inky black from a young age. I don't generally gravitate toward high-end mascara because I think there are lots of great budget options (Maybelline's Lash Sensational is a staple of mine), but Lancome's Lash Idole is my favourite mascara launch in years. I originally tested it for my beauty column, but have repurchased it twice. It delivers length and volume from the first coat, and separates each lash so that you don't have to worry about clumps. Aside from that, it doesn't migrate. Too often I've delighted at a new mascara upon application only to find that it's given me racoon eyes within an hour. This will stand the pace and stay where you put it. You will need a cleansing oil or balm and to spend about a minute loosening it from your lashes when you wash your face in the evening, but that doesn't bother me.
I've spent the last few years weaning my hair off bleach and attempting to coax it back to its natural 2C texture. It's been a journey. After watching about 1 million YouTube videos and TikToks and reading lots of Curl Maven's blog posts I decided to buy some Bouclème products. I found them all good, but it's the Curl Defining Gel I am totally devoted to. (Occasionally, I use Moroccan Oil Curl Creme, which is a little less intense in terms of definition, but at the moment I'm trying to get as close to corkscrew curls as I can).
I apply the Curl Defining Gel to my soaking-wet hair while standing in the shower then scrunch it out once it's dry. The results are beautifully defined and lasting curls. I started using the Bouclème gel just over a year ago, and use about a tablespoon each time I shower. Despite that, I'm only on my second bottle, so one lasts a long time if you're only washing your hair twice a week (another part of my curl routine).
As a beauty writer, my shampoo shelves are overflowing, but every time I empty a bottle of this I go out and buy another one. Mentally, I struggle to get over the ideal that "lather equals clean," so I love that this one lathers (unlike a lot of curl-friendly shampoos) but still leaves my hair feeling soft and hydrated. It's not too heavy, which is great for me as my hair isn't very thick but there's a lot of it. Anything too intense will weigh it down. I tend to change up my conditioner and often use a hair mask in place of it, so while I like the range's conditioner and mask, I'm not dependent on them. Although there is something to be said for layering up the scent of these products, which isn't overpowering but instead smells gently of honey.
I really like R+Co products in general. On a Cloud Baobab Oil Repair Masque (which I received as a press sample) is a dream product for damaged hair. Rich in protein, it leaves the hair strong and nourished. I apply this once every two weeks by brushing it through my hair with a wet brush and letting it sit for about five minutes. It works brilliantly with my curly hair, leaving it shiny and defined. This tube lasted me about six months as I tend to rotate masks and conditioners — it's definitely too rich to use for every wash. Also, my hairdresser told me recently that she thought my hair had too much protein in it (apparently it can make your hair feel a little hard) so I'll have to lay off this one for a while.
As previously mentioned, I'm fair haired, so if I slack off on tinting my brows they simply disappear. I have two small kids, a messy house and a busy career, so the tinting schedule often slips, leaving me in need of quick brow-transforming results. Glossier's Boy Brow does that for me. It coats my brow hairs, making them appear darker and keeping them nice and fluffy, the way I like them. Despite trying many of Boy Brow's competitors, it's the one I've bought over and over again. In fact Boy Brow is responsible for lots of my money heading Glossier's way, because every time I buy it I end up adding something else to my basket. Balm Dot Com often features, usually in Birthday because I really like my lip balm to smell like cake. Plus the packaging is sparkly! (Truly, I am 9 years old.)
I lost my hair, lashes, and eyebrows via chemotherapy seven years ago, and while it mostly grew back as it had been before, my lashes have never been quite the same. We naturally lose them all the time, but as the rhythm of loss is scattered, it isn't visibly noticeable. Because I lost mine all at once, they tend to fall out all at once, leaving me occasionally barren around the eyes. It's improving all the time as they settle, but I've found that lash serums help. iGlow Lash Maximizer was heavily marketed to me on Instagram and isn't as expensive as Revitalash (which is cripplingly expensive if you want to use it all the time). The gals in the ads had incredible results so I figure it was worth a go. It absolutely works, but you have to be consistent (apply every single day at the same time) and patient — you may not see results for eight to ten weeks. [Editor's note: This price has been converted from euros. Shipping and customs fees may apply.]
I received this originally as a press sample, but it has since become a staple of my makeup kit. As a fair gal, choosing the right colour for my contour is vital. Anything veering toward orange will look completely unnatural – cool tones are my friends. This colour is perfect, and the formula is lightweight and buildable, so you can add until you're happy with the level of pigmentation. The sponge applicator makes it easy to dot around your face (I use it just under my cheekbones and along my hairline), but I will admit the applicator on this particular tube has seen better days after the lid came off in my makeup bag months ago. These tubes last for ages so I was stuck with it — I think I had this one for at least a year. I'm happy to have just ordered a new one. [Editor's note: This product is currently out of stock at multiple retailers.]
The Strategist UK is designed to surface the most useful, expert recommendations for things to buy across the vast e-commerce landscape. Read about who we are and what we do here. Our editors update links when possible, but note that deals can expire and all prices are subject to change.