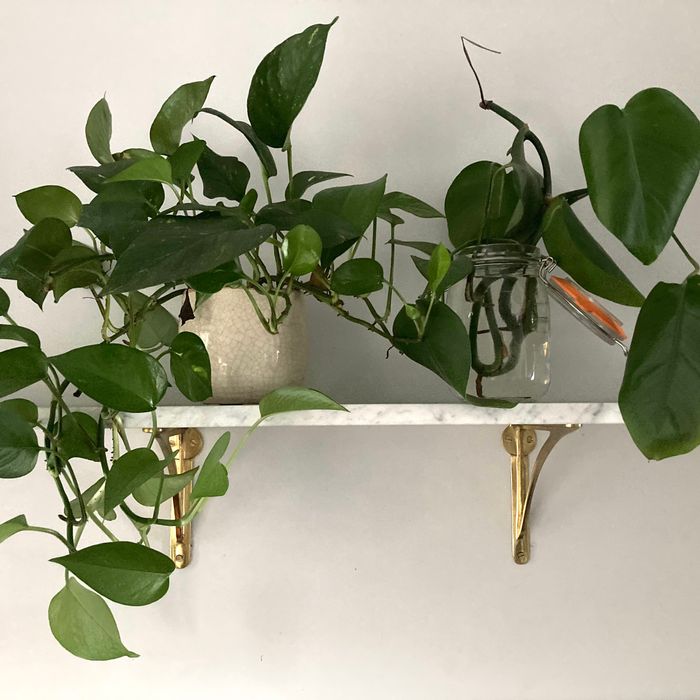 Some of my many houseplants.
Photo: Sonya Patel Ellis
Late winter is a great time for taking stock of your garden or plants between the relative dormancy of winter and the growing season ahead. Outside, it's time for a tidy-up but I can also see the stealthy shoots and leaves of what will hopefully be a riotous tulip and allium season ahead. Inside, most of my houseplants are doing well but I have lost a couple to the dry, centrally heated air. Even though I know how to technically look after my plants and indeed write as much, I still don't always get it right. Being a better plant parent, in my experience, is less about failing to care, or even being "green-fingered." It's more often about choosing the right plants for you and your space. So, if you're busy rushing round juggling work and family or an active social life, a large plant gang of high-maintenance plants is probably not going to thrive. Likewise, if your house is quite dark, there are lots of houseplants and especially edibles that will find it hard to survive without the aid of artificial lights.
My key approach to plant parenting is to look to nature. Not only will you be in a better position to make informed sourcing or shopping choices, but you'll also begin to understand connections within the Plant Kingdom and intuit your way forward from there. Consider cacti, for example. Botanically united within the Cactaceae family, they're often prickly and able to go without water for long periods of time. Such cacti — including the charismatic bunny-ear cactus (Opuntia microdasys) and columnar Peruvian apple cactus (Cereus repandus) — hail from arid landscapes, where they have adapted to store water mainly in their thickened or bulbous stems. Their spines are, in fact, modified leaves designed to deter herbivores and prevent water loss.
Such knowledge makes sense of care labels that advise a warm, sunny spot, minimal watering, and the use of cactus compost — a mix of soil, sand, horticultural grit, and perlite that mimics the well-draining, aerated, nutrient-poor soil of the desert.
It also follows that a time-poor person could be a better plant parent to a collection of "like-minded" cacti than lots of different plants with different needs. Of course, there are always a few wild cards such as the forest cactus (Rhipsalis boliviana), which is native to the rainforest. [Editor's note: This product is available for order from the spring. You can sign up to be alerted when pre-orders are open.]
Try applying this deeper understanding of plants to other groups — non-spiky succulents such as houseleeks (Sempervivum spp.) or burro's tails (Sedum morganium); or plants that vine, flower, or are edible.
What do they have in common that could make your plant parenting easier, be it growth patterns, soil type, light conditions, feed, or kind of pot? Or what is it about a certain plant, or your need for it, that makes you want to nurture it, be that cooking, to improve wellbeing or to green up your space? Make the connection between your lifestyle, space and focus and your plants and the happier and healthier they will be.
And if you need an extra hand, my new book — The Modern Gardener: A Practical Guide to Houseplants, Herbs & Container Gardening — features the Personal Plant Selector, a directory of over 100 plants for every kind of home.
The Strategist UK is designed to surface the most useful, expert recommendations for things to buy across the vast e-commerce landscape. Read about who we are and what we do here. Our editors update links when possible, but note that deals can expire and all prices are subject to change.