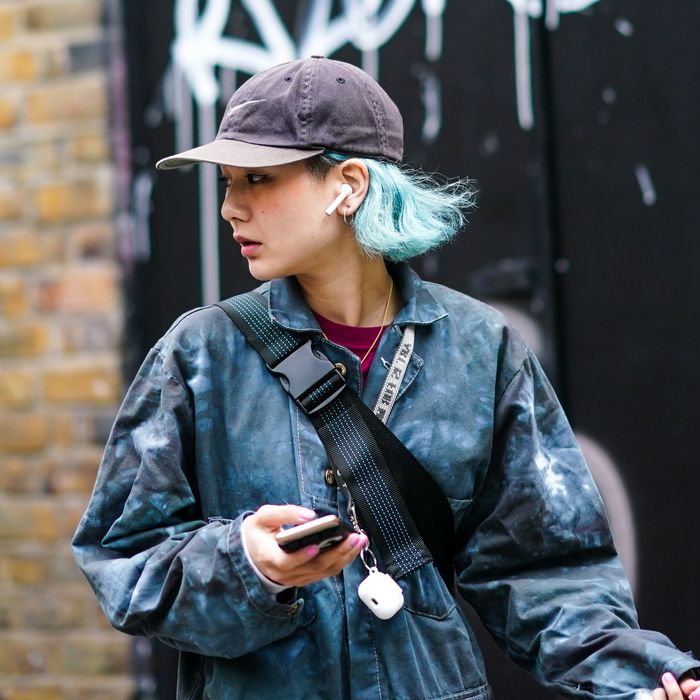 Photo: Edward Berthelot/Getty Images
When it comes to headphones, few are as easily identifiable as the Apple AirPods. Whether you're walking to the Big Tesco on the Old Kent Road, or dropping by Panzer's deli in Primrose Hill, you're likely to see plenty of people with the Colgate-white buds wedged in their ears. Like most Apple products, there is something status-y about AirPods, and perhaps unsurprisingly, they're a must-have for many people we've spoken to at the Strategist, including author Brit Bennett, actress Bukky Bakray, and Holly Marler, design director at Liberty. In fact, I bought myself a pair of the AirPod regulars earlier this year in what felt like a splurge – I typically spend no more than £40 on a pair of headphones, ever since a beloved pair of Sennheiser's met an untimely end at university. I'm perfectly happy with my AirPods, but six months on, I have no idea if the audio quality or battery life (up to five hours) was actually good for the price.
While they are sleekly designed, AirPods are not without fault. Like all wireless earbuds, they're easy to lose. "I love how small and efficient AirPods are, but if I lose another one I'm going back to wires," Bakray told me. "For an Android user who is using AirPods with their phone, you might run into the same problems you typically run into with other Bluetooth products, like the connectivity dipping in and out," Jordan Bowman (a technology writer who has developed a particularly niche beat tracking the best AirPod deals for the Strategist U.S.) says.
So when we decided to run a Dupes Week at the Strategist UK, I was keen to find out whether there was an (actually good) dupe for the popular earbuds. Here's the methodology I used: First, I spoke to two bona fide earphone experts – Bowman, a technology writer who's tested nearly two dozen earbuds in the last year alone for the Strategist U.S., and Jon Porter, a reporter for our sister site The Verge. Then I spoke to some tech experts, including a YouTuber with hundreds of thousands of views on his headphone reviews, and a technologist in New York. Finally, I canvassed the opinion of several cool people, including a ballet dancer, a creative director, and some Strategist contributors. Then, just in case, I also went through the Strategist archives to look through our best-rated earbuds.
The perfect dupe should, I concluded, cost less than the AirPod (whether AirPod Pro or regular), have a similar (or better) battery life, and have similar or better sound quality, too. One pair that was disqualified early on was the Bose QuietComfort earbuds – they came recommended to me by B&H senior technologist Mark Steinberg, but, despite their technical prowess, retail for roughly the same price as a pair of AirPods, which does not a dupe make (blame the exchange rate, as in dollars they are significantly cheaper).
Any other perks, like a minimalist design, a neat case, and wireless charging, would be taken into consideration, too. Then, from a long list I began ruling out any that didn't fit our criteria. Early on, I realised there wouldn't be one dupe for both AirPod Pros and AirPods due to the differences in their technology (more on that in a second), so I settled on finding a good alternative for each. Read on for the best AirPod Pro dupes and the best regular AirPod dupes – including a pair recommended by a professional ballet dancer, and a pair with an "effortless" setup.
What's the difference between an AirPod Pro and a regular AirPod?
AirPods come in two models; the AirPod Pro, which costs between £200-250, and the slightly more affordable (but less technically impressive) regulars, which cost around £159. "There's probably no exact dupe for the AirPods, which is due to the way they're made," Bowman explained. "The chip that Apple uses specifically talks to your iPhone, or any other Apple product, and that's the thing nobody can replicate." In fact, so many sources loved their AirPods (mainly for their looks) that I wondered if I could even find an impressive-enough alternative.
Bowman told me that audiophiles would consider AirPods "middle-of-the-road" in terms of quality. But the jump from AirPods to AirPod Pros is huge. While the battery life remains the same, one key feature the Pros have over the regular AirPods is Active Noise Cancelling (ANC) technology, which works by having the earbuds listen for noise frequencies nearby, and then inverting those sound waves into the listener's ear. It's essentially like balancing a set of scales, but with sound. This is why Pros are significantly more expensive.
The best Airpod Pro dupes
While most earbuds can't match that seamlessness between AirPods and your Apple products, the best alternative Bowman tried was the Jabra 85T. "If you don't want AirPods, these are great – especially for Android or non-Apple users," he said. "In terms of sound quality, you're comparing these to the Pros. The noise-cancelling and the sound quality is amazing. If Jabra was a well-known company, they'd be outselling the AirPods." The Jabra 85T earbuds are water- and sweat-resistant, and have a 5.5-hour battery life with Active Noise Cancelling (ANC) activated, and a 7-hour battery life without. Bowman says they also stay put when jogging, and have a simple button that pauses ANC mode, which is helpful when you need to briefly hear someone talk.
Both Porter and Mike O'Brien, a tech reviewer on YouTube, also recommend the 85Ts. Porter told me that Jabras have one extra advantage over the AirPods, which has to do with the AirPods' extended tip. "AirPods aren't the most compact, compared to other wireless earbuds," he admits. "That stem that comes down, it's very distinct – most earbuds have a more bulky body because they don't have that stem, which Apple uses to contain the battery and make their bud a bit smaller". He said the Jabra fits more comfortably in the ear and is much harder to dislodge as a result. "They're quite handy if you're wearing a hat over your ears, or if you wear a bike helmet."
Samsung Galaxy buds came up several times during my investigation, but the experts I spoke to were split on the best ones. O'Brien has tried practically every model out there. He explained that Samsung has released four models (with a fifth rumoured to be on the way soon): the original Galaxy buds, the Galaxy Pro, Galaxy Live, and Galaxy Plus. "I typically only recommend the Galaxy buds Plus and Pro to people," he says. "The Pros are the better option, but the Plus costs about half the price." He said the Lives, which are identifiable by their unusual kidney shape, had "pathetic" noise-cancelling (our other experts disagreed – they also came recommended by Bowman and Porter, see below), but a good microphone and an impressive battery, too.
O'Brian said that the Galaxy Pros had a notably more impressive microphone than the AirPod Pro. "They have three microphones per earbud and a Voice Pickup Unit (VPU), but the Apple AirPods only have two microphones." He said he had also been impressed by several other features. "They're a well-balanced pair of high-quality earbuds at a very competitive price. They offer great sound, great mics, long battery life, a great fit, and tons of customisability and features in the app." These are about £40 cheaper than the AirPod Pros, too.
If sound quality is the most important attribute for you, both Bowman and O'Brien flagged the Sony XM3 headphones. These are not the latest model (that would be the XM4s, but at £250, this is not a suitable AirPod Pro dupe) but Bowman says they specifically outperformed the AirPods in sound quality, and the noise-cancelling was superior to the Jabras. According to O'Brien, the more expensive XM4s get you "a longer claimed battery life, better noise cancellation, water resistance, and support wireless high-resolution audio. But the XM3s are highly discounted now and are quite superb, especially at their current low price."
Bowman noted that the chunky case made taking them anywhere quite a challenge. That said, with their six hours of battery life (with noise-cancelling activated or eight hours without) means they lasted a few days for him without the need for a charge. Be aware that they're not sweat- or water-resistant, and can feel cumbersome when moving, so they aren't suited for exercising.
The best AirPod dupes
When I spoke to dancer William Bracewell about what he can't live without, he tipped us off to the Powerbeats Pro, an affordable option in Beats' wide range of headphones. Bracewell told me he actually turned to these earbuds after his AirPods repeatedly fell out of his ears during rehearsals. "The charge lasts a long time. They're also perfect for the gym, and they stay in even when I'm doing cardio circuits."
Strategist contributor Sarah Z. Wexler is also a fan. Before finding the AirPod Pros, her current favourite (and one of the few earbuds she's found that fit her "huge earholes"), she had been using the Powerbeats Pros. Although she warns that the ear-hooks could be painful after more than an hour, she liked that they stayed in securely and came in some non-AirPod-y colours (like 'glacier' blue and 'lava' red).
Beats say the battery life is nine hours of continuous listening (more than the Jabras and AirPods) and they contain discrete buttons for volume control and track control. The Powerbeats have no wireless charging option, however, and while they are water- and sweat-resistant, Beats have not publicly disclosed their IPX rating (a globally recognised system that tells you how waterproof a product is) .
Photo: retailer
Although J Lab doesn't quite have the sound quality of the other headphones on this list, it makes up for it with an excellent 12-hour battery. "What you'll find with lower-end headphones is that they get very loud, but it's at the expense of clarity," Bowman says. "That's the trade-off. So with these, past a certain volume, the drums won't sound as distinct, the bass notes are going to sound like dubstep. But with that great battery life – you're looking at charging this maybe once a week. I really like the way they felt, and the leather case is nice. They're not going to fall out of your bag."
These earbuds also have noise-cancelling capabilities, which the regular AirPods don't. And they come with a number of different silicone tips to get them to fit into your ear, including "cloud" tips, which squeeze like earplugs before expanding into your ear canal.
Samsung's Galaxy Live buds, while not popular with O'Brien, came recommended by both Bowman and Porter. "I'm actually shocked at how good the price is," says Bowman.
The Samsung Galaxy buds have noise-cancelling technology, though Porter explains that this is not as impressive as the AirPod Pros due to the lack of silicone tips on the buds. "The technology and a physical barrier, in the form of a silicone tip, work in tandem," he explains. "Noise cancelling works best with low frequencies – a rumbling of a train carriage, the background noise on an airplane – but less so with higher wavelengths. What is great at blocking high frequencies is a silicone ear tip, so when you don't have those in a product, like these, you're going to get slightly less effective cancellation." Porter says the occasional screeches heard on a tube journey, for example, can penetrate these buds easily.
"The one thing I will say is they are shaped really weirdly. They don't really 'lock' onto your ear, and feel like they're constantly on the verge of falling out – although they never have," says Bowman. O'Brien, who is not a fan of this pair's fit, noted, "Rather than continuing with the perfect compromise, Samsung went fully to the side of comfort, and the result is one of the least-secure pairs of earbuds I have ever used. These move or fall out if you run, walk, or even turn your head the wrong way."
Having worn them in numerous Zoom meetings over the last year, Bowman added that these heavy earbuds tended to weigh on him a little after a couple of hours. But the sound was excellent. Porter, who also owns a pair, added that they were shaped this way as "their research showed that this shape happens to fit into the majority of ear canals really well. I use these with an iPhone and they're just as good [as AirPod Pros]. I haven't noticed a difference." He warns that the "pairing won't be quite as good, you will have to download a separate Samsung app to control them, so it's a little bit less slick. But once it's set up, it's quite effortless."
Another notable Airpod alternative
Porter told us that the OnePlus Bud Z was "a decent AirPod replacement" at just £55. "They are comparatively priced with Samsung, and they're really good, though they're designed with the OnePlus phone's operating system in mind," he says, referring to a Chinese smartphone that is less common in the U.K. They are so physically similar to AirPods that a shipment of OnePlus buds were actually seized by U.S. customs in August 2020 because officials thought they were counterfeit AirPods. "With an Android or third-party phone, you won't get the same control, but it's a good option for a OnePlus phone."
The Strategist UK is designed to surface the most useful, expert recommendations for things to buy across the vast e-commerce landscape. Read about who we are and what we do here. Our editors update links when possible, but note that deals can expire and all prices are subject to change.