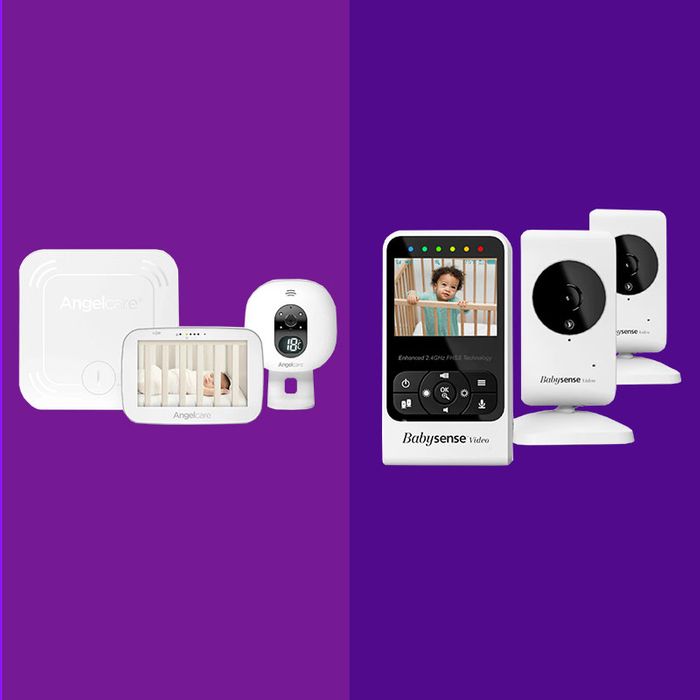 Photo-Illustration: The Strategist; Photos: Retailers
A baby monitor is one of few tech items on new parents' shopping lists. And unlike cots, prams and nursery décor, you may feel a little at sea when trying to identify which screen definition you'll need, and whether Wi-Fi connectivity is necessary. But actually the most important thing to keep in mind when choosing a monitor is "what kind of person you are," says Mandy Gurney, a nurse, midwife, and health visitor who founded Millpond Sleep Clinic. "This decision is all about what's right for your family and your lifestyle." You'll want to think about what level of information you'd like to receive from your baby monitor. Some parents want to know as much as possible, while others find it unsettling to have too many details fed back to them.
There are three types of monitor to choose from: audio, video, or sensor. Audio monitors are usually the least expensive option. They consist of a unit with a microphone, which is plugged in near the cot and a portable parent unit with a speaker that you keep with you to listen out for cries. Video monitors are equipped with a camera, which will allow you to see and hear your baby, either via a screen on a portable parent unit or an app on your phone. Kirsty Ketley, parenting consultant and founder of Auntie K's Childcare, says being able to see not just hear your baby can be useful for helping you determine if they actually need you or if they're just making noises in their sleep.
Movement or sensor monitors come with either a pad that slides under the cot's mattress or a piece of wearable tech, such as a sock or chest band, which works in a similar way to a fitness tracker, monitoring your baby's movements, and in some cases their breathing and heart rate. The UK government's Medicines and Healthcare products Regulatory Agency has recently determined that some baby breathing and heart monitors meet the legal definition of a medical device. Before you buy one of these devices, check that it has a CE marking, UKCA marking or CE UKNI, as according to the MHRA this means the manufacturer "is saying their product complies with the essential regulatory requirements, designed to make sure products work as they're supposed to and are acceptably safe."
It's important to note that while all the devices featured can work wonders for reassuring you that your baby isn't crying, they sadly cannot promise to improve your baby's sleep patterns — nor is there any evidence they can prevent Sudden Infant Death Syndrome, so even when using one you are still advised to check on your baby physically from time to time. You also don't need to rush to buy a monitor before your baby is born, as safer sleep charity the Lullaby Trust advises your baby sleeps in the same room as you until they are at least 6 months old.
What else should you consider before buying a baby monitor?
Bear in mind that if you choose a monitor that connects to the internet "you do have to be careful about privacy settings and checking you're not going to get hacked," says Gurney. To keep your monitor as secure as possible you'll need to ensure you set strong passwords, activate all security options available and install any security software updates promptly. If all that sounds like too much admin, then it may be best not to go for an internet-enabled monitor.
What range does the monitor need to cover? "If you are in a flat and you're not going to go very far from where your baby is sleeping, you may not need a monitor with a Wi-Fi option or a long range," advises Gurney. Meanwhile, Louenna Hood, former Norland Nanny and founder of the Louenna parenting app, adds that if your house has thick walls then a longer range may be necessary for your monitor to work effectively.
We asked nannies, parents, and baby-sleep consultants to share the monitors they'd recommend. Read on for the best movement, video, and audio options, as well as the best option for parents with more than one child, those who travel frequently and those who want internet connectivity.
Best overall
Three of our experts recommend Angelcare monitors and two of them specifically recommend the brand's non-contact movement monitor, which has a wireless sensor pad that tracks your baby's breathing and movements.
Lisa Clegg, maternity nurse and author of The Blissful Baby Expert, used Angelcare monitors with her children and her 2-year-old grandson. Now, she always recommends Angelcare movement monitors to all the parents she works with as "the mat monitors your baby's movement while they and you are sleeping and would alert you if baby were to stop breathing. I found this massively helped me relax as a parent when my baby was sleeping and stopped me being anxious." Lisa Lewis, founder of Sshhhh Sleep Consultancy, asked her clients about their experience with baby monitors. This one was recommended by the most parents, as "the sensor pad gives peace of mind especially while babies are little," she explains. "And the video is really clear. You can also speak to your child through the mic, which can come in handy if you want to try and resettle without actually going in the room."
Features: This monitor is not internet connected. The nursery-unit camera can be wall-mounted or positioned on a tabletop and has the ability to zoom and pan. The parent unit has a five-inch video screen and the option for split-screen view when multiple cameras are connected if you need to check in on more than one young child.
Best video monitor
Sydney Piercey, author of Sustainable Play and mum of three, bought this monitor for her first child as she loved the design. "The monitor that looks over the baby looks like a little angel. It's really sweet and it really fitted in with our nursery," she explains. Piercey was also impressed by the picture quality on the "sleek" parent handset with a 3.5-inch screen, which "fits snuggly in your hand and has a little stand so you can prop it up on your shelf or dining table as you have dinner."
Features: This monitor is not internet connected. The camera has the option to zoom and pan, and there is a temperature display on the parent unit.
Best internet-connected monitor
Both Hood and Mallory Reynolds-Trout, show manager at The Baby Show, (taking place 13-15 May Birmingham NEC), recommend this monitor with a camera that can be mounted to the wall above your baby's cot. "It gives a clear, birds' eye view of the cot, which is unusual," says Hood. Reynolds-Trout praises the monitor's "outstanding video quality and sound", which she says is "ideal for giving first-time parents the ultimate reassurance when it comes to their baby's sleep." Plus, with the wearable wireless breathing band "you can track baby's sleep habits and the Nanit app offers guidance to help your baby sleep better."
Features: The monitor connects to parents' mobile phones, as well as Amazon Alexa, Kindle Fire, or Echo Show devices via Wi-Fi. The Nanit app allows you to monitor the room temperature and humidity and to speak to your baby with two-way audio, which can sometimes help to resettle them without you needing to go into the room, if you know they're fit and well. The app can also be used to record your baby's growth milestones and capture videos to share with friends and family.
Best movement monitor
Reynolds-Trout says she loves the CrySensor function on this monitor "which responds to your baby's cries by automatically playing lullabies or music to soothe your baby back to sleep." As well as a movement-sensor mat, this monitor has a 360-degree night-vision smart camera, which Reynolds-Trout says provides a very "clear picture of baby."
Features: This monitor is not internet connected. The camera can tilt, pan, or zoom and automatically repositions to follow your baby as they wriggle around in their cot. It can be mounted to a wall or placed on a piece of furniture, and features a soft nightlight, which is useful as if you go into the room it will allow you to see your child without having to switch on a light. The parent unit has a 4.3-inch display with a foldout stand and has a room-temperature gauge and a two-way talk option.
Best audio monitors
Hood personally favours audio-only monitors, as she has found video monitors can make some parents "quite anxious if they can see their baby playing in their bed and not settling instantly." She continues: "It's really important for babies to feel their bed is a happy and cosy place to be, and if they're content to lie there and think about the world, or just relax, then that is fantastic. If you only have an audio monitor then you'll only go to your child when they alert you that they want you." This model is her favourite as "it is super simple to use, you simply plug it into the wall in the baby's room and then into the wall wherever you are. It also has a fantastic range of 300m and very clear sound."
Features: This monitor is not internet connected. There is a nightlight on the nursery unit and a visual volume indicator on the parent monitor, which will allow you to see if your child is making noises even if you turn the sound down or are in a noisy room (for instance, if you have friends round or want to watch TV).
After Piercey's third child was born, she didn't feel the need for a video monitor. "We felt more relaxed, but we wanted to be able to get out into the garden while she slept, so we picked this monitor as it had a really good range," she explains. "Then we got another one for the older girls' room too. It's just so easy to use and it doesn't pick up background noises, so you won't hear the hum of cars outside, just crying or something immediately in that room. We also liked that it was easy to take these monitors with us when we were travelling and staying in hotels and B&Bs."
Features: This monitor is not internet connected. The parent unit features a visual sound alert, while the nursery unit has a warm nightlight.
Best monitor for multiple children
Ketley says this monitor is "fabulous for when you have more than one child", as you can connect up to four cameras to one parent unit, which means you won't have to carry around separate parent units (all of which you'd have to remember to charge). "The picture quality is brilliant and the cameras can pan, tilt, or zoom, which is quite handy when your baby is on the move," she explains. "It's got a really good long range, so you can sit out in the garden without losing any of the quality.
Features: This monitor is not internet connected. The parent unit has a five-inch display, temperature alert, and two-way talk-back function, while the nursery unit has an adjustable nightlight and can play built-in lullabies with white noise.
If you prefer a smaller parent unit there is also a model with a 2.4-inch screen.
Best baby-monitor app
Cathy Ranson, editor at parenting video network Channel Mum, shared a "hack" that "an increasing number of mums are using, which is turning your mobile phone into an impromptu baby monitor." "While I'd always recommend using a trusted basic monitor at home, this can work well if you have a power cut, are travelling or need extra reassurance," she said. The babymonitor3g.com app turns two phones, tablets or computers into a video baby monitor. You leave one device near your baby and it transmits audio and video via Wi-Fi or cellular connection to the other device, which becomes the "Parent Station." Ranson says the app "is so quick and easy to install."
Features: This app requires internet access or cellular connection and is compatible with both Apple and Android devices. It has a nightlight function and talk back option, as well as an activity log, which allows you to check how often your baby was awake and track their sleeping patterns.
The Strategist UK is designed to surface the most useful, expert recommendations for things to buy across the vast e-commerce landscape. Read about who we are and what we do here. Our editors update links when possible, but note that deals can expire and all prices are subject to change.