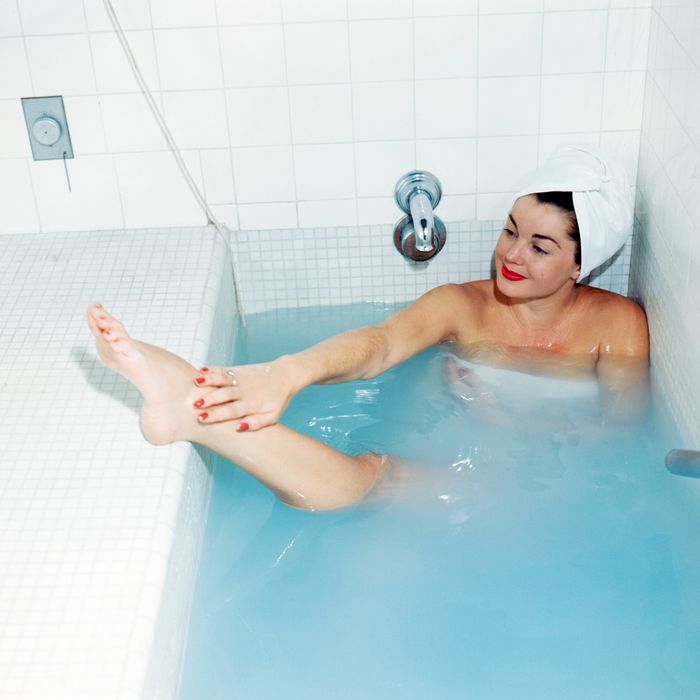 Photo: Getty/Getty Images
I have always loved a bath in theory. But without fail, I find myself regretting it. The enjoyably long ritual of filling up the tub, lighting my favourite candles, and stirring a bath bomb through the invitingly warm water becomes anticlimactic when, after ten minutes submerged, I feel more tense than I did before I got in. Simply put, I'm never sure what to do with my head when I take a bath. The headrest of my tub is jammed against my sink column, meaning that if I lean back even a little in the bath, I hit my head on the sink basin. Hot tubs and high-end home baths don't cause me this problem — they're designed to be comfy, after all. The cheap tub in my rented flat? Not so much.
But after having a life-changing bath in a gorgeous rolltop tub on holiday this past April, I became determined to solve this problem. Well, Amazon solved it for me. While adding a bath plug to my cart, the Amazon algorithm suggested a bath cushion. It looked big enough that I could settle into it comfortably and appeared to have a more luxurious, memory-foam-like consistency than some of the other options, which resembled vinyl and didn't exactly scream "spa moment." The reviews were decent, and there were enough customer pictures for me to feel pretty confident I was getting what I was promised by the retailer.
The pillow arrived packed tightly into a zippered case, accompanied by a mesh wash bag and some clear instructions. The next day, I stacked all my favourite candles into the corners of my tub, turned on my favourite playlist, positioned the cushion (which took no more than a minute), turned the tap to the highest heat setting, and let it run. What followed was the longest, most relaxing bath I'd ever taken at home. The pillow stayed in place but was also easy to readjust, and most of all, it was comfy — just the right balance of soft and firm to make me feel relaxed and supported at the same time. It really did feel like memory foam. It doesn't just support the neck; it also has little wings at the side for my shoulders, so they're cushioned from the hard slant of my tub.
The bath cushion is about the size of a regular pillow and fitted with six suction cups on the back, so you can position it where you want in the bath and trust it will stick there (no more rolled-up towels falling in and getting soaked every time you switch positions!). It's designed to be half submerged in the water, so you get some mid- and lower-back support, and it's made with lightweight, quick-dry material. The only real downside is if you use colourful or glittery bath bombs, they can tint the fabric of the pillow over time. (I prefer to stick to neutral bath bombs for my sensitive skin anyway, but I did use a peach-coloured one once and noticed a little bit of discolouration.) Plus it's easy to store when it's not in use. You can wring it out and replace it in the case it comes in after a few hours of drying. It also has a little hook at the top, so whenever I've finished using it, I hang it from the shower rod or the towel rack. I've been using the pillow since this summer, and I'm officially a bath convert — I take a couple a month. Most important, I'm no longer choosing holiday homes based purely on the bath because my basement-flat tub is finally all I need.
The Strategist UK is designed to surface the most useful, expert recommendations for things to buy across the vast e-commerce landscape. Read about who we are and what we do here. Our editors update links when possible, but note that deals can expire and all prices are subject to change.