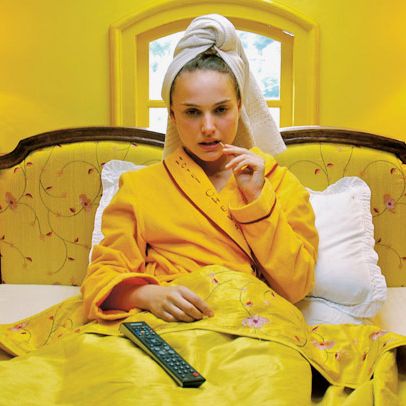 Photo: Fox Searchlight Pictures
Here at the Strategist UK, we like to think of ourselves as crazy (in the good way) about the stuff we buy, but as much as we'd like to, we can't try everything. Which is why we have People's Choice, in which we find the best-reviewed products and single out the most convincing ones. (You can learn more about our rating system and how we pick each item here.)
And while we've covered all sorts of robes and bathroom products — the best towels, and on our US site the best bathrobes for men, the best bathrobes for women, and the robe Prince George wore to meet Obama — here, we've rounded up the best bathrobes for everyone, as praised by the most enthusiastic reviewers on Amazon.
Best-rated bathrobe
Twinzen's terry cloth bathrobes are a big hit with Amazon customers. To paraphrase one reviewer: The world would be a better place if everyone could be this cozy. Together, the men's and women's Twinzen bathrobes have 3,000 ratings, including five-star ratings from over 2,200 people and 4.6 stars overall. The men's model is the best-selling bathrobe across all of Amazon, and the style includes a hood, pockets and a belt. The women's model has the same specs but adds a cinched waist and reduces the length. According to reviewers, these bathrobes' popularity is due to their lovely feel and fit, which are praised by folks of all shapes and sizes. Over 120 buyers compliment the bathrobes' quality feel, while 80 describe them as soft. Across the men's and women's listings, 100 reviewers compliment the bathrobes' shape. This includes several tall, broad-chested and plus-size customers as well as dozens who say that this is the first well-fitted bathrobe that they have found. The robes also get a thumbs-up for convenience. One reviewer, who mentions that they've just finished a hospital stay, says they're thankful that the bathrobe allows them to dry themselves without effort — and a further 20 customers say the robes are perfect to step into straight from the shower. These bathrobes are 100% OEKO-TEX certified cotton, 350 grams per square metre (GSM), and come in a range of sizes and neutral colours. According to reviewers, they're knee- to midcalf-length (between 104 and 126cm).
Best-rated (less expensive) bathrobe
With 4.5 stars across 1,500 reviews, this Adore Home bathrobe is another popular option on Amazon. It's also one of the least expensive options. As well as 150 reviews praising the great value, there are many accolades for the robe's comfort and warmth, which are lauded by 75 customers apiece. One customer happily reports that the robe is so wonderfully enveloping that it feels like being a child again and having a parent wrap you up in a big towel. The robe's design includes a belt, pockets and a shawl-style collar. (If you would prefer a hood, Adore Home offers a very similar, hooded bathrobe, with over 500 ratings and many positive reviews of its own.) The robe is unisex and has fans of all genders, and dozens of reviews refer to a successful purchase for a partner. The robes come in a range of colours, from aubergine to slate, and customers are highly complementary about each shade. This includes one five-star reviewer who reports buying the robe in red to show their love for Liverpool F.C. (They also describe their plans to buy a second robe so they can still wear it when the other is in the wash.) The robes are 100% cotton and are a similar length to the Twinzen robes (114 to 124cm).
Best longer, larger bathrobe
For those who want a slightly longer bathrobe, this cotton robe from Zollner offers a little added length and lower-body warmth. The robes run from 121 to 140cm long — a few extra centimetres for mid- to low-calf coverage on most people. With pockets, belt and a shawl collar, it's very similar in style to the Adore Home bathrobe and is similarly well reviewed, with 4.6 stars across 1,200 ratings. According to customers, it ticks all the right boxes: snugness, softness, and size included. 18 customers are taken by the comfy feel. Apparently these robes are particularly generous in width as well as length, so customers happily report that they wrap around you with plenty of wiggle room. (One man, who wears the robe to relax and watch telly, says his is so big that his wife can fit inside it with him). Although they only come in white, the robes are unisex, 350 GSM and available in sizes up to 6XL.
Best extra-long bathrobe
If you're looking for full-length coverage, this Arus bathrobe comes highly recommended by Amazon reviewers, especially taller bathrobe-wearers and folks who are tired of getting cold calves. (The robes run from 127 to 148cm long and are by far the longest on this list.) Although length is the main draw for 35 people, including several six-foot-tall customers, reviewers also like the robe's full-coverage width and generous arms, which can be rolled up depending on the wearer's preferences. As one customer writes, this is a bathrobe that won't expose you when you sit down. Beyond size, buyers like this bathrobe because it gets the job done: It's absorbent and cosy. The robe has a hood, belt, and pockets, and two reviewers add that the hood is great for drying their hair. The 340 GSM robe has 4.4 stars from 800 ratings and is made from 100% cotton terry toweling.
Best lightweight bathrobe
This Aibrou bathrobe, which is made with a cotton waffle fabric, is loved by reviewers for its refined look and lightweight feel. Waffle fabric is intended to be breathable as well as absorbent, and buyers say it lives up to expectations: Several people report that it keeps them warm in cool weather and cool in warm weather, and three buyers add that it's light enough to take traveling. A dozen people call it ideal for summer. The Aibrou bathrobe has 4.3 stars across 500 ratings, and 80% of UK customers' reviews speak highly of the robe's quality feel — this includes eight people who say it is as nice as the gowns at a hotel or spa. Ten others add that it's a perfect cover-up for a hospital visit, including for pregnant women. These bathrobes are unisex and have pockets and a belt but are on the shorter side. They measure 104 to 114cm top to bottom and are particularly popular among petite people.
Best silky bathrobe for women
If you prefer a bathrobe for lounging and getting ready — rather than toweling off — you may be interested in a lightweight, silky kimono, which doubles as a bathrobe and a dressing gown. This CCcollections kimono is the best-rated option for women: At 4.6 stars across 1,800 reviews, it's technically the most popular women's bathrobe on amazon.co.uk. Certainly, reviewers are full of praise in the comments. 150 women say they love the colours, 50 praise the good value, and 30 love the silky texture of the robe on their skin. Others add that the kimono has a very glamorous look, and several reviewers say they bought one as a gift — then bought one for themselves straight after. Not to mention there are successful reports from 30 women who wore the robe while getting ready on their wedding day (including beautiful photos for proof.) The kimono is one size fits all at 106cm long but comes in a range of colours and patterns. It is made of rayon and includes a matching patterned belt.
Best silky bathrobe for men
If you prefer a silky bathrobe in a straighter cut, this is Amazon's top-selling silk robe for men. Like the CCcollections bathrobe, this Secret Collection robe is made in a kimono-inspired style — customers love it for the design, bright colours, and soft feel. It has 4.5 stars across 200 ratings, and, impressively, there are almost no genuinely negative reviews. Meanwhile, there are glowing reviews from 80 men who bought it for themselves as well as praise from a dozen buyers who bought it for their son or partner. One of the most interesting elements of the feedback is how often people express both pleasure and surprise: At least a dozen customers say the product looks far more expensive than it is, and 20 people laud the quality of the robe in general and the embroidery specifically. One customer even says it makes him feel like a king. The robe comes with a matching belt and is available in two colours, both with gold dragon embroidery. It is made of a silk-polyester blend, comes in a range of sizes, and, according to customers, falls between the knee and the ankle — even for customers over six feet tall.
Best fleece bathrobe for women
This Kate Morgan fleece bathrobe is the No. 1 best-seller for women's bathrobes among Amazon customers. Although a fleece bathrobe can't substitute for a towel like the cotton bathrobes in this list, nearly 40 buyers call this the perfect robe for wearing around the house. Most buyers say that they were attracted to it because of the warm and cosy fleece material — the top-rated international review, translated from German, is titled "sooo fluffy!!!" When describing the texture in English, other popular adjectives include "snuggly," "velvety," and "luscious." Although the main draw is comfort, many customers add that this bathrobe is a practical investment for the colder months: Over 100 reviewers confirm that it will keep you warm and snug, especially after a bath or shower. The bathrobe has 4.6 stars across more than 1,000 ratings and comes in a range of colours and patterns, including rich purples and pinks. It is made of polyester, has a hood, belt, and pockets and — according to customers — reaches between the knee and mid-calf.
Best fleece bathrobe for men
Fleece bathrobes are real crowd-pleasers on Amazon — so much so that the No. 1 bestseller for men's bathrobes is also a fleece option, in this case a coral fleece robe made by Pierre Roché. The robe has been rated by over 1,000 customers. More than three-quarters of them gave it five stars. As with the Kate Morgan robe, the keywords for this product are fluffy and warm, and hundreds of reviews say the robe ticks both boxes. In fact, one reviewer says the fleece is as soft as chinchilla fur — then attests to their pleasure with a very smiley selfie of them wearing the robe. For other buyers, the biggest attraction is the style, and one reviewer gleefully reports that their new bathrobe has made them a fashion icon. Apparently, they can finally strut their stuff without being upstaged by a family member in a trendier dressing gown. A handful of female reviewers agree that the robe looks even better than their own (and some mention buying one for themselves or other women). The robe is made of polyester and comes with a belt and pockets. It's available in a small range of colours and, depending on the wearer, can fall above the knee or down to mid-calf.
Best novelty bathrobe
This unisex Star Wars-themed robe, styled like a Jedi's robes, is the most popular option on Amazon. Customers love it because it's soft, cuddly and — most importantly — lots of fun for fans. (More than 50 customers say that the bathrobe was a happily received gift or that it successfully doubled as a party costume.) As well as being entertaining, customers emphasise that the Star Wars robe is practical. It's made of polyester fleece, which more than 60 people describe as warm and one person unironically describes as a "cuddle magnet." According to other reviewers, it's also roomy, comfortable, and feels luxurious — as you might guess, lots of people say the force is strong with this one. The robe has 4.5 stars from 600 ratings. It comes with a hood, belt, and pockets, but lightsabers are BYO.
The Strategist UK is designed to surface the most useful, expert recommendations for things to buy across the vast e-commerce landscape. Read about who we are and what we do here. Our editors update links when possible, but note that deals can expire and all prices are subject to change.