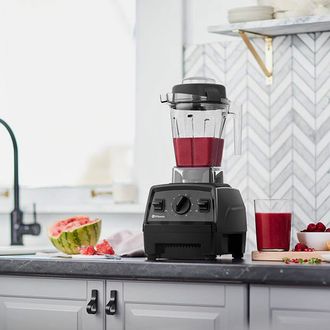 Whether you're an amateur cook, cheffy enough to host your own supper clubs, or you're just trying to make a smoothie to take to the office, a blender is an essential bit of kit for the kitchen.
To find the best available options, we asked 14 commercial chefs, personal chefs, home cooks, and authors for advice on blenders that can juice, blitz, purée, and liquify all manner of things, from hummus and labneh to hot sauce and oak milk.
Read on for their recommendations, including the best cordless blender, the best quiet blender, and the best blender for nut butters.
Best-rated overall blender
According to five of our experts, the best brand for blending was the Vitamix, specifically the Ascent series. Bettina Campolucci Bordi, a chef who runs the plant-based and gluten-free account @bettinas_kitchen, says they are great investment pieces for home cooks of any skill level due to their versatility. "It's a very powerful blender, so it's great for smoothies or soups but also baba ghanoush, hummus, and perfectly smooth cake batter," she says. She likes the 2500i series because it comes with separate sized containers, which make it less wasteful when blending smaller quantities.
Personal chef David Bailey, who has cooked for Elton John, Natalie Portman, and Beyoncé, agrees the 2500i is one of the best on the market. His clients often ask for him to prepare baby food, fresh smoothies, or plant-based meals, and he says it's the best for the job. "It's the way that they've designed the jug, which has more of a square base. A lot of blenders will have a rounder or tapered base, which makes it really difficult to purée things. It will only blend like the bottom third, but the Vitamix gets all the way around there. The wide base just makes such a difference."
Sam Buckley, head chef at Where the Light Gets In, the Landing, and the Pickle Factory, says, "The Vitamix is simple, with not much to go wrong, and it's superpowerful. It's the perfect blender to make herb oils. And Anna Haugh, chef and owner of Myrtle, said "the list is endless" when it comes to what her team makes in this. "All our dressings, purées, even chicken-liver pâté is made in them."
Best-rated (less expensive) blender
If you don't want to spend so much, three of our experts liked the KitchenAid. "KitchenAid blenders are really good, and affordable, too," says Justine Murphy, CEO of luxury food brand Mymuybueno. "I've had mine for many years, and, much like their food processors, they are really robust. I use mine for soups, smoothies, açai bowls, and dressings and sauces too." The blender is a great all-rounder — Murphy says she can make her raw cashew cheesecakes entirely in this blender.
Chef and author John Gregory-Smith agrees that his KitchenAid can make everything, including frozen margaritas and dips. "The blades can handle anything, like the ice in a batch of cocktails or green veg — I use it every morning to make a gross (but very healthy) green juice," he says. "I also like that it has different settings so it doesn't just purée everything — you can get a coarse chop or pulse, which I use for a roasted-veggie and white-bean soup. It's really sturdy, too, due to the heavyset base, which is really helpful when it's full."
It also came recommended by Vivek Singh, executive chef and CEO of the Cinnamon Collection restaurant group. "It's a really reliable blender — lightweight and very easy to use. It has a stainless-steel blade that easily chops and blends to ensure no lumps in soups or smoothies."
Best-rated blender with food processor
Keith Squires, the chef at the Dru Yoga Centre in Snowdonia, says this blender by Ninja is particularly effective at blending dry ingredients. "I've been using the 900 W model for four years now — it's survived blending my vegan recipes together no problem." Squires says that the dedicated spice-grinder attachment has been a godsend. "I burned out two spice grinders before discovering the Ninja's attachment for dry spices. This makes a superpowerful grinder that is really efficient. It goes through even hard spices, like fenugreek, in seconds, with no strain on the motor at all." He also says it's great at handling tough items like cashew nuts, which he uses regularly. "For drier mixes, I pulse for 60 seconds, let it rest, then repeat."
It's also recommended by Christal Cartwright, a private chef and hospitality manager. "It's the only blender I've used that hasn't failed me," she says. "It's consistent every time, quick, and extremely powerful." Cartwright adds that "there's a lot of settings for different sauces, smoothies, milkshakes, and soups, so you can always get the right texture."
Ninja's food blenders also came recommended by private chef Ms Joyce K, who actually uses the three-piece blender-processor set (which includes a processor and two sizes of blender). "It's great because of its versatility — you can make juice, pulse food, and even create dough with this," she says. "It is pricey, but the multipurpose function justifies it." The blender is dishwasher safe, which was a big selling point for K. "We all know how much of a pain cleaning a blender can be," and she notes that the blades are particularly sharp, even after repeated washes.
Best-rated quiet blender
Santos's silent bar blender has a removable sound enclosure that snaps over the jug to muffle the noise. "Speed is really important for us, but with that comes a faster motor, which means more noise," says Joshua Jarvis, director at Wing Shack. He uses this blender, which sits out "front of house," for the restaurant's famous Oreo shakes. "It involves Oreos, double-whipped cream, and vanilla ice cream. Frozen items mean the blades are working overtime, so it's worth investing in something durable." The blender is designed with commercial use in mind — it's listed as a great option for juice bars and hotels on its website — and is one of the larger ones on our roundup, measuring 44 by 20 centimetres wide.
Best blender for nut butters
Bailey says the Vitamix's E310 model, which is 200 pounds cheaper than the 2500i, is particularly adept at making nut butters or milks at home. "I do a lot of plant-based cooking and recipe developing for clients. A lot of people want me to make them homemade nut milk or nut butters — I'd say I have to make them daily, if not twice daily. And given the consistency, you need a powerful motor. I can leave this running for a full two minutes without it giving off that horrible burning smell you sometimes get from cheap blenders. I've never had that with Vitamix because they're superpowerful."
Best-rated blender for puréeing
For Lara Lee, the author of Indonesian cookbook Coconut & Sambal: Recipes From My Indonesian Kitchen, her NutriBullet handles most of her smooth blending. "I use it when I want to make smoothies or a small quantity of marinades and smooth sauces," she says. "But I find that it blends a sambal, or spice paste, too finely." Though Lee says it's quite noisy, she notes that it's quick and easy to clean — and it takes no time to whip up a tahini miso or honey dressing. "My favourite marinade is soy, ginger, garlic, palm sugar, vinegar, and five spice," she says. It comes with two travel cups, a sports cap, and a stay-fresh lid, so any sauces can be stored in the fridge.
Best-rated all-round stick blender
Swiss company Bamix have been making blenders since 1955, and their stick blender comes with food-processor attachments. "It's good to get a blender that's versatile," says Alistair Craig, head chef of Cambium Restaurant in Careys Manor Hotel & SenSpa. "You can chop solids, blend liquids, and froth all with one appliance. It has a sturdy design — so many home appliances are cheap throwaway items." He particularly praised the processor attachment, which is great for blending tough spices, grating dark chocolate, and making bread crumbs (though, like many hand blenders, it's not advised to use it to chip ice). The blender comes with a stand and also has the option of being wall-mounted.
Best-rated (less expensive) stick blender
Jimmy Garcia is a cook, author, and owner of Jimmy Garcia Catering, which has done pop-up events at the South Bank and on the London Emirates cable car. Though he uses a lot of commercial blenders, he swears by Kenwood's stick blender. "They're versatile, durable, and supercheap," he says. "They won't achieve the smoothest purées, but you can rely on them for soups and smoothies. They start at about £28 and go up to £80 if you want a range with lots of add-ons."
Best-rated multipurpose stick blender
Bordi said Braun are known for their stick blenders. "They're quite cheap, practical, and very comfy to hold, which is important if you're blending a big batch of soup," she says. "It has its own whisk attachment, too, as well as a chopper and masher, so it's a great choice if space is at a minimum in your kitchen." Braun's "splash control" design means the blenders are wider at the end making contact with your food, which helps stop soup or sauces whooshing up the side and all over your kitchen and making a mess.
Best Cordless Stick Blender
"We make our buffalo sauce on a big pan on the hob, so a cordless stick blender really helps you achieve a consistent texture," Jarvis says. "It is a labour-intensive job because if you blend too fast or the motor gets too hot, the butter in the buffalo sauce will split. This also has a quick 45-minute charge, and it has a lighter battery, so it feels good in your hand." [Editor's note: this product is low in stock].
There's also a non-cordless option for almost a third of the price.
The Strategist UK is designed to surface the most useful, expert recommendations for things to buy across the vast e-commerce landscape. Read about who we are and what we do here. Our editors update links when possible, but note that deals can expire and all prices are subject to change.