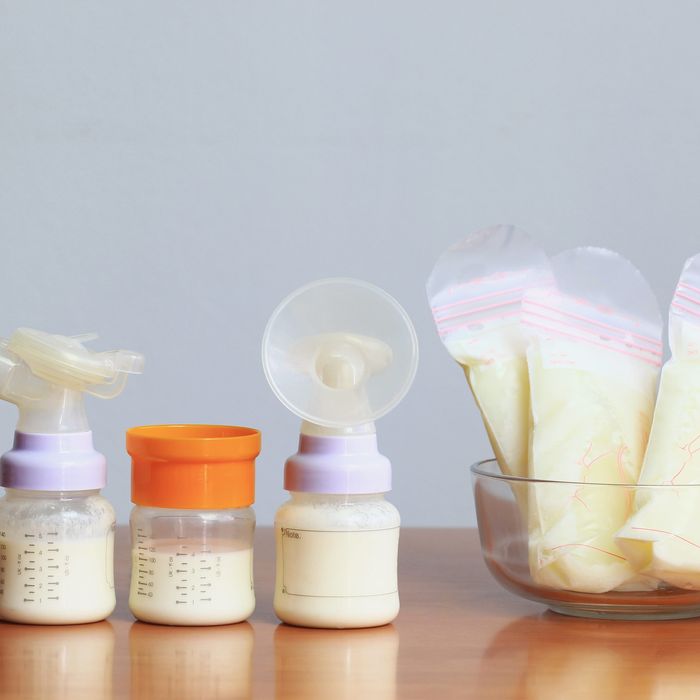 Photo: MonthiraYodtiwong/Getty Images/iStockphoto
Costing anywhere up to £250, breast pumps vary widely, and as you can't try before you buy, it can be hard to know which one might be best for you. The added difficulty is that it's wise to wait until your baby is born before buying a pump, as until you've given breastfeeding a go, you really have no idea whether you're going to want to express at all (or what kind of pump will work for you). So we asked for the opinions of nine experts, including midwives, lactation consultants, doulas, and even an ultramarathon runner who found viral fame for pumping at an aid station during the 106-mile Ultra-Trail du Mont Blanc.
Best value breast pump
All bar two of our experts sang the praises of the Haakaa, and independent midwife Jacqui Tomkins even went so far as to say she thinks 'all breastfeeding women should have one'. The Haakaa is neither an electric pump nor a traditional manual one — in fact, you don't pump the milk out at all, as it operates purely by suction. Clare Byam-Cook, former midwife and author of What to Expect When You're Breastfeeding … And What If You Can't? explains: 'You squidge it, stick it on your breast, and that creates the vacuum. It sucks away, like sticking a leech on to your breast, but more comfortable! At that price, it's worth giving it a go, as if it works well for you, that's great and you've saved yourself a bundle. If not, you've not wasted too much money'.
Lilla Ivanov, a doula who runs breastfeeding support groups in Edinburgh, calls the Haakaa a 'simple but excellent little helper'. It is easy to clean, silent, and lightweight, so you don't need to be at home to use it. Another bonus is that you can use this pump on one breast whilst your baby is feeding at the other. It can take a bit of practise to get the hang of using the Haakaa, as Charlotte Young, a lactation consultant and founder of Milk Matters, cautions: 'You need to ensure it is used correctly and that a vacuum is created to collect more than just "drip milk"'.
If you need to collect a lot of expressed milk, this may not be the pump for you, as midwife Sheridan Thomas advises that 'the difficulty with a manual pump is you can be expressing for quite a long time. At least with an electric pump, it just does it for you'.
Best electric single pump
After the Haakaa, this was the second-most-popular pump among our experts, with six out of nine recommending it. Tomkins and the Indie Midwife Sarah Forster praise the Medela Swing's efficiency and small size, which makes it easy to pop into your bag — especially useful if you are back at work and pumping during the day. According to Byam-Cook, it is also very easy to assemble. Doula Manisha Sheth rates the Medela Swing as it has 2-Phase Expression technology, which she says means it 'mimics the way a baby naturally feeds by encouraging the initial let-down in the first phase and effectively expressing the milk in the second phase'.
The Medela Swing is also available as a double pump, which is what ultramarathon runner Sophie Power was using in the viral image of her during the Ultra-Trail du Mont Blanc. 'It's a fairly powerful, rechargeable pump that I used when out and about, in private spaces such as a closed-off meeting room at work (or, you know, at aid stations whilst running)', she says. 'With a double-pump bra, this was pretty efficient at getting enough milk out — maybe taking 20 to 25 minutes for me each time. But whilst you couldn't hear it outside the office door, it was a bit too noisy to be on conference calls'.
Best electric double pump
If you have quite a fast milk flow and want to collect the most milk in the shortest amount of time, then you may want to consider a double pump that you use on both breasts simultaneously. The Ardo Calypso was mentioned by three of our experts. Birmingham Doula Lorna Phillip says her clients rave this pump, as it is super-efficient. 'It has lots of different suction settings, which can appear daunting at first, but you just need to play around with them until you find your own comfort level', she explains. 'It is great for those who'll be pumping regularly (including exclusively pumping) and great for mums of multiples. This model has the benefit of being pretty quiet, too, which is crucial if you're pumping within earshot of a sleeping baby'.
However, double pumps aren't the right choice for all breastfeeding parents, as Byam-Cook explains: 'I rarely recommend double pumps, because if you're lucky and you have a fast flow, you can be done in about 20 to 30 minutes, but if you have a slow flow, you can speed it up by squeezing your breast — and you can't do that if you're holding a pump in both hands. Also, you can't have a cup of tea, make a phone call, or even scratch your nose while using a double pump unless you buy a special bra designed to hold them in place'.
Best value manual pump
Manual pumps are more work than electric pumps, and many parents find they already have enough physical labour on their plate with a newborn to care for. But there was one traditional manual pump that was mentioned by two of our experts: the Harmony, which Doula Manisha Sheth says is 'a great option for mums who occasionally express or want a backup to their electric one when they're travelling,' as it is 'easy to use and nearly as effective as an electric one'.
It's worth remembering that expressing is a very personal experience and some parents may actually prefer the feel of a manual pump. This is true for Ivanov, who says the Harmony is her favorite at the moment. 'It worked really well having my third child, as I was often busy with being a doula or running mums' exercise classes and was on the go, so occasionally if I couldn't take my baby with me, I quickly grabbed the manual pump and collected some milk for her feed. It has excellent suction to the breast and the handle swivels, so it shifts to the correct angle while pumping'.
Best hands-free pump
While other pumps on this list can be made hands-free with the addition of a pumping bra, this is the only one designed to fit inside your regular bra, and it is wireless, which makes it a game-changer, according to Tomkins, Forster, Thomas, and Power. The Elvie is by far the most expensive, priciest pump on our list, and some of our experts caution against such a big outlay until you are sure you are going to be pumping regularly. "This one is expensive, but it is quiet and it can be used hands-free — an absolute godsend when you are out and about or in with a newborn who requires both hands', says Forster.
Whether the Elvie is right for you depends on how you want to spend your time while expressing. Thomas says, 'I know for so many women the most frustrating part of pumping is the feeling that you're just sat there, you can't go anywhere, so it can be quite restrictive. But other women enjoy it and they use that time to read and relax. Everyone's different'.
Power says the Elvie enabled her to carry on breastfeeding for longer than she would have otherwise, as she didn't have to stop her life to pump. 'I would pump at my shared workspace, at conferences, at restaurants, and on flights with no-one knowing', she says. 'It causes a slight bulge (like you have one breast larger than the other), but that can be covered easily with a scarf'. One thing to note is this pump is smaller than some others, so Power says she wasn't able to express as much milk each time and Forster says she has heard reports that the suction is not as effective as other pumps. Our experts think the marketing claims that the Elvie is silent may be pushing it a bit, but it is certainly quiet.
Best hospital-grade pump
This is a hospital-grade pump, which basically means it is made for multiple users over many years. Parents who will be expressing all their baby's feeds, perhaps because their baby is in a special-care unit, may want to consider renting a hospital-grade breast pump, such as the Medela Symphony, which was recommended by two of our experts.
Deciding whether it is worth renting a pump requires some forward planning, as renting will not be economical if you have more than one baby and you want to pump each time. Thomas says, 'The reason this pump is great is because it has a setting for encouraging your milk flow to come in during the first couple of days'. Called the 'initiate program', this setting mimics the irregular, rapid sucking and pausing pattern of a term-born infant during the first few days.
Power used this pump at home in between feeds to boost her supply and have some milk to store. 'This was the most powerful pump I could find, which meant it took less than 15 minutes to express what I needed', she says. 'It's a rental, which works out fairly pricey if you keep at it for a long time (I had mine for ten months), but in terms of time saved it was worth it to me. Downside is you are plugged in, so can't move around'.
The Strategist UK is designed to surface the most useful, expert recommendations for things to buy across the vast e-commerce landscape. Read about who we are and what we do here. Our editors update links when possible, but note that deals can expire and all prices are subject to change.