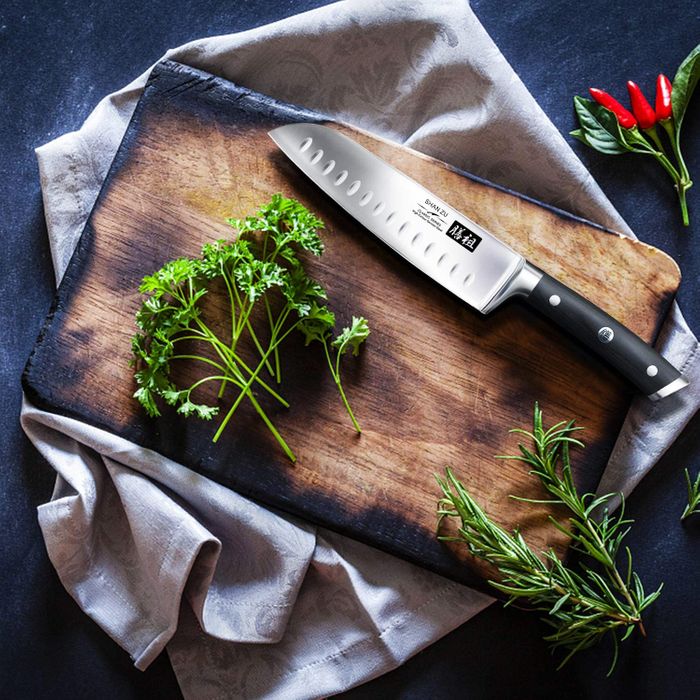 Here at the Strategist UK, we like to think of ourselves as crazy (in the good way) about the stuff we buy, but as much as we'd like to, we can't try everything. Which is why we have People's Choice, in which we find the best-reviewed products and single out the most convincing ones. (You can learn more about our rating system and how we pick each item here.)  
And while we've written about kitchen essentials before — including the best coffee makers, the best blenders, and the best knife sets — here, we've rounded up the best chef's knives, as praised by the most enthusiastic reviewers on Amazon.co.uk.
Best-rated overall chef's knife
This eight-inch chef's knife by German manufacturer Mercer has 82 percent five-star reviews. The blade, which is made from carbon steel, was called "super sharp" by ten reviewers, and "razor sharp" by a further six. One customer said the knife could handle anything, even cutting tomatoes without reducing them to pulp, while another noted now easily it sliced through a Sunday roast — from meat, to potatoes, turnip, and cabbage. Twelve reviewers commented on the excellent value of this knife, with the consensus among them being that it was an excellent option for people who wanted good quality but weren't ready to spend a lot. Fourteen reviewers also spoke about how well balanced this knife was, which is in part due to it being "full tang" (meaning the metal runs through the length of the handle). According to one knife expert, who has an impressive collection, nothing in their kitchen compares to this model. Though it was the best-rated overall, one issue that came up a handful of times was the fact this knife doesn't come with a safety sheath.
Best-rated luxury chef's knife
This knife from Zelite has 88 percent five-star reviews — the highest of any knife featured in this list. It's made from Damascus steel, which gives it its signature rippled finish, and was described as "razor sharp" by ten reviewers, including professional chefs and home cooks alike. One reviewer liked this knife so much they ordered several more Zelite knives and threw their others in the bin. Twenty-three reviewers mentioned the weight and balance of this knife, which is described as pleasantly heavy (the traditional Japanese rivets in the handle were also popular with knife aficionados). One five-star reviewer, who had done months of research on Japanese knives, said this was the best they'd ever ordered, adding that it moved like hot steel through butter. Another said it arrived so sharp they could have shaved with it. Six reviewers said the Damascus steel finish was beautiful to look at, including a man who invested in a magnetic knife rack in order to show it off to guests, and 17 reviewers wrote that it was the best knife that they'd ever used.
Best-rated Japanese chef's knife
This stainless steel eight-inch blade by Global has 86 percent five-star reviews, with 15 reviewers choosing it for the brand alone. One customer, who said Global is the best knife brand on the market (they own three of their blades) said this one got the most use in their kitchen, while 13 reviewers said this was the best knife they'd ever used. Another said investing in this knife was both "necessary" and "an absolute pleasure," adding that it made everything else seem rubbish by comparison. Because this knife is single-forged (meaning the handle is part of the blade), there's no chance of the grip worsening over time, according to one reviewer, who said the slimmer handle might even suit those with smaller hands. [Editor's note: This price does not include delivery.]
Best-rated santoku chef's knife
This knife by Shan Zu has 76 percent five stars. Santoku knives are often mistakenly thought to be the same as chef's knives (both are used for multi-purpose chopping) but a santoku knife has a distinct curved blade. Reviewers said the blade, which at seven inches is slightly shorter than a typical chef's knife, could handle everything from steak to chicken thighs. Though some customers said they found the distinctive design difficult to use at first, many soon learned how to slice with it; one even said their control of the blade was improved because of the neater size, which made peeling potatoes very easy. Seven reviewers were impressed at the balance, which made trimming fish and neatly slicing vegetables easy, including a woman with arthritis who found longer, heavier blades cumbersome. Ten reviews specifically mentioned the good quality of the steel — and customers agreed unanimously that this should be cleaned by hand.
Best-rated chef's knife and santoku knife set