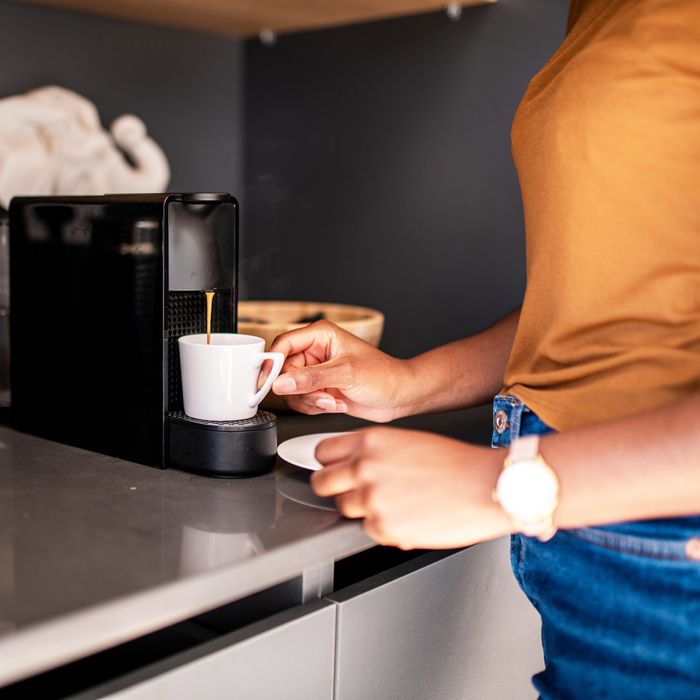 Photo: MStudioImages/Getty/Getty Images
Here at the Strategist UK, we like to think of ourselves as crazy (in the good way) about the stuff we buy, but as much as we'd like to, we can't try everything. Which is why we have "People's Choice," in which we find the best-reviewed products and single out the most convincing ones. (You can learn more about our rating system and how we pick each item here.)
While we've written about all kinds of coffee-making essentials before — including the best kettles and the best coffee grinders — here, we've rounded up the best coffee-pod machines, as praised by the most enthusiastic reviewers on Amazon.co.uk.
Best-rated overall coffee-pod machine
The best-rated overall coffee-pod machine is De'Longhi's Nescafé Dolce Gusto Jovia model, which has the highest number of reviews, just under 80 percent of which are five stars. In 1,076 reviews, customers mentioned how effortless it was to use, while the value for the money was cited by 303 customers, many of whom had been put off by the price of fancier models. The quality of the coffee is mentioned in over 50 reviews: This machine features a pressure level of 15 bars (with espresso, the higher the pressure, the better the coffee will be. Nine bars is considered standard quality).
Best stylish hybrid coffee machine
With a priming system and 15 bars of pressure, this machine is compatible with both ESE pods and ground coffee. Almost 65 percent of its reviews have been five-star, and over 80 percent of these commented on how its pleasing retro looks align with its good (to great) performance. One reviewer explicitly said it outperformed the £800 coffee machine they have at work. However, some critical reviews mention that cleaning the machine is a little fiddly and that it takes a few goes to understand the instructions.
Best-rated (less expensive) coffee-pod machine
Cheaper than the De'Longhi is the Tassimo Suny coffee machine, which still comes highly rated — over 80 percent of the reviews are five-star. The Tassimo has the same capacity as the Nescafé (0.8 litres) but uses "T-discs," rather than pods. These come in coffee, tea, and hot-chocolate varieties, and, along with the Tassimo-branded options, there are T-discs from third parties like Costa, Baileys, and Kenco. Fifteen reviewers wrote about the value for the money; one customer who used her machine every day said she was pleasantly surprised at how little it cost. However, three customers wrote that they found the water container, which makes three-to-four drinks, a bit small. One reviewer added that because the container is positioned at the back of the machine, it's tricky to see when it needs to be filled.
Best-rated small coffee-pod machine
This Nespresso Essenza model holds just 0.6 litres and is the best-rated small option on Amazon, with almost 83 percent of the reviews being five stars. One five-star reviewer (who loved the design) said this coffee machine is the same size as a large book (specifically, The Secret History of Twin Peaks) and about twice as thick. Another customer bought this after finding their Aeropress too messy and said it was "90 percent as good" as making coffee manually. Customers were also impressed by the quality of the coffee — it is highly recommended in 15 reviews — with one person saying this machine had gotten more use in three months than their first-generation Tassimo had in ten years. The consensus among reviewers is that the machine took 20 to 30 seconds to heat up (depending on the amount of water used), and while it wasn't necessarily quiet, one reviewer said the speed more than made up for it. As Nespresso is part of Nescafé, this machine is compatible with the same pods as the De'Longhi Nescafé Dolce Gusto Jovia, above, but reviewers said this model can use pods from Lidl and Aldi, too.
Best-rated coffee-pod machine with milk frother
This De'Longhi coffee-pod machine with milk frother has over 83 percent five-star reviews. Shoppers considered this an advanced option, with one writing that, of the four pod machines they have ever bought, this was by far the most impressive. The milk frother allows the machine to make cappuccinos, lattes, and latte macchiatos, and the quality stood out; over 35 customers said it was easy to use, while a further 35 said the coffee was excellent. In fact, one customer, who has been working from home since March 2020, said the drinks were indistinguishable from the ones made with their company's £2,000 coffee maker. Another said they had stopped using their expensive Sage espresso machine after growing weary of sourcing and grinding beans all the time — and this neater, automated option was just as good.
The milk container holds four cups' worth of milk, and unlike with other models, users can customise the amount of milk that goes into each drink by turning a dial. One reviewer wrote that this makes the Lattissima Touch a far better option than the Latissima One, a smaller model that uses a set amount of milk per drink. However, the milk container does come with some downsides — one customer said cleaning it took longer than brewing a cup of coffee, while a retired couple said this machine, while handy when their family used to visit, felt more cumbersome now they were in lockdown.
Best-rated coffee-pod machine with water filter
Best-rated ecofriendly coffee-pod machine
Lavazza's A Modo Mio Jolie coffee-pod machine is specifically designed to work with the brand's 100 percent compostable, ecofriendly capsules (we couldn't see any reviews which mention compatibility with other brands). One customer, who identified as a "self-confessed eco geek," said this is the best option on the market for anyone who wants to reduce their impact on the environment. While one customer was disappointed that the ecofriendly pods include only one decaf option, this machine was well-reviewed. Thirty-six shoppers mentioned how easy it was to use, with a further four noting that the consistency was exceptional. This model also includes a milk frother, which 14 reviewers mentioned positively — one customer said it made a foamy latte just as good as their favourite café's.
The Strategist UK is designed to surface the most useful, expert recommendations for things to buy across the vast e-commerce landscape. Read about who we are and what we do here. Our editors update links when possible, but note that deals can expire and all prices are subject to change.