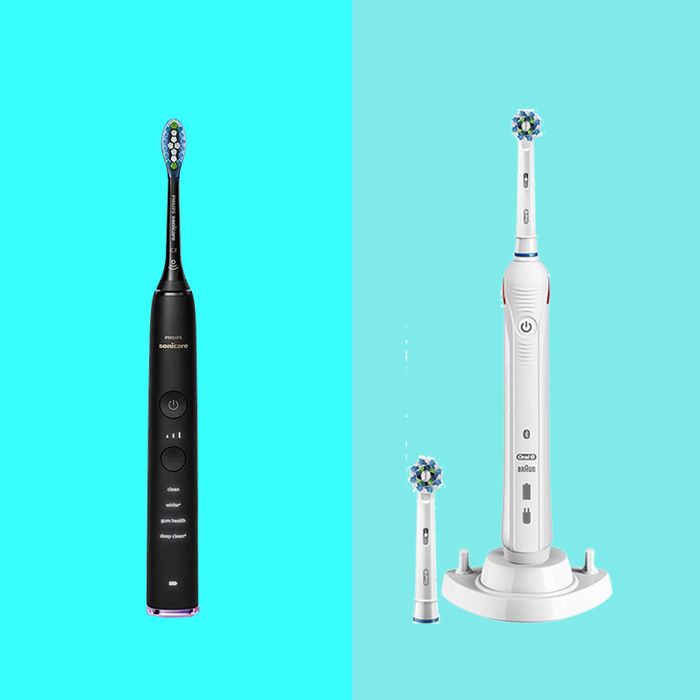 Photo-Illustration: retailer
For something you use every day, the world of electric toothbrushes is surprisingly complex. Most models look the same — sleek, minimalist, typically in black, white, pink, or rose gold — but near-identical models can cost anywhere from £40 to £400. What's more, electric toothbrushes now are fitted with all manner of features, from pressure sensors to AI power controls that reduce pressure and speed as you brush (think of it like driving an automatic car, rather than one with a gear stick). What you actually need from an electric toothbrush, though, will depend on a number of factors, such as the condition of your teeth, your diet, and how hard you brush. In other words, more is not always more.
With so much choice available to consumers, we decided to research what makes the absolute best electric toothbrush, no matter what you're looking for. We spoke to 11 experts, including dentists and oral hygienists, to find out what models they recommend to their clients. Where there were discontinued or hard-to-find models, we researched the best alternatives and broke down the (often confusing) model names. We also researched the models with the best ratings on Amazon, Boots, and Superdrug, too. Where the number of reviews is low (such as if a product is new to the market), we've made sure we sourced recommendations to back up a toothbrush's credentials. A quick Google search will show you that the price range of toothbrushes can be staggering. Our experts helped us understand exactly what you're getting for in those expensive models, but we've found some excellent options that don't break the bank. Where we think a toothbrush is particularly good value, we've highlighted it as such.
One thing to note is that the market is fairly dominated by Oral-B and Philips, for good reason; they both feature the Oral Health Foundation on labels. According to Dr. Nigel Carter, chief executive of the Oral Health Foundation, this logo means that "the product's claims have been robustly examined and tested by our independent panel of scientific experts [and] that the product is not only safe to use, but that it can also live up to its claims."
In general, our experts suggested not overthinking the process. Sonya Krasilnikov, a dentist and co-founder of Dental House, says, "Choosing between Philips Sonicare and Oral-B is like picking between a Mercedes and BMW. It's mostly personal preference. Their mechanism is different, but both achieve great results."
With that in mind, we've broken down our best in class based on several categories, so you can find the best model for your needs.
Best Overall | Best (Less Expensive) | Best Sonic | Best (Less Expensive) Sonic | Best Quiet
Cleaning modes: While our experts said a more expensive model won't always offer the best clean, our research found even inexpensive models allow you to vary the intensity of your toothbrush. The minimum number of modes we found was two, and the maximum was seven, and these intensity settings essentially vary the speed of the oscillation (or sonic speeds, depending on the type of toothbrush). For example, a tooth-whitening setting on one toothbrush vibrates around 9,900 times per minute compared to 7,400 times on a sensitive setting. Less expensive models can still include features to ensure a good clean — such as pressure sensors, which our experts said helped alert to overbrushing, and timers, which cut out the power after the recommended two minutes. These reduce the likelihood of causing long-term damage to your teeth and gums from overbrushing. We'll be highlighting a toothbrush's features (such as intensity variables, sensors, or timers) where relevant, including Bluetooth functionality and smartphone integration.
An impressive battery: Though travel has been limited in the last two years or so, we still felt an impressive battery was important when finding a good electric toothbrush — going to clean your teeth to find your brush is out of juice is one of life's great frustrations. That said, battery quality is where we saw the biggest divergence in cost. Most manufacturers guarantee up to 14 days' charge as standard, so we were particularly keen to find models that exceeded that. Whether a toothbrush does that or not is largely down to the kind of battery used — a Ni-MH battery is standard, while a lithium-ion battery should allow for more than two weeks between charges. However, the more expensive models typically have more features — Bluetooth connectivity or alternating cleaning modes — and these do drain the battery considerably.
Dentist recommendations: Toothbrushes are so similar in design that this isn't a product where aesthetics are going to win out over functionality. So we trusted our panel of experts to help us understand what to look for. Where a product is overwhelmingly recommended by dentists, hygienists, and oral-care specialists, we've highlighted it below.
Best overall electric toothbrush
Impressive battery | Dentist recommended | Bluetooth compatible
This Oral-B Smart model offers a range of cleaning modes for a modest price. It was recommended by Mayur N. Pandya, clinical director at Together Dental Group — he called it an "excellent all-round" model, specifically citing the pressure control and the ability to whiten teeth by removing surface stains. In fact, he told us it was an ideal starter model, as it includes Bluetooth connectivity but doesn't cost the earth — ideal if you want to invest in a more expensive model but aren't sure yet.
The Smart 4 features a round, oscillating head, meaning it rotates and vibrates simultaneously — orthodontist Janet Stoess-Allen says that because teeth are curved, "rotating heads are more effective in getting to all sides." This model comes highly rated on Amazon, too, with an average rating of 4.6 out of 5, with 77 percent of the 6,600 reviews being five stars. Reviewers noticed this toothbrush features a lithium-ion battery — meaning it can exceed the 14-day battery life typical of most other models. This is, in fact, the best-value toothbrush we could find with a lithium battery, but just be advised that the black or pink models of this toothbrush are fitted with a weaker Ni-MH battery instead.
Other notable features include the pressure sensor, which flashes if you're brushing too hard, and a two-minute timer; Pia Lieb, founder of Cosmetic Dentistry Center NYC, told us that not enough people brush for the full two-minutes.
Best (less expensive) electric toothbrushes
Good value | Impressive battery | Pressure sensor
A more affordable option is this toothbrush from Oral-B's less expensive Pro range. As well as having soft bristles (which help prevent gum damage), it features a two-minute timer, which vibrates every 30 seconds so you know to move to the next quadrant of your mouth, as well as a pressure sensor like the Smart 4 model. Dentist Inna Chern told us pressure sensors that beep or stop moving when you're being too aggressive "eliminate the possibility of overzealous brushing." Finally, the two-minute timer ensures you brush for enough time. It is highly rated on Amazon with 52,000 reviews, 80 percent of which are five stars. And due to the round, oscillating head, customers wrote that they were able to achieve a deep clean easily. It even comes with a lithium-ion battery, which is impressive at this price.
Good value | Impressive battery | Pressure sensor
We also recommend the newer 3500 Pro, which comes in at around the same price, as it is the highest-rated toothbrush according to Boots customers. Customers liked the updated features such as the larger sensor light, which wraps a full 360 degrees around the brush handle, as well as the extra cleaning modes (the 2500 has two modes: daily clean and gum care. The 3500 has both of these, and includes a whitening mode). What it lacks, however, is the travel case that comes with the 2500 and the rubber grips that many customers say make it easier to hold and manoeuvre around the back of the mouth. Both feature the same oscillating heads and the lithium-ion battery, so the differences are quite subtle overall.
Best sonic electric toothbrush
Dentist recommended | Multiple cleaning modes
This is the newest model of the DiamondClean toothbrush (which dental experts told us was one of the best sonic toothbrushes). Compared to oscillating toothbrushes (which rotate 7,500 times per minute), sonic brushes can rotate up to 30,000 times per minute. This means they can disrupt more plaque, but they can also feel quite intense — so many of them offer multiple cleaning modes to offset this (such as slower speeds for gum care and sensitive teeth).
There are four similar models in the DiamondClean range — in addition to the 9100, there is the 9000, 9500, and 9700. We compared reviews of all these models and found the differences to be largely aesthetic — for example, the 9500 comes in a "lunar blue" colour, and the 9700 comes with a storage case for several kinds of brush heads. The cleaning is largely the same, but the 9100 has the most features our dental experts singled out, such as a 20-second tongue-cleaning mode and Bluetooth-enabled progress reports on your brushing technique. Dr. Chaw-Su Kyi said that not only does she recommend this model to customers, but she uses it herself, too.
Best (less expensive) sonic electric toothbrush
Dentist recommended | Multiple cleaning modes | Good value
This model comes from Philips' inexpensive ProtectiveClean range, which is like the sonic version of Oral-B's Pro range. It is popular with dental therapist and hygienist Anna Middleton, who says it has many features commonly seen in more expensive models. "It features pressure sensors, which alert you when you're brushing too hard, ensuring you don't damage your teeth and gums," she says. "And it has alerts when you need to replace your brush head — it's hard to remember to do that every two to three months." The Quadpacer function also tells you when to move on to a different section of your mouth (so that you don't overbrush), and a built-in timer signals when your total time is up. Dr. Kyi noted the sonic technology comes at "a fraction of the price" compared to other Sonicare models, while Chen says the high speed will help "shake off plaque and tartar, aiding in the removal of these gingivitis-causing, bacteria-holding compounds."
Krasilnikov says the sonic sensation is not for everyone: "Some patients love the feeling of the vibrations, but others think they're too ticklish." If you think the faster, more intense clean might not be for you, consider the Oral-B models we featured above.
For a less expensive toothbrush, this model naturally features fewer cleaning modes — in fact, there's just one, with two intensities, but it comes highly rated by both Amazon and Boots customers.
Best quiet electric toothbrush
Dentist recommended | Quiet | Bluetooth compatible
Oral-B's iO range is relatively new — and this model came recommended to us by Dr. Jaz Gulati. He said the toothbrush uses a frictionless magnetic drive, "which makes it very quiet compared to previous models," and noted the toothbrush has the same special features as many of the ones featured above. "For those into tech and apps — it has a great Bluetooth-pairing function, which allows you to check if you actually reached all the areas of your mouth via tracking."
On Amazon, 81 percent of the reviews are five stars, and it's the highest-rated iO model on Boots, too, with 253 reviews total. Customers liked features such as the magnetic charging dock and the fact the toothbrush can fully charge in just three hours. It features the most cleaning modes of any toothbrush featured, with seven in total (these include Daily Clean, Sensitive, Gum Care, Intense Clean, Whitening, Tongue Cleaner, and Super Sensitive), and it has the two-minute timer, too. It also has the most advanced pressure sensor here, with a light that flashes red, white, or green depending on if you're applying too much, too little, or just the right amount of pressure.
Jonathan Levine, dentist
Sonya Krasilnikov, dentist and co-founder of Dental House
Dr. Nigel Carter, chief executive of the Oral Health Foundation
Mayur N. Pandya, clinical director at Together Dental Group
Matt Messina, dentist
Inna Chern, dentist
Anna Middleton, dental therapist and hygienist
Dr. Chaw-Su Kyi, dentist
Dr. Jaz Gulati, dentist
Pia Lieb, founder of Cosmetic Dentistry Center NYC
Janet Stoess-Allen, orthodontist
The Strategist UK is designed to surface the most useful, expert recommendations for things to buy across the vast e-commerce landscape. Read about who we are and what we do here. Our editors update links when possible, but note that deals can expire and all prices are subject to change.