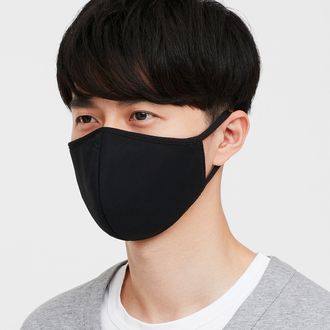 Depending on where you live in the UK, your lockdown situation might be really different to that of your friends and family (for up-to-date information on restrictions in your area, here is a handy guide). But one thing remains the same: mask-wearing in enclosed spaces (such as shops, supermarkets, and hospitals) is still mandatory in order to stop the spread of coronavirus. As well as regional-specific regulations, the current government advice is to wear a face covering indoors, keep washing your hands regularly, and stay at least 2 metres apart (or 1 metre with a face covering).
When choosing the right face mask, it helps to understand why we wear them in the first place. "Face masks work by reducing the spread of droplets that are contaminated with the virus," Dr Diana Gall told the Strategist UK. "Wearing a nonmedical face mask prevents you from spreading the virus unknowingly to other people, rather than protecting yourself from the virus entering your body."
There is an overwhelming amount of choice when it comes to masks, but, according to consultant dermatologist Dr Kristina Semkova, "function must definitely come over fashion" when it comes to selecting the right one for you." Rory Donnelly, a clinical research director at Copper Clothing, who make copper-infused antimicrobial products, says "some face masks may be fashionable, but they often don't protect you effectively."
What to look for in a mask
Experts told us that the most important things to look for are fit and fabric. "Your mask should be the right size and fit for the face. It shouldn't be too tight, in order to avoid friction," says Semkova. Gall says the mask must be wide enough to cover the nose, mouth, and below the chin, and should be snug without gaps, while Donnelly recommends one that "extends from your face in a cone shape, so as not to touch your face". He added that "the flame test" is a good way to check for fit. "If you can blow a candle or a lighter in front of you with your face covering on, it does not fit properly," he said.
If you are unsure what size you need — or shopping online is making it hard to tell — Donnelly suggests looking for one with extra features. "Adjustable ear loops can help you get the best fit, whatever your head shape," he says.
In terms of fabric, researchers from Northwestern and Cambridge Universities studied 20 different materials, including cotton jersey, denim, felted wool, and quilting cotton in order to determine the effectiveness when used in face masks. They concluded that "most of the fabrics commonly used for non-clinical face masks are effective at filtering ultrafine particles,", but noted that masks "made of multiple layers of fabric were more effective". This means, when looking for a fabric face mask, focusing on multi-layered ones is best — three layers is ideal, but two-layered masks with a pocket for an extra filter would also be good.
Experts told the Strategist UK that high-quality cotton was the best option. "The material that touches your face is the most important — so make sure it's natural, non-chemical and non-irritant", says Donnelly. Semkova, who has seen a surge in patients coming in with "mask acne," also suggested "cotton and/or silk" masks, but stressed that polyester is one worth avoiding due to being "non-breathable".
How to clean your mask
Cleaning your masks is crucial in order to maintain good hygiene. Machine wash your face mask after every use (Semkova suggests using a fragrance-free detergent, and skipping the fabric softener, in order to avoid irritating the skin). "Masks accumulate dirt, oil and make-up — we've all seen it! — as well as bacteria from your nose and mouth, which transfer to the face, causing a breeding ground for 'maskne' and other skin problems," she says.
It's also important to consider having multiple masks, rather than just one. Semkova said while re-using masks throughout the day "should be okay" as the mask protects other people and not the wearer, "ideally, masks should be replaced for each outing, as they need to be removed in a way that will not expose the wearer to the outer side of the mask, which can happen if you're putting it in your pocket or handling it manually throughout the day".
This also makes it easier to have a system in place where you always have a clean mask available (rather than your only mask being in the washing machine). Gall recommends "Soaking them in hot, soapy water, or putting them in the washing machine as soon as you get home, and dry them on high heat."
She also says to wash your hands before applying a new and clean face mask, as well as before removing it. "Just avoid touching the front of the mask, in case there are any germs there."
The best fabric face masks to buy online
Editors' note: Given that these masks are extremely in demand and made by very small teams (sometimes just one person), stock is constantly fluctuating. We'll be updating this post frequently with new places to buy, so if you don't see an option you like, check in later for more.
Sunspel was making cotton face masks and laundry bags for NHS workers during the pandemic, but have started selling the masks online, too, in order to raise enough money to keep producing them for key workers. The masks are made from cotton, with an anti-bacterial inner layer, and have a pleated front. They come in one size.
What we think: Strategist UK staff writer Chris Mandle was impressed at how expandable this mask was due to its folds – opened out fully, it almost reached his Adam's apple, so it would be a good option for anyone who finds existing masks too narrow (such as customers with a lot of facial hair). The cotton was soft and the mask comfortable on his face, and though the loops don't have toggles, they don't hurt the ears unlike other masks he has tried. One downside was that, after one hand-wash, the folds of the mask, which aren't stitched in place like pleats, have lost their shape somewhat. This hasn't affected the effectiveness of the mask, but it does suggest a delicate touch even when hand-washing.
Availability: Now.
Strategist UK editor Ailbhe Malone tried this mask from phone-accessories company Popsockets. It's made from polyester, and comes with a carbon-filter insert.
What we think: This mask comes in a range of colours, and the ear toggles mean you can adjust the mask with just one hand. Ailbhe says that, as someone with a small face, "this mask fitted exceptionally well, and didn't make my face look like I have a beak (which happens sometimes with bigger masks) — this is thanks to a bendable nose piece." Malone's mask came with a separate filter to insert in the mask, but a coffee filter would work as well. Due to the metal nose piece, she would advise hand-washing it — she put hers in the tumble dryer and the nose piece broke.
Availability: Now.
Photo: retailer
Boden's three pack of face masks come in a variety of vibrant prints, of which you'll get a "mystery mix" when you order (Chris got a blue-white, yellow-white, and a blue-pink selection). Made using extra material from Boden clothing, the masks are 95 percent viscose and 5 percent elastane, and can be machine washed at 60 degrees. Each mask is triple layered, with two layers of soft, jersey-style fabric, and one non-woven filter layer. They come in one size.
What we think: The extra-stretchy bands on the side of this mask meant adjusting or applying it one-handed was effortless. Chris said that he still felt a bit of pull on his ears, making wearing it for long stretches uncomfortable, but he was pleasantly surprised at how soft and comfy the viscose-silk material was on his face. The metal nose piece is quite long compared to other masks we've tried — so while it's hard to fold in half, this mask is particularly good at shaping around the whole nose, not just the bridge. Because of this, we recommend gently handwashing it rather than putting it in the washing machine, as the metal is liable to poke through the material.
Availability: Now.
We have been patiently awaiting the U.K. release of Uniqlo's breathable face masks since they sold out in a matter of hours when they launched in Tokyo back in May. Made from the company's signature Airism material, which is lightweight, antimicrobial, and self-deodorizing, these masks have three layers for increased protection. The first inner layer wicks away moisture; the second has a washable, built-in filter; and the third uses a UV-blocking mesh. They come in three colors (white, black, and grey) and three sizes (small, medium, and large).
What we think: Though it has three layers, including a built-in filter, the Airism mask is as breathable as we hoped. However, they don't have a nose strip or adjustable ear loops, which makes them move a bit when you talk. Camilla Cho, senior VP of e-commerce, bought a size medium and says it's a little loose. "I wore it on a run and the thing was sliding off my face," she says. Still, she likes it enough to go out and buy some toggles to make the ear loops adjustable.
Availability: Now.
Printing company Vistaprint is now making its own masks in a wide range of unique designs. The reusable masks are made with a replaceable filter system, with each filter lasting up to 12 hours. There are masks for children and adults, all made with 100 percent cotton, anti-allergic inner layers. Even better, for every mask bought, Vistaprint will donate 10 percent of the sale to local communities affected by the pandemic.
What we think: Though this is the most expensive mask we've featured, we thought it was very durable (our US colleagues are also big fans). They come in a range of colours, and the ear toggles mean you can adjust the mask with just one hand. However, Ailbhe says that, "this mask gapped a little around my chin. I also wore this on the tube (on one of the hottest days of the year) and didn't care for the man-made fibres." Malone's mask came with a separate filter to insert in the mask, but she says the website now has an "integrated" design, which might perform differently. Generally, she thought it washed exceptionally well.
Availability: Now.
Lingerie brand Bluebella is donating all profits from the sale of their face coverings (£5 per covering) to Chayn, a charity committed to fighting domestic violence. They are machine washable at 60 degrees and feature a double-layered fabric with an antibacterial finish on the inner lining, which they say lasts between 40 and 50 washes. They also include two separate inner filters.
What we thought: Strategist UK's senior audience manager Rosie Percy said this mask was structured without being too stiff, with a nose wire and adjustable straps for a more personal fit: "This is a huge plus, as I'd struggled with some other masks being too gappy — this was a perfect, really comfortable fit." Rosie's only sticking point is the lace design. While it's there to make the mask look more appealing, she says, "it does look quite like a pair of pants and could lead to some strange looks if it fell out of my pocket on my morning walk."
Availability: Now.
This Cotswolds-based silk shop — which makes pillowcases, hair wraps, and eye masks — recently started producing fabric face masks using their leftover silk. A September 2020 study at the University of Cincinnati found that silk's antibacterial and antiviral properties made it a particularly effective material for a face covering. This Is Silk makes theirs from two layers of silk, and includes both a pocket for inserting an extra layer and three rectangles of cotton for customers to add an extra layer of protection. The masks are sold in packs of two with a variety of shades available.
What we think: Strategist staff writer Chris Mandle was impressed at how soft and comfortable this silk mask was after having spent several months wearing cotton-blend masks. It also features toggle-straps, something he looks out for in a face mask because he finds traditional elastic loop straps painful on his ears. The toggles made adjusting the mask easy and it fits perfectly. "I got a black and a grey mask, and though both have a silk sheen, I prefer the black, which is more discreet," he says. "Obviously masks are designed to be functional rather than a fashion statement, but this black one looks good with everything in my wardrobe."
Availability: Now.
Strategist UK's senior audience development manager Rosie Percy found these masks via Nikki Williams, who made the original Tunnocks biscuit cushions – these are made by her mum. Each pleated mask is made from 100 percent cotton, and should be washed at 60 degrees.
What we think: These are really comfortable and offer minimal friction, and the elastic doesn't dig in as much as they do on other masks we tried (this might be because it's slightly thicker). Percy, who owns three of these, noticed that the elastic length actually varies from mask to mask, but said this was easy to fix by twisting them or fixing them with a safety pin. They're easy to wash, too.
Light test: Thanks to its double layer, very little light comes through these masks even when stretched out.
Availability: Now.
Strategist UK contributor Hannah Holway found these colourful masks on Etsy a couple of weeks into lockdown. They're made by I Was A…, a "slow-fashion" eco-conscious brand based in West Sussex. The mask is made from triple-layered cotton.
What we think: Holway says this is a comfortable mask, and it's thin enough to not completely muffle her words when she's talking. "I can have a phone call while wearing it, which seems impossible with some masks," she says. The fabric isn't particularly soft, but it's very breathable and hasn't caused any discomfort. The pleats make it fit snugly, too.
Light test: If you open up the pleats, you can see a little light through the material.
Availability: Now.
Manchester-based Wawwa make its masks to order — so if the stock is sold out, it's likely to become available soon. The company makes its masks with ripstop cotton, which is woven with a crosshatch pattern to reinforce the fabric and make it more durable.
What we think: Chris says the big selling point was the horizontal straps. "They keep the mask on without feeling too tight on my face," he says. "They also keep my glasses on securely; I've tried ear-loop masks and, bar one, haven't got on well with them, as they push my glasses off my face." The cotton is thick, but this means it takes a little longer to dry after being handwashed, too.
Availability: Now.
British fashion brand Plümo has started producing its own face masks. They are made from organic linen and feature four layers of fabric. Plümo advises washing them at 90 degrees after each use, and for every mask purchased, the brand will donate to the Masks 4 NHS Heroes initiative.
What we think: According to Ailbhe, these masks, which she has four of, are the comfiest she owns. She liked the fact the ear ties are easy to adjust, as well as the small red stitch which indicates which way up the mask is. "I'm also in love with the colour range (I own masks in Finnish Blue and Forest Green), and I like that Plümo donates to an NHS charity for every mask sold," she says. "I don't wear glasses, but my husband does – and of all the masks we own, these are his preferred, as the thin loops don't disrupt the arms of his glasses." It only lets a bit of light in if you stretch it, otherwise none.
Availability: Now.