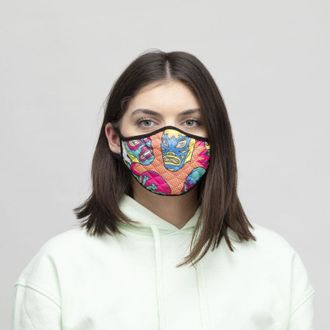 Since we've been in lockdown, there has been a lot of discussion and debate about whether we should be wearing face masks in public. And on May 11, the government in a report has formally issued guidance on mask use in the U.K., advising the public to "cover their face when using public transport and in other enclosed spaces." According to the document, people should "wear a face covering in enclosed spaces where social distancing is not always possible and they come into contact with others that they do not normally meet, for example on public transport or in some shops."
In their guidelines, the EDCD says, "The use of face masks in the community should be considered only as a complementary measure and not as a replacement for established preventive measures." They add that masks should be worn in addition to physical distancing, meticulous hand hygiene, and avoiding touching the face, nose, eyes, and mouth.
To better understand what you need to be looking for in a cloth mask, we reached out to Dr. Sabine L. van Elsland at Imperial College's Department of Infectious Disease Epidemiology for clarification on how face masks combat particle spread. Van Elsland recommended this report by the Royal Society's DELVE Initiative on face masks for the general public. One key finding was that "respiratory droplets from infected individuals are a major mode of transmission" of COVID-19, with the report saying that they can travel "as far as 1-2 metres." The report cites one study which found that cloth-based masks had a positive effect on reducing particle emission. "This evidence supports the conclusion that more-widespread risk-based face mask adoption can help to control the COVID-19 epidemic by reducing the shedding of droplets into the environment from asymptomatic individuals."
Dr. Diana Gall from online service Doctor 4 U says it's best to think of cloth masks as offering extra protection. "Face masks work by reducing the spread of droplets that are contaminated with the virus," she told the Strategist UK. "Wearing a non-medical face mask prevents you from spreading the virus unknowingly to other people, rather than protecting yourself from the virus entering your body."
Dr. Aamer Khan, a former GP, author, and founder of Harley Street Skin Clinic, agrees. "The use of masks when you are out and about may reduce the inhalation of particles; the mask will certainly reduce the number of times you touch your mouth or nose, but non-medical masks do not provide the same sealed respirator filtration, so if you cough or sneeze, the airborne particles can still escape from around the mask and increase the risk to others."
Khan also warns of a potential complacency if people are wearing masks outside. "They may lead to a false sense of security, and people may neglect the very important proven measures that are known to work," he says. "The incorrect or repeated use of disposable masks can actually increase the risk of infection as the virus accumulates on the surface of the mask." He reminds people to maintain basic practices like handwashing, disinfecting surfaces, and maintaining social distancing.
A reminder that current NHS guidelines still advise people to stay at home as much as possible, limit contact with other people, and to wash your hands regularly.
What to look for in a mask
It's worth noting any surgical masks should only be used by health-care providers. Chris Hopson of NHS Providers told the i there were concerns about "disrupting the supply of equipment needed in the health service." However, there are fabric masks available online that won't disrupt the NHS's supply chain. The EDCD, in a report titled "Using Face Masks in the Community," notes that "there are no established standards for self-made nonmedical face masks," but do note that nonmedical masks have some benefits — namely that they can be made easily and can be washed and reused (the government has advice on how to make your own here).
Gall says to look for a mask "made of a thicker material, but one that is fluid-resistant or waterproof. A wet face mask is less effective and could retain the virus. It should also be a dense, tightly woven fabric that is breathable."
She adds that a mask must be wide enough to cover the nose, mouth, and below the chin, and it should be a snug fit without any gaps. "These are the essential features for a face mask worn in a public setting that isn't for medical use. Some may also have a filter to trap and filter out any viral particles, or a valve to help you breathe easier," adds Gall, though she says they are additional — rather than necessary — features.
How to apply and remove a mask
Gall says that washable masks can be reused if treated properly. "Soak them in hot, soapy water or put them in the washing machine as soon as you get home, and dry them on high heat."
She also says to wash your hands before applying a new and clean face mask, as well as before removing it. "Just avoid touching the front of the mask, in case there are any germs there."
The best fabric face masks to buy online
Editors' note: Given that these masks are extremely in demand and made by super-small teams (sometimes just one person), stock is constantly fluctuating. We'll be updating this post frequently with new places to buy, so if you don't see an option you like, check in later for more.
Hype, a Leicester-based fashion and accessories brand, has launched their own branded face masks, which come in a single or multipack of three. They're made from 100 percent cotton, and the company recommends washing them at 30 degrees on a cold cycle before drying on a radiator.
Availability: Now.
Printing company Vistaprint are now making their own masks in a wide range of unique designs. The reusable masks are made with a replaceable filter system, with each filter lasting up to 12 hours. There are masks for children and adults, all made with 100 percent cotton, anti-allergic inner layers. Even better, for every mask bought, Vistaprint will donate 10 percent of the sale to local communities affected by the pandemic.
Availability: Dispatching on May 28.
Manchester-based Wawwa make their masks to order — so if the stock is sold out, they say it's likely to become available soon. They make their masks with ripstop cotton, which is woven with a crosshatch pattern to reinforce the fabric and make it more durable.
Availability: Now.
These masks by Inkymole, which we saw on Contrado, come in a pack of four in a variety of designs. They're made from a quilted, three-ply jersey fabric and are made to be machine washable in temperatures of up to 60 degrees.
Availability: Ready within ten days of ordering.
These masks are handmade to order in London and feature loud, colourful patterns on the front (you can even submit your own designs on the website). They come in sizes S to XL and are available in two fabric options: a thick, quilted jersey fabric, and Olympia Airflow, which is a nylon mesh fabric.
Availability: Made to order.
This double-layered mask is handmade in the U.K., with a 100 percent cotton lining. The seller recommends handwashing the mask or machine-washing with cold water (and definitely not using a tumble dryer). Note that the colours on this pattern, featuring some cute birds, may vary between masks.
Availability: Now.
This small business, based in Wales, is currently selling handmade masks made from a blend of cotton and polyester. This tropical-print mask is lightweight but still durable (and machine washable). Rew Clothing provides the masks in three sizes. They recommend "small" for children between 5 and 12, medium is suggested for older children and women, and large "for most men." The seller recommends washing your mask before first use.
Availability: Now.
Photo: retailer
While lots of the masks we've featured come in different sizes, these ones come specifically in an XL size. Made by a Cambridge-based business, there is a larger mask area and elastic which is two inches longer than the standard mask. The masks are percent cotton, and have two layers.
Availability: Now.
Scottish business, DreamCraftByLucy, offers triple-layered masks in 100 percent cotton. While there's only one size available, the seller recommends making a knot in the elastic straps if needed to adjust the size.
Availability: Now.
DaisyLloydDesigns, a London-based company that specialises in made-to-order vintage dresses and jewellery, is now making these floral cotton face masks. These double-layered masks don't include filters, but they do leave a pocket space for you to insert your own. They come in: Small Adult, Large Adult, Small Child, and Large Child.
Availability: Now.
This company is selling a variety of different masks, all hand-made in the UK, double-layered and 100 percent cotton. The seller recommends washing the mask at up to 60 degrees, and repressing the pleats in the fabric by pressing lightly with your iron — but not the elastic straps.
Availability: Dispatching from 22nd May.
This simple face mask is made from 100 percent cotton and comes in a variety of bold colours. The supplier says U.K. standard deliveries can be delayed up to two to five working days, and to select "next day delivery service" if you need the mask urgently. This mask does not include a £1.50 delivery charge.
Availability: Now.
British fashion brand Plümo have started producing their own face masks. They are made from organic linen and feature four layers of fabric. Plümo advise washing them at 90 degrees after each use, and for every mask purchased, they will donate to the Masks 4 NHS Heroes initiative.
Availability: Now.
London-based fashion label Florence Bridge has started making face masks, which feature a 100 percent cotton lining and a satin front covering. The straps are designed to be tied two ways, and Florence Bridge are donating a portion of profits from mask sales to Fuel Our Frontline, a charity delivering groceries and supplies to NHS and frontline staff.
Availability: Now.
This mask on East London accessories company Goodordering is made from three layers of 100 percent cotton, with at least one layer densely woven for extra protection. There is space to insert a filter inside — Goodordering sells them in packs of ten separately (but are currently sold out) though coffee filters also work. The fabrics are either remnants or recycled, made-in house in collaboration with local costume professional. The masks are made to withstand being washed frequently at 60 degrees.
Availability: Currently sold out (we have contacted them to find when they'll be back in stock).
Kids' fabric masks available to buy online
Goodordering say their children's masks are made from the same material as the adult ones and that they are suitable for ages 3–12.
Availability: Now.
Hype sell a set of three kids' masks, which come in bright splatter prints. They're made from polyester and elastane and also feature a plastic FFP1 filter (which are commonly used in dust masks) to offer more protection.
Availability: Now.
These kids' masks come in three styles: Day of the Dead skulls, butterflies, and a simple floral pattern. Sold by Erikadolls, an Oxford-based company on Etsy, they're available in two sizes, ages 3-7 or 7-14. These ones are double layered, machine washable (but only at 40 degrees or lower), and can even be ironed at a low temperature without steam.
Availability: Currently sold out (we have contacted them to find when they'll be back in stock).
The Strategist UK is designed to surface the most useful, expert recommendations for things to buy across the vast e-commerce landscape. Read about who we are and what we do here. Our editors update links when possible, but note that deals can expire and all prices are subject to change.