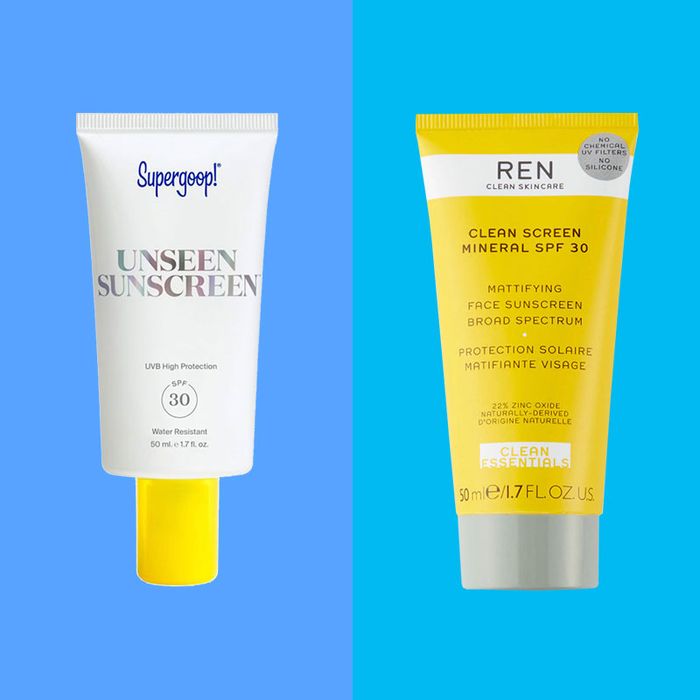 Applying sunscreen daily is crucial for your skin's health, but sometimes it's such a chore. Some sunscreens pill, some leave an ashy cast, and some are greasy and can cause breakouts. So we asked 12 experts, from a facialist to a triathlete, for their fail-safe sunscreens for your face. Read on for their recommendations, including the best suncream for sensitive skin, darker skin, and outdoor sports.
Best overall facial sunscreen
Photo: retailer
"It's my favourite sunscreen," says aesthetician and founder of the Black Skin Directory, Dija Ayodele. "It's a highly moisturising gel texture that doesn't irritate the skin, even after something like a chemical peel. I've gone through several bottles since I tried it last year. I only wish the size was larger!" The clear formula ensures no grey or white tones, even on darker skin tones, and the gel consistency means any make-up you apply afterwards won't slip or slide off. Refinery29 Beauty Editor, Jacqueline Kilikita, who was gifted the product but has since repurchased, added, "Unlike other sunscreens, which can be heavy, chalky and ashy, Invisible Shield's formula is so light and undetectable, you'd be forgiven for mistaking it for a serum. I love that even though it feels like wearing nothing on the skin, the SPF 30 provides high protection against UVA rays (responsible for fine lines and pigmentation) and UVB (which causes sunburn and skin cancer)." Kilikita, who has oily skin, also noted that it doesn't cause breakouts or blocked pores for her.
Best facial sunscreen for sensitive skin
Beauty blogger Lex Gilles says that La Roche Posay Anthelios Shaka Fluid SPF50+ is the best for her rosacea-prone, super-sensitive skin: "Finding an SPF that worked for me was a long and expensive journey, but since I found this, I've never looked back. It's lightweight, so my skin doesn't feel smothered (which can sometimes trigger a rosacea flareup), it isn't greasy so it works perfectly under makeup and it doesn't leave a white cast on my face. My skin loves it," she enthused. Comedian Rose Matafeo especially likes it as "it's super-light, so it doesn't pill under makeup." Clinical facialist Kate Kerr is also a fan, saying, "It's extra-light and very thin on the skin, so no white residue, and you can reapply without feeling that you're smearing it around." They also make a body version, should you be that way inclined.
Strategist UK senior editor Ailbhe Malone has a very low tolerance for the sun (to the extent that she sometimes get blisters in direct sunlight). She picked up this Japanese suncream by Bioré during a Glossier shortage, and was converted. She writes: "This sunscreen has the same gel quality as the Glossier, but it's intensely hydrating, as well as being protective in the sun. It leaves my skin looking dewy, but not feeling sticky." Ailbhe has very pale skin, but checked to see if this suncream leaves a white cast on darker skin; this positive review by Skincare With Reg on Instagram says it doesn't.
Best facial sunscreen for dark skin
Unseen Sunscreen is the favourite of aesthetic doctor Ewoma Ukeleghe, a.k.a. SKNDOCTOR. "Unlike most SPFs, I actually enjoy putting this on! It's got a great moisturising primer feel to it, and there's no white cast to it whatsoever." Ukeleghe was gifted this facial SPF but has since repurchased, adding that it spreads on the skin, "just like butter!" With a high SPF of 40 and a clear formula, it's perfect for even the darkest of skin tones that might usually find sunscreen can leave a grey, chalky finish. "I often wear it alone if I'm running errands or off to the gym. It really makes your skin look good," added Ukeleghe. Supergoop specialises in all things SPF, with offerings for the scalp in the form of dry shampoo and eyelids in the form of eyeshadow (two oft-neglected areas).
Best (less expensive) facial sunscreen for dark skin
London-based skinfluencer Lateef Saka vouches for this SPF lotion that, he says, won't leave a white or purplish cast. He points out that as well as the bargain price tag and dark skin suitability, it's also fragrance-free, making it suited to sensitive skin. It remains waterproof for up to four hours, and Saka says it's "reef safe" (this normally means an SPF is oxybenzone and octinoxate free) — "so you don't need to be concerned about your sunscreen polluting the reef," while enjoying the ocean.
Best facial sunscreen mist
Strategist UK writer Rachael Griffiths is a longtime fan of Bondi Sands SPF lotion, but she prefers the company's mist when applying SPF over makeup. "I find it just sits better over foundation," she says. "It also absorbs pretty quickly and doesn't leave any oily residue on the skin." For those after a higher SPF rating, Bondi Sands has recently released a version of its mist in SPF 50.
Best facial sunscreen for dry skin
In our column Empty! Strategist beauty writer Rio Viera-Newton told us about the hydrating SPF that she picked up in New York's Chinatown. "This fragrance-free, alcohol-free, chemical-free sunscreen has a really moisturising formula," she says. "The formula includes some of my favourite skin-care ingredients of all time, like green tea, glycerin, and aloe vera, which has anti-inflammatory, soothing, and moisturising properties; as someone with dry and acne-prone skin, it helps a lot with general day-to-day redness." Whilst the store Viera-Newton picked up her bottle from — oo35mm — doesn't ship internationally, you can order it from Stylevana.
Best tinted facial sunscreen
Makeup artist Nam Vo's signature is radiant, glowing skin (she calls her clients "dewy dumplings"), so who better to recommend a sunscreen that also doubles up as a base? Her pick is Supergoop Glowscreen. "It's almost like a primer meets SPF in terms of the texture, it's really blendable," said Vo. "It's got a sort of champagne hue to it which is really flattering and warms up the skin, whether you're super pale or have darker skin." With an impressive SPF 40, it's a great everyday option both under makeup or instead of makeup, said Vo. Alongside the pearlescent base, there's hyaluronic acid and Vitamin B5 to hydrate your face and give it a nice, bouncy finish.
Best facial sunscreen for sport
Neutrogena Ultra Sheer SPF50+ is the product of choice for internationally-ranked triathlete, Sophie Corbidge. "I've been using this nonstop for four years. It's really easily absorbed without feeling sticky or like your face is really coated with something." Corbidge said the consistency sits perfectly between thin and watery and thick and paste-like, "It's the ideal level of spread-able without being greasy, maybe a little thicker than a normal moisturiser, but that makes it easy to see where you've applied, then it absorbs quickly." And crucially, Corbidge says it's super long-lasting and withstands her tough, four-hour swim and cycle sessions. [Editor's note: Cordige's choice is currently unavailable, but we suggest the SPF45 version.]
Best facial sunscreen for oily skin
Rosie Percy, senior audience-development manager at the Strategist UK is a "pale-skinned redhead with an oily complexion." She likes La Roche-Posay's Anthelios Anti-Shine Face Mist — it's a sister product to the La Roche-Posay Shaka fluid featured above, but more suited to oily skin. Rosie says, "I liberally spray my face and neck after I've finished applying makeup, and take the little tin out with me to reapply during the day. Not only does it keep me protected, but the cooling mist and mattifying effect is especially welcome on warmer days." In fact, she likes it so much, she often buys two tins at a time to make sure she's never without.
Best mineral facial sunscreen
Photo: retailer
A mineral sunscreen, also referred to as a physical sunscreen, uses filters such as zinc to bounce UV rays off your skin (whereas chemical sunscreen absorbs and converts UV rays into heat and then releases that heat from the skin). It's a personal preference which you use, though mineral sunscreens are free of potentially ocean-endangering ingredients (like oxybenzone found in some chemical sunscreens) they can be hard to blend if not well-formulated. Founder of skin spa Pfeffer Sal, Andrea Pfeffer's pick for the face is Soleil Toujours Extreme UV SPF45. "My team introduced me to the brand, and I immediately loved that it's ocean-friendly. This leaves a glowing finish and zero chalkiness. I love that it incorporates antioxidants from Vitamins C and E to really treat the skin. We use it to finish all our facial treatments in the clinic. Also, no sunscreen smell!" [Editor's note: This product is currently sold out.]
Best mineral facial sunscreen for dark skin
Glamour beauty director-at-large Anita Bhagwandas, who was gifted the product, tipped REN Clean Screen Mineral SPF 30 as the best mineral sunscreen if you're concerned about chalkiness. "Finding a physical sunscreen that actually worked on dark skin and didn't make me look like a ghost was impossible for a really long time, but this stuff is perfect. You do have to rub it in well, but it's absolutely the best I've tried. It's also mattifying due to the oil-absorbing rice starch, and the packaging is made with recyclable plastic so it's a win all-round. It's my top choice for a daily SPF," said Bhagwandas. REN has balanced mineral filters from zinc with a spreadable texture that absorbs without a white cast onto all skin tones, and it's also fully vegan and cruelty free.
Some Strategist-recommended body suncreams
This lightweight, non-greasy option is the favourite of beauty editor Ava Welsing-Kitcher. "It feels like a body lotion and it smells heavenly. Being mixed-race, some SPFs can leave a white cast but this adds a really lovely sheen to my skin", she said, adding that she often finds sunscreen for the body unpleasantly greasy. "But as soon as I tried this, I realised it's too delightful not to use." Beauty editor Cassie Steer agreed, saying, "Despite being a beauty editor, I've often shirked body lotion due to the gloopiness and faff. However, Caudalie Milky Sun Spray hits the spot texture-wise; it's lightweight and silky rather than sticky, and it has a lovely soft frangipani scent that immediately makes me feel nostalgic." The other big selling point of the SPF is its green credentials. As Steer explained: "It doesn't contain any of the offending chemicals thought to harm coral." Welsing-Kitcher noted that the packaging is also biodegradable.
This affordable option is the top choice for conservation expert Katie Fidzcuk-Sterry, who spends long days outdoors and has sensitive skin. "I found this product years ago after doing the rounds of various 'sensitive' suncreams and it's the one of the only ones that ticks all the boxes for me. I'm outside the majority of the working week from Spring to Autumn, so I need something with high protection that won't aggravate my eczema. Garnier Ambre Solaire Sensitive Advance Dry Mist Spray SPF 50 has broad-spectrum protection, is totally sweat resistant and doesn't irritate my skin."
The Strategist UK is designed to surface the most useful, expert recommendations for things to buy across the vast e-commerce landscape. Read about who we are and what we do here. Our editors update links when possible, but note that deals can expire and all prices are subject to change.