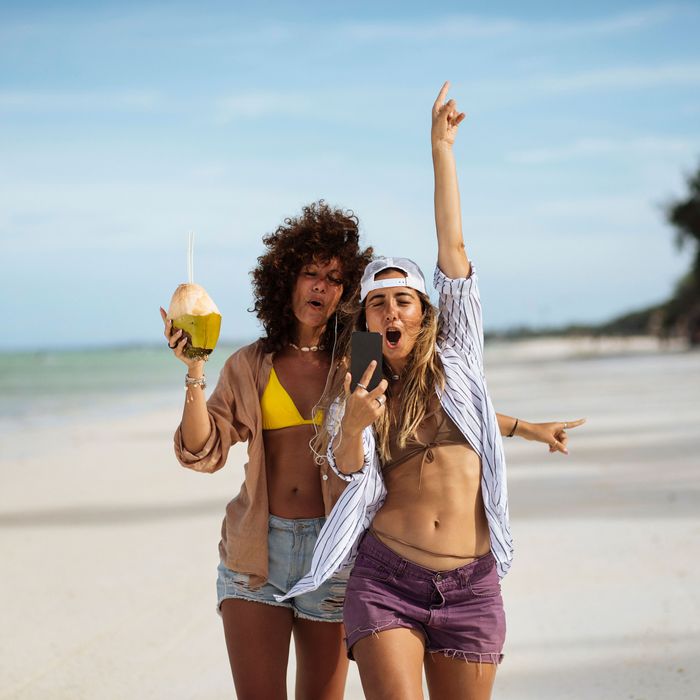 Photo: Mihailo Milovanovic/Getty Images
Some people enjoy their fair complexion — I am not one of those English roses. Week in and week out, there are a few things in my schedule that are simply set in stone: the big shop, laundry day, and an evening spent marinating in a fresh layer of tan. A good fake tan can feel almost as transformative as an excellent holiday: It makes you look healthier, leaves your skin glowing, and can be a welcome confidence boost. As someone who's fake-tanned religiously since her teens, I've developed a method that works every time. But in the past, I had my fair share of streaky backs, patchy elbows, and all-out Angus, Thongs and Perfect Snogging wotsit legs.
Thankfully, self-tanning products and tools have evolved since sticky orange palms were the norm. And after years of trial and error, I've developed a routine — from preparing and tanning the skin to scrubbing and polishing it clean — that might just save you from your own tanning disasters. Below, I've outlined my tools, tips, and tricks as well as some expert advice on how to get your desired colour.
The streak-free tanning mitts
Photo: Skinnytan
About once a year, I'll spend £25 on tanning mitts. Sure, there are cheaper Soltan or Tanologist mitts that you might pick up in Boots. But though they're marketed as reusable, they never get back their original streak-free finish once you've machine-washed them (and arguably even once they've been used a couple of times). This velvety mitt costs more but is durable: I tan three or four times a month, washing my mitt each time, and it lasts me about six months or 20 applications. I used to replace my cheaper mitts at the end of each month, meaning two Skinny Tan mitts per year still works out cheaper. These mitts also cover a larger surface area, are double-sided, keep your fingers protected from the product, and glide across the surface of your skin.
The reach-around back applicator
Photo: Skinnytan
At university, I suddenly couldn't force my mum to tan my back. And I didn't know anyone well enough in the first year who I'd stand in front of practically naked. Then I discovered this self-tan back applicator, a long thin strip with two handles that reaches spots you simply can't with your hands. It does take a little practice to master. You're best off applying a thin zigzag of tanning product along the length of the mitt and positioning yourself with your back to a mirror so you can peek at your reflection over your shoulder. Once you're sure you've covered each inch of your back, flip the mitt around to the clean side and give the entire area a really thorough rub to prevent streaks. The mitt is dry, but it's so velvety I don't find that it chafes. I'm a little lazier with this one and wash it about half as frequently as my other mitts, so I only need to replace this once a year.
The body-tanning mousse
When I heard there was going to be a tan shortage because of Brexit, I went out and bought three bottles of Liquid Gold. I've tried many brands and bottles, from St Moriz, which left me green, to Filter by Molly Mae, which was fine but overpriced. But once I found this tanning mousse, I stuck with it. For one, you're left with a subtle coconut scent rather than the usual biscuit-tin smell. Secondly, it doesn't stain your clothes or bedsheets a ruinous orange. Finally, it doesn't demand that you wash off the guide colour once it's finished developing (but I still like to wash it off in the morning anyway). This is great if you accidentally splatter yourself with water after applying a layer — as it's not a guide-colour type tan, it tends to be much more forgiving. Finally, if you regularly moisturise your skin, it looks fresh for seven days and only visibly needs touching up after around ten.
The colour itself is a medium to deep shade, which is ideal for my paler skin. If you're also pale and after a deeper tan, medium shades are way more effective than extra-dark ones. "The fairer your skin is, it'll only be able to absorb a certain DHA (which is the darkness of tan)," says Holly Furlong, a tan specialist from Liverpool. "Pale girls may think they need an extra dark tan, but as the DHA percentage is too high, your skin won't absorb it. The best way to darken your tan is to start lighter and build your way up so that your skin can build a resilience to tan. That's why a lot of fairer-skin girls find they're darker with medium tones as opposed to extra dark."
For those starting with a deeper skin tone, the Tan-Luxe Illuminating Drops may work better on your skin. Rated our best fake tan for the body, the drops were highly praised by three tanning enthusiasts, including Joelle Dyson, an actress and singer who previously starred in Tina the Musical. "I use medium-dark, as I have a darker skin tone. It's so easy to apply and leaves an amazing colour behind," Dyson tells us. "Having the flexibility to customise the finish is so useful, and it always fades evenly." Although on the pricier side at £42, as you only need two or three drops per application, one bottle goes a very long way.
The face-tanning drops
The only place I don't use Liquid Gold is on my face: My skin is very dry and sensitive, so it breaks me out, and as the face is always on show, even one slight streak can look disastrous. Instead, I mix two or three drops of this St Moriz tan booster in with my regular face moisturiser and apply as usual. The drops are runny, so I'd recommend using a slightly thicker moisturiser (I use Cicaplast Baume) to make the application process easier. (Do make sure to wash your hands after applying or they will be stained orange for a few days.) You end up with a subtle glow from an affordable product.
Now, I tend to forego foundation, finding that — when paired with a few swipes of Charlotte Tilbury's Flawless Filter or a dab of Nars tinted moisturiser — I've discovered a foolproof no-makeup makeup hack. They're also a lifesaver on days where you're in between tanning cycles, which I go into more detail below.
The tinted moisturiser for topping up
Photo: Boots
As I said, my tan looks fresh for a week and only demands a fresh layer on the tenth day. In that three-day interlude, I apply a layer of Garnier's tinted moisturiser across my entire body. The glow is really delicate, but it adds a bit of dazzle to a tan that may be wilting. Also, if I've started to develop the classic pale armpits or patchy elbows, I'll add in a couple of tanning drops to the mixture and really focus it on those uneven areas. In a pinch, this method is ideal: You don't have to apply another layer of tan and go darker than you want and it can be done in well under five minutes.
The body scrub
Photo: Lush
There's no need to scrub your body raw to remove the last dregs of colour before your next application — a couple of long baths should do. To begin, I'll rub my body with baby oil and sit in a steaming hot tub for around 20 minutes as the oil breaks down the tan product. Then I'll apply a good sea-salt scrub and use circular motions to exfoliate both the tan and dead skin across the body. I like the Rub Rub shower scrub by Lush for its refreshing, botanical scent, but really any bitty-sugar scrub will do the trick.
The exfoliating mitt
Photo: Coco&Eve
Finally, use an exfoliating mitt and some moisturising soap to slug away the remaining tan and rough bits from your body with firm circular motions. A tan-exfoliating mitt works better than loofahs or firm sponges as they're kinder to the skin (and won't leave you stinging). This one from Coco and Eve is sizable and easy to manoeuvre about the body.
Not only will this entire process remove your tan, it keeps your skin soft and supple, which makes applying the next layer much easier. Make sure to pat your skin dry, as it may feel a little sensitive, and use your moisturiser of choice across your entire body. If you're applying a fresh layer, wait at least 12 hours after exfoliating and make sure to have a shower in the meantime; tan applies the smoothest on moisturiser- and deodorant-free skin.
The Strategist UK is designed to surface the most useful, expert recommendations for things to buy across the vast e-commerce landscape. Read about who we are and what we do here. Our editors update links when possible, but note that deals can expire and all prices are subject to change.