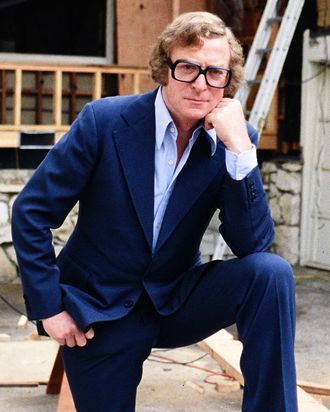 Photo: Paul Harris/Getty Images
Just like sunglasses, choosing the right pair of glasses comes with a myriad of options. There are different shapes, sizes, and colourways, for one — but there is extra pressure given how often your glasses will be on your face. You can play it safe and pick something "classic" (though that could also read as a little generic). Or you could go for something more fashion-forward that you might get bored of. At the Strategist, we believe in buying smartly, so we assembled a panel of 12 discerning, stylish men, all of whom have exceptional taste, to find out where they bought their glasses from and what they looked for when considering a pair. Our task force of cool people includes producers, perfumers, a Savile Row tailor, and menswear writers, so whether you only need glasses for reading the paper or you rely on them every hour of the day, we're confident our guide will help point you in the right direction.
[Editor's note: All prices listed are for frames only.]
Best overall men's glasses
Cubitts, an eyewear brand founded in 2013, was favoured by four of our 12 experts. "My Cubitts are transitional, and I wear them the most these days, including for running and driving," says Mat Buckets, a menswear writer and blogger. "I tend to go for more rounded styles, as my face is pretty slim and long." Jan Hendzel, founder of Jan Hendzel furniture studio in Woolwich, also liked this brand, which he wears in addition to a pair from Berlin-based Mykita. "Cubitts take great pride in being manufactured in London, and they also offer a complete repair and spectacle service which is a great sustainable incentive that offers longevity."
They also came recommended by Alexander Wood, a European PR manager for HBO, who has worn them for the past three years. "I like that there is a fixed price point on all their frames, and that they look slightly different from bigger high-street chains," he said. James Warren, head of production at creative agency Intermission, agreed, saying he "wanted something classic yet modern — I generally like wearing clothing and accessories that aren't overly branded."
Warren mentioned the Cubitts VR app, "which lets you try frames on virtually — and they can mail you up to six options to try at home for size, before ordering." Wood also said the customer service was good: "I've got quite a big head, but they mould and bend the glasses (with some sort of blow-dryer), so the frames sit well on my face, all as part of the service." He also likes that the majority of the frames come with clip-on sunglasses, "which are pretty cool." Hendzel also noted that whatever stock it does not sell is donated to eye-health charitable causes.
Best (less expensive) men's glasses
Oli Marlow, a perfumer at Jovoy in Mayfair, wears clear frames from Ace & Tate. "I've had these since June 2020; before then, it was the same style, but I was tortoiseshell all the way," he explains. Ace & Tate frames are — perhaps unsurprisingly — made from acetate, and the company lets you "try" its styles online by uploading a photo. Like Cubitts, many of Ace & Tate frames are compatible with its "clip-on" sunglasses lenses, and they're the best value of the glasses here, starting at just £100.
[Editor's note: The Easton clear frames are out of stock, but the Roth, a similar-shaped frame, is still available in clear acetate.]
Some other stylish glasses
Dario Canera, a tailor at Huntsman & Sons on Savile Row, told us he liked these frames from Oliver Peoples. "These are the frames worn by Gregory Peck for his Oscar-winning role as Atticus Finch in To Kill a Mockingbird," he said. The acetate frames are made in Italy and come in ten colours, from black and espresso brown to more modern hues like washed jade and canarywood.
They weren't the only style of Oliver Peoples frames recommended by our panel. Arman Naféei, host of the Are We on Air? podcast, told us about the brand's Cary Grant frame, which are his preferred shape of sunglasses. "I try to avoid anything too contemporary or overly design-y; I like something classic. This frame is one of my favourites, they look great day and night, whether I'm in L.A. in the sunshine or back in grey Berlin."
"Because I wear eyeglasses every day and every night and can't see without them, I don't buy cheap glasses ever," says Alan Eckstein, owner of Somerset House. He told our sister site that his go-to brand for frames is Cutler and Gross. "They're one of the last remaining very high-end Italian manufacturers and designers of glasses," he says. "Their glasses take days to make, and they're weird and they're beautiful. They did all the glasses for the movie Kingsman." Eckstein wears this pair — "BOB is short for 'blue on black,' so the inside of the rims, where the lenses are, is blue," he says — and it has held up incredibly well. "I fall asleep in them. I turn over in my bed, and they still don't change," he says. "They're so solid."
In addition to his Cubitts, Hendzel told us that Mykita appealed to him because "they produce everything in-house, so they have complete control over production, which I love. This creates the best-developed and most exciting products — design and manufacturing shoulder to shoulder."
Mykita was founded in 2003 in Berlin, and in addition to its everyday collections, has collaborated with Maison Margiela and Helmut Lang. But Hendzel is most fond of its ingenuity. "What got me hooked was how they had developed a screw-less hinge. It's a great bit of engineering that complements the frame styling perfectly."
[Editor's note: Mykita are hard to find online, but are available in several stores in London, including Gregory and Seeley on Fleet Street and Schuller on Lambs Conduit Street.]
"Moscot is a brand I've always wanted to own a pair of glasses from," explains Buckets. "When I got married, I decided to treat myself to a pair, so that's what you'll see in my wedding photos. They feel extra special; they're rounded, pale-brown acetate frames with dark-green lenses." Moscot also came up when our sister site quizzed stylish men on the best frames. Chris Berube, a radio producer on 99% Invisible, said, "They're square frames, but they're slim and rounded enough that I don't look like '70s Michael Caine. Who looks amazing! But I don't think I could pull his look off," he says. "I wear my glasses 16 to 20 hours a day, so comfort is important, and the bridge sits gently on my nose." Berube said that maintenance is fairly low-key. "Because they're plastic frames, they're easy to adjust by hand when the arms start to bend over time." Moscot's frames come in a range of colours, including sage and the hard-to-pull-off clear acetate.
These are the glasses I own myself; Kite is a small brand with a shop on Redchurch Street in Shoreditch, and though I was initially gifted a pair in 2017, I've since bought the same frames and replacement lenses from them (my friend and Strategist contributor Bobby Palmer also owns this design). At the time, I was looking for a distinct pair of glasses; the market felt saturated with wire frames (too Harry Potter for me) and tortoiseshell-acetate options (too Mad Men). I'd seen Kite frames pop up several times on the faces of interesting people — from sports agent Akin Solanke-Caulker to Rioht Club founder Suleman Kay. I described them to a friend as "appropriately unusual" — they always had one element that made them feel a bit more interesting. With the Otto frames, I was drawn to the copper colour, which had all the flattering benefits of tortoiseshell without looking too generic. And I liked the detailing, like the bridge across the top and the oversize shape of the lenses. My glasses always get compliments — just this month, I've had both the barista at Four Boroughs coffee and an assistant at Aesop ask me where they could get a pair just like them.
Speaking of stuff we buy ourselves, Strategist senior editor Anthony Rotunno, who has worn glasses "since the second grade," says "frames have been an everyday accessory for most of my life — because of this, I've always been one to invest in pricier pairs; I'm the type to wear the same frame for several years, as opposed to switching it up more frequently." His most recent: the Garrett Leight Walgroves, which he's been wearing for almost two years. Says Rotunno, "I chose these because the frames are slightly less rounded around the eyes than your standard Harry Potter glasses, making them just different enough from the other Garrett Leight Wilson frames this creature of habit wore previously. (My former Strategist colleague Jason Chen wore those same Wilson frames — but that's not why I switched, I swear)." Leight's frames are generally durable if taken care of and stylish without being loud — a tradition he apparently took on from his father, Larry Leight, the founder (but no longer owner) of heritage-glasses brand Oliver Peoples.
Photo: retailer
"Due to the intricate nature of my craft, lightweight spectacles are of paramount importance," says Andrew Ramroop OBE, master tailor at Maurice Sedwell in Savile Row. "One of the other priorities for me when selecting eyewear is the design. As I wear my spectacles all day, travel to different climates internationally, and consult in various lighting situations, it is essential that my eyewear feels light and comfortable." Ramroop told us he found his ideal frames from Silhouette, an Austrian brand that has been making eyewear since 1964. His glasses of choice, the frameless "Titan" model, come available in 12 different lens shapes and 12 different shades. "I cherish them," says Ramroop.
We heard about these titanium, rimless frames from architect Ian Ritchie. They were made by Poul-Jørn Lindberg with architect Hans Dissing. "These are so light — weighing less than two grams — that I do not really notice them, and because they are rimless and shaped to my ears, I am even less aware," Ritchie told us. "They present refined engineering, which along with my trifocal and actinic lenses (which darken in sunlight and avoids the use of sunglasses) are so important to my well-being. I've been wearing them since 2004, when I found I needed glasses."
[Editor's note: These are tricky to find online, but Lindberg has a store locator on its website.]
The Strategist UK is designed to surface the most useful, expert recommendations for things to buy across the vast e-commerce landscape. Read about who we are and what we do here. Our editors update links when possible, but note that deals can expire and all prices are subject to change.