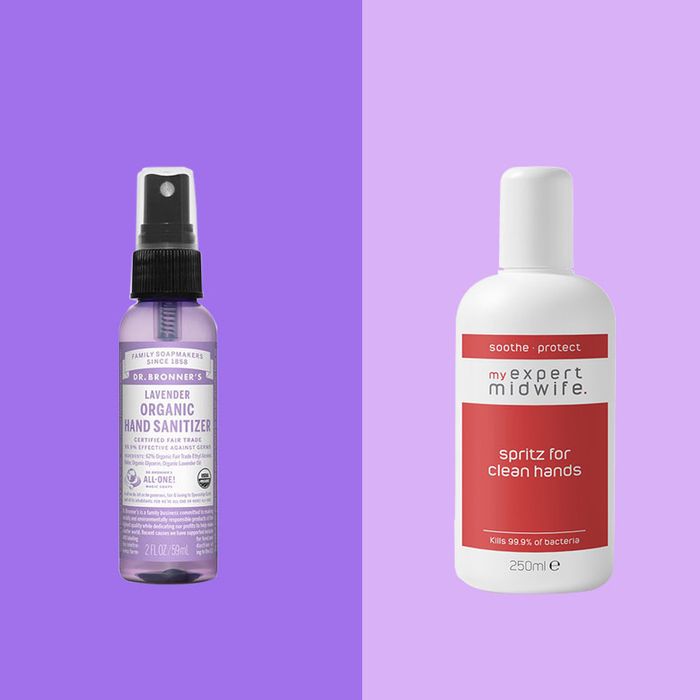 Photo-Illustration: retailers
Here at the Strategist, we know that finding the "best" product really depends on exactly whom you ask — which is why we've devoted a new series to squeezing in as many informed, trustworthy opinions as possible. And we've come up with dozens of ways to do this, among them: surfacing reader reviews from across the internet, taking quick polls (among our friends and fellow shopping-obsessed Strategist editors), and partaking in some advanced internet snooping.
By now, nearly a year into the pandemic, you're unlikely to be leaving the house without a small tube of hand sanitiser (along with your face mask, keys, wallet, and so on). But while the early weeks of the pandemic were a desperate scramble to find anything to rub on your hands, thankfully many companies have more options to consider. 2020 even saw some unexpected brands pivot to making hand sanitiser, like menstrual-health brand BeYou and gin distillers like Portobello Road, Dyfi, and Harrogate Tipple.
The most crucial thing is that you are washing and sanitising your hands in the first place — so any hand sanitiser will do the trick (as per the CDC guidelines, your sanitiser should be at least 60 percent alcohol). But since there are so many options out there, we wanted to help. We rounded up some hand sanitisers, such as gel and spray varieties, including Strategist-staff recommendations and expert-approved ones, all of which are at least 60 percent alcohol.
People's Choice: A Highly Rated, Low-Priced Gel Sanitiser on Amazon
Since we trust the wisdom of the crowd with so many other things, we decided to turn to Amazon to see what the best-rated hand sanitiser was and found this option by INEOS. With over 3,000 reviews, an average rating of 4.7 out of 5, and 78 percent of all reviews being five stars, it's a popular choice. It's also quite large, so you might need to decant it into a travel-size bottle if you're planning to take it with you, but it's highly affordable at just under £6. One final thing to note: The label says this is a "hospital grade" cleaner, but this refers to its ability to kill pathogens more commonly found in hospitals rather than COVID-19 itself.
Ask a Cool Person: The "Eau de Parfum" Sanitiser Used by the Staff at Trullo
According to Alice Grier, the managing director at hospitality agency Gemma Bell PR, Montamonta's basil, parsley, and black pepper spray smells so good that she uses it as an "eau de parfum." "Some of my restaurants, like Trullo and Ozone, have it in store, so I was already familiar with it," she told us. "I made the switch from gel to spray sanitisers last year because they feel cleaner — and tend to smell better, too."
Montamonta is a small-batch sustainable skin-care brand based out of East London that pivoted to hand sanitiser during the pandemic. They supply their spray sanitiser to a number of their existing clients in the hospitality sector (the Guardian's deputy TV editor, Hannah Davies, told us she stumbled upon it being sold in Ombra, her local Italian deli in Hackney). Grier says she likes that this spray is made of natural ingredients. "A nice-smelling sanitiser makes the whole process feel a bit less sterile," she says.
Quick Pick: A No-Fuss Hand Sanitiser You Can Find Almost Everywhere
Carex's hand gel comes in a range of scents as well as sensitive and extra-moisturising versions. You can even get variants like "Unicorn Magic" and one that smells like strawberry laces, which may encourage (reluctant) young kids to use it on their hands.
Snooping: A Spray Sanitiser for New Mums (That's Made by a Former Midwife)
We first heard about My Expert Midwife from charity PR manager Jennifer Tetteh, who told us that the midwife-developed, award-winning brand makes safe, sensitive products for new or expectant mums. The company was founded by Lesley Gilchrist (a midwife who appeared on One Born Every Minute) and Claire Charlton and has a team of in-house midwives advising on all their products.
Tetteh told us that their Spritz for Clean Hands set, which includes two smaller spray bottles plus a larger refill, was her go-to gift for her mum friends. "All my expecting (or soon-to-be expecting) friends say they need items that are easy to use with one hand. I liked this sanitizer because it was a two-in-one. And as it's made by a former midwife, I figured it was legit."
The site says the product is safe to use for pregnant women and that the peppermint and tea-tree oils were specifically chosen for their soothing and antibacterial properties. While they warn against using this on a newborn due to their delicate skin, the website says it is safe to pick up newborns directly after applying to your hands.
Strategist Staff Pick: The Hand Gel That Two Strategist UK Staff Actually Enjoy Using
When we did a quick straw poll in the Strategist UK slack channel, both editor Ailbhe Malone and senior audience development manager Rosie Percy mentioned their gel of choice, which comes by bath-and-body brand Bramley. Rosie was given a complimentary bottle when she went for lunch at the Pig in the New Forest during a (pre-lockdown) camping holiday last summer, while Ailbhe bought it after using it when she stayed at Brocco on the Park, a boutique hotel in Sheffield. "Clearly they supply a certain type of Nice Hotel," she noted.
Bramley was in fact started by Chloë Luxton, a former Cowshed staffer (Cowshed is the in-house brand of Soho House) for the Beckford Arms in Wiltshire. Luckily, you can also pick it up online. The gel contains rosemary and spearmint essential oils, and, Ailbhe says, "Anytime I've used it in a shop or when picking up a coffee, someone in the line always goes, 'Oohhh, what hand sanitizer is that?'"
Celebrity Shopping: Photographer Rankin's Favourite
When we interviewed Rankin to find out what he couldn't live without, he told us he was particularly opinionated about scents and had strong opinions on what actually-nice candles he kept in his home. This is also true of his attitude towards hand sanitisers — he told us that this option, by Purdy & Figg, was "the only one that makes my hands smell lovely." He liked it so much, in fact, that he chose it for our Christmas gift guide.
Snooping: A Luxury (Extra-Moisturising) Hand Sanitiser
One side effect of constantly applying anything with alcohol gel is that it dries out your skin, causing dry patches. So a sanitiser with extra moisturising benefits will help soothe your sore hands. After an hour of snooping, we spotted this option by Margaret Dabbs (perhaps best known for her medical pedicures) on Cult Beauty. This sanitiser is made with emu oil for conditioning and strengthening skin (it contains essential fatty acids and helps maintain elasticity) as well as extracts of white water lily, which retains moisture. It's slightly less alcoholic, too — 65 percent — which will be kinder on your skin.
Strategist Staff Pick: The Unscented Spray Our Staff Writer Uses on His Hands, Front Door (and Literally Everything Else)
Staff writer Chris Mandle initially switched to a spray sanitiser after two concurrent hand gels leaked in his coat pocket. But when a neighbour in his block of flats tested positive for COVID-19, he started using it not just on his hands but on the hand rails, lift buttons, and door handles in his building. "We have a few communal areas that are unavoidable if I want to go for a walk or go to the shops," he says. "So I got into the habit of spraying any surfaces I touched — as well as putting my mask on before I'd even left the flat to reduce the risk of picking anything up."
At 100 millilitres, it's about twice the size of Carex's hand gel, but it still fits in his coat pocket. And the fact that it's unscented is a bonus. "I made the error of getting a huge bottle of aloe-vera hand gel in April, and just the thought of the smell is enough to make me retch," he says. "It's unscented all the way for me now."
Ask a Cool Person: The Sanitiser That Author Cate Sevilla Has Been Using for Four Years
"I'm from the States, so I've been using hand sanitiser religiously for like 20 years," says Cate Sevilla, Strategist contributor and author of How to Work Without Losing Your Mind. She first came across Dr. Bronner's spray sanitiser four years ago in a health-food shop. "Whenever I'd use the spray at work or anywhere in public, I'd get compliments on how nice it smelled. People were always surprised that it was a hand sanitiser and not a body spray of some kind."
Many newer hand sanitisers on the market (particularly those made from distillers that typically produce drinking alcohol) have an unpleasant smell due to the way they are formulated. But Sevilla says Dr. Bronner's, which has been making soaps since 1838, "doesn't smell like tequila like so many other newer brands out there." She always carries a spray version, as she says it's easier to apply, faster to absorb, and doesn't leave a sticky feeling.
The Strategist UK is designed to surface the most useful, expert recommendations for things to buy across the vast e-commerce landscape. Read about who we are and what we do here. Our editors update links when possible, but note that deals can expire and all prices are subject to change.