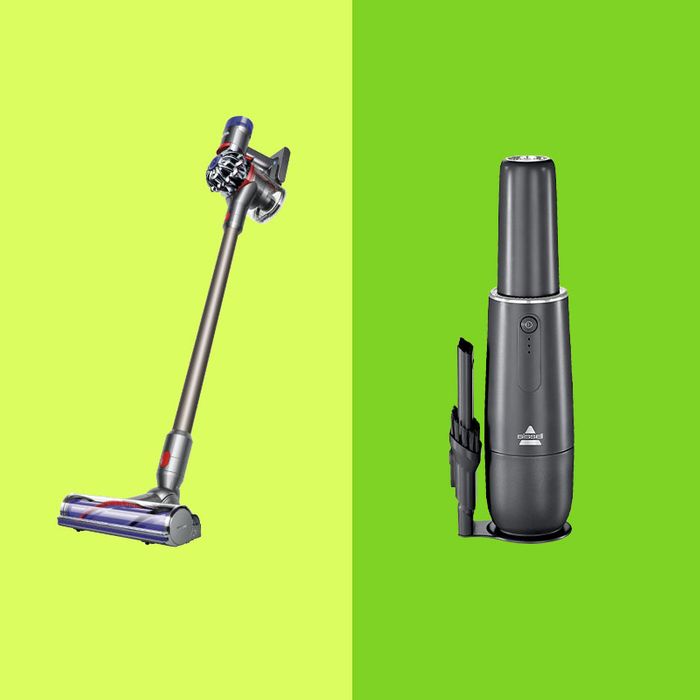 Photo-Illustration: Courtesy Retailer
A version of this story originally appeared on the Strategist U.S.
Good vacuum cleaners should tackle all the surfaces in your house — from wood floors to shag carpets — but their size can make them cumbersome. Handheld vacuums may not be as powerful as your regular Shark or Hoover, yet they're easier to angle into awkward spaces and light enough to grab for a quick job (as when a toddler tips cereal onto the kitchen floor). These can't replace a full-size vacuum when it comes to cleaning your home (unless you want to empty them every five minutes), so it's important to view one as a bonus.
When looking for the best handheld vacuum cleaners, I considered expert advice from over 30 industry professionals, sifted through countless Amazon reviews to separate the duds from the actually good models, and heard from Strategist editors. Read on for our picks or jump straight to your ideal handheld-vacuum type with the links below.
Best overall | Best less expensive | Best compact | Best for pet hair | Best (less expensive) for pet hair
What we're looking for
Suction power: Here's some of the technical stuff. The suction power of both handheld and standard vacuum cleaners is measured in AW, or air watts. Jon Gibbons, a cleaning consultant for Smart Vacuums, says this lets you know how powerful one is. He recommends looking for a model with a minimum of 100AW. The number isn't always listed, however. When it wasn't (noted as "N/A" below), we made sure to ask our experts to detail the suction strength of their picks.
Run time: We'll be considering a vacuum's battery power and run time when looking for the best in class, balancing the manufacturer's claims with reader reviews for the most accurate estimate.
Extras: Most vacuums feature multiple cleaning modes (with names like Max and Turbo) and detachable components designed for different types of floors. Here, we've made sure to mention the ones that make a model more efficient or easier to use.
Best overall handheld vacuum cleaner
115AW | 40-minute run time | 5 detachable heads
Our US colleagues recently named the Dyson V8 the best cordless vacuum, so it's perhaps no surprise that we consider it the best handheld vacuum, too. Compared with the upright Dysons, the V range is light enough to hold with one hand, but the detachable telescoping attachment makes it easy to get under cabinets and scooch the nozzle across skirting boards without having to bend down. It comes recommended by experts including professional organizer Sarah Dunn and Ann Lightfoot, co-founder of Done & Done Home, who said it easily hoovered up the baby powder her 5-year-old son enthusiastically scattered across the kitchen floor. Meanwhile, the less expensive V7 came recommended by Swedish pop star Zara Larsson and Spice Girl Melanie C, but a side-by-side comparison convinced us the V8 is the best option. It's better in the two areas we think are important for a handheld: suction power and battery life. The V8's suction is 115AW, compared with the V7's 100AW, and the battery is 30 percent longer, running for 40 minutes instead of the V7's 30.
The V8 comes with five attachments, including a motorized brush bar to unearth dirt from carpets and rugs and a nylon-bristle soft brush head to dust surfaces. It's one of the best-rated models on Dyson's website, too — 91 percent of customers say they would recommend this to others, and it has an average rating of 4.6 out of five stars.
Best (less expensive) handheld vacuum cleaner
35AW | 20 minutes battery life
You might worry that the lower price tag on this Black + Decker option means it falls short. But reviews on Amazon were rhapsodic about the suction power — hundreds said it was perfect for keeping their car tidy, while one customer said he kept it in his greenhouse. In total, it has over 2,500 reviews on Amazon, 72 percent of them five-star. A total of 73 reviews mentioned how easy it was to empty, while the bendy head was a "godsend" for cleaning under chairs, units, and wardrobes, according to one review. While the suction power is lower than the Dyson, 165 customers said it provided strong suction, even with pet hair. This vacuum cleaner comes with a removal filter, which was described as easy to remove and clean.
Best compact handheld vacuum cleaner
No suction power listed | 12-minute run time
All the handheld vacuum cleaners are light enough to pick up with one hand, but you wouldn't necessarily describe them as "slick." This Bissell vacuum is notable for its compact, sleek shape — over 7,000 five-star reviewers appreciate the design. But it's not a matter of style over substance: Reviewers say it "packs a punch" and has "great suction power." Although it may not have the same capacity as a larger vacuum, this unit has the perfect amount of power to "pick up every particle," according to another reviewer, who prefers it to a standard vacuum because it charges in less than three hours and doesn't "pull up the whole pad or get corners caught in the open end."
Best handheld vacuum cleaner for pet hair
150AW | 60-minute run time | 6 detachable heads
The V11 Animal was named best overall on our list of vacuums for pet owners, but it's frequently out of stock so we've chosen the cheaper V10 here (it still features the V11's suction power and run time). This vacuum cleaner comes with six heads, including a tool meant for upholstery and a cleaner head that automatically clears the brush bar of fur. Rebecca Fadden, founder of dog-accessories brand Finn + Me, uses it to pick up after her hypoallergenic goldendoodle, which sheds clumps of hair; she alternates between attachments to move over carpets and couches. It's also a favorite at the start-up clinic Bond Vet, where staff members rely on the vacuum for quick cleanups, according to co-founder and chief veterinary officer Zay Satchu. Beauty influencer Michaela Podolsky told us she uses her V10 to tidy up after her two shed-happy Rottweilers. With its soft brush head, the V10 keeps her hard floors in tip-top shape, she says.
Best (less expensive) handheld vacuum cleaner for pet hair
No suction power listed | 10 minute run time | 3 detachable heads
Vacuums designed for picking up pet hair typically have more power — which tends to mean they are upright models or, in the case of the Dyson V10, expensive hybrid ones. But this Shark vacuum stood out to me while I was browsing Argos. It's a close relative to the Shark CH951 (which is not available in the UK), and is specifically designed to pick up pet hair. One reviewer claims it changed their life, saying the suction was so impressive the hair sticks to the vacuum like glue. Another was amazed at the dirt and dander this machine picked up on the La-Z-Boy recliner their long-coat German shepherd frequently walks past. Although at 52cm in length it's larger than many handheld vacuums, reviewers said its large dust cup saved them countless trips to empty it.
Our experts
• Max Appel, founder of Powerizer
• Melanie C, singer
• Sarah Dunn, professional organizer
• Rebecca Fadden, founder of Finn + Me
• Jon Gibbons, cleaning consultant at Smart Vacuums
• Zara Larsson, singer
• Ann Lightfoot, co-founder of Done & Done Home
• Abe Navas, general manager of Emily's Maids
• Michaela Podolsky, beauty influencer
• Nikita Richardson, former Strategist writer
• Hilary Reid, former Strategist writer
• Lauren Ro, Strategist writer
• Zay Satchu, chief veterinary officer
The Strategist UK is designed to surface the most useful, expert recommendations for things to buy across the vast e-commerce landscape. Read about who we are and what we do here. Our editors update links when possible, but note that deals can expire and all prices are subject to change.