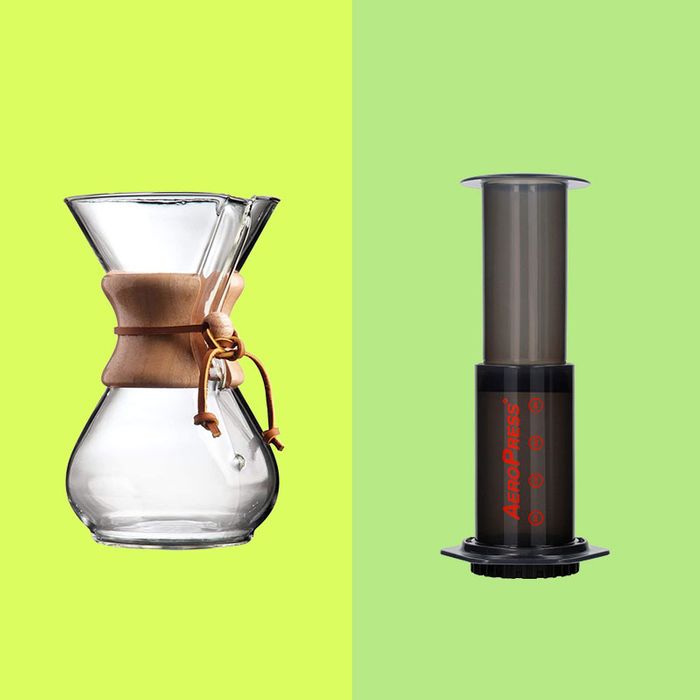 Photo-Illustration: The Strategist; Photos: Retailers
There are multiple methods for brewing your morning coffee: manual or automatic, hand-pulled or cold-brewed, drip-poured or plunged from a cafetière. I am no coffee snob — shout-out to Pret a Manger's £1.60 filter coffee — but I enjoy the ritual of making my coffee at home. The method I choose depends on the morning. Sometimes I'll get out my Aeropress or French press if I'm in a hurry (or am seriously zombied after a rough night's sleep). Sometimes I'll opt for a pour-over and enjoy gently steeping the freshly ground beans with my gooseneck kettle. No two methods are the same, so in order to find the best options out there, I quizzed eight highly caffeinated experts — including brewers, roasters, and even a band that opened their own shop during the pandemic — to see what methods they stuck by time and time again. I also pored over reader reviews at numerous retailers to find the best coffee makers at every price point.
Best overall | Best less expensive | Best manual | Best pour-over (small) | Best pour-over (large) | Best espresso maker | Best cafetière
Capacity: Do you want just a cup for yourself, or do you regularly make a pot? Coffee makers typically list their capacity in cups, but it's important to know this refers to the measuring unit, not to the mugs in your cupboards. As a unit of measurement, a cup is 250 millilitres, while most mugs are 350 to 400 millilitres, so don't be surprised if a "two-cup" coffee maker doesn't fill your mug twice over.
Brewing method: The coffee makers below mostly make filter coffee and espresso, but manual options can also be used as receptacles for cold brew (read our in-depth cold-brew guide for more details).
Manual versus automatic: Automated coffee makers will disperse the water for you — so you can jump in the shower while your brew is steeping to the perfect temperature. These include hot plates to keep your coffee warm, and we've indicated how long they stay on (most have a cutoff time for safety reasons). If you are more hands-on when it comes to making your coffee, consider a manual option, which will allow you to carry out highly specific brewing methods (such as steeping) yourself.
Best overall coffee maker
Filter coffee | Automatic | Makes 4 cups
This Wilfa coffee maker came recommended by six industry experts, who cited the simplicity of the automated device as part of its appeal. Ewelina Kania, general manager of London's Prufrock Coffee, described it as "perfect for someone who is in a rush or someone who just doesn't want to spend time hand-brewing coffee". She adds that "an adjustable-flow brewing cone with a shutoff valve allows even extraction" and that the machine includes a cleaning indicator and a hot plate, which turns off automatically after 40 minutes. Colin Harmon — the owner of Dublin's 3fe Coffee, a four-time Irish Barista Champion, and the author of What I Know About Running Coffee Shops — noted that while "there are better brewers out there with more stable temps, better build quality, and more even extraction … bang for buck, it's hard to argue with the Wilfa. It's probably the brewer I use the most".
It has one-litre capacity, which makes four cups of coffee, and is used by Dan Dunne of Climpson & Sons in Broadway Market both at home and in the office. "It delivers consistent, delicious coffee and looks great", he says. It's not as cheap as the manual options we have featured below, but compared with an espresso machine, it offers excellent quality for a relatively affordable price.
Best (less expensive) coffee maker
Filter coffee | Automatic | Makes one to two cups
This coffee maker comes recommended by Strategist UK senior audience development manager Rosie Percy, who first spied it in the house of another coffee-obsessed friend. "I have limited counter and cupboard space for extra paraphernalia", she wrote, adding, "Brewing (and then cleaning out) a whole cafetière was a lot of faff for just me". She said the retro design "looks like part of a Playmobil set", noting that it perfectly accented the mid-century furniture in her Folkestone flat. But aside from the aesthetics, Percy noted the Aromaboy was "inexpensive, easy to use", and took up "less space than a kettle. Importantly, the machine also brews a really good cup of coffee". We think it's a great option if you're someone living in a single-person household.
Like the Wilfa, this automatic machine features a hot plate that switches off after 40 minutes. It comes highly reviewed on Amazon with 2,136 reviews, 78 percent of which are five stars. Customers say that a brew takes around two minutes and that it's easy to use and to clean.
Best manual coffee maker
Manual | Makes one cup | Filter coffee, cold brew, espresso style
Experts love the Aeropress (five experts we spoke to recommended it). It's cheap, versatile, and really easy to use, but its drawback is the size: You can make only one cup at a time. This is a piston-style manual coffee maker (similar to a French press or cafetière) that forces the coffee through a thin filter directly into the cup. Harmon says it's "probably the go-to brewer for most aspiring home brewers," noting that it's surprisingly versatile, capable of brewing coffee in many different ways (fans have devised ways of pulling espressolike shots and making drip coffee using the Aeropress).
Kania agrees that the Aeropress is "the most practical coffee maker ever". It's great at home or on the go, she says, as "it's unbreakable, light, and you can store a grinder inside". It's easy to clean and comes with a stack of paper filters, which can be replaced with an eco-friendly metal filter (these stop the grounds, as well as some of the oils from the beans, from getting into the brew, which is necessary because coffee is ground finer for an Aeropress than a French press).
Oh Wonder singerAnthony Vander West (who, along with his wife and bandmate, Josephine Vander Gucht, own the Peckham coffee shop Nola) swears by it, too. "The brewing outcome is somewhere between a filter coffee and a long black, and it's pretty hard to mess up — unless you either overpressurise (i.e., force it down too hard) or don't screw the filter on properly", he says. West likes it for its speed and consistency, and he notes that the humble device even has its own dedicated coffee-making tournament — the International Aeropress Championship — a testament to its immense popularity and cultlike status.
Best pour-over coffee maker (small)
Manual | Makes one to four cups | Filter coffee
Tobias Tripp, formerly the global marketing manager at Ozone Coffee, told us "the Hario V60 produces filter coffee in its most simple form. It's arguably the easiest way to brew great coffee at home". Pour-over coffee makers, also known as drip- or drop-coffee makers, produce coffee using gravity; cafetières and AeroPresses, by comparison, rely on pressure. Hario is a Japanese company that produces a lot of coffee tools (including gooseneck kettles and cold-brew jugs), and the name comes from the 60-degree angle of the ceramic cone, which is optimised for the perfect water flow. You can place the V60 directly over your mug and pour a single serving, or you can sit it atop a carafe or a pour-over jug and make a batch, though you will need to adjust the amount of coffee to scale. In either case, it uses filters like an Aeropress, and while it's available in less expensive plastic versions, I've found the ceramic to be both better quality and a better investment. The Hario V60 also comes recommended by Gill, who said it would make an excellent (and affordable) gift for a coffee lover.
Best pour-over coffee maker (large)
Manual | Makes up to 13 cups | Filter coffee, cold brew
Many coffee enthusiasts debate the merits of the Chemex over the Hario V60 (or vice versa). Both are pour-over methods, but Chemex uses thicker filters to keep out sediment. Jana Slamova, the education manager at Origin Coffee, says this results in a "cleaner taste" as there's virtually no natural oil making its way into the coffee. I've tried both and honestly find that the taste depends on so many factors like the kind of coffee, the temperature of the water, and so on. What I do know though is Hario's V60 is ideal for making a couple of cups, but thanks to the size options of the Chemex, I think it's the best option if you want to make at least four to six cups (the larger models can make up to 13).
Slamova chose this Chemex model as her favourite pour-over coffee maker. "It produces coffee using the 'drip' method — essentially, gravity does all the work, compared to the 'immersion' method you get with a French press, which uses pressure to extract the flavour", she explains, adding that the pour-over coffee will have a "clean" taste compared to coffee produced by other methods.
Slamova says she uses the Chemex most at home and loves the "iconic" design — she likes pointing out that the model has been in the background of several episodes of Friends. "It just looks absolutely beautiful."
Best espresso machine
Automatic | Espresso | Two-litre water capacity
This espresso machine is made by the UK-based, Breville-owned company Sage Appliances. It comes strongly recommended by four experts including Henry Biggs, the owner of Shotsmiths coffee in Beckenham. "This is the closest thing to coffee-shop coffee you can get at home without spending thousands," he says. "You get full control over the grind dose, and you have options to tweak the coarseness in order to get a better extraction."
According to Dunne, Sage offers "the best 'budget' espresso machines on the market," and they perform fantastically compared with other domestic espresso machines. He particularly likes the powerful steam wand, which is excellent at texturing milk. For Harmon, what makes the machine "more enticing is that it has a pretty decent grinder built into it, so you don't need to fork out any more money or counter space in your kitchen. It's incredibly intuitive to use and is a really tidy design to boot".
According to our experts, it's small enough to fit on the counter but powerful enough to deliver high-quality espresso: It heats up in three seconds, ensures an ideal water temperature, and has an interactive LCD interface. As an espresso machine, it doesn't make batch coffee like the Wilfa or Chemex, but the two-litre water tank is notable as it will provide eight cups of coffee, and the built-in grinder means you won't need to grind them beforehand.
Best cafetière
Manual | Filter coffee, cold brew | Makes 8 cups
In my experience, cafetières don't vary much in quality, but it's a good idea to get one that lets you slip the glass out from the metal "jacket" it comes in. I've owned stainless-steel options (ideal if you're clumsy as they won't break), but a clear-glass option is the most aesthetically pleasing. West says Bodum's classic, inexpensive cafetières are his favourite. "They have always made such beautiful and simple vessels, and the brew process is impossible to mess up," he says. He calls the French-press method, which extracts flavour via steeping, "the most 'forgiving' way to brew coffee and the perfect choice for those that aren't fussed with weighing their grounds or timing their extraction and just want to see off the weekend cobwebs". You can also buy this in a three-cup size.
Some other coffee makers we like
The Strategist UK is designed to surface the most useful, expert recommendations for things to buy across the vast e-commerce landscape. Read about who we are and what we do here. Our editors update links when possible, but note that deals can expire and all prices are subject to change.