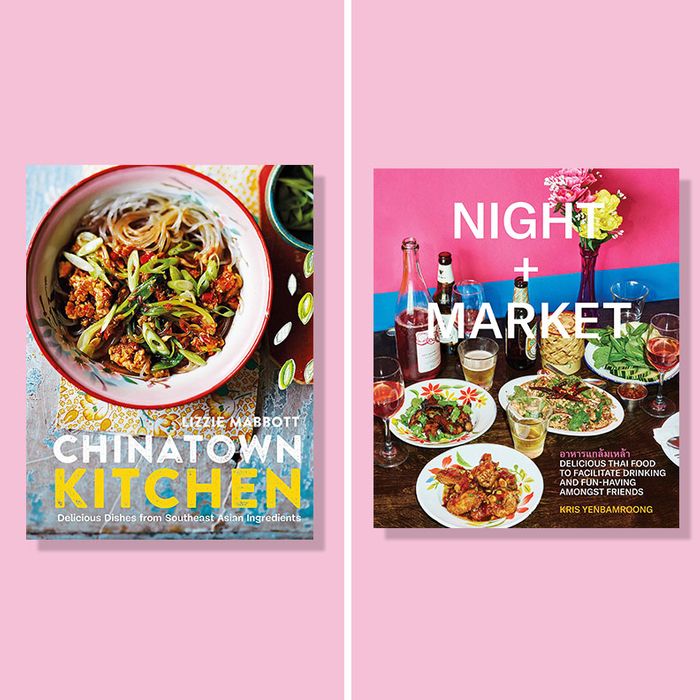 Photo-Illustration: retailers
Everyone is cooking at home a lot more right now, and inspiration may be scant. So we reached out to some of our favourite cooks to find out what they're making in isolation and which cookbooks they're using. To keep things interesting, we began by asking one cookbook author to recommend the cookbook she's using at home right now, and then we approached the author of that book to do the same — creating a kind of daisy chain of home-cooking recommendations. The result? This list of 13 varied cookbooks, including restaurant cheat sheets and Thai party food — all suited to home cooking.
Lizzie Mabbott, author of Chinatown Kitchen
Photo: retailer
"I'm using Meera Sodha's Fresh India a lot recently. With our shopping now limited, I'm turning to lots of hearty vegetables — so I love that, in her recipes, she uses British vegetables that are easy to come by. Her recipes are often scalable and economical, and they provide the spices and heat I'm craving to provide some comfort during these difficult times. I particularly love the cauliflower korma and anything with aubergines (to which she dedicates an entire chapter). This book, coupled with Made in India, will keep me well fed throughout lockdown."
Meera Sodha, author of Fresh India


Photo: retailer
"Being on enforced lockdown really makes you question what you love, miss, and value the most. The place I dream about is a spot under the grape vines in the garden of The Rochelle Canteen, run by Margot Henderson. So I've been cooking from Margot's book You're All Invited over the past few weeks. I love it because the food is simple, joyful and perfect — and just like her restaurant, it reminds me, during this time of lost liberty, exactly what the good life looks like."
Margot Henderson, author of You're All Invited
"This book feels, sounds and tastes just like Lee's restaurant: loud, sexy and delicious. But while Lee's having more fun than anyone else, this is also a serious cookbook with seriously good recipes. I love the way he takes his influences and turns them upside down, making use of wonderful Asian produce and other ingredients which he obviously loves: the pig's tails, the black bread with smoked cod's roe, the bone marrow. I've loved reading about smoking and barbecuing, too. He just draws you in and makes you want to cook. I keep giving this book to young people, because I think: If anyone is going to give them the cooking bug, it's Lee."
Lee Tiernan, author of Black Axe Mangal
Photo: retailer
"Everything I want in a cookbook, this delivers. It's full of party food: spicy, quick, and packed with tons of flavour. Kris' recipes are accessible — he won't insist you need to make your own chicken stock, if you can just use a cube instead. There's a dish I love called Strip Club Fried Rice, which is so easy. You make it with hot dogs, which you cut and deep-fry so that they bloom like little flowers. The sauce is something like a quarter cup of ketchup, a quarter cup of Sriracha and some white wine vinegar. Everything is so easy to make, but it's a lot of fun, as well — and it's all paired with natural wines, which is something me and my wife enjoy."
Kris Yenbamroong, author of Night + Market
Photo: retailer
"This is my favorite kind of cookbook: the useful kind, the kind that's meant to get dirty, pages dog-eared, passages highlighted. It presents Brooks Headley's singular, idiosyncratic, and genius vision for what cooking can be. The recipes also happen to all be vegetarian/vegan, which is titillating for a carnivore like myself who is trying to branch out into more-green things. But I didn't get the book because it's a vegan cookbook — a label I imagine Brooks hates. I like this book for the same reason I like juice cleanses. Not because they 'cleanse' but because they feel good. His cooking feels good."
Brooks Headley, author of The Superiority Burger Cookbook


Photo: retailer
"I've been deeply enjoying Nicole Rucker's Dappled since quarantine began. It's a fantastic book, full of solid ideas and fun recipes. Although I might be a little bummed that on the East Coast there's currently no fruit around, while in Los Angeles (Nicole's headquarters) there's already cherries and strawberries and rhubarb. The best baked goods are made with the freshest farmers' market fruit and thoughtful, careful crusts and cakes. That's what you learn from Nicole, and that's never a bad thing to get rammed into your skull. My favourite line? 'Once I began working in restaurants, I learned that market day was the best day, like Christmas each week, but the day before market day was the most important test of your talent.' Use up the weird old stuff! Make it beautiful! I love this book. Thank you, Nicole."
Lee Tiernan, author of Black Axe Mangal
Photo: retailer
"I first ate Chad's Tartine bread some years ago, and I became obsessed with it. I'd had good bread before, but I'd never had anything like this. I actually adapted his recipe as the foundation of the Black Axe Mangal flatbread. I'd say I've been using this book a lot recently, but I've actually learnt the recipe off by heart. I've been making three kilos of this bread every other day, because I've got three kids. My eldest is basically consuming a loaf every two days while we eat the rest. I'm confident in the recipe, and it's actually very easy once you've done it a few times. It makes me feel good. Baking this bread is very therapeutic." [Editor's note: This book is tricky to track down outside of the U.S. — but you can pick up a Kindle edition.]
Chad Robertson, author of Tartine Bread


Photo: retailer
"This is a brilliant all-around cookbook, focused on sustainable vegetable cooking. It's informed by the chef having worked a serious stint on farms. He's found six distinct seasons as inspiration and used them to craft beautiful, healthy food that you want to eat every day — flavoured with lots of fresh herbs, spices, and condiments. The food photography is exceptionally beautiful and will inspire you to get into the kitchen and cook."
Joshua McFadden, author of Six Seasons


Photo: retailer
"I've been really enjoying Gather by Gill Miller. I love his rye crackers, which I have around all the time now. The potato cakes have also become part of my go-to recipes list. And although I've been using different fish, I've been adapting the salted pollock with potatoes, cream, and marjoram with great success. I identify with how this book is broken up, and the recipes feel like memories I'd like to have."
Chad Robertson, author of Tartine Bread


"It's a genius work of handcraft. It consists of deep techniques and recipes using seafood in wholly sustainable ways, and it's filled with information which has never really been put together and applied in such a way. Lots of us in the industry are saying the same thing about this book: General fish cookery will be thought of differently, divided into 'before' and 'after.' That means before and after this book got into the hands of cooks and chefs around the world."
Josh Niland, author of The Whole Fish Cookbook


Photo: retailer
"The reason I love this book so much is that, after 25 years of inspiring just about every chef on the planet, Fergus and Trevor are still showing the world how to dine. Having had the privilege of dining at St John and knowing just how delicious the food is, it's so exciting to have that knowledge, expertise, and technique accessible in a book. The imagery and words are just fantastic and capture perfectly the style and personality of the restaurant and its owners. In sharing the joy and love they have for British food, they've set the bar again. Oh, and just to add: Fergus's Christmas pudding is life-changing."
The Strategist UK is designed to surface the most useful, expert recommendations for things to buy across the vast e-commerce landscape. Read about who we are and what we do here. Our editors update links when possible, but note that deals can expire and all prices are subject to change.