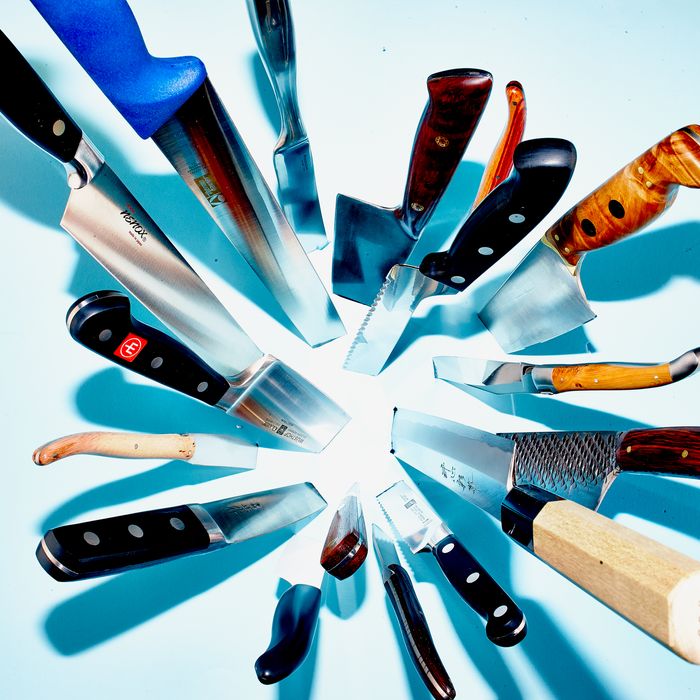 Buying chef's knives can be a daunting business. Searching for a simple set can send you down a rabbit hole of bespoke Damascus blades, wondering if your price limit is set too low. But, in reality, professional chefs tend to rely on a tool belt of inexpensive knives, because high-carbon blades can be brittle and won't last long in the fast-paced environments of professional kitchens. So we approached 12 of the UK's top chefs — including a master butcher, a renowned cake-maker and a much-loved fishmonger — to ask them which knives home cooks should buy. Here's what they recommended, from high-end, handmade offerings to tomato knives with a £5 price tag.
Best chef's knife
Photo: retailers
If you're looking to splash out on a more expensive knife, the bespoke blades from Derbyshire-based Blok count Stevie Parle, chef-owner of Pastaio, among their customers. "There are a lot of great British knife-makers right now that I'd definitely look at supporting," Parle says. "I like Blok's Western-shaped chef's knife — if you have that, and then one of those plastic, serrated paring knives, you've got all you need." One of the plus-points of buying a high-carbon blade is the "patina" that forms over time, an aging on the surface that Blok says documents "the knife's journey as it's put to work." It's detail like this that also makes Tom Griffiths, managing director of Flank, a fan. He owns one of their handmade chef's knives too and praises the company for the care and attention it puts into its carbon-steel blades — as well as the fact they're all forged in the UK. If you're buying British knives and looking to browse, Parle also recommends Peckham-based Blenheim Forge (as does chef Jackson Boxer) while while Tart London co-founder Jemima Jones is a big fan of Marlborough's Savernake.
Best (cheaper) chef's knife
If you're not looking to spend £300 on a chef's knife, Victorinox's chef knife appeals to chefs like Parle at a tenth of the price. Because high-carbon blades can become brittle from overuse, Parle prefers using this one in his busy kitchen for chopping up piles of herbs, finely chopping spinach, or bulk-slicing onions. Besides, Ioannis Grammenos, executive chef at Heliot Steak House, meanwhile, says he's been using this knife to slice his sirloins for the last 20 years.
Best large knife
Of all the brands recommended by our 12 chefs, Swiss manufacturer Victorinox came up time and time again. Four of our experts recommended the extra-versatile Bread and Pastry Knife as the perfect all-rounder, regardless of budget. "All chefs will read this and go, 'I have one too,'" says Tom Griffiths. "It is literally the best all-round knife you can have in your knife wallet. You can use it to cut bread, you can use it to slice salmon, you can use it to carve meat. It just does everything." The knife has another fan in Bread Ahead founder Matthew Jones, who concurs that it's just as good for bakers as it is butchers. "It's a really good knife, and it's been around for as long as I can remember," he says. "It's got a nice, thin blade, which is really good for cutting bread. You get a lot of mileage out of one of those knives." Both chefs praise the knife for its unique, "wavy" serration and its curved, flexible blade. But really, it's the Bread and Pastry Knife's total versatility that makes it a winner — even Grammenos says he exclusively uses it when preparing his ribeyes. He prefers the rosewood handle, as does Kerth Gumbs, executive chef of Ormer Mayfair. "It's not just limited to pastry as the name implies — I actually use this knife to carve meat before plating, whether it be duck, beef, lamb or chicken," he says. "It rarely needs to be sharpened, so I find it quite long-lasting."
Best small knife
This coloured Victorinox blade garnered even more recommendations, with five of our experts choosing it as a home-kitchen essential. One of those chefs is Grammenos, who uses it for cutting acidic fruit and veg so as not to damage the knives he uses for meat. "It's best to have two knives, for different purposes," he said. "For my vegetables, I use this — it's got quite a thick blade, so it'll slice very cleanly through veg without damaging or bruising it." Another backer is Jemima Jones, who says "the knives with the colourful handles from Victorinox are brilliant." "They're small, they're really sharp, they're serrated," she explains. "I feel panicked if I can't find one when I'm cooking, and I suddenly have to get out a huge bread knife and start slicing up vegetables." The Paring Knife is also regularly used by Stevie Parle, who says it's well in keeping with Italian tradition. "I cook in Italy a lot, and all the grandmothers just use a small, plastic serrated knife for everything," he says. "It's great for anything from chopping individual vegetables, to chopping tomatoes, to making salads, to cutting cheese." Arbinder Dugal, Masterchef semifinalist and founder of Dalston's Attawa, is another fan. "It's great for day-to-day use," he says. "But it's especially good when you need to get down to the nitty-gritty, such as the fine chopping of garlic and green chile." Rounding out the recommenders is Sameer Taneja, executive chef of Benares. "Victorinox knives are easy to sharpen and handle," he says. "This one is very affordable and perfect for cooking at home." The knives come in a range of handle colours, so take your pick — Jemima Jones has several but is a proponent of bright pink, while Grammenos's is luminous green.
Best Japanese knife
If you're looking for a showstopper knife to impress dinner party guests, you'll be hard-pressed to find one better than the Santoku, which is hand-crafted at the Masutani forge in Japan's Fukui prefecture. "The handle is made from pakka wood, which makes it durable through excessive use, while the blade is high-carbon, stainless steel clad and ground thin, making its cutting performance superior," says Keshia Thomas-Jeffers, chef-owner of Brixton's Caribe. "My favourite feature is the hammered blade — the grooves along the side of the steel allow the food being cut to slide off the blade easily." Thomas-Jeffers uses the Santoku as a general chopping knife for "almost everything," from dicing onions to chopping up goat meat for curry goat. She buys hers in person at Pop Brixton's Kataba Knife and Sharpening Services, but it's also available from its online store.
Best dishwasher-safe knife
Steak chef Ioannis uses knives from German manufacturer Wusthof when he wants to prep a filet mignon without the washing-up — and the worry of cutting himself when doing so. "I use the straight blade for slicing filets," he says. "It's very nice and cheap, and it'll go very easily through your dishwasher." Wash it on the lowest level, in the basket, not grouped with other cutlery, and Grammenos says you won't notice a difference in sharpness next time you use it. "Water won't damage it, because the blades are made to be resistant," he explains.
Best cleaver
The cleaver is an indispensable tool in East Asian cooking — as Anaïs van Manen, head of research and development at BAO, explains. "In Chinese cooking, or Vietnamese or Taiwanese cooking, they mainly only have one knife," she says. "It's about learning the skills. At the beginning, you think you need loads of knives. Now I only have two: a big cleaver and a small cleaver." If you're not going to be cutting through bones or big vegetables, van Manen recommends kicking off with a smaller duck cleaver. "It's so flexible and precise that you can do anything with it," she says. "If you go to a restaurant in China, you'll actually see them using one to peel off the crispy skin from Peking Duck meat." Van Manen herself uses a Chan Chi Kee cleaver, a selection of which you can find downstairs at SeeWoo in London's Chinatown (or in other similar pan-Asian supermarkets). If you're looking to order online, though, she recommends investing in a Nakiri knife from Kitchen Provisions, which Parle calls "the best knife shop in London." "Nakiri is the Japanese version of this cleaver," van Manen explains. "The difference is that it has a longer handle, but that just depends on people's preferences."
Best filleting knife
Filleting fish well requires a specialised knife, says Moxon's Fishmongers owner Robin Moxon. "You need some flexibility, because you need to be able to bend the knife so you can follow the fish through," explains. His favourite is the Taylors Eye Witness, which has the necessary flexibility and rounded tip needed to remove a fish's bloodlines without entering the spine and damaging the fish. "It's really cheap, really good, easy to sharpen and the right shape, so it'll give you a bit more confidence," he says. He recommends using it to gut mackerel or fillet sea bass. If you're looking to move on to larger fish, Moxon uses a Sabatier serrated knife for salmon. "It's flexible, but it works really well because it allows you to cut through the ribcage and things like that," he says.
Best boning knife
Photo: retailers
Another Victorinox product, but the brand's boning knife has the backing of three meat-loving chefs. Parle, who gained fame thanks to Craft London's clay-baked duck, is a fan — as is Grammenos, who uses his to debone steaks. Griffiths, best known for his nose-to-tail butchery, is another proponent. "I've probably always had a Victorinox boning knife in my wallet," he says. "Flank is a really hard, heavy-paced place, and these never let me down. They're made to buy and chuck away, then buy and chuck away again. They get recycled, so you can send them back and the steel will get melted down and reused." If you are looking to spend some money on something a little more permanent, Griffiths recommends the Chef Series Boning Knife from MAC. "It's never gone blunt on me, it's got a really stiff edge, and it's firm, which is great in a boning knife," he says. "It's my top-end knife, so I only use it when I'm doing something really decent and I want to take my time."
Best pastry knife
Lily Vanilli, owner of East London's eponymous Lily Vanilli Bakery, sticks to one brand alone for all her pastry-slicing needs. "I have a full set from Nagomi, a Japanese company who make really beautiful pastry knives," she says. "They're a family business who used to make samurai swords, and they've been going for over 500 years. They keep well, and I don't need to sharpen them very often." Vanilli's favourite is the company's pastry knife, a smaller, curved knife perfect for shaping patisseries, although she's also a fan of their bread and cake knives — for more than just bread and cakes. "They're really, really sharp," she explains. "They'll chop anything."
Best bread knife
If it's going to end up on the table with the loaf, a good bread knife should look as good as it slices. That's why Parle likes this knife from Opinel, with a beech handle and a sturdy stainless-steel blade. "It sails through my homemade sourdough," he says. "It's got a slight curve to it, it cuts straight, and it's long enough for a big, crusty loaf. Besides, it's a nice thing to have."
Best steak knife
Grammenos recommends Tramontina's knives, not only for their "wow factor" but for the fact that they're actually good at slicing through steak. "They have a really good variety of steak knives with wooden handles, at different thicknesses for different steaks," he says. "I have a very light knife for my sirloins, then I have a jumbo to slice ribeyes. They all have different colours of wood, from dark to light, so you can easily separate them.
Best knife sharpener
For everyday sharpening, a few swipes on a diamond steel should do the trick. When choosing a specific one, price or label shouldn't be the deciding factor — in fact, Grammenos says it's simply best to sharpen your knives with a steel from the same brand as the knives themselves. "Each blade is specially designed so will react differently," he says. This Victorinox sharpener covers several of the blades above and is owned by both Grammenos and Griffiths, although Griffiths also owns one from Henckels. If you're sharpening expensive knives, though, it might be best to wait for lockdown to lift and get it done professionally — Moxon uses a "top of the range" in-store Swedish diamond wheel, while Jones gets hers sharpened at the Japanese Knife Company on Baker Street (a store also recommended by Gizzi Erskine).
Best knife block
To get more from your sharpening and to rescue blunt knives on the brink, you'll need a whetstone. Brand isn't as important as grit, the coarseness of the stone itself. Lower grades are generally sandpaperlike and used for especially blunt knives, while higher numbers are finer and thus better for general sharpening. Most chefs recommend getting a double-sided whetstone like this one so you can take your pick. Griffiths and Parle recommend a 1000/4000 split, while van Manen goes for 1000/6000. Parle advises watching some YouTube tutorials before you start sharpening, while Griffiths recommends rubbing your knives on newspaper after sharpening to polish them and "bring up the edge perfectly."
Best knife wallet
"As a chef, one can get carried away with many tools," says Kerth Gumbs. If you're planning on stocking up yourself, you'll need a good-quality wallet in which to store and transport your knives. Gumbs uses this one, which holds up to nine knives. "I turn to Boldric to store all of my beauties," he says. "I love their unique designs and the mixture of brass buckles with cotton and leather material."
The Strategist UK is designed to surface the most useful, expert recommendations for things to buy across the vast e-commerce landscape. Read about who we are and what we do here. Our editors update links when possible, but note that deals can expire and all prices are subject to change.