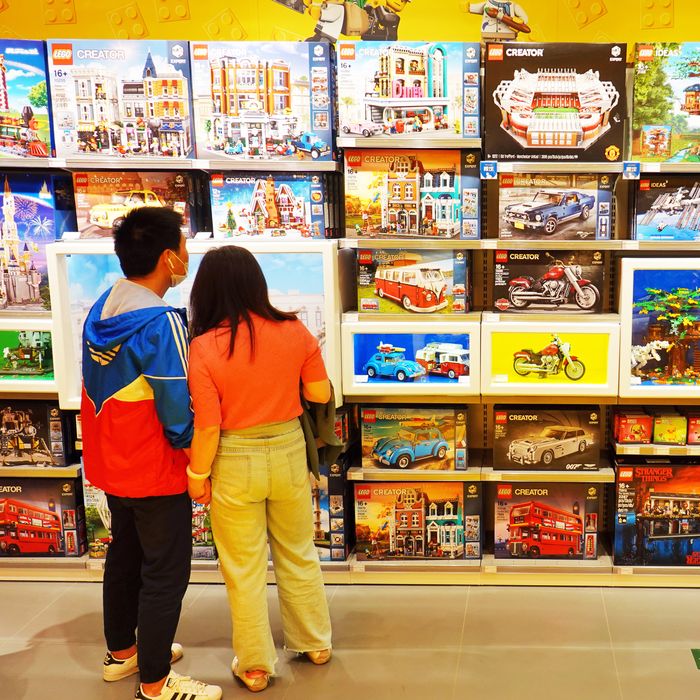 Photo-Illustration: Getty/Barcroft Media via Getty Images
A version of this story originally appeared on the Strategist U.S.
Puzzles and needlepoint sets and inflatable pools aren't the only productive distractions we've noticed flying off shelves over the past few months. Lego sets — from the smaller kinds for kids to the far more intricate (and expensive) ones for adult builders — have also become harder to find. Anyone who played with the colourful blocks as a youngster knows why they make for a particularly appealing toy right now: Hours can pass as you follow each step to complete a set, or just get imaginative and create a Lego-scape of very own. But a number of older fans we spoke with told us that Legos have a unique appeal for adults right now, too. "They have been a lovely way to just sit, focus, and chat, away from screens and other distractions," says Canadian government analyst Stephen J. MacDonald.
MacDonald is one of 13 Lego fans — who range in age from 5 years old to 50-plus — that we talked to (some, via their parents) about their favourite sets. While all of our Lego fans' 20 favorite sets would generally be appropriate for builders of any age beyond toddlerhood, we've separated them based on whether they come recommended for kids or adults because, according to Anna Golson, the editor of Lego blog TheBrickBlogger, "while kids and adults may be interested in the same Lego sets and themes, their way of enjoying the hobby is usually different." Specifically, children play with Legos, she says, while adults are "more focused on the challenging building techniques, the accuracy of the models compared to their real-life counterparts, and their display value." (We've noted Lego's suggested age range for each set next to its name, too, for anyone who wants to heed those suggestions.)
The
Best
LEGO
Sets
for
Kids
Photo-Illustration: retailer
While they admit they aren't parents themselves (yet), two of our Lego people say that kids they know have really taken to the brand's "Friends" line, which refers not to the television series but to the five Lego friends that the settings are built for. The sets in the series feature "lifestyle scenes from sports games to school classes, camping, and volunteering," according to Golson, and all come with humanlike figurines that kids can move around the sets once they've finished building them. Both she and Ryan McNaught, a large-scale Lego sculptor who goes by "The Brickman," mentioned this City Park Café as a particularly great example from the "Friends" line. It has 222 pieces, and features many of the things kids will know from their own neighborhood café, from money to flowers, fancy cupcakes, giant coffee cups, and more. McNaught calls the set "fantastic," and notes that it also introduced "a ton of great new colors" to the world of Lego blocks.
Photo-Illustration: retailer
This far more affordable set that also includes many of those recognisable coffee-shop elements comes recommended to us by Brian Kelley, who directs a Young Builders and Designers program for children in the Minneapolis–St. Paul area. "Every parent cringes when they hear the word Lego because their sets can be hundreds of dollars, but there are little sets like this one that are really functional," he says. Kelley, who told us he recently delivered Lego blocks to children in his area (with the assignment to build what they think should replace the burned-down Target), says this scene is one that "every kid can relate to" — and because it has half as many pieces as the City Park Café set above, this one "takes about 20 minutes to build." He likes that, once complete, the set comes with various figurines to use within it, including a doctor, businessman, construction worker, and, of course, a barista.
Photo-Illustration: retailer
Like many toys these days, Legos are not only found in boxes but on big and small screens alike. Lego Ninjago is a television series that Variety editor-at-large Kate Aurthur told us was the "gateway drug" for her 9- and 7-year-old sons' obsession with the physical blocks themselves. Golson shared similar sentiments, explaining that "Ninjago is one of the most popular Lego themes for kids today, both the TV show and new waves of sets" it inspired. If you know any children who watch the show, this particular set is based on a dragon they'll recognize from the series.
Photo-Illustration: retailer
Golson recommends this set — which is based on the workings of an ocean-rescue center and was designed in collaboration with National Geographic — for any animal- or ocean-loving children. Another from the "Friends" series, the set's more than 600 pieces are used to build a rescue boat, lighthouse, sea lions, dolphins, a coral reef, and more. It also includes two different figurines to use within the landscape when complete.
Photo-Illustration: retailer
Aurthur's children are also a fan of this Lego set based on (and made in collaboration with) the popular computer game Minecraft. When she asked her 9- and 7-year-old to recommend their all-time favourite set for this story, this is the one they selected. The set re-creates a cave that players will recognize from Minecraft, but Aurthur told us her children have since used elements of it as part of a large-scale Star Wars project they're working on. In their words, "Its parts have been so great for our base."
Photo-Illustration: retailer
Mother and life-insurance administrator Rebecca Stevens admits that "this isn't the biggest or flashiest Lego creation," but promises that "it has staying power for the beginning builder, and takes approximately 30 minutes with the help of an adult." Stevens adds that her 5-year-old "doesn't build often from sets, but really enjoyed this one." Because the boat comes mostly in one piece, the builder only needs to assemble the top, she says, making it "not too frustrating" for first-timers. Stevens adds that once assembled, its various parts (such as the boat, shark, and buried treasure) can all be used in free play. "Using this set, our figures have had boat races, diving missions, pirate adventures, and many close calls with the shark."
Photo-Illustration: retailer
Financial analyst Ramya Dwarapu told us she recently bought her 5-year-old daughter this set as a reward for doing well at school. She got it thinking she would have to build parts of it for her daughter, but reports that "surprisingly, she did it herself with minimal help, thanks to the excellent instruction book." Dwarapu adds that since her daughter finished it (in about 30 minutes), she has been role-playing with the set, "selling and buying ice creams, driving, skateboarding, and petting the dog that came with it."
Photo-Illustration: retailer
This 43-piece set is, in Kelley's eyes, a "phenomenal" value for its price. One of the best things about Legos, he explains, is that "even if a set costs just a few bucks, kids always find some new and fun way to be creative with it." In addition to being a price performer, the pack features a figurine and a push-cart popcorn machine that has "unusual colour variations and objects," Kelley adds.
The
Best
LEGO
Sets
for
Adults
Photo-Illustration: retailer
If you're an adult wondering if you can really buy yourself a Lego set, our older panelists all say that the sooner you do, the happier you'll be. They point out that you won't be building the same things you did as a child, as Lego's more mature offerings range from replicas of homes designed by Mies van der Rohe and Frank Lloyd Wright to iconic skyscrapers, stadiums, luxury sports cars and space stations. And, like the real-life feats of design that inspire these sets, once complete, many are more like trophy items than playthings (which is why some come with far higher price tags).
We heard from many fans about Lego's Star Wars line, which has been popular since it first launched in 1999 in conjunction with the release of The Phantom Menace. Writer and Lego enthusiast Michael East says that Star Wars Legos are actually "the best" of the brand's entire range, "with so many unique pieces and highly collectible figures." Gaming graphic designer Peter De Smet agrees, telling us the Star Wars sets "pulled me back in" to the Lego-verse. But being perennially in demand means that many Star Wars Lego sets become hard to find. This one, a favorite of East's, is still readily available, though: It's a replica of the franchise's iconic Millennium Falcon starship. "While easy to make, the Falcon took several building sessions to complete, and will be one of the centerpieces to any Star Wars Lego collection," East says.
Photo-Illustration: retailer
Four older builders we spoke to told us their favorite sets come from Lego's "Architecture" line, which launched in 2008 and allows builders to re-create historic landmarks and skylines from around the world. Danish digital consultant Bubber Outzen told us he loves the architecture series, because "you can truly feel what each architect wanted to do with their work by building it yourself." (Some sets that Outzen has completed include replicas of the Guggenheim Museum and Flatiron Building along with skylines of Chicago, Berlin, London, Paris, Venice, San Francisco, and Sydney).
While some of the Lego Architecture sets can go for several hundreds of pounds, this replica of the Statue of Liberty is a more affordable option from the line. It comes recommended by MacDonald, who told us he first discovered Lego's Architecture series during a team-building exercise at his office: "I had so much fun with it, I kept buying more." Lady Liberty is among his favourite sets, in part because he put together its 1,685 pieces with his wife. "It's the biggest set we've built," he says, "and took us two nights to complete."
Photo-Illustration: retailer
When it comes to Outzen's favorite of all the Lego Architecture sets, he says nothing beats this one modeled after Frank Lloyd Wright's Fallingwater. He describes it as "another way to visit if you aren't able to go to the real thing" in Pennsylvania. According to Outzen, putting the set's 811 pieces together "gave me a sense of what Wright wanted to achieve with the building. When you start it's very solid and square, but then you discover a lightness through the terraces, the trees, the water. It really has all the elements, and you grasp that only through construction." By the time you finish, Outzen says, the sculpture has the same "solid, unbreakable feeling" that fans of the real thing say they feel in its presence.
Photo-Illustration: retailer
If you're more interested in designing your own buildings than rebuilding other architects' famous creations, Paul Wellington, the founder of Lego Architecture–focused blog ArchBrick, recommends this 1,210-piece set for doing just that. He calls it his favorite of the Architecture line's many offerings, saying the stripped-down collection of "only white and transparent elements" and no fixed instructions "allowed me to focus on textures and patterns rather than color." Ultimately, he adds, this helped him "become a better builder."
Photo-Illustration: retailer
A considerably more affordable way to create your own inventions is this classic starter set, which contains 790 pieces and sweetly claims to be appropriate for ages 4 to 99. It comes recommended by the anonymous creator of popular Twitter account LEGO Grad Student. "You cannot go wrong with a Creative Brick Box," they say. "The pieces offer endless possibilities and the widest variety of colours and shapes to build some version of nearly any small item that comes to mind."
Photo-Illustration: retailer
Kelley told us his favorite set to build — ever — was this re-creation of a quintessential Parisian restaurant. "It's just an incredible, well-designed model that, when finished, looks like it was pulled straight out of old-world Europe." What he particularly likes about the set are its unique parts, especially the miniature food-related pieces. "I love the croissants! And the turkey drumsticks, chef's knives, even the easel to place outside on the street. You don't just build the restaurant, but the city life around it," he explains, adding that "the most well-designed Lego sets always take those details into account."
Photo-Illustration: retailer
Lego's line of luxury sports cars is "its most sophisticated yet," according to Huw Millington of online Lego database and set guide, BrickSet. Millington says these are a great choice for someone who wants a longer project, as the "very challenging build will take even an experienced builder a good 10–12 hours." The Bugatti Chiron contains a whopping 3,599 pieces, including a lot that you can't see from looking at outside of the car, such as a gearbox, engine, and tan-leather interior. The instructions, Lego claims, "mirror the way a real Bugatti is assembled."
Photo-Illustration: retailer
Golson told us that in recent years, Lego has identified new "passion spaces" to meet the demands and interests of its growing adult audience. One such new development, she explains, is in the sports category, and this replica of Old Trafford, the historic stadium of Manchester United, is one she particularly recommends. The 3,898-piece set contains everything from ticket turnstiles and fan banners to scoreboards and statues of club legends.
Photo-Illustration: retailer
Another way Lego has responded to increased demand from adults in recent years, according to Golson, is through the launch of its "Ideas" line, which offers a range of sets specifically based on original ideas that older fans have submitted to the company. The Ideas line, Golson tells us, "covers everything from pop culture to space exploration and nostalgic favorites." One Ideas set she's particularly impressed with is this 864-piece replica of the International Space Station, which includes a robotic arm to launch satellites from and a replica space shuttle that can even "dock" (a.k.a. attach to) the main station.
Photo-Illustration: retailer
A more affordable option from Lego's Ideas line is this set that even the most casual of television watchers will recognize: the Central Perk coffee shop from Friends. Golson says it's one of the company's "most popular" sets right now.
Photo-Illustration: retailer
Kelley says the Lego community is buzzing about how this train set is "the most amazing set ever designed" — hype that he says is particularly exciting given its under-£100 price. The 1,271-piece set, which hits shelves seven years after Lego's last locomotive kit, is "creating such excitement, in part because it will also roll along the track you build for it," Kelley explains. While the wheels turn, other elements of the train move up and down as they would in real life, too. [Editor's note: This product is currently unavailable.]
The Strategist UK is designed to surface the most useful, expert recommendations for things to buy across the vast e-commerce landscape. Read about who we are and what we do here. Our editors update links when possible, but note that deals can expire and all prices are subject to change.