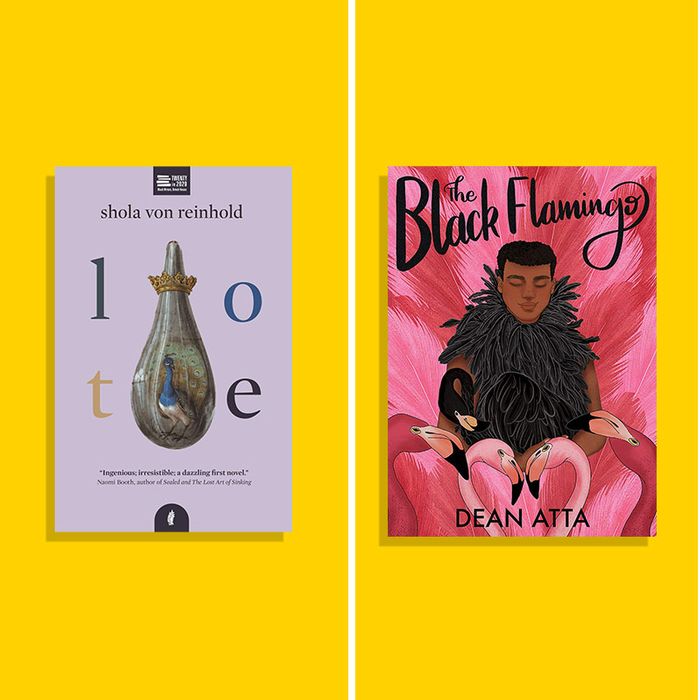 Photo-Illustration: retailers
Whether looking for a new title for your book club or just something to take on a mini-break, it's worth considering work that centers LGBTQ+ experiences. And while there has been an increase in queer narratives being published, readers still want stories that are as diverse as possible.
"It feels obvious to say, but it's vital that we champion diverse stories — because everyone deserves to see themselves reflected in the books they read," says Jenn Thompson, co-founder of Cipher Press, an independent publisher of queer fiction and nonfiction. "It's also massively important that people read outside of their own experiences — art and literature is meant to explore and reflect the world we live in."
Thompson continues: "The queer community is as diverse as the straight world, and really only a tiny part of the queer experience is being championed."
But if you're looking to build out your bookshelves, whether you prefer romance, coming of age, or nonfiction, where should you start? We spoke to 13 LGBTQ+ writers and authors — including Travis Alabanza, Paul Mendez, Juno Dawson, and Garth Greenwell — to find out their favourite books that center working-class queer narratives, intersect Blackness and transness, and frame queerness through Afrocentric perspectives.
Photo-Illustration: retailers
Author Paul Mendez, whose debut novel, Rainbow Milk, follows 19-year-old Jesse McCarthy as he grapples with his racial and sexual identities, recommends this book by Shola von Reinhold. The book focuses on Mathilda, a working-class Black gay woman in present-day London. "[She] becomes obsessed — as I now am — with the (sadly fictional) forgotten Black Scottish modernist poet Hermia Drumm and blags a place at an artist's residency in the small European town where she once lived. An inspirational, cutting, exquisitely written, multilevel excavation of forgotten Black lives and an Afro-queer celebration of art, aesthetics, literature, and society."
Photo-Illustration: retailers
Photo-Illustration: retailers
"Joy is in short supply in the queer canon, but this slender masterpiece is a refreshing delight," says Sam Sedgman, author of the Adventures on Trains series of mystery books. "It follows hapless author Arthur Less, running away from his ex-boyfriend's wedding by throwing himself an impromptu world tour. A globe-trotting adventure, satire, romp … I devoured it like ice cream at the beach. But Less is no less significant for being fun. Although its protagonist is turning 50, the novel is really a coming-of-age story. Arthur struggles to navigate a phase of life most gay men have no road map for — and learns, eventually, to fall in love. Less is also a master class in technique — it's impossibly deft and annoyingly clever. A novel that doesn't fully reveal itself until it's ready. And when it does, it's as perfect as you'd hoped."
Photo-Illustration: retailers
Photo-Illustration: retailers
"Confessions of the Fox is among the most inventive and ferociously intelligent novels I have read in many years," says Garth Greenwell, author of What Belongs to You and Cleanness. Confessions of the Fox, written by literary academic Jordy Rosenberg (who specialises in queer/trans theory), reimagines the 18th-century thief Jack Sheppard as a trans man, and, via a story-within-a-story framework, takes the audience through a series of Sheppard's romantic affairs, misadventures, and crimes. "This book is many things: a very sexy 18th-century romp, a satire of (and elegy for) higher education in the 21st century, a profound meditation on the moral stakes of archives, and a reclamation of histories that have been brutally suppressed," he says.
Photo-Illustration: retailers
Photo-Illustration: retailers
During lockdown, Travis Alabanza, a poet, writer, and performance activist, revisited this book by C. Riley Snorton, a scholar, author, and activist who is currently professor of English language and literature at the University of Chicago. Black on Both Sides is an intersection of Blackness and transness that examines how race has figured prominently into trans subjects. "Rereading it reminded me how much of my own work comes from reading this book," explains Alabanza whom the Guardian called "the future of theatre" in 2019 for their work, which has explored harassment and colonisation. "So much of Black and trans writing is out in separation, against odds, as antithesis. Riley's book was fundamental in my own understanding that these things do not exist in antithesis to each other — that I am, in fact, whole."
Photo-Illustration: retailers
Juno Dawson, author of books including Wonderland and Meat Market, recommended this David Levithan book, calling it his "most compelling" piece. "Each day, a person, known only as A, wakes up in a different body. They are fine with this until they start to fall in love … could someone love them back when they have a different body every day?" The book is a New York Times best seller and, says Dawson, "is really about love and an exploration of identity. What makes you you? Without ever mentioning the word trans, it's a very trans story, as A's bodies are irrelevant to their character."
Photo-Illustration: retailers
Photo-Illustration: retailers
Brandon Taylor, author of Real Life (which counts Roxane Gay and Jeremy O. Harris as fans), recommended this debut collection by Peter Kispert. "It's rare to encounter such a poised voice and consistent vision in a debut collection, but more than that, it was just a real pleasure to read," he says. The book is "a sharp collection of stories about the ways we deceive ourselves and others. Kispert absolutely nails the anxieties particular to contemporary queer life in a range of modes, from the melancholy to the hilarious. It has all the hallmarks of a modern classic."
Photo-Illustration: retailers
Photo-Illustration: retailers
Eleanor Morgan, author of Hormonal: A Conversation About Women's Bodies, Mental Health, and Why We Need to Be Heard, says this short-story collection was the only book she finished during lockdown. "The stories are wildly original, both in their experimentation with form and the themes therein. Death and sex death are foundational, and the erotic boldness made my head spin — including some of the best-written lesbian sex I've read in a long time," she says. Carmen Maria Machado, an American short-story writer, essayist, and critic who has written for The New Yorker, among other places, "manages to interrogate the way sexual violence is turned into prime-time viewing on one page, then write about ghosts and girls with bells for eyes on another," says Morgan, "with such peppery, lyrical sentences that make even the most surreal turns gripping. It's very funny, very queer, totally brilliant."