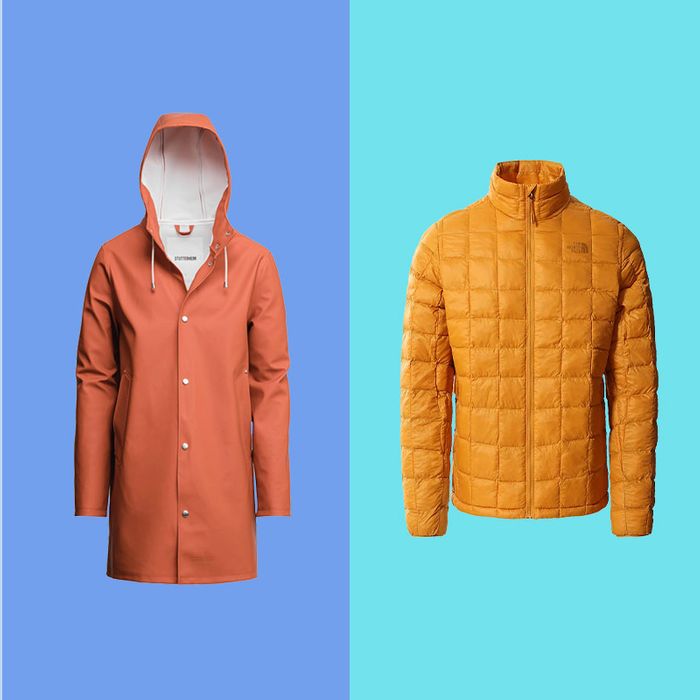 Photo-Illustration: The Strategist; Photos: Retailers
Hardworking and durable, a raincoat is an indispensable part of any wardrobe, allowing you to brave the elements while looking stylish — and avoiding the need for an umbrella, too. Whether you need a rain- and wind-resistant raincoat for hiking the great outdoors, a minimalist Scandi raincoat for life in the city, or just a packable Mac you can leave in the car boot, there's an option for everyone. We asked 18 stylish individuals, including celebrity stylists, musicians, models, and authors, to tell us their picks for the best raincoats for every budget.
Best overall raincoat
Photo: retailer
We're big fans of the coats from Swedish brand Stutterheim — and it was the most-recommended raincoat by our experts, too, with five people speaking highly of them. "It's like the cool kids' go-to raincoat," explains stylist Itunu Oke, who has dressed everyone from Timothée Chalamet to Domhnall Gleeson. Fellow stylist and menswear consultant Abena Ofei agrees. "It has almost a cult following, but its coats are incredibly well constructed too." Elliott Lewis-George, a project manager at Redwood BBDO, likens it to "the kind of coat your mum will be proud of you for spending your hard-earned cash on. It's minimalist, sleek, a nice length, and an affordable classic." He also likes that it comes "in more colours than Joseph's Amazing Technicolour Dreamcoat." (Appropriately, Oke points out that there's actually a rainbow-striped colour with a matching coat for your dog.) Actor and musician Frankie Wade says his — which he "borrows" from his housemate — is always in rotation. "It's very good for when it's properly raining and I want to look presentable." The coat is also popular with Anthony West, a singer in Oh Wonder, who says it's become "the perfect travel companion" after picking it up on tour in Tennessee during an unexpected downpour. "As a tall person" — he's six-foot-three — "it's hard to find coats that provide good coverage of my legs, but I love the length of it," he says. "It's also lightweight and packs down pretty well, while the rubberised cotton ensures that it always stays fresh and doesn't crease. The pockets are genuinely comfortable to use to keep your hands warm, and the poppers are a classy touch, too. When we're touring in Scandinavia I very much fit in."
Best (less expensive) raincoat
Four experts told us they liked Rains raincoats, which are similar to Stutterheim in construction (though this brand is Danish, not Swedish) and much lower in price. "I've loved them for ages," says Oke, who particularly likes its transparentish version. Adam Baidawi, deputy global editorial director at GQ magazine, has a coat and a backpack from the brand. "Having previously lived in Dubai and Australia, my life didn't allow for many raincoat fits," he says. "But my girlfriend gifted me a backpack from Rains once, and now I swear by it for Scandi-influenced, rainproof stuff when I'm visiting wetter shores." Ofei, who has dressed Loyle Carner, Pedro Pascal, and Cillian Murphy, says the brand is known "for merging durability and functionality with a sartorial edge. Rains are high quality, easy to wear, very chic jackets, with clean lines and effortlessly stylish silhouettes." Additionally, I picked up a raincoat after initially buying my boyfriend one of the brand's weekend bags. It's got a nice sturdiness for a raincoat — sometimes they can be a bit thin and measly — and the peak on the hood is a clever addition that keeps rain out of your face, which is helpful as someone with glasses.
Best packable raincoats
Alex Wilson and Dan Breheny, who run the online menswear journal Work Duds, spoke highly of Uniqlo's blocktech raincoat. "For under £100 you can get a wind- and rain-resistant top layer, and it's unbeatable quality," says Breheny. "It looks equally as good over a suit or something more casual on the weekends, and it's super lightweight, too, so it won't bog you down when the heavens open," added Wilson. The coat, which is made from nylon and treated with a water-repellent coating, comes in black, navy, and olive green, and has a zip with a concealed front. Like all blocktech jackets, this one folds down into a compact bag. "It's my favourite high-street option," Oke says, "because you can never go wrong with Uniqlo."
Sam Diss, a freelance creative consultant, says that many big raincoats aren't suited for life in London. "The last thing you want is to pass out on the Central line in a welded-seam PVC jacket designed for fishermen in Gjøvik," he notes. He recommends this rain-resistant smock by Albam, "This is what I would call 'water-conscious' — the 100 percent organic cotton is not quite waterproof but certainly rain resistant. They also just look incredibly cool, especially in this dusty pink shade."
Best (less expensive) packable raincoat
Peter Storm has been designing clothes for British weather since 1954, and focuses on practicality and weather-beating performance above all else. West told us he had a bright-blue cagoule like this when he was growing up on the Isle of Man. "This is the sort of cagoule I keep in the bottom of my backpack, or in the boot of my car," he says. It features elasticated cuffs and an adjustable drawstring to ensure a good fit, and easily packs into a small bag. "The large front central pocket is completely brilliant. Side pockets on cagoules are always too small and inaccessible to comfortably hold a phone and wallet, whereas this large pocket is perfect for throwing all your essentials in to keep them dry."
Best formal raincoat
Photo: retailer
Mackintosh has been making raincoats for over 200 years, and as a result the brand's become one of the world's most influential coat-makers. So it's perhaps not a surprise that three of our experts chose it for a grown-up, smarter option. DJ Benji B says it's his go-to choice when he needs to look polished and stay dry. "It's for when you need something a bit more Savile Row," he says. The knee-length coats are handmade in Cumbernauld, Scotland, and feature meticulous detail; the seams are glued with rubber to form a completely watertight seal. "It's incredible craftsmanship, and a classic silhouette — form and function at its finest," says Benji. Ofei says despite its legacy, Mackintosh is "a great option for connoisseurs of heritage brands who are seeking a more elegant style of outerwear, one that fuses technology with traditional techniques." Oke agrees, saying that while the brand has done "more bougie versions, like its collaboration with Jil Sander," this classic coat has stuck around for good reason. "It's the OG raincoat," Oke adds.
Best long raincoats
Photo: retailer
Though we typically associate them with surfing gear, Jordan Bunker, a menswear writer and blogger, told us that Oakley makes surprisingly tasteful raincoats — like this ankle-skimming one, in collaboration with Samuel Ross (a former protégé of Virgil Abloh). "This coat is, above all, practical, and practicality always comes out on top for me," Bunker says. "Sometimes with raincoats it can feel like there's limited choice, so I like that this one riffs on streetwear, with the reflective tape details on the arms."
Photo: retailer
Male model Nemar Parchment, who is signed to IMG Models, says he has been wearing this oversize ASOS trench for over five years. "It has no cool features, but I like it entirely for the silhouette — it's very clean and resembles the Vetements raincoats that have been seen over the last couple of years," he says. "When looking for a raincoat, I go totally on aesthetic — if it looks good, I'll feel good, even in the rain." The coat is made from a lined nylon, which Parchment says provides an extra layer of comfort, "and the oversized shape allows you to layer up and keep warm." [Editor's note: This product is low in stock.]
Photo: retailer
[Editor's note: Since Nemar's exact trench is low in stock, we found a similar quilted version that would be equally cosy].
Best waterproof jacket
It's important to know the difference between water-repellent and waterproof fabrics, says travel writer Chris Sayer. "Waterproof " means impervious to water, while "water-repellant" jackets are treated with a surface coating. This waterproof jacket came to our attention thanks to Benji B, and is part of Nike's ACG (All Conditions Gear) line. Benji said, "In all the years and all the jackets, [this] is the most effective waterproof I have ever come across." While Benji's gore-tex model is now sold out, we found an updated version with many of the same features. Though it lacks the removable lining, this is made with a waterproof nylon shell and recycled Primaloft filling.
"I was going to suggest Elka, but you will struggle to find it any of it for sale in the U.K. at the moment," says Joel Golby, author and TV critic at The Guardian. "But I have this Craghoppers jacket which, despite my girlfriend hating it, is a favourite. The details on them are really nice — pockets in all the right places, flaps over the pockets, that sort of thing. They do really well-made gear even if the colours are occasionally horrendous." Golby's is out of stock, but he recommended this less intense option in "Poseidon Blue." Craghoppers says this has a waterproof rating of 10,000Mm, which means it is rainproof and waterproof in light to medium pressure conditions, including snow.
Best-rated water-repellent jacket
"This is definitely not waterproof, but rather water-repellant," explains Sayer, "But it makes the grade, as I've never felt a drop of water penetrate it. In light U.K. showers it's my go-to everyday outerwear layer, although the down doesn't seem designed for heavier precipitation." He adds that it's very easy to pack down into a backpack for travelling (although it creases easily, so hang it in a wardrobe as soon as you're at your destination), and the North Face now make an "eco" version with recycled down. "It really is an absolute workhorse," he says. "I even packed it when I went hiking through the Egyptian desert. I heard it got cold in the evenings — it didn't — but at least it didn't take up much room."
Best-rated waxed jackets
Two staff at our U.S. sister site swear by the classic Barbour jacket. Senior editor Anthony Rotunno wrote that his was the best thing he bought in the last ten years, which then spurred writer Jordan Bowman to invest in one. "I was hesitant to pick up a Barbour, mainly because of the price, but I was swayed after reading Anthony's review," he says. "I decided to go for the more modern-looking Barbour Bedale instead of the more lengthy Beaufort. I tried on both in store and the Bedale just worked perfectly for my proportions with its ribbed arm cuffs and shorter body length. It's the small details that draw you in, the tartan plaid lining and the thick corduroy collar that has additional snaps for a hood if you'd like one. I also love a deep pocket and the Bedale has two pockets that look like they were designed to store a bloody MacBook Pro." The jacket features the brand's classic rain-resistant wax coating, which Bowman says "should last you a couple of rainy seasons," but you can order more online and reapply it, should you wish.
Photo: retailer
This hooded raincoat from Barbour's white label offshoot is a more contemporary take on its traditional wax jackets. Wilson and Dan from Work Duds chose it for the brand's attention to detail. "It's 100 percent cotton, water-resistant, and features a DryWax, ripstop finish (meaning the fabric is woven to reinforce it)," Dan says.
For a slightly more rugged waxed raincoat, travel writer Chris Sayer, who recently moved to Cornwall from London, chose this heavyweight canvas jacket from Seattle-based workwear brand Filson. "It's the wilderness functionality that I love — Filson is more than up to the challenges in my life — like fishing from canoes in Cornwall or squeezing between hawthorn and gorse bushes while hiking around Dartmoor." Sayer owns a number of jackets from Filson but this woven canvas one, which is saturated in liquefied paraffin wax and oil, then sealed using heat and high pressure, is his standout. "This thing is never going out of style. It's got tons of pockets, reinforces stress areas, and has a delicious tan colour that looks better the more I batter it."
The Strategist UK is designed to surface the most useful, expert recommendations for things to buy across the vast e-commerce landscape. Read about who we are and what we do here. Our editors update links when possible, but note that deals can expire and all prices are subject to change.