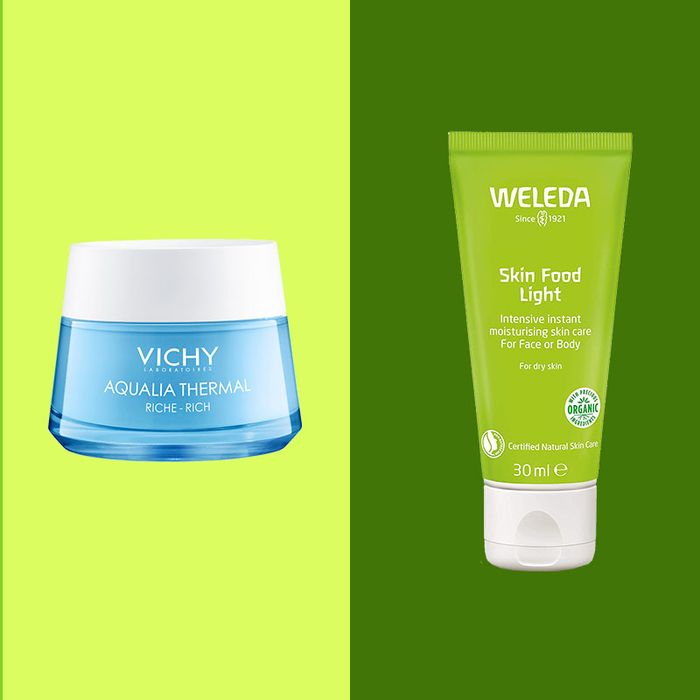 Photo-Illustration: The Strategist; Photos: Retailers
A version of this story originally appeared on the Strategist U.S.
Dry-skin types often need more attention in the moisturising department to avoid flaking and painfully tight, sandpapery skin. But not every moisturiser will work for severely dehydrated skin. Noelani Gonzalez, the director of cosmetic dermatology at Mount Sinai West, says people with dry skin, especially eczema sufferers, have to be very mindful of the moisturisers they use. Generally speaking, "goopy and greasy creams and ointments are your best friend if you have dry skin, because they are oil based, have a thicker consistency, and provide more hydration than lotions," she says. This can also depend on the seasons, though, which is why experts — like dermatologists Rita Linkner, of Spring Street Dermatology, and Marnie Nussbaum, a clinical instructor of dermatology at the Weill Medical College of Cornell University — mention that you can transition to a lighter lotion, gel-based moisturiser, or serum in summer.
Almost all the experts we spoke to also said that your moisturiser should ideally contain a mixture of emollients (like ceramides), which repair your skin barrier, and humectants (like glycerin and hyaluronic acid), which draw and seal moisture into the skin. Here, four derms on the hydrating moisturisers that would be on their short list for dry skin, plus some Strategist favourites. (Note that we're primarily referring to the skin on your face — if you have dry skin on your body, consult our guide to body lotions.)
Best overall moisturiser for dry skin
Yes, this is technically branded as a body cream, but Dr. Hadley King, clinical instructor of dermatology at the Weill Medical College of Cornell University, says this is "a great cream for both face and body." Because it's packed with hydrating humectants like glycerin and skin-softening emollients like glyceryl stearate and sweet almond oil, it's highly effective for treating dry skin. Two more dermatologists also recommend this cream. Dr. Rachel Nazarian points out that it's "incredibly lightweight and comfortable for daily use throughout the year." She recommends that patients with year-round dry skin (not just in the winter) stick to this cream because it contains all the basics needed for healthy skin without "irritating fragrances or perfumes." Plus, Cetaphil is definitely a budget-friendly pick. "The price point on this line of moisturisers makes it a no-brainer," says Linker. She recommends transitioning to Cetaphil Moisturising Lotion in the summer because it's much lighter than the cream for those months when your sebum levels (your skin's natural lubrication) have balanced out.
Runner-up best moisturiser for dry skin
Two out of seven dermatologists recommend this drugstore favourite for treating dry skin. "It has a high lipid content, which really helps repair dry, cracked skin," says Dr. Susan Binder, who notes that this is one of her preferred moisturisers. Binder suggests patients look for a cream, which has a higher lipid content than lotions. Nazarian likes CeraVe because it's a "barrier-repair cream" and contains ceramides. "Dry skin requires both humectants and emollients that draw in moisture and lock in moisture, respectively," she says. She also suggests using a serum with hyaluronic acid first and following up with this CeraVe cream to "help decrease loss of moisture into the environment over time." And finally, Binder adds, no matter the reason for your dry skin — whether it's dry in winter, dry all year round, or dry because of aging — this is a universally good choice.
Best moisturiser for extremely dry skin
There are those with skin that tends to get parched and flaky, particularly in the winter months, and then there are those whose skin is so dry it can actually look scaly and, as a result, is exceptionally hard to nourish. If you're in the latter category, Binder recommends Aquaphor. It's an emollient that can help repair a damaged skin barrier, a common culprit for a lack of moisture, and that is easily accessible at any chemist. She warns that "it can be a bit greasy" but thinks it's "great when used immediately after the shower or bath to lock in moisture and help heal dry, cracked skin." It's also fragrance free, making it a good option for those with sensitive skin as well.
Weleda's Skin Food is a favourite of both Hari Nef and Aurélie Bidermann. Nef picked up a tube after noticing it amongst the collections of several on-set makeup artists. "It had this distinct fruity smell, and I remembered the bottle," she says. "Whenever they used it to prep my skin, it was just so rich — it instantly makes your skin shiny and dewy and nourished." As the moisturiser is so thick, she says it's perhaps not suited to daily use, but it's ideal for extra-dry days, when her skin is "really thirsty." Bidermann agrees. "If I see I'm about to run out, I'll buy two of them," she says. "The smell is like cut herbs mixed with essential oils."
For those who find Skin Food too heavy, Strategist contributor Margaret Rhodes told us about Skin Food Light — or "Diet Skin Food," as she has taken to calling it. She says it "retains the best qualities of the original (the smell and the virtuous feeling that comes with slathering your pores in restorative, puréed plants), but it goes on more like a typical lotion than a thick goo." The lighter version is more suited to the humid summer months, as it absorbs quickly and leaves less residue. Strategist editor Maxine Builder is also an advocate, to the extent that she refused to waste a drop of the cream. "I was so desperate to finish it that I even cut the tube in half and scooped out the dregs with a Q-tip," she says. "It's a classic for a reason, as they might say."
Best creamy moisturiser for dry skin
King likes this Vichy Aqualia Thermal Rich Cream for dry skin, which has a thicker, creamier consistency and contains hyaluronic acid — "a powerful humectant that can hold over a thousand times its weight in water to help hydrate and plump the skin," she says — as well as emollients like shea butter. She notes that this cream does have a light fragrance, though, which may be something to keep in mind if you have sensitivities.
Best gel-cream moisturiser for dry skin
If you're looking for something at a budget-friendly price point, Gonzalez also recommends this Neutrogena gel-cream. This moisturiser is specifically formulated for extra-dry skin; it's a different formulation of the gel-cream often recommended for acne sufferers. While we don't usually think of gel textures as dry-skin friendly — they're more typically targeted to normal and oilier types — this moisturiser contains hyaluronic acid and glycerin, which help lock in moisture while still feeling airy and lightweight. "I've used it before, and it gives immediate relief to dry skin," Gonzalez attests. It's a favourite amongst other dermatologists who in the past have recommended it to us for oily skin, skin that's rosacea prone, and pregnant women. It's also a favourite of Strategist UK readers: It has consistently been featured in their hauls of most-bought items for the past 18 months.
Best anti-aging moisturiser for dry skin
Recommended by Dr. Deanne Mraz Robinson, a partner at Modern Dermatology and an assistant clinical professor of dermatology at Yale New Haven Hospital, this moisturiser is said to specifically target the signs of aging because it is infused with certain lipids, like natural cholesterol, pure ceramides, and fatty acids, which are naturally depleted in the skin over time. Whether you're using it to combat aging or not, Robinson notes that such lipids "help reinforce the skin's barrier and help the skin retain moisture." Also on the subject of SkinCeuticals, the brand's LHA cleanser happens to be another favourite of Robinson's for those with dry skin because it "will slough off dead skin cells at the surface without dehydrating the skin and stripping it of its natural oils."
Best moisturiser for eczema
The Aveeno eczema line came recommended to us earlier by multiple dermatologists for body lotions and eczema-specific treatments, especially this itch-relief balm. "Rather than just hydrating, I recommend people with eczema also use calming and anti-inflammatory ingredients," says Nazarian. A "core characteristic" of eczema is skin inflammation, she notes, so this Aveeno cream with colloidal oatmeal, which is "naturally anti-inflammatory," will help soothe any flare-ups. It also contains ceramides "to improve the quality of skin with continued use," she adds.
Best moisturisers for facial psoriasis
Robinson notes that treating psoriasis requires a trip to the dermatologist's office because patients will oftentimes need a prescription and a personalized regimen. Three other dermatologists agree because, as Nazarian notes, "psoriasis is a very unique skin condition that actually has nothing to do with dryness and has everything to do with an irregular cell cycle." You can't really "moisturise psoriasis away," but there are "over-the-counter creams that help remove the excess skin, which causes the scaly appearance of psoriatic plaques," she adds, which often look like excessive dryness. For facial psoriasis that appears along the hairline and sometimes the scalp and ears, Binder recommends a lactic acid because it softens and smooths rough, bumpy areas. She notes that it "has even been shown to counter the effects of long-term cortisone use." Nazarian, meanwhile, recommends finding a moisturiser that "contains salicylic acid to resurface the scale and smooth out psoriasis plaques," like CeraVe SA. Of course, to further hone in on which one would be best for you, consult your dermatologist.
Some other Strategist-recommended moisturisers
In Strategist UK writer Rachael Griffiths's skin-care routine, Cicaplast Baume is an absolute staple. Suffering from extremely dry, sensitive skin and finding a moisturiser that could quench her skin without irritating it was somewhat of a task. "I used to step out of the shower and feel as though my skin was going to crack," Griffiths says. "But if I apply a layer of Baume before bed (after washing my face), instead of finding my skin dry and irritated in the morning, it's soft and actively hydrated. It truly makes a monumental difference." For patches of extremely dry skin, Griffiths recommends pairing the Baume with a drop or two of the Ordinary's hyaluronic acid.
The Strategist UK is designed to surface the most useful, expert recommendations for things to buy across the vast e-commerce landscape. Read about who we are and what we do here. Our editors update links when possible, but note that deals can expire and all prices are subject to change..