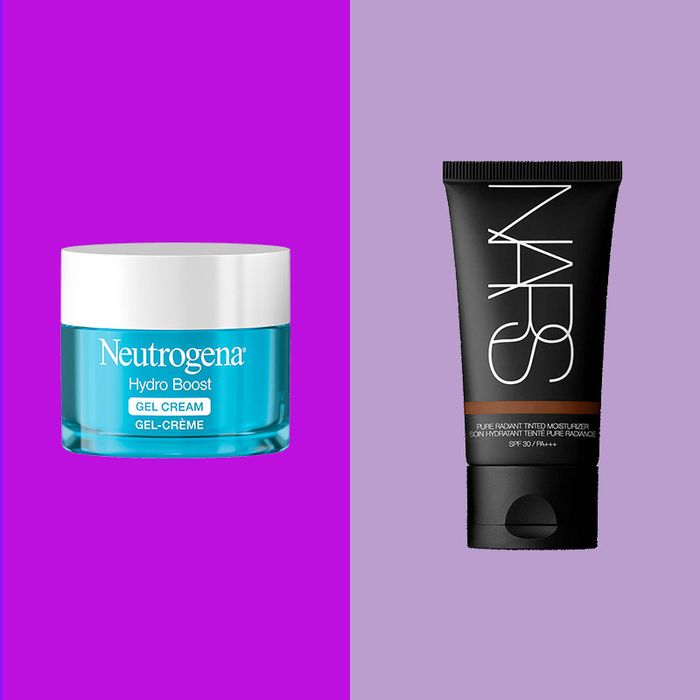 Photo-Illustration: The Strategist; Photos: Retailers
If you have oily skin, you've no doubt tried a myriad of options to keep it looking dewy but not greasy. You may have given skin-stripping toners a go, or know to avoid ingredients with a high alcohol content. You might even feel as though washing your face more vigorously is the key. But on that last point, dermatologist Shamara Bondaroff says it can actually be counterproductive. "Stripping your skin will only cause it to produce more oil," she notes. Instead, when it comes to oily skin, the advice from dermatologists is to moisturise. "Sometimes your glands produce more oil than normal because it's dehydrated," says Vanessa Marc, celebrity aesthetician (and owner of Vanessa Marc Spa). Fellow dermatologist Melanie A. Warycha concurs and says those with oily skin should "still use a daily moisturiser."
In order to find the best moisturisers for oily skin, we spoke to skin-care experts — including dermatologists and a celebrity aesthetician — and consulted skin-care studies and trusted beauty blogs. We also pored over ingredient lists, hundreds of reviews, and even a few YouTube comment sections to hear from reviews who have tried and tested each product. And, for good measure, we looked back through our heavily vetted Strategist archives in order to compile the following list. Read on for our picks of the six very best moisturisers for oily skin.
Best overall | Best lightweight | Best cream | Best matte | Best for mature skin | Best for redness
Noncomedogenic: When shopping for a moisturiser (for any skin type), always look for products that are non-pore-clogging — also known as noncomedogenic products. Noncomedogenic moisturisers are unlikely to cause breakouts or worsen any existing bouts of acne. Ideally, the ingredients list should feature things like aloe vera, vitamin C, and glycerin, whereas ingredients such as flaxseed oil or palm oil are to be avoided.
Hydration: As well as nonclogging formulas, we prized formulas that won't feel greasy when applied. This means we looked for ingredients that are intensely hydrating without feeling intensely heavy (also known as humectants). Hadley King, clinical instructor of dermatology at the Weill Medical College of Cornell University, explains that humectants "can hydrate the skin without the need for emollients," which may "feel too heavy for oily skin." We sought formulas that contain humectants such as hyaluronic acid, glycerin, and salicylic acid.
Oil-free: Adding more oil to the mix when moisturising oily skin will simply exacerbate the issue — resulting in increased shininess and blocked pores. Kenneth Howe, a cosmetic dermatologist, says instead that "oily-skinned patients need humectants more than oils in their moisturiser." Therefore, we've prioritised formulas that are humectant-heavy and oil-free.
Best overall moisturiser for oily skin
Noncomedogenic | Lightweight | Oil-free
King, Warycha, and Howe recommend this gel from Neutrogena. It's noncomedogenic and contains hyaluronic acid and glycerol, two intensely moisturising yet light ingredients. What's more, the formula is oil-free and doesn't contain any alcohol. Dr. Howe explains that these factors result in a "lightweight gel formulation" that "goes well with oily skin." He also reveals it's the moisturiser of choice for his 14-year-old son.
For us, it was no surprise that Neutrogena came out as our best in class overall. It's a staple amongst dermatologists and has been recommended to us for dry skin types, the rosacea-prone, and even pregnant women. It's also a Strategist reader favourite: The moisturiser has consistently appeared in our top-ten most-bought items over the last 18 months. This is due to both its efficacy and its amazing value for money. A generously sized tub of the gel is priced at £13, but it's often on offer for less than £10 (and we've noticed it on sale many times for less than half price).
Best lightweight moisturiser for oily skin
Noncomedogenic | Sheer | Oil-free
Celebrity aesthetician Vanessa Marc has her own skin-care line, but before it was founded, this Dermalogica moisturiser was her go-to. It's intensely hydrating, as it includes ingredients such as mallow, lavender, and cucumber (a natural humectant). Beatriz Santana, a Dermalogica skin therapist, drew our attention to the moisturiser's silk amino acids in particular. She says that as the moisturiser hydrates the skin, the acids (derived from raw silk) help improve its overall texture, leaving it feeling smoother to the touch.
Unlike other Dermalogica moisturisers that rely on lipids to hydrate the skin — such as the best-selling Skin Smoothing Cream — the Active Moist is entirely free of oil. It also contains aloe, which retains the product's moisture within the skin, meaning there's less incentive for your glands to produce oil in the first place.
Best cream moisturiser for oily skin
Noncomedogenic | Lightweight | Oil-free
Warycha recommended the humectant-heavy moisturiser, which is formulated with a 30 percent hyaluronic-acid complex. Oil-free and noncomedogenic, the moisturiser won't trigger breakouts or excess oil, but its moisture-retaining ceramides will hydrate and plump the skin without leaving a greasy texture. And despite its soufflé-like consistency, Look Fantastic reviewers say that the Peter Thomas Cloud cream is exceedingly lightweight (and that a little dab goes a long way).
Best matte moisturiser for oily skin
Noncomedogenic | Matte | Oil-free
La Roche-Posay's Effaclar has a lightweight matte finish, reducing the appearance of oil on the skin. King says the product targets oil via "Sebulyse technology." (It basically tackles sebum, which is the substance secreted by oil-producing glands.) The oil-free, matte finish is also due in part to the mosituriser's exfoliating lipo-hydroxy acid and perlite, which can "absorb humidity and sebum."
Best gel moisturiser for oily skin
Noncomedogenic | Gel | Oil-free
Whilst you've probably heard of Kiehl's (cult-favourite) Ultra Facial Cream, you may not know that the brand also makes an oil-free version. Both versions use glacial glycoprotein — sourced renewably from Antarctica — to add moisture to the skin. However, there are some key differences. The oil-free version contains micronised amino acid, which Kiehl's say decreases "the pro-sebum production activity." Basically, as it hydrates the skin, it also actively reduces the amount of oil that the skin secretes. This leads to a reduced shine on the face and less visible pores over time. As the cream also has the skin-moisturising staple glycerin, as well as salicylic acid, it is deeply hydrating.
Best moisturiser for mature oily skin
Noncomedogenic | Lightweight | Some (oil-regulating) oil
You may have heard about the Inkey List from Strategist beauty writer Rio Viera-Newton. It's a brand that we've highlighted several times for both its efficacy and low prices (the majority of its best sellers retail at less than £10). This moisturiser in particular contains bakuchiol, an alternative to retinol. Like retinol, bakuchiol has anti-aging properties — such as stimulating collagen and reducing the appearance of fine lines. Unlike retinol, it doesn't cause any increased sun sensitivity, so it can be applied throughout the day without heightening risk of UV damage. It also contains highly moisturising glycerin and squalene, as well as sacha inchi oil. Whilst most oils are to be avoided, sacha inchi oil is a beneficial oil to those with oily skin. This is because it has been proven to regulate oil production by effectively retaining moisture within the skin. Therefore, cells won't need to oversecrete oil to compensate for dehydration within the skin. The oil is also noncomedogenic, so it won't cause breakouts or irritate the skin (in fact, it's actually quite soothing).
Best moisturiser for oily and red skin
Noncomedogenic | Colour-correcting | Oil-free
If your skin also needs a bit of colour correction (for example, if it tends to go red throughout the day), Warycha suggests a tinted moisturiser. Her recommendation is Olay's tone-correcting cream. It contains niacinamide, "an anti-inflammatory that helps to absorb sebum and strengthen the skin barrier." However, with only one shade, the product is only suited to a small number of skin tones. This moisturiser from NARS, on the other hand, comes in a range of 14 shades. The product is oil-free and offers some protection from the sun with an SPF rating of 30. The noncomedogenic moisturiser won't cause breakouts and, according to Anjali Mahto (consultant dermatologist and author of The Skincare Bible), it actually "provides a great level of coverage for acne and pigmentation." It's also highly hydrating: It contains plant-based humectants such as glycerin. As for coverage, the product applies in a light, semi-translucent veil: enough to brighten and even out skin tone, but not so heavy as to act like foundation. London fashion and lifestyle blogger Kristabel Plummer says that it "feels like you're barely wearing anything."
Some other moisturisers we've written about:
The Strategist UK is designed to surface the most useful, expert recommendations for things to buy across the vast e-commerce landscape. Read about who we are and what we do here. Our editors update links when possible, but note that deals can expire and all prices are subject to change.