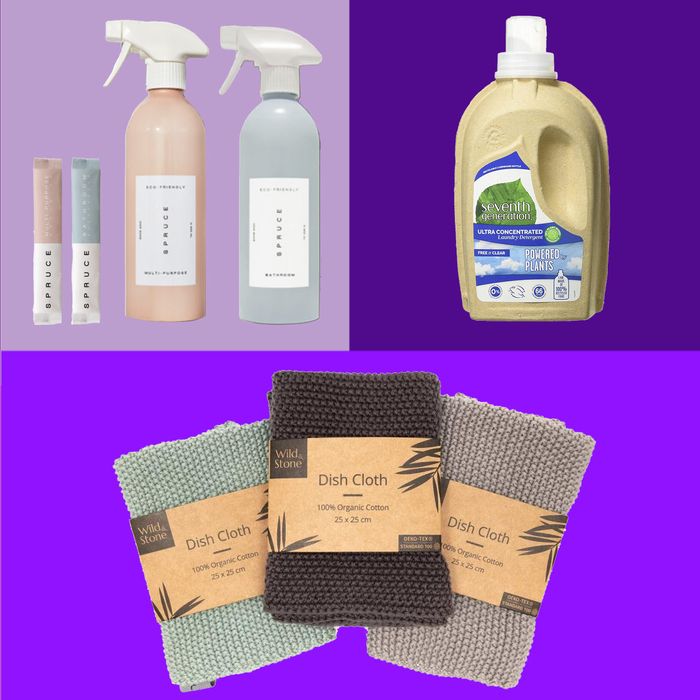 In a world where "greenwashing" has become an everyday phenomenon, it can be hard to find cleaning products that boast authentic natural credentials: that is, low in chemicals, cruelty-free, plant-based, and generally better for the planet than their synthetic alternatives. Here's where it gets knotty: These terms aren't regulated — cruelty-free doesn't always mean vegan, for example — so it often isn't easy to ascertain which product is better (or, indeed, which is actually sustainable) from the back of the packet alone.
To sort the genuinely natural from the just-pretending, we enlisted the help of seven experts from across the spectrums of both professional cleaning and sustainable living, from industry-leading cleaning technicians to ethically conscious buyers and entrepreneurs. We asked them to choose the best natural cleaning products, with "natural" in this case defined as either using primarily plant-based and non-toxic ingredients, being entirely vegan and cruelty-free or, in most cases, both.
Our experts settled on a total of 15 products from eight cleaning brands, encompassing everything from natural dishwasher tabs and washing-up liquids to natural carpet cleaners, biodegradable antibacterial wipes and dish cloths that won't cost the planet.
Best all-round natural cleaners
Three of our seven experts chose Ecover products as the best on offer. Marta Lytovchuk, resident cleaning expert at London-based cleaning service eMop, says her recent discovery of Ecover's All-Purpose Cleaner was a "game-changer." "As a professional cleaner, I'm very picky because a good product can save you a lot of time," she says. "This cleaner is effective on most dirt and grease, and I find it just as strong as other toxic or more expensive counterparts." Lytovchuk also cites the brand's long-lasting bottles, non-chemical smell and easy disposal as reasons she's an Ecover convert.
The brand also has a fan in Niomi Smart, founder of vegan and sustainable skin-care brand Smart Skin, who "religiously" uses their laundry liquid and fabric softener. "With the plant-based formula and eco packaging, it's one of the cleanest options out there for natural laundry products," she says. Smart also praises Ecover's U.K.-wide refill stations, as well as their special anti-fade and anti-bobbling formula designed to prevent clothes ending up in the landfill. "Ecover really are tackling sustainability from every angle," she says. Rounding out Ecover's recommendees is Natalie Elliott, clean beauty campaigner and founder of self-care brand SAKRID, who likes the brand's ethos of "100 percent plant-based ingredients, produced in a green factory." Elliott especially recommends Ecover's limescale remover. She lives in a hard-water area, and has found it just as effective as less eco-friendly alternatives. "I've tried many different natural options, but this is the only product I've found that works well and fast," she says.
Best refillable natural cleaners
Two of our experts recommended Tincture's tasteful-looking refill sets. "These are the kind of cleaning products you proudly display on the kitchen counter, much like your favourite beauty products in your bathroom," says Niomi Smart. It's a sentiment echoed by eco-influencer Besma Whayeb, founder of sustainable living site Curiously Conscious. "I really like displaying their products in my kitchen and bathroom," she says. And though the brand's "beautiful" bottles are clearly a big draw, Smart praises the brand's total reliance on botanical extracts and plant-based ingredients, while Whayeb commends them for their commitment to producing "non-toxic, vegan and cruelty-free" products.
If you're looking for something a little less conventional, another refillable starter set with a tasteful look comes courtesy of eco-friendly cleaning start-up Spruce. The difference here? Refills come concentrated in a powdered form, allowing you to empty a sachet into your existing bottle and top up with water. "It's a great way to save space and unnecessary plastic," says Caroline Jacobs-Graf, founder of conscious e-retailer A Little Find. "Not only is it economical, but the carbon footprint is minimised by not shipping water around."
Best natural washing-up liquid
As co-founder of plant-based food brand Clean Kitchen, Verity Bowditch uses Method's products to keep on top of dirty dishes. "I pretty much only use their range for cleaning my kitchen," she says. "The ingredients are all responsibly sourced, biodegradable, non-toxic and naturally derived from corn and coconut, plus all of the packaging is recycled and recyclable." Elliott is also a keen advocate of Method, praising their natural ingredients and their "conscious" packaging choices — as well as their cleaning capability. "They produce hard-working home products that perform," she says. "The washing-up liquid works really well on pots, pans and baking trays, and they also provide cost-effective larger refills to top up your under-sink bottles."
Best natural dishwater tabs
Dishwasher-tab manufacturer Smol work on a letterbox-friendly subscription basis. "The tabs themselves are great because they're super concentrated and compact," says Bowditch. "You don't need to use rinse aid or dishwasher salt to maintain your machine, because it's all in there." Smol themselves say neither are needed unless you live in an especially hard water area, the same going for the tabs' built-in glass protector. Bowditch is also a fan of Smol's low-chemical formula and sustainable packaging, which has a seal of approval from the Forest Stewardship Council.
Best natural laundry detergents
When it comes to natural detergents, Natalie Elliott recommends Seventh Generation's 'Ultra Concentrated'. "Not only is the detergent made from 96 percent plant-derived ingredients that are gentle on sensitive skin, the bottle is made from a wax-lined recycled fibre material, helping to reduce the impact of plastics on the environment," she says. "We have four young children that love mud, paint, and slime, and it works really well on removing deep stains without the need for long soaking."
Meanwhile, Lytovchuk recommends Ecozone's Ecoballs. "They're basically a ball that you fill with plant-based cleaning pellets and pop into your laundry," she says. "The quality of the wash is amazing — I found them at a customer's place and have been using them ever since." Because they're unfragranced, Ecoballs are good for those with sensitive skin, while still offering a "clean and fresh" smell for your laundry. "This could very well be the future of washing," Lytovchuk says. Each ball claims to be reusable for 1,000 washes, with pellet refills for that amount of time included.
Best natural carpet and upholstery cleaner
A heavy-duty task such as carpet cleaning might seem at odds with non-toxic, low-impact formulas. But ProChem's industrial Carpet Rinse and Prespray is more environmentally-friendly than most, thanks to eco surfactants and biodegradable ingredients. "Both of them smell great and do a fantastic job when it comes to general dirt and high-traffic carpet areas," says Zdravko Dimitrov, a lead technician at Fantastic Services. "The Prespray has a lower pH in order to tackle oily spots more easily, while both of them are great for use on wool carpets."
Best natural glass and steel cleaner
Photo: Yeshen Venema
Another specialty cleaner which performs without needing petrochemicals, phosphates or enzymes, KINN's lavender-scented Glass and Stainless Steel Cleaner uses no synthetic fragrances, either. "It's a vegan-friendly formula which only uses essential oils to leave a pleasant, calming scent behind," says Jacobs-Graf, who also recommends the brand. "It works brilliantly to get your mirrors, windows and shiny surfaces sparkling."
Best natural cleaning wipes
"If you're one of those people that regularly uses antibacterial wipes, it's never too late to flip that eco friendly switch," says Lytovchuk. "These wipes are affordable, non-alcoholic, 100 percent biodegradable, vegan, and registered cruelty-free — and they get the job done." They've been tested to kill 99 percent of bacteria, and have a fast-dry action formula meaning you won't have to follow up with a dry cloth or kitchen roll.
Best natural cleaning cloths
If you want your cleaning materials to be just as eco-friendly as the cleaners themselves, Wild & Stone's 100 percent organic cotton cloths are a good place to start. "I always look for 100 percent organic cotton products, because farmers use natural methods to grow the cotton rather than chemical fertilisers," says Bowditch, who uses them both as "tea towels" and for wiping down surfaces. "They're so absorbent and come in lovely, neutral colours," she says.
The Strategist UK is designed to surface the most useful, expert recommendations for things to buy across the vast e-commerce landscape. Read about who we are and what we do here. Our editors update links when possible, but note that deals can expire and all prices are subject to change.