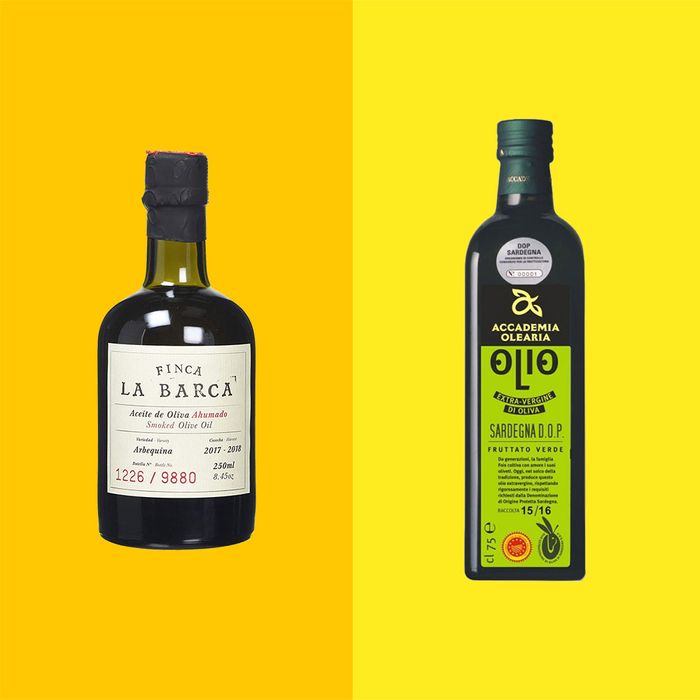 Photo-Illustration: The Strategist; Photos: Retailers
Olive oil is something that most home cooks use every day. Yet it can be hard to know what you should be looking for when choosing one – not only because olive oils are made in a number of countries (including Italy, France, and Spain) but there are different techniques and flavour profiles depending on the kind of olive used, too. "Olive oil is like wine — there are many ways to produce it, and so many different varieties," says Ioannis Grammenos, Executive Chef at the Heliot Steak House. Grammenos, who is Greek and produces his own olive oil, says that, just like wine, personal preferences will win out, and recommends trying different varieties where possible. However, there are certain things to always look out for. "The worst enemies for olive oil are heat, light, and air — so look for a dark bottle that will protect the oil from the light," he says. "And if a bottle doesn't have a best by date, I would personally not buy it."
To cut through the many varieties of olive oil out there, we spoke to 11 experts, including chefs, buyers, and other food-industry professionals, to find out which olive oils they buy themselves. Our panel told us their favourite options for drizzling on salads, dunking bread into, and finishing off cooked dishes, like risotto or lasagne. Read on for inexpensive options you can pick up in your local supermarket to pricier options that have a waiting list, as well as an oil so popular with our readers that it made our most-bought list three times last year.
Best overall olive oils
All of our chefs and experts admitted personal preferences when it came to their favourite olive oils, so there was very little consensus on one oil being better than the others. But Belazu's "early harvest" extra virgin olive oil (often abbreviated EVOO) came recommended by two people, who said it was useful for both cooking and as a finishing oil. Joshua Pattison, founder of Bill & Beak in Camden Market, told us it was one of his go-to oils for "dressing dishes and dipping ridiculous amounts of bread into." The "early harvest" refers to the fact this kind of olive is picked earlier than usual — October or November rather than December or January (the exact time will depend on the altitude of the region in question). This earlier harvest (which is sometimes referred to as "premium quality" olive oil) produces a fresher, more vibrant taste, and will also be more golden in colour due to the olive not having ripened fully. Pattison says the oil is "cold-pressed in Catalonia by their olive oil partner, Eduard, from olives that grow on his family farm, where he crushes them the old-fashioned way, with huge granite stones."
This oil is also popular with Strategist readers, who bought it in droves last year (it made our most-bought list twice, in August and October, and was the fifth-best-selling item on the site during Black Friday weekend). Though Pattison likes using it as a finishing oil, it was also recommended by Grammenos for its cooking qualities. "We use this oil in-house for marinating," he says, "it has a light flavour, with notes of grass and pepper."
Luke French, chef and owner of JÖRO in Sheffield, told us about this Greek EVOO from Navarino Icons which he praised for its versatility. "It's the best olive oil I've ever tasted," he admitted. "I use it in a lot of dressings and marinades at the restaurant. It's a super-grassy, buttery-tasting olive oil, with a lovely green-peppery note, and it's bright green in colour." During the hotter days in the summer, French says this olive oil is even good in deserts. "I actually serve it on Tahitian vanilla ice cream with 20-year-old mirin." [Editor's note: this product is currently sold out].
Valeria Raimondi, editor of Spanish food guide Fine Dining Lovers, suggested this EVOO due to it having a broad flavour profile. "This is an excellent example of a perfect balance of all classic olive oil notes; richness, bitter, spice and olive." It is made in Puglia, Italy.
Best (less expensive) olive oil
Though there are a lot of high-end, highly giftable olive oils in our list, some inexpensive options also came recommended. Two experts told us they swore by Filippo Berio's extra virgin olive oil, which can be found in most supermarkets. Nyasha Sakutukwa, founder of Munch Club, said, "I don't actually use anything else other than Filippo oils," while Daniel Baer, founder of Monoware, said, "It's easy on the wallet, and it has just the right acidity to go with a diverse range of dishes."
Best olive oil for cooking
According to Tish, this Monte Ibelei EVOO "works extremely well with the smoky/carbon flavour from a grill." The oil is made from the regions of Ragusa and Catania, and features olives indigenous to the areas of Tonda Iblea, Abbanunara, and Tunna. "It's my favourite oil — very acidic and green, with fruit, grass aroma and a piquant flavour. You get a bit of hay in there as well," he notes. While many oils will lose their flavour after prolonged exposure to heat, Tish says "it works well with stronger-tasting foods; I like it drizzled over a meat ragout with pasta, or charcoal-grilled fish."
Panayis Manuelides, founder of Greek and Mediterranean fine food producer Odysea, recommended the EVOO from Karyatis, which he described as "a great oil with a balanced, fruity flavour — a good choice for all-round use." Karyatis produce a range of Mediterranean products (such as charred red peppers and jarred olives) and their olive oil is, according to Manuelides, "without a doubt the best value option in the UK." It's available in supermarkets such as Sainsburys, too, making it easy to pick up on your weekly shop.
Best olive oils for finishing
Our experts said cold-pressed olive oils made the best finishing oils, due to being richer in flavour and having a thicker consistency. Cold-pressing is also the process used to make extra virgin olive oil. Regular olive oil, however, is typically a blend of processed and cold-blend oils. Ellie Edwards, a food editor at Sous Chef, recommended this olive oil from Valee dex Baux de Provence, in the South of France. She described it to us as a "rich, fragrant, finishing touch for traditional Provencal dishes." She says the olive oil is a personal favourite of Sous Chef founder Nicola Lando, and has "absolutely no pepper or harshness in the finish. It's like falling into a bowl of luscious black olives." [Editor's note: this product is currently sold out.]
Pam Digva, co-founder of Sauce Shop, says this Tuscan olive oil is particularly good for drizzling. "It's got a crazy peppery flavour and is super fresh-tasting," she says. "My favourite use for it has to be drizzling over a home-cooked lasagne — it really cuts through the richness and just brightens everything up"
Stefano Cuomo is the owner of Macknade, an independent food hall in Kent that his family has been running for six generations. He recommended this oil, which he first came across in Italy while looking for new suppliers. "It's considered good enough to drink," he says. "It's made by Tommaso Masciantonia and his family, who produce the oil on the high plateaus of Caprafico using indigenous Gentile di Chieto olives. The family own the press, too, so the olives are pressed on site shortly after being picked, which helps give this olive oil its intense flavour." He says it's equally good for finishing a cooked dish ("A little bit can really bring out the flavour of a risotto"), but it's also good added into a hot pan with roast potatoes and herbs.
Best olive oils for drizzling
Ben Tish, head chef at Norma in Fitzrovia, said he likes Monte Etna's EVOO, "which uses Nocellera Etna olives for the press, along with Moresco and Brandofino varieties," he says. "The volcanic earth around Etna is perfect for cultivating olives — this oil is super-golden-yellow in colour, with a fruity around and a delicious clean, spicy flavour." He tends to use it on fresh and raw dresses (like fresh tomato on bruschetta, or drizzled over raw courgettes with lemon) and says it's equally good paired with raw fish or burrata.
Patterson, who admits he "uses olive oil like it's going out of fashion," recommended Accademia Olearia's olive oil, which he currently has in his cupboard. "It's a cold-pressed oil made by an independent producer called Antonio, in Sardinia. It's completely unfiltered. It's best used on salads or for finishing any dishes." The oil is made from the Bosana Cultivar, a variety found on the isle of Sardinia.
[Editor's note: This price is converted from euros, shipping not included.]
Photo: retailer
Though many olive oils featured are known for their bitter notes, that taste can be overpowering for some palettes. Edwards explained to us that this is due to the olive pits, which contain tannins and polyphenols, which contribute to the bitterness. "Denocciolato is a rather unique extra virgin olive oil, made from pitted coratina olives," she says. "It's exceptionally smooth, with hardly any bitterness — it has more of a fruity aftertaste rather than the spicy finish that's characteristic of the coratina olive."
Best smoked olive oil
French says he uses this olive oil "religiously" and gets both this and the finishing oil above from Andy Harris at Vinegar Shed (who also runs a small shop in Ealing called the Ealing Grocer). The intense flavour comes from the Arbequina olives, which are smoked in traditional paprika barns for 15 days. "This smoked olive oil is so good brushed on grilled meat and fish, as well as on raw veg. We use it in the restaurant for our tomato tartare, adding a little chipotle and some very good vinegar. It's incredible."
Best unfiltered olive oil
"Palestine is quite famous for olives and olive trees — they've been growing them for centuries," says Marwa Alkhalaf of Nutshell in Covent Garden. "It's highly regarded in the region when it comes to olive oil, as some of the best ones come from there." She told us that Zaytoun is her favourite Palestinian brand, in particular its unfiltered oil. "It has a more intense flavour due to being unfiltered — peppery with a slight bitterness, and the olive flavour is stronger. It's perfect for dips and salads. If you prefer a milder taste, their extra virgin olive oil is also great."
Best status-y olive oil
This olive oil is made by Quique Dacosta, a chef with five Michelin stars, who makes his own olive oil from Mil del Poaig, a part of Valencia which has the oldest olive oil trees in Europe. It was recommended to us by Marcos Fernandez, managing director of Iberica Restaurants, who likes the fresh-cut grass taste, as well as notes of walnut, fruit, and almond. "From every two millennial trees, Dacosta collects half a litre of Farga olives, and cold presses them," he says. "It is bottled in porcelain, following the tradition of the area, then boxed in olive wood." There are a limited number of bottles, and customers must fill out a form if they wish to purchase a bottle.
The Strategist UK is designed to surface the most useful, expert recommendations for things to buy across the vast e-commerce landscape. Read about who we are and what we do here. Our editors update links when possible, but note that deals can expire and all prices are subject to change.