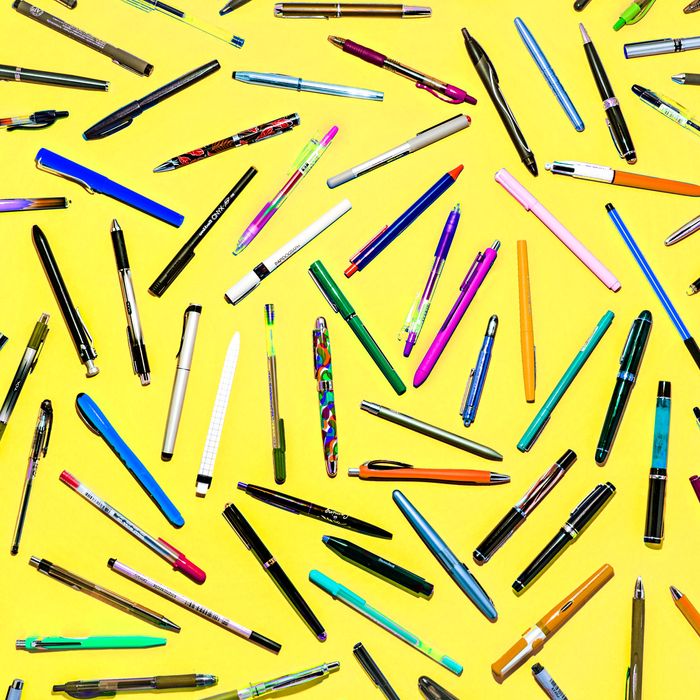 When it comes to pens, we all have our preferences. For some, the perfect pen glides; for others, a scratchy nib is the most satisfying way to take notes. Aesthetics, grip, and weight are all important, but sometimes price, simplicity, and access (like a dependable multipack you can grab practically anywhere) are just as crucial. We became determined to find the best pens out there from the myriad of options on the internet and set out to undertake some top-tier sleuthing.
We consulted a panel of experts, looked through our own pen coverage on the site, and asked Strategist contributors, editors, and the stylish people in our orbit to help us figure out the best contenders. After tweeting a call for submissions, we were inundated with responses from eager, highly opinionated folks. Then we called in just under a hundred options, from gels, rollerballs, felt-tips, ballpoints, and fountain pens, before putting each and every one to the test.
The result is an almost definitive list of the 87 best pens, according to Strategist editors and writers. Of course, what makes one pen better than another differs from person to person. If you have a favourite that you don't see in our (quite exhaustive) list, do let us know — we might just test it when we revise our list in the future.
Candidates
Before we started testing pens, we trawled through our own archives (and did some top-notch snooping on the internet) to determine which ones should make the list. What we found were pens favoured by discerning people — such as the one Lynn Enright and her husband fought over during lockdown and the specific nib size that Chinti & Parker founder Anna Singh insists on.
We snooped on the favourite pens from influencers such as My Blossom Journal and Anastasia Dedosha, and we quizzed business owners, such as Papier CEO Taymoor Atighetchi, Pigment Perfect's Jane D'Offay, and designer Chloe Ainsley on their choices. We thought people who sign a lot of books — such as authors Laura Jane Williams, Raven Leilani, and André Aciman — would be worth consulting, too, to find out what they used day-to-day (or for special occasions). We sifted through our look at the best-reviewed pens on Amazon. And then we lurked on pen sub-Reddits (such as r/ForTheLoveOfPens, r/PenAndInk, and r/FountainPens) to see what highly invested pen enthusiasts recommended for all manner of situations.
Criteria
Among our team we have those who grew up using fountain pens, others who like rich, inky gels, and some who swear by whatever Biro is on sale at WHSmith. Our individual preferences vary, so we put together criteria in order to standardise our reviewing. Each pen was evaluated on a scale of 0 (poor) through 5 (excellent).
Smoothness: How easily does the pen glide across the page? Does the tip feel scratchy or catch on the paper? How smoothly does the ink flow?
Smudging: Does the ink smudge on the paper or on your hand when writing? To what degree?
Bleed-through: Does the ink bleed through to the other side of the page?
Feel: How does the pen feel in your hand? Is it comfortable to hold? Is it heavy or light?
Looks: Is it a beautiful writing instrument? Are there design elements that make the pen stand out?
Editor's note: With the Smudging and Bleed-through categories, given that these are negative qualities, we would award a pen with absolutely no smudging or bleed-through with 5 and work backwards from there.
Methodology
Once we narrowed our list down to the very best, most highly recommended pens, we divided them up among the Strategist's U.K. staff to be rated according to our criteria. To standardise the writing surface, we asked each tester to use the pens on the same Muji notebook and averaged each pen's scores across the five categories. Each tester was given a sample sentence to write a few times; we chose "The quick brown fox jumped over the lazy dog" because it contains every letter in the alphabet, and we also encouraged notes, thoughts, and doodles to push the pens to their limits.
If two or more pens ended up with the same average score, we broke the tie by looking at each pen's smoothness rating, as we collectively found this factor to be the most important one. Still, we were left with some pens that had the same average score and the same smoothness rating, so we broke that tie by looking at the smudging, as we felt this was the next most important criterion. Naturally, there was more than one occasion when a pen had the same average score, smoothness rating, and smudginess, so that's when we took feel into account to decide the better option.
As our teammates are all right-handed, and conscious that we should heed the wisdom of some lefties, we also asked left-handed friends to occasionally weigh in with their thoughts on whether the specialist left-handed pens were worth it or not.
The best pen clinched the top spot with a mere 0.3-point lead. For devotees of a specific style, we've also noted which pens earned top marks within its type; we've listed them as "Best in Category," and you can hit Ctrl-F if you're specifically interested in our favorite felt-tip, ballpoint, rollerball, gel, or fountain pen. Click here to jump to the top 80, top 60, top 40, or top 20.
87. Uni-ball Air Micro
86. Lamy Safari Fine Nib
85. Uni Pin Drawing Pen (1.2 mm.)
84. Pilot Pintor Fine
83. Pilot DR Drawing Pen (0.5 mm.)
82. Uni-ball Eye Fine UB-157
81. Pilot Pintor M
80. Stabilo Flow
79. Stabilo Sensor Fine (0.3 mm.)
78. Stabilo Sensor Medium (0.7 mm.)
77. BIC Round Stic Xtra Comfort (1.2 mm.)
76. Uni-ball Pin Fine Brush
75. Maped Visio
74. Sakura Micron 005 (0.2 mm.)
73. Kaweco Classic Sport
72. Uni-ball Signo UM-153 Broad (1 mm.)
71. Monteverde One Touch Stylus
70. Troika Construction
69. BIC Soft Feel Fine (1 mm.)
68. Lamy Tipo
67. BIC Gel-ocity Quick Dry
66. Kuretake Zig Letter Pen
65. Uni-ball Pin Fine Line (0.9 mm.)
64. Uni-ball Eye Needle (0.5 mm.)
63. Caran d'Ache Alchemix
62. Pilot G-2 Retractable (0.7 mm.)
61. Stabilo Palette (0.4 mm.)
60. Stabilo Bl@ck+
59. Platinum Preppy
58. Cello Tri-Mate
57. Stabilo PointMax Medium (0.8 mm.)
56. Lamy Safari
55. BIC 4 Colours Original
54. Pilot B2P BeGreen Retractable
53. Uni-ball Eye Broad
52. Uni-ball Pin Fine Line (0.7 mm.)
51. Uni-ball Pin Fine Line (0.3 mm.)
50. OHTO Needle (0.3 mm.)
49. BIC Gel-ocity (0.7 mm.)
48. Staedtler 334 Triplus (0.3 mm.)
47. Pilot Synergy Retractable (0.5 mm.)
46. Pilot V7 Hi-Tecpoint (0.7 mm.)
45. Uni-ball Eye Micro UB-150
44. Uni-ball Vision Elite