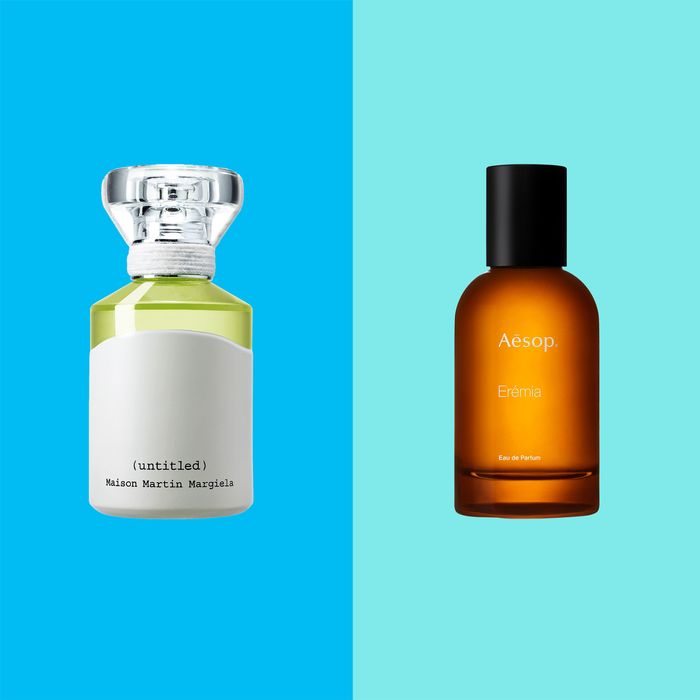 Photo-Illustration: The Strategist; Photos: Retailers
Chanel No.5 and Calvin Klein CK1 are wildly popular for a reason: They're subtle, versatile, and easy to track down. But if you're looking for a signature perfume that perhaps stands out a little, things can get trickier. You could try to chase a really great-smelling person down the road, but nine times out of ten, they're just wearing Le Labo Santal 33. Or they'll lie because they don't want to share their signature scent. The jargon and complexity of the fragrance world also don't help. Trying to identify what kind of perfume you like from an opaque list of terms such as gourmand and woody is exactly like when you're handed a wine list at a fancy restaurant and try to feign deep consideration before choosing the second-cheapest bottle.
So what is there to know? An eau de parfum contains about 7-to-15 percent pure fragrance, whereas an eau de toilette probably contains only one-to-10 percent. For this reason, EDPs are usually more expensive because they're stronger and tend to last longer. There are also perfume extracts, the strongest of the bunch, which are usually very expensive and require only a dab to work their magic.
As for scent categories, there's some fluidity. Generally speaking, a gourmand fragrance is one that's a little heavier on notes like vanilla or tonka bean, and it can be a little sweeter. Woody fragrances may have notes like cedar or sandalwood and smell more earthy and warm. Spicy scents are warm too, with elements such as cardamom or cloves, whereas floral scents are, well, floral, and fruity scents are usually bright and zesty, often with citrus notes.
We asked six cool women, from podcasters to entrepreneurs and designers, exactly which perfume they wear. We also scoured our archives to find any standouts (including the scents celebrities have told us they can't live without). And to help you shop, we've organized the recommendations by scent type. Read on for the best woody, floral, and fruity perfumes.
The Best Floral Perfumes
Byredo's instantly recognisable bottle shape, Scandinavian roots, and genderless scents make it the perfume brand of choice for many of our sources. For Mona Ghafoori, founder of Tort Haircare, Rose of No Man's Land is her favourite scent. "It smells like a rose garden at golden hour," she explains. "Rose tends to be my weakness when it comes to scents — not the powdery rose (although I wouldn't say no) but the more woody rose scents. Especially when mixed with amber, it adds a richness which makes you want to smell yourself all day — seriously."
Writer and host of the perfume podcast Smell Ya Later Sable Yong is a fan of Aesop Erémia. She calls it a "crisp and sparkling scent" that's like a "secret garden bursting out of urban concrete." The eau de parfum is floral but intensely fresh. "It's new buds and velvety flower petals climbing through the cracks of concrete after the rain," Yong says. "It feels fresh and wild but not necessarily in a youthful way — in a way that echoes the wildness of nature."
For a floral scent with a spicy tang, Radio 1 presenter Clara Amfo recommends this "spicy, floral, musky scent" by Frederic Malle. "I don't like anything super-girly," Amfo says. "I was quite naughty because I started wearing this after noticing my best friend wearing it. I got a sniff, and I was obsessed. Before then, I wore Dior Panther, but once I smelled this, I was like, Nope, this is me. Apparently, David Beckham wears it too."
The Best Woody Perfumes
For something sophisticated and clean, the designer and founder of We Are Kin, Ngoni Chikwenengere, suggested Tom Ford Grey Vetiver. "I tend to go for men's fragrances more often than not. As a female founder, it makes me feel very strong and almost like armour, if you will. Grey Vetiver is a really strong but fresh scent, and I find it really calming," says Chikwenengere.
Ghafoori also suggested Maison Margiela Untitled, saying, "It's very green and fresh but with a hint of smoky cedar which elevates it." It's the scent she has worn the longest, which means she feels fondly towards it: "It makes me feel very nostalgic for my 20s and gives me a boost of confidence when I need it most. Nothing makes you feel more on top than that final head-to-toe spritz, even when you're running late."
Author Bethany Rutter had long been a devotee of Frederic Malle's Portrait of a Lady but wasn't able to get Byredo's Eleventh Hour out of her mind since smelling it in 2018. Unlike Portrait, which is very spicy and warm, Eleventh Hour has cedarwood as its base. Rutter finally bought it last weekend and says it "has a quality I find extremely, for want of a better word, addictive. It's more subtle and mellow than Portrait of a Lady, which I still wear, but I just love it. It's nice to have a few fragrances to switch between after being so faithful to one for such a long time!"
Sunday Times restaurant critic Marina O'Loughlin considers herself "undressed" if she ever leaves the house without fragrance. She currently wears Rain by Perfumer H from Lyn Harris. "An afternoon exploring scents at her Marylebone shop, accompanied by their own blend of tea and Harris's expertise," O'Loughlin says, "is a true joy."
For a twist on Le Labo's iconic Santal 33, Liberty London design director Holly Marler suggests Le Labo's collaboration with AnOther magazine. "The first time I got this fragrance was in the Liberty advent calendar in a mini form," she told us. "Everybody complimented me on it, so when it ran out, I went out and bought a proper bottle of the stuff. It smells very strong, almost heady. I think the reason I like it so much is Le Labo doesn't make fragrances for men or women, so it sometimes feels quite masculine and sometimes quite feminine."
The Best Gourmand Perfumes
Mainstream brands still have a lot to offer in the way of cult scents, says Yong, citing YSL Black Opium Extreme as another of her go-tos. "Not to be confused with the original YSL Black Opium, this new edition takes that message and cuts the sugar, replacing it with something unapologetic and blunt," she explains, adding that smoke undercuts the sweetness of the gourmand blend to reveal "a deep, spicy smokiness that takes center stage with the complex, dark sweetness of vanilla bourbon, patchouli, and coffee. It's warmer than it is intense in actuality, creating this shimmering smokiness around you — it's sexy and tough (not sexy but tough)."
Meanwhile, interior designer Kelly Hoppen remains staunchly loyal to Yves Saint Laurent's original Opium. She told us, "I've worn it since I was 16 years old. I can't bear not to have that smell. It evokes lots of memories. I wear it every day, and someone always comments on it; it's really weird. The amount of times I've been in a taxi and the driver has said, 'I love that scent. It reminds me of my first girlfriend.'"
Yong says when she wants to smell expensive from top to toe, she wears Bond No.9 Tribeca. "Soft, hazy, and cloud-like, this scent is like the evaporated syrup from cashmere sweaters, fresh jasmine bouquets, and expensive high-pile carpeting," she explains. Bond No.9 is an ultrapremium fragrance line stocked only in department stores such as Harrods and Selfridges, with each scent inspired by a different New York City neighbourhood. The bottles are equally decadent, often studded with Swarovski crystals and ornate details — some go for almost £500. Yong continues, "It smells expensive (it is expensive) but in a subtle, casual way, like dousing yourself in a bougie fog. This makes me feel rich but, like, not bad-guy rich."
The Best Fresh Perfumes
If you prefer a scent that smells crisp, light, and perhaps even a little fruity, Carra and Antidote Street founder Winnie Awa suggested Maya Njie Les Fleurs. "It's my favourite. The smell is really juicy and vibrant, and it reminds me of sweet figs," she says. "I once had a dream that someone asked me what perfume I was wearing, and even in my lucid state, I was very enthusiastic to tell him what it was!" Swedish-born Njie takes inspiration from family photos and draws on childhood memories to create vegan, hand-blended scents combining Swedish and West African culture.
The best perfume subscription
Photo: retailer
O'Loughlin introduced us to Sniph, a Danish perfume-subscription service. She says she receives "a new phial every month, tailored via your initial preferences (mine turned out to be 'avant-garde') and subsequent feedback. It introduces you to names and brands you'd never otherwise have heard of, and each monthly black envelope contains a delicious adventure."
The Strategist UK is designed to surface the most useful, expert recommendations for things to buy across the vast e-commerce landscape. Read about who we are and what we do here. Our editors update links when possible, but note that deals can expire and all prices are subject to change.