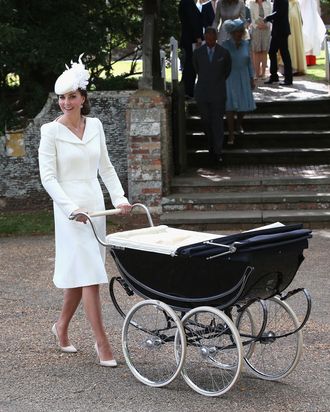 Photo: Chris Jackson/Getty/Getty Images
According to founder of the Resilient Mum, Roxanne-Sasha Jennings, the perfect pram needs to tick six boxes: It should be comfortable, safe, stylish, and high quality, as well as being good value for money and a good size for its purpose. Yet even taking all of those parameters into account, where to begin can be puzzling. We approached eight parenting experts — from family bloggers to Norland Nannies — and asked them to recommend their favourite prams. Read on for the 11 prams they recommended, including the best compact city prams and the best prams for country living, as well as the best pram for twins, the best pram for design-conscious parents, and the best pram for those buying on a budget.
Best overall pram
Four of our eight experts picked the BabyZen YoYo as their all-round favourite pram. "It's incredibly lightweight and perfect for city life," says Tobi Asare, founder of working mothers' empowerment platform My Bump Pay. "Steps aren't a problem, as it's light enough to carry — and it folds up easily, which is perfect for when I'm out alone with both of the kids." Asare also likes the pram for its foldability and travel-friendly size — something also noted by Eloise Rickman, author of Extraordinary Parenting. "The small and lightweight design means it's brilliant if you use public transport," she says. "And it folds up super small, so it's a good choice if your car has a small boot, or you need to take it abroad."
"It's widely known as the perfect pushchair for travel, and for being cabin luggage-friendly," explains parenting blogger Kachi Tila-Adesina. "For families who travel frequently and need that extra comfort, the BabyZen is the one to get." Rounding out the YoYo's recommendees is Louenna Hood, accredited Norland Nanny and founder of the Nanny Louenna app. "Unlike other prams in this style it has one handlebar, which means you can push it one-handed — great if you also have a toddler's hand to hold," she says. "The newest version has a bassinet, too, which makes the pram suitable from birth all the way through to toddlerhood." In fact, the only downside of the YoYo is its lack of off-road capabilities. "It's definitely only for the city, not for country walks," Hood explains. "But if you haven't got space to store a pram in your hallway, this is the one."
Best pram for country living
If you are looking for something which can cope with mud and uneven terrain, Hood recommends the Bugaboo Donkey. "It's a great all-round pram, and has a clever design where it can be both a single and a double pram — great for siblings or twins," she says. "It's nice to push, the seats can face forward or backward or a combination of the two, and it can cope with some off-roading." Emma Coffey, Show Manager at The Baby Show Live @ Home, is a mother of two and works closely with parents and parenting industry experts. For weekend walks, Bugaboo's "Fox" variation is her go-to pram. "It's easy to push around town but equally at home in the countryside; it offers an extremely smooth and comfortable ride with advanced wheel suspension, and it's a superb driving experience for parents," she says. "What's more, it's seriously stylish, with great customisable colour combinations."
Best designy pram
Two of our experts agreed that the most fashionable pushchairs come from British brand Cosatto. "If you're put off by the endless grey, black, and beige prams on offer, look no further," says Rickman. According to Vicki Broadbent, founder of Honest Mum and author of Mumboss, Cosatto's twin stroller also offers plenty of useful add-ons. "It's got a multimedia gadget pocket with a speaker, plus 'Window on the World' hood display pockets for flash cards, favourite photos and in-flight films," she explains.
Most versatile pram
Broadbent is also a fan of pushchairs by London-based iCandy, saying that the brand is perfectly suited to both London living and hilly walks further afield. "The iCandy Peach was the first pram I bought for my son," she says. "It converts to a full travel system with car adapters to boot, and it takes on all terrains." Parenting blogger Georgia Martel is also a fan of iCandy, saying that their Orange pram offers near-unrivalled versatility. "If you're looking for a double pushchair but it being side-by-side is not practical, it has 30 different seating configurations," she explains. "One of the seat configurations is cinema-like seating, so a parent can have eye contact with both children." Martel also likes the iCandy Orange for its inbuilt buggy board, perfect for parents of older children too. "Despite being expensive, this pram can grow with you if you're planning on expanding your family, so it's actually the ultimate cost-saver," she says.
Best pram for twins
As the founder of parenting blog Oh Shit Twins, Martel recommends the Bumbleride Indie Twin for parents of multiple young children. "If you're looking for a double pushchair that you can use from birth, with no additional purchase of a bassinet, then this is your pram," she says. "Not only is it a major cost-saver if you're expecting twins, but the maneuverability will surprise you — it's so easy to get around tight corners, and it's extremely responsive." The Bumbleride is also well-suited to joggers, with a feature allowing parents to lock the front wheels and make the buggy run-friendly. The pram's size is a consideration, though. At 16kg, it's quite heavy for a pram, and can be a bit too unwieldy for some car boots. "It does take noticeable effort to lift," Martel says.
Best pram on a budget
"I first bought a Joie on holiday from a supermarket, when my then-4-year-old became tired of walking — and we became tired of carrying him," says Broadbent. "Cheap but functional, it's a non-faff pram you can fling into the boot of your car for quick trips." With a UV-protecting sun canopy, lightweight chassis and five single-handed recline positions, the pram's user experience is far from as cheap as one might expect from its price tag. And at only £80, it's a tenth of the price of many other pushchairs on the market.
Best more expensive pram
Two of our experts picked the Ocarro pushchair from Mamas & Papas as one of the best prams at the upper end of the market. "It's the very first pram I bought for my first child, and it's such a smooth ride that my son would fall asleep with ease on the go," says Asare. Tila-Adesina echoes Asare's sentiments, describing the Ocarro as a "near-perfect" pushchair. "It's sturdy, with all-weather tyres, while at the same time pretty to look at and quite sleek, too," she says. "It's got decent comfort features, from the cup holder and expanded overhead coverage to the matching foot muffs and its ability to be folded down quite easily with one hand and in one go."
Best small pram
According to The Baby Show's Emma Coffey, no small pram is quite as mighty as the Joolz Aer. "It's one of the lightest compact travel strollers on the market, yet it doesn't lose any of the quality feel of a heavier buggy," she says. "I love the way you can just sling it over your shoulder when out and about and then literally flip it open in seconds." At just 6kg, it's especially light and overhead-locker friendly — without compromising on padding in the seat.
Best big pram


If you're looking for something bigger, Roxanne-Sasha Jennings recommends another offering from Mamas & Papas — the Armadillo. While Jennings says the pram is a "joy to push," it's in the Armadillo's heft that its real advantages lie. "The shopping basket is extremely generous and the seat gave my daughter a lot of comfort," says Jennings. "As she's very tall, I appreciated the generous space in the seat and the foot rest." Other benefits include a cup holder, a removable and height-adjustable handlebar, and a "sturdy" brake which ensures the pram won't budge if taken on public transport. [Editor's note: This product is currently out of stock.]
The Strategist UK is designed to surface the most useful, expert recommendations for things to buy across the vast e-commerce landscape. Read about who we are and what we do here. Our editors update links when possible, but note that deals can expire and all prices are subject to change.