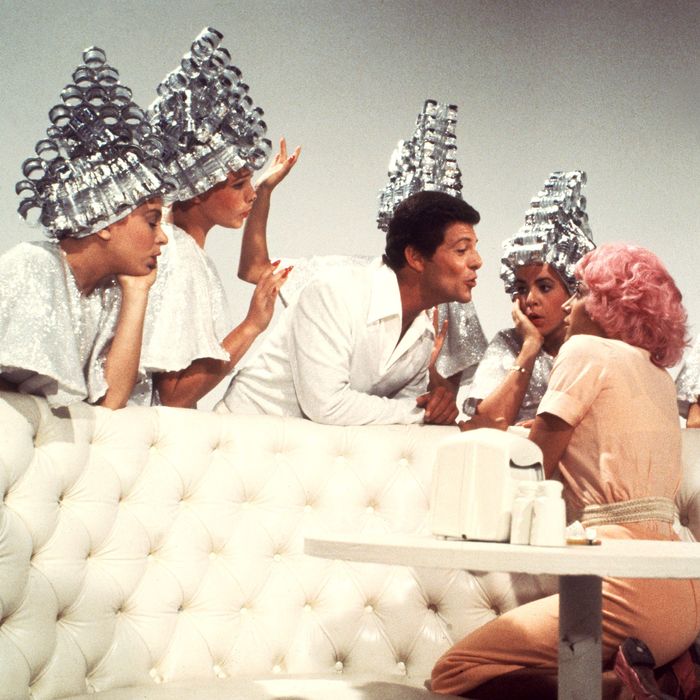 Photo: Paramount/Rso/Kobal/Shutterstock
According to the government, hairdressers in England will re-open on the 4th of July. But for those shielding – or unable to access an appointment – it may take a little longer yet to get your colour touched up professionally. So we interviewed four experts — including the head colourist from one of the world's most prestigious hairdressing schools — for their tips and favourite products for maintaining and colouring your hair at home, including how to redo your roots, how to do an allover colour, and the best aftercare.
Best tools to dye hair at home
There is some basic equipment you will need, according to Carla Salceda, the colour director at Sassoon Academy. She recommends "gloves, a tinting bowl, a brush, a comb, an old towel, a cream that can work as a barrier on your skin to minimise staining, some clips, and of course, the chosen colour."  The barrier cream can be "any thick cream that can protect the skin," according to Carla. She recommends Vaseline. Lily Bunting-Branch, colourist at the Simon Warwick salon, also recommends a tail comb brush with a metal end that will help you part your hair precisely. She likes the bright and colourful designs from Farmar.
[Editor's note: Farmar's combs are currently out of stock, so we suggest this alternative.]
Best products to prep your hair
To prep your hair, make sure to do an allergy test 48 hours before dyeing and consider skipping a shower, "Try not to colour on freshly washed hair," Lily suggests, "Make it day two or three post-wash so the hair is less fly-away and easier to manage. Colour on dry hair, making sure it is brushed through to avoid hitting any knots once you start colouring."
Carla recommends staying in the bathroom for the process, to avoid trailing dye through your home: "It would be the safest place to do it and definitely the least messy — certain hair colours stain more, so I would put an old towel or bin bag down, covering the surface where you will be dyeing your hair and mixing the products."
It is also important to consider the texture of your hair before colouring. "If you have curly, coarse, or really long and thick hair, you would need two tubes of colour, whereas finer hair would need just the one," says Carla.
There are loads of hair dye brands on the market, but Lily recommends Wella hair colour, specifically Koleston (a permanent colour range) and Colour Touch (a semipermanent range). "Both give amazing shine," she adds. If you have hair that's never been dyed and don't want to mess anything up, stick with glosses and semipermanent hair colour — these do not lift, only deposit colour and, according to Carla, will last between 10 and 20 washes. If you have greys, she recommends something permanent; however, "if in doubt, go for the lighter shade, as permanent colour can easily drop darker." 
Lily also notes that you will need a developer with professional colour. "Developer is water mixed with oxygen, so as long as it is the right percentage, you can use any brand," says Carla. What developer you need depends on how much colour lifting you will need to do. (If you need more guidance for which developer to use, Brad Mondo, a professional hairdresser and YouTuber, goes into more detail here.)
Lily advises against box dyes generally, as they will "leave the hair one blanket colour which can look dull and aging." However, she does say that if it is a dire emergency, she recommends "L'Oreal or Clairol and any brands that are made and designed by professional salons, like Josh Wood." When choosing a brand, she suggests avoiding ammonia and paraphenylenediamine (PPD), "as these most commonly cause irritation and allergic reactions," and instead looking for "box-dye colours that are enriched with oils to leave the hair in good condition."
Finally, when choosing a shade, Lily suggests keeping these things in mind: "If you are deciding between two colours, then go for the lightest, as it is the safer option which will leave less banding if you overlap. Try to match the tone of your hair, so if you know you love warmth, you can go for the "medium-warm brown," but if you hate warmth, then go for ''medium ash brown,'' for example."
Best bleach and experimental hair colour
Photo: retailer
If you really need a change (being locked down might do that to you), then make sure you do it right. Alex Brownsell, co-founder and creative director of Bleach London, recommends using the Bleach London Plex Bleach Kit "to lift the hair while maintaining the hair's health and strength." You can follow this helpful Bleach London tutorial to make sure you're doing it right. Alex says that one box is enough to touch up your roots, "but if you want to bleach your hair allover, you'll need two kits."
Alex also urges you to keep in mind the condition of your hair. If it's already been bleached, it might not be able to withstand another round, and if it's untouched hair, it will lift much quicker. Alex recommends doing a strand test to check if your hair can withstand bleaching. "If the hair from your strand test feels brittle or gummy," she says, "don't bleach your hair, as it will become permanently damaged."
If you want a pastel experimental colour, Alex says that you must first lift your hair colour. "If you're looking to create a vibrant or pastel shade, you will need to lift the hair to a very pale yellow blonde first. Pastel colours will not show on naturally dark hair, even dark blonde," she notes. And then after bleaching, "you will need to tone to colour-correct brassy or yellow hues; otherwise the dye won't show true to colour. Use one of our Toning Kits depending on the colour you're hoping to achieve. Our White Toning Kit is the best for creating a clean, pale blonde. Then you would follow with your desired colour."
If you're looking for a fun hair colour, there are plenty of options on the market. Abbie, of Peach Palace Salon, recommends Manic Panic. "They're super-vibrant and come in loads of intermixable shades." You can buy several shades and mix them like paint to come up with the perfect tone." However, she also adds a warning: "As with most semipermanents, their blues, greens, and purples stain your hair green, which is very difficult (almost impossible) to remove from your hair again, so know that you're in it for the long haul if you go with those tones! I do a lot of pinks and oranges at my salon because those colours are easy to remove from the hair again when the client wants something new."
If you don't want to bleach your hair but still want a bright colour, Lily suggests dyeing your hair red or purple, as those are colours that will show up without the need for bleach first. However, she also warns against doing this on a whim: "Make sure you are ready to commit, as these colours are extremely hard to remove! I would recommend using a semipermanent red or purple colour to minimise this problem; however, it will still be very difficult to remove."
Photo: retailer
Alex recommends Bleach London, of course, for its signature range of vivid hair dyes and colours. And if you want to know how to get a perfect rose-pink colour at home, you can follow this tutorial.
Best shampoo to use after dyeing your hair at home
"After shampooing the colour off the hair, don't then shampoo again for at least two days." says Lily. For the best colour-protecting results, she recommends the Kerastase Reflection Range and the Redken Colour Extend Magnet range for maintaining your colour.
If you're going blonde, Lily suggests using a toning shampoo to prevent your hair from going brassy over time. She recommends the L'oreal Professional Silver Shampoo. "It's a great product to have in the cupboard if your colour comes out brassier than expected. It is bright purple, and you can leave it on the hair for up to ten minutes once a week to use as a toning shampoo to remove brassiness. If hair is very blonde, then don't leave on longer than five minutes, as it is strong."
Best hair mask to use after dyeing your hair at home
"A hair mask once a week is always crucial," says Lily. She recommends Shu Uemura Ultimate Reset, which is "a lovely mask for extremely dry hair," and Kerastase Reflection Mask. Make sure hair is towel-dried before putting on, and leave for at least five minutes before rinsing off."
Photo: retailer
Carla's favourite hair masks are Amika Soul Food Nourishing Mask and System Professional Hydrate Mask for the superior level of conditioning they provide. She recommends using them in place of your regular conditioner.
Best heat protectors
Abbie suggests the Eleven Australia Miracle Spray Hair Treatment, which, she says, "has many benefits, including heat protection, smoothing split ends and frizz, and protects against chlorine, sun damage, and UVA and UVB filters."
And if all this has made you wary of DIY hair colour entirely …
Abbie likes the Kevin Murphy Retouch.Me spray "to cover root regrowth to tide you over till you get to the salon." She says it's especially great for "applying along your parting and/or hairline to hide those roots for your next Zoom meeting!"
The Strategist UK is designed to surface the most useful, expert recommendations for things to buy across the vast e-commerce landscape. Read about who we are and what we do here. Our editors update links when possible, but note that deals can expire and all prices are subject to change.