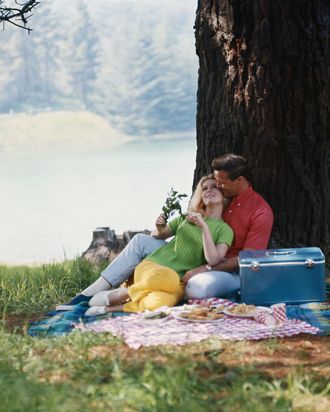 Photo: Tom Kelley Archive/Getty Images
Here at the Strategist UK, we like to think of ourselves as crazy (in the good way) about the stuff we buy, but as much as we'd like to, we can't try everything. Which is why we have People's Choice, in which we find the best-reviewed products and single out the most convincing ones. (You can learn more about our rating system and how we pick each item here.) 
And while we've written about all sorts of outdoor equipment before — including the best firepits and the best paddling pools — here we've rounded up the very best selection of coolers, as praised by the most enthusiastic reviewers on Amazon.
Best-rated overall cooler
German manufacturer Thermos is one of the best-known brands when it comes to insulated food and drinks containers, so it came as no surprise to find its soft-walled cooler bag was highly rated, with 76 percent of reviews being five stars. The cooler can hold 30 litres (or 36 cans) and came highly recommended by 30 reviewers. This included a holidaymaker who took the bag on a (pre-lockdown) trip to Magaluf, who wrote that their frozen water bottles were still ice-cold after eight hours, despite the average temperature being 30 degrees.
One expat, who lives in Greece, says this cool bag has become an indispensable tool for their big food shop, as it keeps everything fresh during the walk home. Closer to home, a family who bought this bag for a caravan holiday in the U.K. said their food stayed cold for over seven hours. Twenty-two reviewers rated it highly due to it folding down flat, giving it an edge over stainless-steel or hard-walled coolers. Thirty-six reviewers also pointed out how easy it was to clean. One customer who drives a haulage vehicle for a living said he and his colleague could rely on this cooler to keep their pasta salads and soft drinks nice and cold during long stretches driving on the motorways — and that it was large enough to keep plenty of snacks for both of them. However, 26 reviewers wrote critical reviews of the zipper, which they said frayed and snagged after just a few uses.
Best-rated (less expensive) cooler
For an inexpensive option, this ten-litre cooler box was the best-rated, costing just £12 and having 70 percent five-star reviews. One customer wrote that the ice stayed intact for 48 hours, while other customers said it was the perfect size for two milk bottles (in fact, several left it out for the milkman to drop off their milk in the morning). Another customer, who works in a laundrette, said they bought this easy-to-carry cooler after their lunch kept getting warm and sweaty in their backpack. While one customer wrote that it lacked any bells and whistles, many chose it for that exact reason — a simple and effective cooler at an affordable price.
Best-rated extra-large cooler
NZ Home's cooler bags come in a range of sizes, but this extra-large one, which has a capacity of 79 litres, was the best-rated large option. One customer said that despite the thick handles and reinforced bands around the top, it is a difficult cooler to carry manually, but made an excellent in-car storage for groceries and big food shops. It was also popular with delivery drivers, including 39 Uber Eats drivers, one of whom wrote that the shiny material was waterproof and helped keep food dry. Another said this large bag could easily fit five 12-inch pizzas in it. One U.S.-based customer said that his family had to drive a long way to the Costco in the next city, and the sheer size of this cooler made transporting fresh and frozen food far easier. The clear pocket is also helpful for storing receipts, customer orders, or vouchers.
Best-rated sturdy cooler
Stanley is a U.S.-based company that specialises in flasks, water bottles, and camping cookware (we've previously written about its pour-over coffee maker), and its chest cooler comes highly rated, with 79 percent five-star reviews. Reviewers wrote about the sturdy, double-insulated walls, which one customer said had served him well on outdoor pursuits and long stints working in a factory. One hundred fifty-four reviews mentioned how cold it kept food and drink, including a Canada-based customer who kept it on his boat and a British plumber, who was impressed at how durable it was even though he kept it rattling around in the back of his 4x4. Stanley says this cooler will "hold" ice for 36 hours (meaning the ice will remain solid for that long), but according to one customer, it can keep ice solid for up to three days. And one reviewer said this was the first cooler he had bought that didn't cause condensation to puddle under the cooler — a common problem with other models.
Best-rated chest cooler
One customer wrote that this large chest-style cooler from Igloo, which has 82 percent five-star reviews, was the best thing they bought in 2020. The large size made it popular for people camping — 59 reviewers recommended it for families going on the road. These included several reviewers who said the ice stays cold even after five days, while it was also used by customers for storing meat and dairy products. Twenty-four reviewers said it was perfect for use on a boat, either for keeping food chilled or for storing the fish caught on a fishing trip. One customer also liked the plain white finish, saying that it meant cleaning it was far easier as it could be bleached between uses. It's even used by professionals; one turkey farmer said he could fit four birds in each of these, and used several of them for deliveries during busy periods. However, 17 reviewers noted how heavy it was once filled, making it cumbersome to move around.
Best-rated cooler with wheels
For a more movable option, Igloo's rolling cooler has an impressive 59-litre capacity, and has 69 percent five-star reviews. One reviewer, who has owned theirs since 2017, called it the best cooler they'd ever used. While the wheels encroach on the capacity of the cooler slightly, one reviewer said the ease of transporting more than made up for it, adding that they could traverse bumpy campsite grounds with ease. Another said this had proved essential at festivals, with the cooler even doubling as a side table (though they pointed out it was important to keep the cooler in the shade, where possible). The insulation was noted by several reviewers, including a camper who said their food and drinks stayed cold for three days without needing to change the ice out. The draining spigot was also highly commended by three customers.
And a highly rated ice pack to go with it …
Our deep dive into the best coolers yielded many different approaches to keeping your icebox cool — several reviewers recommend freezing large bottles of water in addition to ice cubes — but reusable ice packs came recommended, especially for filling the space between items in your cooler (like bottles of wine or cans of your favourite beer). This set is highly recommended and small enough to stash in your lunch box or to take on a picnic, too.
These slightly larger "freeze boards" are designed to line your cooler — place in the bottom, sides, and top (if possible) to help retain the cold for longer.
The Strategist UK is designed to surface the most useful, expert recommendations for things to buy across the vast e-commerce landscape. Read about who we are and what we do here. Our editors update links when possible, but note that deals can expire and all prices are subject to change.