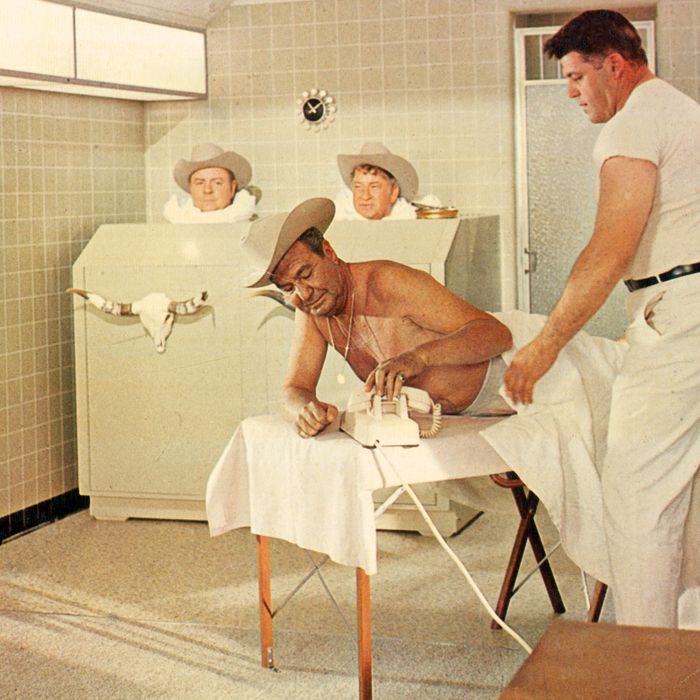 Photo: Archive Photos/Getty Images
Here at the Strategist UK, we like to think of ourselves as crazy (in the good way) about the stuff we buy, but as much as we'd like to, we can't try everything. Which is why we have People's Choice, in which we find the best-reviewed products and single out the most convincing ones. (You can learn more about our rating system and how we pick each item here.)
And while we've written about electronics before — including the best hairdryers, the best toasters, and the best electric toothbrushes — here, we've rounded up the best electric back massagers, as praised by the most enthusiastic reviewers on Amazon.
Best-rated overall massager
This handheld massager by Renpho was the best-rated overall, with twice the number of reviews as the next-best product on our list. A total of 69 percent of the reviews were five stars, including one person likening it to a "magic wand" after it alleviated 20 years of back pain. Another reviewer, who said their chiropractor used the same model, described feeling as light as a feather after using this on their muscles. The massager comes with five different screw-on heads to offer different kinds of treatments, with the deep-tissue setting singled out as the best in 204 reviews. Though it is designed for all over the body, 622 reviewers pointed out that the massager was actually quite heavy, which made using it on the back quite difficult by yourself. Several reviewers attributed this weight to the heaviness of the battery, which offers over two hours of use without charging.
Best-rated mini massager
Though small, many reviewers said this massager by Beurer was extremely powerful. One customer said it was just the thing for restless leg syndrome, while another bought it for his pregnant wife for her aches and pains during her third trimester. The massager is much quieter than larger models and uses AAA batteries, though one five-star review said it was just as good at easing knots with no batteries in whatsoever. It's also popular with animals — one customer bought it for her 14-year-old Labrador's sore joints.
Best-rated lower-back massager
This heated massager has 69 percent five-star reviews, and reviewers say it works in a number of different areas, including the neck and legs. But the area with the highest number of reviews was the lower back, both from people with long and short term pains. One five-star review said the gentle heat and soft, oscillating spheres made it perfect to ease the mild aches she got standing up at work all day. Another reviewer, who has had back pain for over a decade, said they cancelled their monthly £60 massages after using this once as it was so effective. Several reviewers noted that though the massager comes with straps for applying to the shoulders, the cushion-like shape makes it optimised for the lower back, and unless lying on your back with it pressing it into your shoulders, it isn't as effective. The massager turns on with the touch of a button, and the heating element activates with a second push. One common criticism of this model, however, is that the power cable is quite short.
Best-rated neck and shoulder massager
In total, 69 percent of the reviews of this InvoSpa massager were five stars. It came highly recommended by 219 reviewers, who said it was easy to use, and 550 customers commented on the gentle heating properties, too. Though it has three speed and strength settings, this massager is designed for deep-tissue massages, meaning it can be more uncomfortable, according to reviewers. One said it worked wonders on any shoulder and neck pains, while another mentioned the clever arm slings, which make it really easy to manoeuvre the rotating elements towards problematic areas. It's been purchased by many people who couldn't get massages during lockdown, including someone with sciatica, and someone with fybromyalga, who both said it offered welcome relief. The majority of people seemed to use it for 30 minutes at a time, though thanks to the car adapter and carry bag, this can be used in the car or taken with you, too. One customer who takes it on business trips said it has been a revelation.
Best-rated handheld neck and shoulder massager
Though the best-rated overall massager is a handheld model, this physio-style massager by Reviber was highly recommended for the neck and shoulders. Reviewers were particularly enthusiastic about the gentle, tension-relieving setting on this massager, which doesn't require pressure on the muscles to work. One 43-year-old who regularly works out said she loved this massager after being "pummeled to death" by more aggressive models, and another said it was just the thing to ease a trapped nerve that had bothered them for months. Though 167 customers described it as heavy, it has 73 percent five-star reviews, and 65 reviewers called it excellent.
Best-rated massager (seat cushion)
According to one five-star reviewer, the first time using this shiatsu massager left him feeling like he'd been beaten up. Nevertheless, he described it as a relaxing but intense massage, and one year later says it's the best thing he's purchased on Amazon. The cushion fastens to your chair, and has spheres under the surface which you can move to different heights and positions in order to target key areas. One restaurant worker said it makes double shifts far more manageable, while another customer says they feel as good as when they've been at their osteopath after using this. In total, 112 reviews said it had helped combat back pain, and though it is one of the more expensive models, 53 reviewers said this offered excellent value. It was popular with people with all kinds of pains, from neck and shoulders to lower back, and though the intensity was noted by some customers, one said using it while wearing a dressing gown was a good way to get used to the tough kneading motion of the massager. Some taller customers said it came up a little short — so if you're over six feet in height, you might want to consider a handheld option.
Best-rated foot massager
This foot massager by RENPHO garnered 71 percent five-star reviews. Fifty-one reviewers called the massager impressive, including one happy customer who likened the experience to having a professional treatment. The massager has three "air intensity" settings and three "knead" settings — 234 reviewers said they enjoyed the ability to customise their massages, from a tradesman who wore heavy-duty boots all day to someone who suffered from plantar fasciitis. The heat setting came up in 400 positive reviews, which the majority likened to a gentle heat rather than the heat coming from a hair dryer. Several reviewers also noted the massager was quiet enough to use while listening to the TV.
Best-rated (less expensive) foot massager
This simplified massager by Snailax was also highly rated, with 63 percent five-star reviews. Thirty-two reviewers wrote about the excellent value for the money (including one who said they have canceled their reflexology appointments since buying this), even though it has fewer settings than the RENPHO model. Seventy-nine reviewers also said it was comfortable to use, even on the most intense pressure setting, and the warming setting can be turned on when the massager is off, doubling as a foot warmer (one woman, citing poor circulation, said she often had her feet in it while working from home). The top cover can also be unzipped and removed, turning this massager into a heated cushion or back massager; this was particularly useful for one man, who initially bought it for his feet but deemed it "too ticklish."
Best-rated massage gun
With 82 percent of reviews being five stars, this massage gun by OPOVE is the highest-rated massage-gun in our list; 613 reviewers called it easy to use — the gun has three settings, with one customer writing that even the lowest power provided a strong massage after a run. It also comes with four extra attachments for more targeted treatments, including a massage head for the Achilles tendon, and a more pointed attachment for direct muscle work. One customer said the range of treatments was particularly helpful as he worked at a standing desk, and could easily alternate between relieving tension in his calves and shoulders. 1,069 customers said they would recommend this option to anyone looking for a massage gun, and 86 reviewers say it works better than the more expensive brands, like Theragun. And though over 100 customers mentioned how heavy it was, this helped the pressure applied to the muscles; a total of 160 reviewers mentioned the excellent pressure.
Best-rated (less expensive) massage gun
At almost a third of the price of the OPOVE massager, this gun by MILcea was the best-rated, cheaper option — 265 customers wrote about the price, including one man with a persistent leg injury who said this massager helped his muscle recovery before he resumed running. The gun has 20 power settings, with reviewers suggesting a lower intensity on the neck and higher intensity around the calves and thighs. Many customers liked that it was smaller and lighter than some of the bigger options on the market. It's also easy to use, according to one woman who trained her 3-year-old to hold it against her sore shoulders.
The Strategist UK is designed to surface the most useful, expert recommendations for things to buy across the vast e-commerce landscape. Read about who we are and what we do here. Our editors update links when possible, but note that deals can expire and all prices are subject to change.