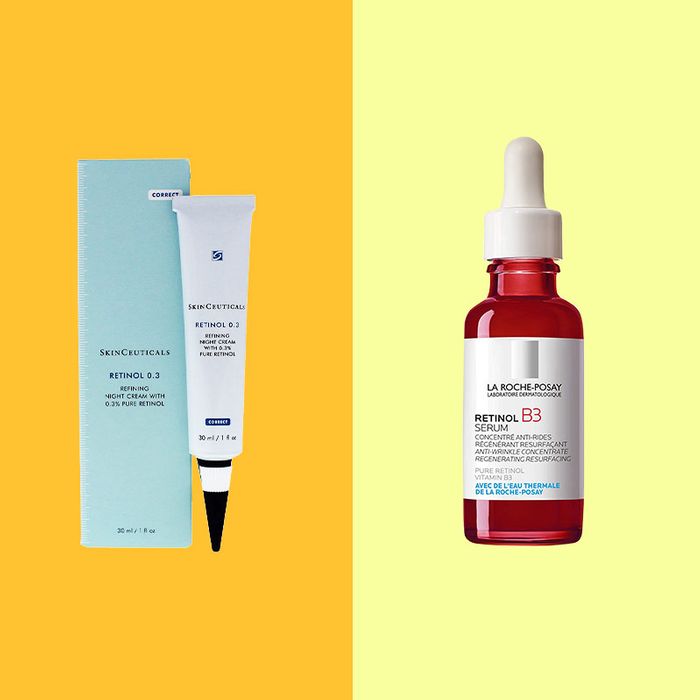 Photo-Illustration: retailers
Retinol has been consistently crowned as the gold standard of skin treatment for just about everything. Dermatologists love its clinical pedigree, and consumers love its remarkable results. Previously confined to cosmeceutical circles, it's broken into the beauty mainstream, with countless serums, creams, and gels on the market. But with that immense selection, there's also immense confusion, both in terms of what it is, and how it works.
So, we asked six experts, all dermatologists and cosmetic doctors, to explain it and to give their recommendations of the best retinols for every skin type.
"Retinol has become the catchall expression, but retinol is just one of a class of retinoids," explained dermatology registrar Dr Cristina Soma. Retinoids, which are a class of ingredients including retinal, retinol, and retinol esters, are all derivatives of vitamin A. They share some similar qualities, but there are differences in potency. The strongest, first step, is prescription-only tretinoin or all-trans retinoic acid. (There's also an oral form, which you might know under the brand name Accutane, which can be prescribed for severe, chronic acne). "The further away from that first step you get, the weaker they become," explained Dr Soma. Most over-the-counter products are either retinal, which is the second strongest step, or retinol, the third strongest, though the weaker retinol esters are used in some gentler products.
The stronger the derivative, the greater the chance of irritation, be that redness, peeling, or sensitivity, but also, the greater the benefits. "Retinoids are extremely well-studied and there is a lot of clinical research about them, including head-to-head trials with other ingredients," said Dr Ifeoma Ejikeme, founder of Adonia Medical Clinic. "That's very unique and we can't say that about a lot of other ingredients. The end point of retinol is good — it encourages collagen synthesis so helps with fine lines and wrinkles, it helps with pigmentation, it increases cell turnover so it helps thicken the skin, and we have studies to prove all of that. It can be used by so many different skin types from sensitive to oily and mature skin," Dr Rabia Malik added. "It's just a wonderful, all-purpose ingredient on so many levels. It works on acne, fine lines, dull skin, it can reduce sebum production. It can be both preventative and corrective. It's a really good all-rounder."
The other confusing factor can be the percentage strength listed on the product. The maximum strength that's allowed over the counter is one percent. However, this doesn't stop brands from claiming that their product is stronger than that. "Usually, if a brand is claiming a strength above one percent, there's a lot of small print with that," said aesthetic physician Dr Ewoma Ukeleghe. Namely, it usually means they've added or blended the retinoid with something that they claim makes it perform at a higher strength. All of our experts said that this was misleading, and that you were far better off choosing a product with a clear percentage strength. The other caveat is that retinoids do make the skin more susceptible to sun damage, so it's especially important to wear a broad spectrum SPF 30 or higher every day while using it (but you should do that, anyway.)
As for which retinoid you need? "Retinal is very effective, and there's lots of evidence that retinol is very effective too. Your considerations should be how sensitive your skin is, any preexisting conditions, and your budget," said Dr Soma, adding that because there are more retinols on the market than the other derivatives, you're perhaps more likely to find one that suits you more easily because of the sheer diversity of choice.
With all of the products below, each doctor advises to start by only using it a couple of times a week, and then look to increase.
Best beginner retinol
Best overall retinol
Best budget retinol
Best retinol for sensitive skin
Best retinol for plumping
Best retinol eye cream
The Strategist UK is designed to surface the most useful, expert recommendations for things to buy across the vast e-commerce landscape. Read about who we are and what we do here. Our editors update links when possible, but note that deals can expire and all prices are subject to change.