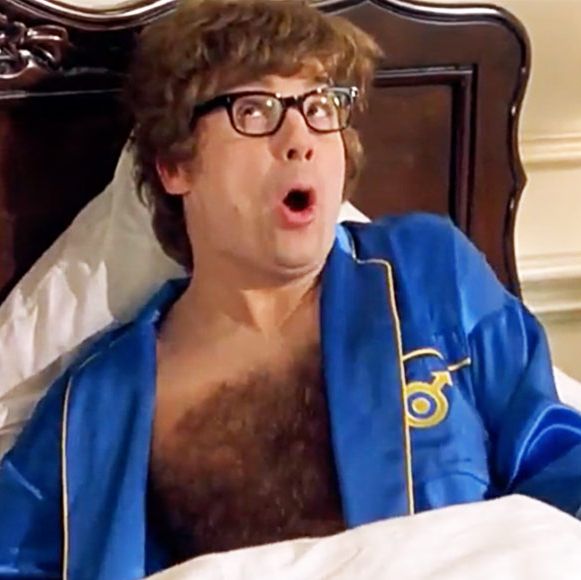 It's time to get familiar with the "P-spot"
Photo: Courtesy of New Line Cinema
A version of this story originally appeared on the Strategist US.
The first thing to know about sex toys for men is that, yes, they exist. "A lot of people are surprised that there can be products for men," says Andy Duran, educational outreach coordinator at sex-toy retailer Good Vibrations. People often think vibrators, for instance, are "very gendered and designed for women, but the reality is that our bodies are all pretty similar. We all have nerve endings that respond to vibration, or touch, or stimulation." Although sexuality is highly personal, we set out to find a variety of options for a variety of preferences with the guidance of experts who would know best. We talked to 12 different people, including sex-shop owners and employees, sex educators, sex therapists, sex coaches, and sex podcasters to find the best toys for men. Since the experts say you'll want a different type of toy depending on the type of pleasure and play you're seeking, we've broken them into categories, with the most recommended toys at the top of each.
Best overall ring
If you're thinking you want to try out a toy but don't know exactly where to start, most of the experts we spoke with said a "ring" toy would be a great choice, and Zachary Zane, a sex writer for Men's Health, says, "My advice would be to definitely start with a vibrating cock ring." In his opinion, the vibrations can add a lot to the overall experience, especially when you're with a partner. As he puts it, "No matter how good you are at sex with your partner, you can't vibrate." Duran also likes vibrating rings because they're "like two toys in one." While the wearer gets the benefits of blood-flow restriction, "your partner will feel that vibration on their body during intercourse," adding that "even if it doesn't work out as a vibrating ring, you still have this great vibrator or this great ring you can use separately."
Two experts we spoke to say this cock ring from Je Joue is the best in its class for both comfort and power. "The Mio is top of my list when it comes to vibrating cock rings," says Lisa Finn, a brand manager and sex educator at Babeland. "The motor is powerful despite the ring not being bulky, and it has a rumbly sensation that delivers deep, penetrating vibration for both partners to enjoy." Sid Azmi, a sexual therapist and the owner of Please in Brooklyn, agrees, noting that the type of vibration is critical when it comes to higher-tech rings like this one. "Some products have a loud rumble, and some have a tight rumble, with shorter frequencies and more of a 'buzzing' sensation," and for a cock ring, Azmi says that a tight rumble is crucial. "Due to its location near the ballsack, loud vibrations can create pain in a lot of males who aren't careful." Finn adds that this ring is "made of a super stretchy yet durable silicone, which gives a comfortable fit on a variety of sizes," another point echoed by Azmi. "Some cock rings are so tiny and tight, it's like wrapping a thin piece of rubber around your finger. The Mio is superior to the competition from that perspective."
More expert-recommended rings
Sometimes you just want something simple. For those times, you can't go wrong with this minimalist silicone ring. Finn suggests using it "to enhance masturbation or partner play, or to prolong playtime before orgasm." You can also use it "as a bumper to prevent too-deep thrusting during intercourse," she says.
Samantha Bard, co-owner of the Williamsburg sex shop and event space Shag, particularly likes the We-Vibe Pivot, which she calls "the Cadillac of cock rings." You can control the vibration on the actual toy if you want, but the best part of the Pivot, according to her, is the included smartphone app. "You can share it with up to ten people, and they can control it from anywhere in the world and fully customise the vibration patterns." The ability to control the Pivot from across the dinner table is part of what makes it "really popular," she says. Plus, Bard adds that "it's [even more discreet] than having a remote in your pocket," because it just looks like you're on your phone.
For a more simple, affordable vibrating ring, Duran recommends this option from Screaming O. Simply stretch it around the base of your erect penis, and switch it on. While it's only designed for one-time use, and doesn't have the cross-platform connectivity of the others, it's still an effective, discreet, and travel-friendly option for first-timers.
Dr. Steven Snyder, a New York City sex therapist and author, says the "really hot thing" among his patients right now is this stretchy ring, which he describes as less of a toy and more of a practical solution when you or your partner's size is causing pain. "It's a series of very soft flexible rings that nest on top of each other, which means you can use between one and four of them depending on your size. They give a different sensation for penetration and are excellent if a man is going in too deeply."
Best overall stroker
"Strokers" were another popular recommendation for those buying starter sex toys. They're generally designed for masturbation, and the low-priced, simple, and straightforward Tenga Egg was a model mentioned multiple times. "Incredibly discreet, super cute, make really good gifts, and they're only £7," says Bard. Each egg has a different rib inside, and while they're designed to be "single use," she says that if you regularly wash an egg with soap and water, you can definitely extend its lifespan. While it's known as a masturbation toy, Bard says "it doesn't have to be just a solo thing," and that an egg can also be a lot of fun to use with a partner. "In fact, probably half our customers who buy it are females buying it for their boyfriends or partners," she adds. Duran also loves the Tenga Egg, especially for travel: "I sell a lot of these to guys going on trips. I often say, 'Hey, throw this in your backpack while you're going away for the weekend,' and just throw it out before you come back.' It's just a little treat." (If you want to stock up, or get a few for yourself and others to give as gifts, the eggs also come in a variety pack of six inside a cute, tiny egg carton).
More expert-recommended strokers
Many men are familiar with the original Fleshlight toy. The Quickshot is constructed with the same material that made the original famous, but it's a bit more streamlined. Finn likes the Quickshot's open-ended design because it makes for easier cleanup, and adds that while it's great to use on your own, it can be especially fun with a partner: "Try incorporating the Quickshot into a blow job by twirling it along the base of the shaft."
If you're interested in a slightly more advanced stroker, the experts say the Tenga Flip Zero is the way to go. As Duran explains, "The great thing about the Flip Zero is that, unlike some of the other sleeves" in rigid plastic containers, this one has a flexible case that responds to touch. "It gives people the opportunity to adjust and feel their own hand strength, or their partner's hand strength, instead of just relying on the product." Zane is also a fan. "It has so many different grooves and ridges," he says, so it "feels different everywhere" and can provide a wide variety of sensations. Flip sells a few different models — the Zero is the simplest — but if you want to experiment, you might consider one of its vibrating strokers, which Zane says are "completely insane." Like the Quickshot, the Flip Zero is also designed for easy disassembly and cleaning.
Probably the newest and most innovative stroker toy around, the Manta is very popular among those in the know. "It's unlike any other sex toy on the market," says Finn. "The soft, velvety silicone head is contoured to flex around the penis, and is designed with ridges along the inside of the wings that hold lubricant in place for added sensation." Kit Richardson, buyer for The Museum of Sex and the MoSex Shop, is a big fan of the Manta as well, saying "it's perfect if you're looking to intensify a BJ or masturbation routine."
This stroker — designed in collaboration with renowned adult-film star, producer, and trans advocate, Buck Angel — is made for trans men. It's about "the same size as the Tenga Egg, but with a smaller opening," says Duran. "It helps a lot of guys feel they're getting the same effect of stroking or jerking off."
Azmi recommends this stroker to all men, but especially those who can struggle to become aroused. Because of the MS Stroker's open cuff, the pressure on the user is literally and emotionally reduced, according to her. "You want bringing sex toys in to be as seamless as possible, and this open, vibrating penis sleeve accommodates even flaccid penises, and can be adjusted to make it tighter or looser." The vibrating plate on the Element also expertly targets the frenulum, "a hotspot of nerve endings near the head of the penis," she adds.
Best overall prostate toy
While they might be seen as slightly more "advanced," especially if you're just starting out with sex toys, every expert mentioned prostate toys as something to consider. "I think men are becoming much more open to exploring that part of their bodies," says Bard. "When we talk about prostate play here, we call it the 'P-spot.' The P-spot can give you a different kind of orgasm than regular ejaculation. It's a deeper, more filling orgasm, and if you can train your body to have a prostate orgasm as well as a regular orgasm, it could be a blended orgasm that's really kind of out of this world."
As far as where to start with prostate toys, "the Aneros brand is synonymous with prostate massagers," according to Duran. And for good reason: before making adult toys, the company designed medical devices for prostate stimulation. He told us that some customers are initially skeptical about the Aneros toys, which can seem antiquated when compared to some of the more high-tech, silicone-clad options on the market. But Duran says this one "just links up perfectly, anatomically, to press the prostate." Richardson is another fan of the Aneros brand, saying, "Whenever anyone's looking for a beginner anal toy and they have a prostate, I gear them towards Aneros."
More expert-recommended prostate toys
Bard's favourite new toy is We-Vibe's latest, the Vector. "It's a prostate toy that has a double motor – one in the prostate part, and one underneath for the perineum [the area between testicles and butt]." The best thing about this toy, according to Bard, is that the prostate part moves. "You can adjust it to hit wherever yours is, and also use it as a G-Spot toy for vaginas." It has an accompanying app that she recommends using with the toy because it allows you to customise the motors and hand over the controls to up to 10 people anywhere in the world.
Finn says this one is also great for a starter prostate toy because it's simple, affordable, and "perfect for wearing during any kind of play." The bubbles give "an amazing anal bead-esque sensation," and the curved shape is "perfect for targeting the prostate." And it should be easy to clean and care for, because it also has an all-silicone construction. [Editor's note: This price does not include shipping costs.]
Lelo's vibrating prostate massagers came up a lot and the company is definitely one of the experts' favourites. Justina Victoria, a men's sex coach and the founder of the Sexual Mastery Center, pointed us to the vibrating Lelo Billy. "I think [it's] a bit less less intimidating than other prostate stimulators," Victoria says, making it a good choice for beginners or anyone just starting to explore. "I would use it as a way to help you feel into parts of your body that you may never have connected to or felt sensation in."
The Loki Wave might look similar to the Billy — they're made by the same company — but it has a lot more going on under the hood. This is one of the most high-tech prostate toys around, according to Richardson, who told us the Loki Wave is one of her favourites for its "dual-motor design." It has an internal arm that moves in a "come hither" motion to stimulate the prostate, and a "strong vibrating external arm for optimal perineum stimulation," she explains.
Kenneth Play, a sex educator and co-founder of the sex-positive intentional community Hacienda, says that while the nJoy Pure Wand is mostly known as a G-spot stimulator for women, "it's also the ultimate prostate toy." It doesn't vibrate, instead embracing a more luxurious and sculptural design with its all stainless-steel construction. Play likes its long, curved shape, which "makes it ideal for self-pleasure without arm strain." Babeland's Finn is another fan: "Pure magic when it comes to prostate play!" The balls at either end "provide a firm, targeted pressure that's unlike any other toy on the market," says Finn, who especially loves how the medical-grade stainless steel "warms quickly with body heat." She suggests running the wand under warm or cool water for some "temperature play."
Best overall anal toy
While prostate toys are designed to be inserted anally, there are some key differences between them and the more general anal toys such as beads and plugs. As Finn explains, "Prostate toys are shaped with a curve that's meant to really target that hot-spot." She adds, "Some folks with more sensitivity in this region may find that anything inserted anally stimulates their prostate, even small, non-curved anal toys," but it really depends on the person. In short: prostate toys and anal toys might overlap a bit in some of the sensations they provide, but they're anatomically designed to target different areas.
When it came to anal toys, three of the experts we spoke with recommended the brand b-Vibe, which specialises in anal plugs. Richardson says a great place to start would be with the brand's new "Anal Education" set, because not only does it include everything one might need — including "an enema kit, lube shooter," and plugs in three different sizes — it also comes with "a how-to book that's very gender neutral and talks about anal sex in a way that everybody can relate to it and learn from." Many of the experts highlighted the importance of education and communication when it comes to safe and fun anal play, so a kit like this that takes out all of the guesswork and explains everything would be a great place to start. Or if you prefer, you could also go straight for b-Vibe's famous weighted "Snug Plugs" (one of which is included in the education set). Duran describes a Snug Plug this way: "You won't see it, but when it's in the body, you feel those weights a little. It's a great way to see if you're into anal stimulation."
More expert-recommended anal toys
This is a higher-tech option from b-Vibe that a bunch of the experts were particularly excited about. "So many nerves are concentrated at the anal opening, it's an exquisitely sensitive spot, which is why rimming feels so good," explains Finn. According to Richardson, this toy is "unique to the anal-play market." It "simulate[s] the sensation of rimming" with its "vibrating head and rotating beads in the neck and base." Another great feature is the remote control, which Duran really appreciates: "No one wants to reach all the way back and change the speed, so having a remote handy is great." This one works equally well solo or with a partner. (This is the "petite" version, but it's also available in the original standard size).
Richardson recommends Fun Factory's Flexi Felix anal bead toy. "People like how flexible it is and the softness of the silicone." It's also smaller than most other plugs and beads, which makes it especially good for beginners. "The gradual increase in size is actually really appropriate and comfortable and it's not daunting."
The brand nJoy is perhaps most famous for its stainless-steel Pure Wand above, but Finn says it also makes a great anal plug. The smooth teardrop shape "makes for easy insertion," while "the weight of the steel gives a delicious feeling of fullness." Like its "big brother," the Pure Plug's steel body makes it a great choice for anyone "looking to explore temperature play," she adds.
Four other notable toys
Richardson told us that a lot of companies are starting to make toys that aren't necessarily "gendered" or prescriptive in how to use them. That versatility is part of what makes Clandestine's "Mimic" so appealing. "It's a stingray-looking vibrator that sits in the palm of your hand and, because of its curvature, it really works anywhere on the body," she says. "It's great for stroking or holding during a hand job or a blow job. It's also great for a massage, too."
If you're looking for a toy that will take oral sex to the next level, the newest best-seller at Bard's store is the Blow-Yo. "You can use it as masturbation sleeve, and also as a buffer if you just wear it at the base of your penis to create a cushion," Bard says. "But really it's designed for oral sex. Use it at the base of your cock, and its internal ribs help it become an extension of your partner's mouth."
Despite its appearance, this is not a dildo, but actually a penis extender, according to Azmi, who says this toy can be especially handy for men with impotence or medical issues who still want to be able to stimulate their partners, because it doesn't require an erection to function. "Once your penis is inside it, you yourself will feel tucked into a hole or vacuum," Azmi says. "If your penis gets an erection you will feel it quite nicely, but this is supposed to be an extension of yourself for your partner."
Best lubes and accessories
While most experts agree that silicone lubes are generally the best, silicone lube is not compatible with silicone toys. So we're leading with a water-based lube because, as you may have noticed, most of these toys are covered in silicone. Finn recommends this water-based lube from Sutil because it "delivers long-lasting slickness similar to a silicone lube while being completely compatible with all condoms and silicone toys." It's made from natural, premium ingredients and is fragrance-free, taste-free, and odour-free. [Editor's note: This price does not include shipping costs.]
While a water-based lube is a must if you're using silicone toys, silicone lube is the way to go for anal sex without toys involved, and Pjur makes the best silicone lube around, according to Richardson. "If you're not using a silicone toy, you really want to use a silicone lube because it lasts the longest and provides the most cushion." Pjur's "Back Door" lube is made specifically for anal sex, "with natural ingredients that help with relaxation." As Richardson explains, you don't want to use anything with benzocaine or other numbing agents, because then you won't be as aware if something is painful. Pjur uses jojoba and guava extract, "natural relaxers that will make an area that [can be] super tense much more relaxed and easy for entry." The company also makes a water-based version if you want to use it with silicone toys.
This is one of Bard's favourites, and she says it's an all-time best seller at Shag. "It makes for a great surprise … your partner has no idea that you're wearing an oral sex lip gloss, it looks just like regular lip gloss." She describes the effect as "a fire-and-ice sensation that escalates." It's also very discreet. "I keep one in my bag," Bard told us.
The Strategist UK is designed to surface the most useful, expert recommendations for things to buy across the vast e-commerce landscape. Read about who we are and what we do here. Our editors update links when possible, but note that deals can expire and all prices are subject to change.