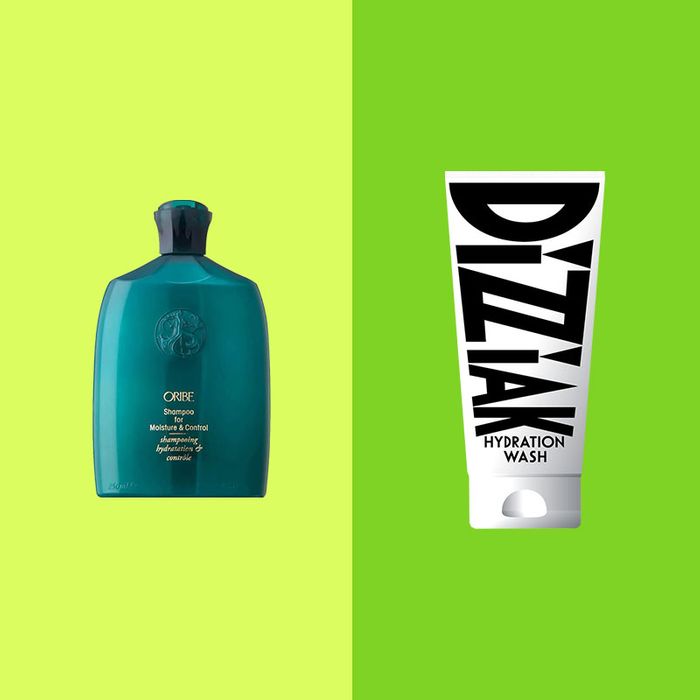 Photo-Illustration: Courtesy of Warner Bros. Pictures
Dealing with dry hair can mean yo-yoing between feeling it snap off and weighing it down in too much product. It's complicated. Often, it's hard to know why your hair looks and feels dry, though Fox & Jane Salon stylist Kristin Rankin points out that "typically, it's because it has been compromised in some way." This mainly happens from two types of factors: environmental ones, like UV damage or saltwater, or personal ones, like your hair routine — think overheating or using chemicals.
No matter how your hair loses its moisture, you can use a hydrating shampoo as part of your plan to restore it. If you're not sure where to start, we asked professional hairstylists about the best products for many hair types (from fine and pin-straight to thick and curly). We scoured ingredient lists, compared prices — and interrogated the most peroxide-inclined among us about how they nursed their hair back to health.
As well as for shampoo recommendations, we also asked stylists for useful tips, such as how much you should actually be washing your hair. "I recommend every other day for fine to medium hair, whereas thick hair could go anywhere between three days to a full week," says Amanda Power, the founder of Power Hair BK. Coarse or thicker thick hair can be shampooed every five to 14 days, she says. And "the same rules apply for dry hair — don't overdo it just because your strands feel super-parched."
Best overall | Best for fine hair | Best for curly hair | Best for chemically treated hair | Best for thick hair | Best for textured hair
Hydrating ingredients: When looking for a shampoo to hydrate hair, our experts advised steering clear of ingredients such as alcohols, silicones, and sulphates, as they're extremely drying and strip your hair down. Every shampoo in this list is sulphate free. Instead of those ingredients, we've looked for formulas rich in antioxidants, like sunflower-seed extracts, amino acids and proteins like keratin, and vitamins C and E. Glycerin's hydrating properties add it to the mix, too.
Size: While the volume of shampoo varies widely from one bottle to another, so does the amount of each product you need per wash to fully reap its benefits. With this in mind, we've made a note of the price and size of each shampoo. But we've also scanned reviews to find out how much of each shampoo you really need to use every time you wash your hair, for a more accurate sense of the value of a bottle.
Scent: Many beauty products have a signature scent, and shampoos are no different. To help you identify a smell you'll be happy to lather with each time, I've made a note of the shampoo aromas below.
Best overall shampoo for dry hair
Amino acids and sunflower extract| 250 ml | Fruity and botanical
Oribe's Moisture and Control line was recommended by half of our experts, including senior stylist at Kinloch Salon Lorna Pollack. "This is intense while also helping to eliminate unwanted volume, leaving the hair feeling sleek and controlled," she says. The formula is sulphate free and packed with nourishing amino acids that mimic the proteins of the hair in order to both "tame and soften hair" while leaving it "smooth, sleek, and under control," says Alyssa Sholl, master stylist at Hairroin Salon. The shampoo also contains amber and sunflower extracts, which shield against environmental compromise from UV damage owing to the high levels of tocopherols (the antioxidant vitamin E).
Reviewers liken the shampoo's smoothing effect to that of a conditioner. Even though they say it's relatively pricey, a pea-size squirt per wash works (and reviewers recommend using the product no more than two to three times a week). The shampoo is suitable for curls from loose to tight or textured. Based on several YouTube–review comment sections, it appears that those with type-4 hair have mixed opinions about the product. When they use it in conjunction with other products from Oribe, those with type-4 hair notice a deep hydration and nourishment, but used independently, it's not quite as effective as other shampoos — such as Dizziak's hydration wash. If you're someone with dry, particularly curly or textured hair, we have some specific recommendations below.
Best shampoo for dry fine hair
Vegetal keratin, glycerin | 250 ml | Floral / Chemical
Chelsey Pickthron, master stylist of Pickthorn Salon, advises you to avoid "volumising" shampoos if you have both fine and dry hair: She says they'll end up working against you. Instead, she recommends Davines Nourishing Shampoo to clients who want to rehydrate their hair (without weighing it down). The paraben- and sulphate-free formula contains vegetal keratin — a plant based, hair-nourishing protein — as well as the brand's signature mixture of active moisturising ingredients, including glycerin and amino acids. Although the product is half the price of the shampoo from Oribe's, reviewers again say a small squirt thoroughly combed through the hair is more than enough. As well as finding that their hair has more moisture, customers describe a softer quality to once-frizzy hair and say that their hair even appears less greasy. A couple of reviews did say they found the shampoo smelled less pleasant than other options. But it all depends on how you feel about a floral scent — here, personal preference is key.
Best shampoo for dry curly hair
Caviar extract | 250 ml | Fruity, perfumed
Whatever the texture, Pickthorn has a tip for tending to dry hair: After shampooing, "put your conditioner in, let your conditioner sit for a few extra minutes and then rinse with cooler water so you seal down the cuticle," allowing your hair to retain more of its moisture. When she's treating dry, curly hair, Pickthorn reaches for the Alterna Haircare Caviar Anti-Aging Anti-Frizz Shampoo. As the title suggests, the shampoo is suitable for older clients or those dealing with serious frizz, as well as those with curlier hair types. The shampoo has a rather luxurious ingredient list, containing caviar extract rich in omega fatty acids, vitamins, and minerals. They all act to replenish hair and protect against any further compromise. Like all Alterna products, the formula is free of parabens, sulphate, and synthetic colour.
Best shampoo for dry chemically treated hair
Antioxidant rich, Vitamin B |250 ml | Mild citrus
Devotees already know. This reparative shampoo is perfect for all the "highlighted blondies out there," says Pollack, explaining that its highly concentrated formula penetrates individual strands to help rebuild damaged hair while maintaining your colour. "Olaplex No. 4 also helps to eliminate frizz and strengthen split ends, which reduces breakage," she says. Olaplex products contain a patented ingredient that they claim has been formulated to focus on each individual bond of hair to restore natural moisture zapped by chemical treatments or too much heat. It also contains antioxidants like tocopherol, a form of pure Vitamin E, and rosemary-leaf extract. Finally, smoothing ingredients such as panthenol — a pro-vitamin B5 — leave the hair with a salon-finished smoothness. (Olaplex was previously only available for hair salons and professionals, where it became a cult favourite.)
I spent the majority of lockdown bleaching my own hair to stave off boredom, and Olaplex No. 4 has become the kind of item I'll pack in my bag just to spend the night at a friend's house. A pea-dot-size serving goes a long way, and I'll comb it through my strands, coating my entire head before washing away. Each 250-milliliter bottle ends up lasting me about three months. And now that I have been using this for a year, my once bone-dry hair feels unrecognisable. In a good way.
Best shampoo for dry thick hair
Monoi oil, Murumuru seed butter and sunflower-seed extract |250 ml | Fresh, hint of coconut
For thicker hair types, Power recommends this sulphate-, paraben- and cruelty-free shampoo from Kevin Murphy. "This shampoo helps create shine and tame unruly frizz," which makes it great for coarse-textured and curly hair, according to Power. It contains monoi oil, which will "moisturise the hair, as well as prevent your hair colour from stripping," and sunflower-seed extract, which protects against UV damage. Murumu-seed butter also works to smooth the hair, whilst fatty acids bond to strands to quench and replenish their moisture levels. Reviewers recommend using slightly more of this shampoo, as a roughly palm-size serving really coats thicker heads of hair. But after just a single wash, they say their hair is more manageable, and after three or four washes, it has a newfound smoothness.
Best shampoo for dry textured hair
Quinoa protein, Babassu oil |200 ml | Zingy tea tree and rosemary
Dizziak, a Black-owned British brand that we've featured before, was recommended to us for those with textured hair. Rhea Cartwright, beauty journalist and founder of editorial platform @nahfemme, loves the brand's hydration wash. Cartwright has 3B hair, with curls she describes as "typically well-defined and vary from bouncy ringlets to tighter corkscrews," but reckons this shampoo is great for all curly hair types. The hair wash is harsh-chemical free and instead gains its cleansing lather from coconut extracts, using amino-acid-dense quinoa protein to restore moisture. This is "perfect shampoo," in Cartwright's opinion, and the cheapest on this list, although this is reflected in its slightly lower volume (200 milliliters, as opposed to 250 ). She gives it extra points for "zingy" pleasant scent that's "sure to wake you up in the morning."
Some other shampoos for dry hair we've written about:
The Strategist UK is designed to surface the most useful, expert recommendations for things to buy across the vast e-commerce landscape. Read about who we are and what we do here. Our editors update links when possible, but note that deals can expire and all prices are subject to change.