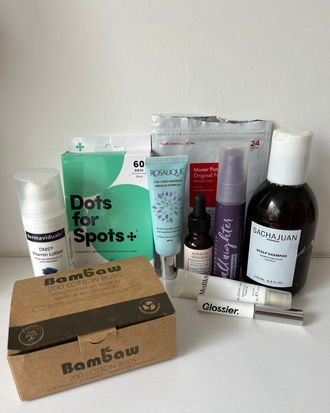 Photo: Courtesy Zing Tsjeng
There's no more convincing testament to a beauty product than using it to the very end of the tube or bottle or tub. To find out about the products that are worth excavating (as well as experience the satisfaction of snooping inside someone else's bathroom cupboard), we occasionally invite friends of the Strategist to tell us about their empties for the month.
In this installment, Zing Tsjeng, Vice UK editor-in-chief and Strategist UK contributor (and author of the Forgotten Women series), tells us what she used to the last drop in April.
I cannot rave enough about this shampoo, which I discovered last July. I used to have to wash my hair every other day, otherwise I'd start getting oily roots and feel that telltale prickle of itchiness across my scalp. Now I only need to wash my hair every three days, and my hair looks a lot thicker and healthier. It also smells great — it has got a clean, refreshing, and slightly menthol-and-rosemary scent, a far cry from the heavily medicated, pungent aromas you get from most anti-dandruff shampoos. Bonus: The bottle looks great in the shower — the minimal Scandi packaging reminds me of Aesop. A 250ml bottle lasted me eight months, but I loved this enough to buy a gigantic half-litre bottle to replace it when it ran out this month.
Nothing hits quite like swiping a cotton bud in your ears after a long shower, and nothing sweeps up stray eyeliner or mascara underneath the eye like one, so let me live! I've tried replacing single-use cotton buds with those reusable and washable ones, but I always end up losing them and having to buy them all over again. These bamboo cotton buds are a much better solution — I found them in Boots, and you can get 200 in a single pack. I've never had one snap on me, and they're biodegradable and come in recyclable cardboard packaging (I rip up the boxes and put them in my wormery for composting).
A few years back, I got my hands on a big discount for the Probiotic Concentrate serum from Aurelia (via the LookFantastic mailing list) and I swear my skin never looked better. But then it ran out, and the idea of handing over more than £50 for a tiny 30ml bottle of serum never quite sat right with me. I wanted to try the rest of the range to see if there was a cheaper substitute, so when I saw a 15ml bottle of this probiotic serum on Aurelia's own website, I couldn't resist. It ordinarily sells for £34 but only costs £30 as part of this three-step starter collection, which also includes a travel-size cleanser, a day moisturiser, and a muslin cloth — bargain! While I find the cleanser and moisturiser a tad too fragrant for me, this serum has only a faint floral scent and a lovely milky texture that sinks into my skin, making it feel comfortable and hydrated.
I got terrible maskne during the first lockdown, which I'm still working on clearing up — my skin broke out all around my chin and cheeks. Obviously, the stress of living through a pandemic didn't help either, especially since my go-to self-care method involved treating myself to lots of dairy. I'm already a signed-up fan of this British brand, especially its Hydr8 B5 serum, but I gave this salicylic-acid gel a try on the basis of fellow Strategist writer Frankie May Wong's review. It doesn't quite do it for my under-the-skin blemishes, but they work a treat on those throbbing, red pimples with an obvious head – you know the ones that feel like they're about to grow into a Godzilla-like spot that takes over your face? When I get one of those, I reach for this spot treatment and it pretty much immediately calms the skin down and takes down the swelling overnight.
There's an art to using these: I find they work best when applied to a spot that's either already popped or is on the verge of popping — you just slap a patch on after cleansing at night, go to bed, and peel it off when you wake up. They're really gentle on the skin — you don't feel like you're ripping off the top layer of your epidermis when you take it off in the morning. Plus there's something incredibly satisfying about turning over a patch and looking at all the oil and pus that has been vacuumed out. It's the closest thing I'll ever get to being Dr. Pimple Popper.
While COSRX will always be my ride-or-die overnight pimple patch, these ones are much better if you have to go outside and actually show your face in public. They're also made of hydrocolloid but are much thinner than COSRX and have graduated edges so they sit flush against your skin and blend in better — I've gone out with three of these on my chin, and with a smidge of concealer people were none the wiser. They're also cheaper than COSRX, although they only come in one standard size, so they may be a touch small for you if you're prone to megazits. They are also slightly more abrasive in their removal than COSRX and leave a faint outline around the zit — I consider this an exfoliating bonus, but those with more sensitive skin may find it an irritating feature.
As part of my campaign to clean up my maskne, I started seeing a medical aesthetician who recommended that I swap out some of my serums and oils for this lotion. Honestly, I was kind of sceptical at first, as I am very much from the "more is more" school of skin care, but now I'm a convert, especially since I started reading more about how overcomplicated routines might be doing our faces more harm than good. Anyway, it's a good thing this moisturiser does it all — it features the antioxidant vitamin A and brightening vitamin C, as well as moisturising Vitamin E and provitamin B5 (panthenol) — so I don't need to worry about doubling up on anything with serums. After about a month of using this, my skin looked so much smoother and less inflamed. Unfortunately, though, this product is only sold through skin therapists and skin clinics.
Honestly, I go through one of these every few months; I have one in the clear gel colour and one in black. I got this specific one as a present from a friend who hands them out like candy for birthdays and secret Santas — basically, anytime she needs to get someone a cute little present, she just gets them a Boy Brow.I use the clear gel one when I'm wearing minimal makeup to make my brows look thicker, and I use the black one when I've got more dramatic cat-eye makeup on to balance out my face.
I rarely wear a full face of makeup, but when I do, I do not want it to budge. What's tricky is that I also want to feel comfortable and not like my skin's being suffocated under multiple layers of setting powder or spray. This one is light and refreshing enough to be sprayed on as a treat on a hot day, and it has handled every single situation I've put it in. I've spritzed it on before weddings, documentary shoots, even the one time I appeared on Question Time, and it helped my makeup survive tears, studio lights, and untold amounts of stress-induced sweating. Urban Decay says that makeup lasts up to 16 hours without smudging, and while I've never had makeup on that long, I'm willing to believe it.
I got this in a PR goody bag ages ago, and it basically sat at the back of my cupboard until I needed something to cover up some inflammation on my cheeks. This was originally developed for people with hypersensitive skin and rosacea — I don't suffer from either, but I'm so glad I gave this a try. It's perfect for soothing any irritation and concealing redness, kind of like a CC cream. It comes out green and adjusts to a more natural-looking colour that conceals any redness once you blend it into your skin. It reminds me a lot of the Dr.Jart+ Cicapair™ Tiger Grass Colour Correcting Treatment, except it's not as thick and heavy — its liquid formulation is more like a light lotion. One tip: Do not leave this next to a sunny window, as I did, because it makes the formula separate.
The Strategist UK is designed to surface the most useful, expert recommendations for things to buy across the vast e-commerce landscape. Read about who we are and what we do here. Our editors update links when possible, but note that deals can expire and all prices are subject to change.