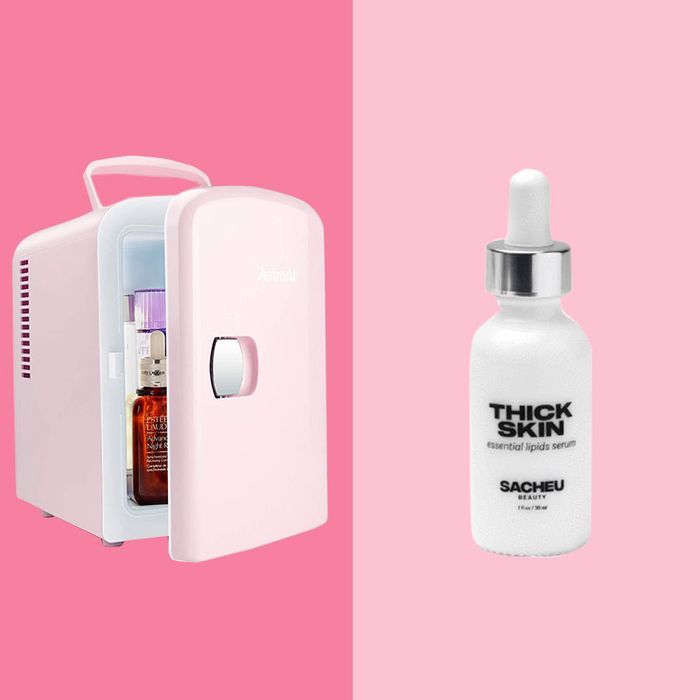 Photo-Illustration: retailers
What to buy for the skin-care lover in your life? They'll surely already have bathroom cabinets bursting full of creams, lotions, and potions, and there's nothing worse than wasting money on an item that is way off course (full-coverage foundation for a known dewy-skin fan, red lipstick for a nude-lip wearer). TikTok and Instagram perhaps only make things more bewildering — with a new trend or tool every day of the week, how are you meant to know what's actually worth buying?
We asked 13 experts, from dermatologists to beauty editors to cosmetic chemists, about the gifts they'd give to a discerning skin-care fan. Read on for the best skin-care tools, gift sets, books, and more.
The best skin-care tools
Skin-care tools like gua sha and jade rollers have long been commonplace in traditional Chinese beauty and healing practices, but they've more recently become popular in the western world. However, according to dermatologist Dr. Ranella Hirsch, they're not all made alike. "The Sacheu Thick Skin Set would be my ultimate gift. Not only does it have a beautifully made gua sha and a roller, it's actually an Asian-owned brand," said Dr. Hirsch. Sacheu's founder, Sarah Cheung, grew up in Hong Kong before moving to Canada — she's also a beauty influencer, and your recipient probably already follows her, so extra brownie points. Dr. Hirsch also noted that the tools are made from stainless steel rather than a stone such as quartz or jade, both of which are increasingly overmined and have porous surfaces that hang onto bacteria.
Stylist beauty director Shannon Peter said that to give the gift of super-clean skin, it's not necessarily about gifting a cleanser: It's about gifting a really great face cloth. "If you ask me, few things are quite as satisfying as cleansing your face with a brand-spanking-new washcloth — no exaggeration. They make for a lovely and practical present and the best are the Oskia Dual-Active Cleansing Cloths. Not only are they supersoft, but one side has a flannel texture for a bit of light exfoliation and the other is made from muslin for gentle cleansing." Each pack contains three reusable cloths made from 100 percent cotton, and they can be used for regular face washing, as well as for removing face masks and scrubs.
Freelance beauty editor and columnist Ava Welsing-Kitcher said the one thing every skin-care obsessive needs — and probably doesn't have — is a great steamer. "The Sarah Chapman Skinesis Pro Hydra-Mist Steamer releases nano-particles of steam, which penetrate the skin more effectively than plain old steam. I can vouch for the fact that my skin is always clearer and glowier after a weekly session," said Welsing-Kitcher. Plus, the benefits aren't just limited to the skin, she added. "I've also used it to help my hair mask penetrate deeper and aid in detangling. It's also one of those things people might not bring themselves to buy for themselves, so definitely do it for them."
Dermatologist Dr. Corey L. Hartman suggested that for the beauty lover who never quite manages to complete their routine, a skin-care fridge could be the perfect gift. "A skin-care fridge that tucks neatly into their bedroom is the ultimate gift for any beauty enthusiast. Imagine the joy on the face of your favourite beauty fan when they realize that they no longer have to trek to the kitchen to retrieve their favorite refrigerated skin-care products each night and morning" advised Dr. Hartman. Sure, not everyone keeps their products in the fridge to start with, but having them by your bedside table rather than stuck in the bathroom means your recipient will be able to do their skin-care routine from the comfort of their bed.
The best skin-care products to gift
There are some products so iconic that any skin-care fiend is always happy to receive them, says beauty influencer and writer Hajar Mohammad. "The Elemis x Hayley Menzies Skin Wellness Essentials gift set is everything a beauty lover could ask for. It has all of the best-selling Elemis products like the Pro-Collagen Cleansing Balm and Pro-Collagen Marine Cream that really elevate your skin-care routine," said Mohammad. "It has seven products, all in travel sizes, in this super-cute bag designed by London-based designer Hayley Menzies. You honestly can't go wrong with this set." The reusable pouch will make a great makeup or skin-care bag once your recipient is done with it, and according to the brand, the contents are worth £114 but are priced at £75.
If you're on a budget, or your recipient is more of a skin-care rookie, freelance beauty journalist Vanese Maddix suggests Glossier's skin-care edit. The set is suitable for all skin types and contains the Milky Jelly Cleanser, Super Bounce Serum, Priming Moisturizer, Balm Dotcom in Original and Rose, and the oil-serum hybrid Futuredew — as well as "a cute headband with the brand's signature pink G logo that you can't find anywhere else." Maddix adds, for "someone ready to start a skin-care routine, you really can't go wrong with this set. No one can resist snapping a picture of the chic packaging, either."
According to consultant dermatologist Dr. Mary Sommerlad, Sisley Black Rose Cream Mask is the "ultimate skin-care gift." A beauty-editor favourite, Sisley products don't come cheap, but they're considered to be the gold standard of masks by many. "The Black Rose Cream mask is just wonderful. It glides on, smells incredible, and leaves your skin feeling really soft and looking plump. It's my favourite luxury gift to give someone (including myself!). It also has a lot of my favourite ingredients like phytosqualane, glycerin, and B5," added Dr. Sommerlad.
If you're unsure of what your giftee already has or what their skin likes and dislikes, cosmetic chemist Esther Olu said there's one thing everyone's skin needs more of: barrier support. "It's the most critical aspect of skin care. Without having a strong skin-care barrier, it will be difficult to incorporate active ingredients in your routine. Additionally, a weak skin barrier can lead to skin concerns such as dullness, dehydration, and acne," explained Olu. She suggested the First Aid Beauty Tone & Hydrate Duo, or the First Aid Beauty Ultra Repair Minis. "I wish they did a set that combined all of these things, but all of these products are great," explained Olu. "Without a strong skin barrier, any underlying skin conditions will be harder to treat." Olu explained that if you've maybe gone overboard with lots of skin-care peels and exfoliators, your skin barrier might be compromised, and in that case, "It's great to reset and solely incorporate hydration into your routine and start with the basics." [Editor's note: First Aid Beauty doesn't stock the kits or minis in the U.K. — but we will update this post with the kits when it does.]
After being (kindly) informed by a friend that his skin was looking dry, contributor Alexander-Julian Gibbson decided to try a sample of Natura Bissé's Soufflé mask. "I love trying new products, but I'm far from a grooming expert," he admits. "So when I received multiple compliments on my radiant complexion after using the mask just once, I took notice." Converted, Gibson applies the mask before any shoot or event if he catches himself looking at all dry: "I suck at sticking to any kind of skin-care routine, but if I need a quick grooming pick-me-up, this mask delivers every time."
If you're certain that while your recipient loves skin care, they probably run out of real estate on their face to try new things, manicurist Harriet Westmoreland suggested an option for the hands. "The Byredo Hand Scrub in Tulipmania is my go-to gift — it's such a treat for your hands. The texture is rich and nourishing whilst exfoliating dead skin away. I like to use it all over the hands and arms, but also as a mini-treatment on cuticles to lift and remove stubborn skin. The scent is divine! This is a great gift, as hand care can be overlooked," said Westmoreland, adding that the rich, oily texture makes it especially luxurious.
Andrea Pfeffer, new mom and founder of the Pfeffer Sal skin-health clinic, praised this face mask for being equal parts relaxing and effective. "Vestige Verdant Organic Peat Mask is unmatched in its ability to reduce congestion and clear the skin," explained Pfeffer. "It's made from sustainably farmed 100 percent organic Estonian peat, and it has humic acid, which is a naturally occurring anti-inflammatory ingredient." We think it would make a great skin-care gift for a pregnant loved one, as Pfeffer informed us she uses it for all of her prenatal clients (as well as using it herself during her own pregnancy).
The best skin-care books to gift
Three experts recommended Caroline Hirons's Skincare as the best beauty book available. "It's just an absolutely brilliant skin-care A to Z with solid advice," says dermatologist Dr Ranella Hirsch. "It doesn't have pointless steps or impossible results, just practical, applicable, and straightforward advice." Designed with both skin-care experts and newbies in mind, the book assists readers to curate their own personalized routines. "It's the best matter-of-fact book to address beauty that I've read," says dermatologist Dr. Corey L. Hartman.
Photo: RETAILER
For a more specific guide catered toward Black skin care, freelance beauty editor Ava Welsing-Kitcher suggests Funmi Fetto's Palette. In addition to being an author, Fetto is a beauty editor, having worked for publications such as Vogue and Glamour. "Funmi's built an incredible career by being one of the truest voices of guidance for Black and brown beauty lovers," says Welsing-Kitcher. "Her dedicated space to the products that work for us is something we were long overdue for in the industry."
The Strategist UK is designed to surface the most useful, expert recommendations for things to buy across the vast e-commerce landscape. Read about who we are and what we do here. Our editors update links when possible, but note that deals can expire and all prices are subject to change.