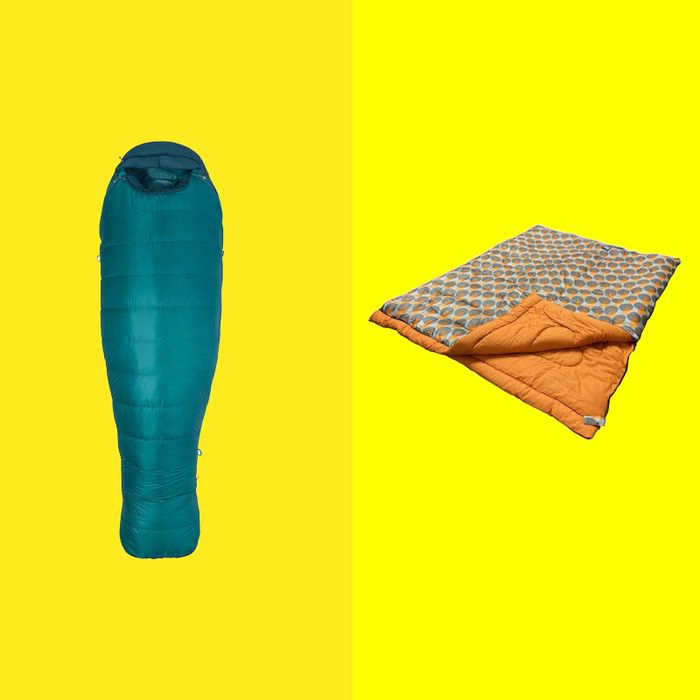 Whether you're holidaying closer to home this summer via some outdoorsy exploring or updating your festival-season packing list, you may be browsing for sleeping bags. But there's a lot of terminology to navigate among GSM, down versus synthetic fillings, and inner linings. So we've interviewed ten especially outdoorsy people, including a bushcraft survival-skills leader (who tells us waterproofed down insulation is "hit and miss") and an extreme-weather-expedition filmmaker, about the best sleeping bags for all scenarios.
Before we get started, a quick primer on the basics. It's important to remember that you'll spend just under half your time around and in your sleeping gear when setting up outside, so it needs to be durable. Nobody wants to feel like they're in an oven while trying to rest in heat, or shiver themselves awake when it's quite cold.
That's why choosing a weather-specific sleeping bag is essential, or a good multi-season all-rounder. When shopping for a sleeping bag, you might see the phrase GSM. This stands for grams per square metre, and it's a measure of warmth. Sleeping bags with duck- or goose-down insulation are often referred to by their "down-fill power" ratings, with the average being between 400 and 500, rather than GSM. Though the performance of insulation material depends on quality, so a higher GSM might not always equal better warmth. Generally, a sleeping bag with a synthetic filling, modified for heat retention and with a GSM of around 300, should perform well on average, even in wet weather.
With all this in mind, read on for the best sleeping bags for beginners, the best sleeping bag for wet weather, and the best sleeping bags for couples.
Best sleeping bag overall
If you're looking for a solid multi-season sleeping bag, Richard Prideaux — a mountain leader, survival trainer, and lead instructor at Original Outdoors — recommends the Therm-a-Rest Saros. It's a packable sleeping bag that can take weather changes in stride, as its synthetic insulation is quick-drying. This bag can handle up to minus 23 degrees, but its comfort temperature is set at zero degrees. If that seems a little extreme, Prideaux explains that "sleeping-bag ratings are only guidelines, and it's often best to err on the side of caution and go for something a little warmer."
Prideaux adds that this bag is an especially good option for damp-weather protection. He explains, "Choice of fill matters, too. Synthetic is heavier but resistant to moisture; down filling is lighter, and can be packed smaller, but is absolutely useless when wet."
The Saros is made of a synthetic quick-drying fill with a functional distribution system, so it retains heat even as you move. It also comes with straps meant for fixing the bag to your sleeping mat, helping its heat-retention system to sync in with the mat, too. It comes with a compression and carry bag included, and it's available in three sizes for versatility.
[Editor's note: We contacted Therm-a-Rest to clarify the GSM for this product, and they explained there is "no GSM for this." However, we think it's a solid multi-season choice, which will keep you warm and dry.]
Best less expensive sleeping bags
If you're specifically after a sleeping bag that will see you through a festival weekend, Alex Ion, who runs the Dozy Owl sleep blog, also vouches for this pick from Viking Trek. Designed in Sweden, this solo sleeping bag has been tested by its manufacturer in "tough" weather conditions for its waterproofing, breathability, and weather-resistance abilities. Its inner lining is moisture-wicking, and it should hold up in 10 degree to minus-11-degree weather. It's lightweight and portable, plus its 350-GSM synthetic fill is designed to keep dampness at bay while retaining heat.
For an injection of colour, this double option from Olpro should work across three seasons, with a poly-cotton insulation filling of 300 GSM. Shell Robshaw-Bryan, who runs the Camping With Style blog, points out that it's actually made of two singular sleeping bags zipped together, so you can separate these as and when you need to.
With RDS-certified duck-down insulation that has a 650-plus down-fill-power rating, explorer Joey Holmes, who runs the Cool of the Wild blog, describes the SkyeHigh as "super-warm for winter" and says it "compresses down just about small enough for overnight hiking trips," too. Not only is this sleeping bag lightweight, but it also should hold up across three, even four, seasons, if the weather is not too extreme, making it a good all-rounder. It also comes in regular and larger sizes to accomodate a wider range of heights.
Best warm-weather sleeping bags
Andy Halliday, who co-founded the Expert Camper, says this sleeping bag has a good weight and warmth balance (it weighs just under a kilo and has a polyester 150-GSM filling), which means it's most suited to summer months. The two-way zip system helps with ventilation in warmer weather, while the hollow fibre insulation keeps you cosy (but not too cosy). The microfibre outer and inner linings are soft-brushed for comfort and add further light insulation into the mix. Halliday is also a fan of the anti-snag zip (that doesn't require a torch and faff to secure at night).
Both Halliday and Ion suggest this as an option for summer weather. In fact, Halliday vouches for the whole Highlander Trekker range, pointing out that it has different options based on season. He's particularly keen on the summer version because "the lightweight, hollow-fibre filling keeps you comfortable overnight in warmer climates without overheating."
While its specification says it's suitable across two seasons, with a 50-GSM insulation filling, it's probably not your best bet outside of hot-weather months. Its outer shell and lining are made of ripstop nylon, and it comes with a drawstring hood. It's also single-layered but includes a few internal pockets for valuables (or snacks) along with a central zip opening. It weighs in at less than 500 grams and comes with a built-in mesh net to keep insects from sleeping in with you.
Best women's sleeping bags
If you've got a smaller frame, a sleeping bag tailored for women might be a good option. Blogger and seasoned camper Emily Woodhouse says she's been using her Helium 600 for years and that Mountain Equipment's whole Helium range is "fantastic."
With a 700 down-fill-power rating, the Mountain Equipment Helium 600 gives solid heat retention (for autumn-going-into-spring climates). There's a Codex guarantee (Mountain Equipment's down welfare promise), and its Helium material also means it's especially compressible, soft, light, and with good protection against wind. However, Prideaux stresses that down sleeping bags modified for water resistance are "hit and miss" and don't always live up to their technical specifications. So bear in mind that if it's a rainy weekend, its duck-down filling won't dry as fast as synthetic versions.
Suitable across three seasons, this sleeping bag is geared towards women or those with smaller frames. Travel writer and camping blogger Kitiara Pascoe says she has had hers for seven years and can't fault it yet. She also says there's not "tons of unnecessary room in it," which actually makes it more comfortable, creating a snug fit, and also points out that it's made from recyclable materials. Its insulation material has a 650 down-fill-power rating, and Pascoe says "it feels like sleeping in a cloud," but she warns it's not the lightest. She also jokes it's "the one thing I'd rescue from a house fire."
Best cold-weather sleeping bag
This brand was mentioned by seven out of ten wilderness experts we spoke to. The general consensus is that Mountain Equipment is a well-trusted name for reliability, durability, and everything in between. Both Prideaux and Stuart Adams (who runs Expedition Kit Hire) were particularly keen on recommending their range, with Prideaux suggesting the Fireflash specifically.
He explains that the way they approach ethics is a big pull, with it being possible to "trace exactly where the down in your Mountain Equipment sleeping bag came from." He also adds that the Fireflash's design is a hard one to top. He rates it highly for insulation — it has a down-fill-power rating of 800 — and its portability. He adds that it performs well in lower-temperature environments.
Aside from it looking like something you'd find on Net-a-Porter, this sleeping bag is the gold standard for those venturing into extreme cold. Filmmaker and expedition leader Charlie Smith explains that its hood (which is as comfortable, warm, and snug as it looks) also protects your face from snow and ice that can fall off the inside of your tent due to frozen condensation. He also tells us that he's slept outside in it, no tent, in minus-20-degree conditions, and "it was fantastic," plus he says it's designed so that you can move around, use your arms, and even cook in it.
It has a 700 down-fill-power-rated insulation with a polyester outer layer. It features a drawstring, a draft collar, and an adjustable hood and is slightly on the heavier side, as it weighs in at just over 1.6 kilograms (a standard weight is between 900 grams and 1.4 kilograms).
Best lightweight sleeping bags
For a lightweight option that's super-easy to carry around, and that isn't a huge compromise on heat retention, Ion suggests Toparchery's duck-down (700 down-fill power) mummy option. It should hold up in cold weather up to minus 10 degrees, and its inner lining is made of nylon for breathability. It's ultralightweight and built for weather across four seasons.
Typically, sleeping bags with goose-down fills are weightier than their synthetic counterparts. If you're set on a goose down (for its overall better heat-retention performance) but still want to travel light, Pascoe recommends the PipeDream. Pascoe often recommends it because of it's "lightweight, affordable, and Alpkit have the best customer service I've ever had the pleasure of interacting with." It weighs just over 500 grams, thanks to its clever horizontal stitch design. With a down-fill power of 750, it performs best at temperatures between 11 degrees and minus 7 degrees. There's a range of sizes to choose from, too.
Best heated sleeping bag
If you don't want to take any chances with insulation and heat retention, Robshaw-Bryan is keen on the Vango's Radiate range. It's like an electric blanket but in sleeping-bag form, using a graphene heating element to heat from the inside (while connected to a power source). It's ideal across three seasons, should work with most power banks — though 5 volts/2.1 output power banks, like portable phone chargers, are best suited — and has an integrated headrest. It's also double layered for extra warmth. And it's available in a double size. Robshaw-Bryan says it's a no-brainer for "perpetually cold campers who aren't short on space."
Best sleeping bag for kids
We heard a few recommendations for the Andes Pichu kids' sleeping bags, including from Alex Ion of the Dozy Owl sleep blog. They're sadly not in stock at the moment and hard to find online, so we looked into some of the best-rated alternatives on Amazon. This one, by Trespass, looked like a well-trusted option, as vouched for by more than 800 reviews. Nearly three-quarters of those are five-star reviews.
Best sleeping mat
Lastly, it's also a good idea to think about sleep mats. They can be just as important as the bag itself, because they work as a starting foundation. Plus, they're your first line of defense (after your tent's groundsheet) in wet conditions. Smith says you can render your sleeping bag almost useless if you don't have the right foundation, and by that, he means a thick enough sleeping mat (or series of sleeping mats). In contrast to his view on the actual sleeping bag, he recommends going frugal with your base mat by "finding the thickest budget foam mat possible," then topping it up with a robust air mat.
He says he's going for the Exped DownMat 7 next, as they've stopped making his usual pick from Mammoth, and he's "heard great things." Smith explains that it's got a hexagonal pattern across the top, "a great chamber system, built-in ventilation, and it's lightweight." He warns that some people have found that the ventilation system didn't work for them but says "there's no harm in it being there," even if this is the case.
The Strategist UK is designed to surface the most useful, expert recommendations for things to buy across the vast e-commerce landscape. Read about who we are and what we do here. Our editors update links when possible, but note that deals can expire and all prices are subject to change.