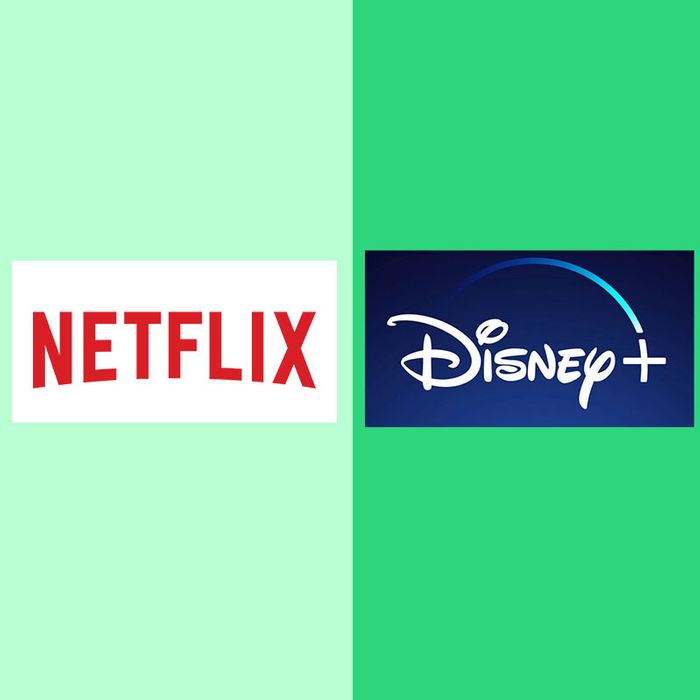 Photo-Illustration: The Strategist; Photo: Retailer
As winter draws on, you might have exhausted every box set that iPlayer and All 4 have to offer, and are now considering adding a streaming subscription to your roster. However, the ever-growing number of platforms to choose from can be truly overwhelming. "We're in a streaming war," says TV critic and broadcaster Scott Bryan. "You have to keep tabs on all the services you pay for. If you don't watch and you don't unsubscribe for some time, it can all add up to quite a lot of money."
So which is the right streaming service for you? Do you choose a service that overnights U.S. shows, or one that has a rich catalogue of reality TV? Do you bundle your streaming with your online shopping, or do you just want a place to watch the latest Marvel movie?
If you don't fancy paying for two or three different services, or you're just wondering what platform is most suited to your interests, we're here to help. We reached out to experts, including TV critics and a video editor, for their thoughts. We've also broken down the plans on offer by the big streaming services so you know exactly what you'll be getting and exactly what it will cost you. Read on for the best streaming services for everything from glossy dramas to LGBTQ+ programming.
Best streaming services with a free trial
Tyrell Charles, TikTokker and video editor at MTV, says Netflix combines the very best features of its major rivals all in one place. "It has the high-quality content Apple TV might have, in a large quantity like Amazon Prime, but it also covers a lot of genres, and it has a lot of fan-base-related content on there," says Charles. "I like its top-ten feature of what's been most watched this month, because the [surrounding] conversation is the most entertaining part of watching these shows and movies." Bryan agrees Netflix has a hefty range of titles, but he finds that the quality is by no means consistent. "Whilst they have had amazing success with some of the shows, I think that it has come at the expense of the quality," he says. "You do see quite a lot of (what I think are) quite intrusive true-crime documentaries. Or needless sequels." Both, however, agree that Netflix does well with foreign-language content. "No other streaming service is factoring in the anime bracket, where Netflix is really leaning into it," says Charles, who thinks Netflix is ideal for anime beginners. Bryan also finds Netflix inclusive in this regard: "They allow captioning quite clearly, they allow different languages easily, translating and dubbed comes as standard, and it is easy to use."
How much does it cost: Netflix offers three monthly subscription tiers, each with a 30-day free trial. A basic plan — which offers users standard definition on one screen — is priced at £5.99. For two HD screens, users can upgrade to the standard plan for £9.99, whilst the £13.99 premium plan offers four screens at "ultra-HD" (where available).
"If I can't find something on Disney or Netflix, there's a 99 percent chance that Amazon has it," says Charles. "It has volume. But because it has such a large volume, their page for searching through it is just all over the place." Bryan agrees that the service is "quite clunky to use" and has found it's also "not great with subtitles. People were disappointed with the lack of captioning." Fellow TV critic and broadcaster Toby Earle concedes he doesn't think "anyone has ever said, 'Let's Amazon Prime and chill,'" but finds whilst "it's not the flashiest, it is fairly functional."
Amazon Prime offers Premier League football, established shows and movies, originals (The Wheel of Time, The Boys), and anticipated upcoming titles. "They've spent the entire GDP of a small country on the new Lord of the Rings show," says Earle. "Their strategy is changing. Their focus is fewer, better-quality shows." Bryan agrees that Prime is one to watch over the coming months. "For a while, it became very synonymous with Top Gear and The Grand Tour," he says. "Whilst they still have that, they're branching out. You'll be expecting a lot more of them in the next year."
How much does it cost: After a 30-day free trial, Amazon Prime Video costs £7.99 as part of a monthly Prime subscription. With a subscription, users get access to HD content across three screens.
Best streaming service for U.S. shows
"If you're aiming for glossy, high-end, U.S.-based drama, I'd say NOW and Sky are the best places to go," says Bryan. NOW has deals with existing services such as HBO, Showtime, and Peacock, meaning it has exclusive UK rights to titles such as Succession, the new Sex and the City series, Euphoria, and the much-anticipated Game of Thrones prequel. "NOW are also quick off the mark in getting these programmes overnight," explains Bryan. "So you can watch Succession at the same time in the U.S. — if you stay up until 2 a.m.!" Earle agrees; he says that besides iPlayer, NOW is "potentially the strongest domestic platform, due to the amount of blue-chip quality programmes it has."
How much does it cost: Sky's NOW Entertainment TV provides access to titles from 14 channels (including Sky Atlantic, the UK home for HBO). After a seven-day free trial, subscription costs start at £5.99 for two screens at standard definition. For £9.99, users upgrade to high definition across three screens. It's worth noting that you can always haggle. Bryan let us know that in the past, when he has threatened to unsubscribe, he's been offered a much cheaper subscription package.
If you opt for NOW Cinema, you can gain access to 11 Sky Cinema channels, including Sky Cinema Premiere (the first to show new releases, such as A Quiet Place 2) and Sky Cinema Family (which has classics such as Jumanji). NOW Movies also provides access to seasonal Sky Cinema channels, such as Sky Cinema Christmas, and the limited runs of Sky Cinema Harry Potter.
One major downside of all NOW subscriptions is that, especially compared to other platforms, the application itself doesn't measure up. "It's affordable, but it doesn't have that level of technological sophistication that young people expect," Bryan notes. "[It] can be buggy and full of adverts, even though you pay to use it."
How much does it cost: NOW's cinema package is also available at £9.99 per month, but do note, it must be purchased separately from the Now Entertainment package. Sky and NOW offer bundle deals on services from time to time, so it's always worth taking a look at their offers page before subscribing.
Best streaming service for families
Disney+'s original content is a real draw to families. "You don't have to worry about getting a scratch on the Frozen DVD," says Earle. "It's there, 24/7, just waiting to be watched." "They've got a decent range, but the particular brands that they have is what gives it its power as a platform," says Charles. He's referencing Disney's catalogue of additional brands, which include National Geographic, Star Wars, Marvel and Star. (It's worth noting that the content on Star is less targeted to the younger Disney target audience, with adult content such as Dopesick, rom-coms including Pretty Woman, and every single episode of The Simpsons.)
Charles and Earle both also enjoy Disney's ability to hold conversation. "Their weekly release schedule meant that as soon as an episode dropped, the week until the next episode drops, that's all that's being talked about," says Charles. "What's happening in the show? What's our theories? Who's going to appear next?" Earle also says it takes away FOMO for those that don't have time to binge-watch: "People can find time in their diaries to digest one episode, and not feel like they're going to miss out or have their show spoiled."
How much does it cost: Disney+ has recently upped its (flat) subscription fee: After a seven-day trial period, users will be charged £7.99 per month or £79.90 for the year. This offers users HD quality across a maximum of four screens.
Best streaming service for new drama
"They focus a lot more on quality than quantity," finds Bryan. Whilst Apple TV+ shows such as The Morning Show and Ted Lasso have been met with critical acclaim, their viewership is much smaller. "It can sometimes feel as though you are the only person that's watching these programmes," says Bryan. "They've got [Visible], a great show on LGBTQ+ history, but I don't think anyone has seen it!"
How much does it cost: Apple TV+'s subscription fee is £5.99, and as it offers HD content (across six screens) as standard, it's perhaps the most affordable option. However, Apple TV+ only carries approximately 60 titles, compared to Netflix's upwards of 6,000.
Best streaming service for reality TV
It wasn't mentioned by our experts, but we found HAYU to be a great service for reality TV. Its 250-plus titles include every episode of Keeping Up With the Kardashians, in addition to its various spinoff shows, such as The Life of Kylie. HAYU also offers dozens of The Real Housewives titles, from The Real Housewives of Cheshire to those of Beverly Hills. There's also other content to choose from, from true-crime documentaries to popular love and dating shows such as The Millionaire Matchmaker.
How much does it cost: HAYU offers a seven-day free trial, after which users pay a monthly fee of £4.99. With this, they gain HD access across a maximum of five screens.
Best for LGBTQ+ programming
We also think WOW Presents Plus deserves a mention. As well as premiering new Drag Race episodes (both U.S. and UK), WOW offers existing episodes from Drag Race U.S., Canada, Down Under, and more. There are also plenty of other titles to stream, such as UNHhhh (with Trixie and Katya) and WOW originals, including Painted With Raven.
How much does it cost: Despite having no trial period in the UK, WOW (World of Wonder) Presents Plus is the cheapest of all the services that we've covered. It'll cost you £4.49 per month or £44.90 for an annual subscription (which works out at the equivalent of £3.74 per month).
Best streaming service for indie movies
Strategist contributor Hannah Holway brought indie-film streaming service MUBI to our attention. The site has a mixture of newer indie titles, such as Honey Cigar, alongside classics, such as Akira Kurosawa's 1985 Ran 乱. "Experts such as film historians and critics curate the collections of films on offer by genre, theme, or director, so you can easily search for the kind of film you're looking for," says Holway.
How much does it cost: After a seven-day free trial, MUBI costs £9.99 per month. Alternatively, users can sign up for a yearly subscription of £95.88, which works out a little cheaper, at £7.99 per month.
Best streaming service for horror
For fans of horror, Earle told us about Shudder, which has a rich catalogue of horror, thriller, and supernatural content. "If you are into very specific genres, you are so well served," Earle says. "You can find and watch your passions in a way that you previously couldn't." Titles available to stream on the site currently include House of 1000 Corpses and The Texas Chain Saw Massacre.
How much does it cost: Shudder is available through Amazon Prime; however, it does come at an additional £5.99 monthly cost. As with Prime, the service offers a seven-day free trial.
The Strategist UK is designed to surface the most useful, expert recommendations for things to buy across the vast e-commerce landscape. Read about who we are and what we do here. Our editors update links when possible, but note that deals can expire and all prices are subject to change.